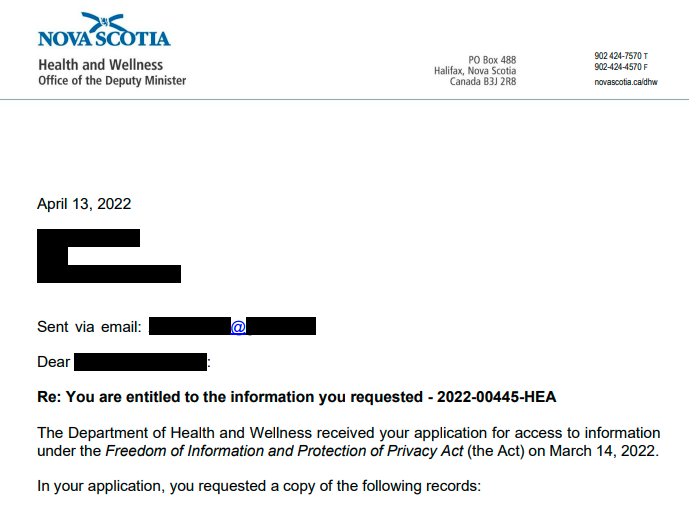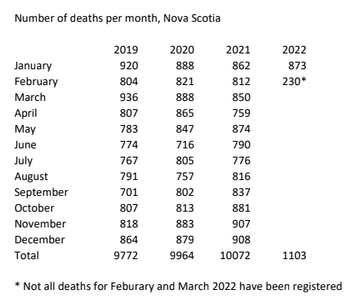 Our friend in Nova Scotia is back at it again, digging up dirt and information about the tyranny of Robert Strang. Here are some of the latest finds. Previously, there was the hospitalization scam debunked, the lack of data for masks in schools, the screwy definition of "cases", Nova Scotia reduced (yes, reduced) ICU capacity, there's no evidence "asymptomatic spreading" even exists, they refused to provide the CANImmunize/Clinic Flow contract, and over $19 million has been spent on vaccines.
Yes, overall deaths have creeped up. However, given there's a population increase in all Canadian Provinces each year, this isn't anything to be worried about.
Setting aside the issue of lack of any proper isolation, here is some information that came from the Nova Scotia Government recently:
Request:
1: Number of COVID-19 tests by month and result (positive cases/negative/total} for year 2020, year 2021 and so far for 2022)
2: Number of COVID-19 Cases by month that Were Asymptomatic and Symptomatic and total for each year 2020 and year 2021
3: Number of COV ID-19 deaths per month in Nova Scotia for year 2020 and year 2021 and so far in 2022. (Date Range for Record Search: From 12/31/2019 To 3/11/2022)
It's also worth reminding people that there's no requirement to detect a "virus" in order to confirm a case. Apparently, even the detection of a single gene is enough.
Confirmed case
A person with confirmation of infection with SARS-CoV-2 documented by:
• The detect ion of at least 1 specific gene target by a validated laboratory-based nucleic acid amplification test (NAAT) assay (e.g. real-time PCR or nucleic acid sequencing) performed at a community, hospital, or reference laboratory (the National Microbiology Laboratory or a provincial public health laboratory)
or
• The detection of at least 1 specific gene target by a validated point-of-care (POC) NAAT that has been deemed acceptable to provide a final result (i.e. does not require confirmatory testing)
or
• Seroconversion or diagnostic rise (at least 4-fold or greater from baseline) in viral specific antibody titre in serum or plasma using a validated laboratory-based serological assay for SARS­ CoV-2
Included in the FOI results are the test numbers, along with the positive and negative rates. However, given that these tests aren't equipped to diagnose infection (nor has anything been isolated), the findings are pretty meaningless.
And if you haven't seen Christine Massey's work with Fluoride Free Peel, go do that. There are some 200 or so FOIs showing that no one, anywhere in the world, has ever isolated this "virus". It's never been proven to exist. There's no point having a discussion on what treatments are beneficial, until the existence of this is demonstrated.
(1) 2022-00445-HEA Response Package Test Results Nova Scotia
(2) https://www.fluoridefreepeel.ca/fois-reveal-that-health-science-institutions-around-the-world-have-no-record-of-sars-cov-2-isolation-purification/
PREVIOUS FOI RESULTS FROM NOVA SCOTIA
(A) https://canucklaw.ca/nova-scotia-foi-response-tacitly-admits-there-is-no-wave-of-hospitalizations/
(B) https://canucklaw.ca/nova-scotia-foi-result-province-refuses-to-turn-over-data-studies-justifying
(C) https://canucklaw.ca/more-foi-requests-from-nova-scotia-trying-to-get-answers-on-this-pandemic/
(D) https://canucklaw.ca/nova-scotia-foi-request-shows-province-reduced-icu-capacity-in-recent-years/
(E) https://canucklaw.ca/nova-scotia-foi-shows-province-has-no-evidence-asymptomatic-spreading
(F) https://canucklaw.ca/nova-scotia-foi-province-refuses-to-turn-over-contract/
(G) https://canucklaw.ca/nova-scotia-foi-19-1-million-spent-on/