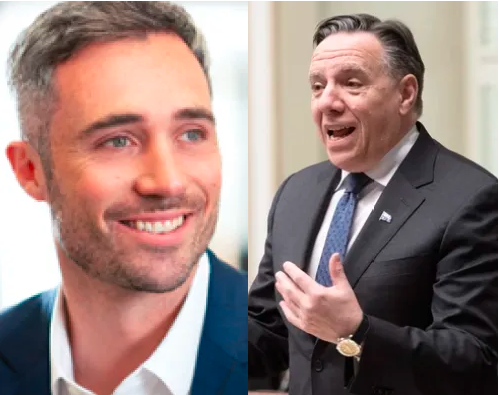 In February 2019, Quebec Premier Francois Legault called on the Federal Government to make a deal with SNC Lavalin in the ongoing criminal case. Presumably, that meant offering Lavalin a Deferred Prosecution Agreement, or DPA. This would allow them to continue bidding on Federal contracts immediately, and bypass the mandatory 10 year ban. Previously, Quebec had been pressuring Ottawa to change the law to allow for such legislation to be enacted.
The topic of corruption at SNC Lavalin has been addressed in this mini series. Take a read through for more background information.
Now, a question has to be asked: where did Legault get this idea? Who has been pulling his strings?
Éric Lamoureux
Managing Director, Montréal
Éric Lamoureux has been helping Canadian corporate and political leaders effectively manage complex public policy and reputational issues for more than a decade. In that time, he has been a political advisor to leading federal and municipal politicians, national associations, cultural groups, and both national and global corporations.
Based in Montréal, Éric draws on deep expertise in politics and public administration to help clients protect and promote their interests in Canada and Québec. As a specialist in issues management, regulatory affairs, stakeholder relations and media relations, Éric has achieved many notable successes on behalf of his clients, including: helping a global financial services company safeguard its market position in the face of regulatory change; mobilizing the support of a provincial government to pressure for changes to the federal Criminal Code on a client's behalf; and encourage a major Canadian municipal government to reverse a decision to construct a public building beside a client facility.
As Managing Director based in Montréal, Éric leads all of the firm's activities and operations in Québec, and works with clients on issues across Canada.
Meet Éric Lamoureux Of Public Affairs Advisors, PPA, a lobbying firm that operates out of Quebec and Ottawa. While he doesn't name SNC Lavalin, perhaps to make it less obvious, who else could it be?
The implication is that Lamoureux and PPA lobbied the Quebec Government to pressure the Federal Government to change the law. This would have allowed Lavalin to escape the worst of potential criminal sanctions. If this isn't illegal, at a minimum it's incredibly sleazy.
It takes a special kind of stupid to announce corruption in your professional profile. Then again, in this atmosphere, it may just be a form of advertising.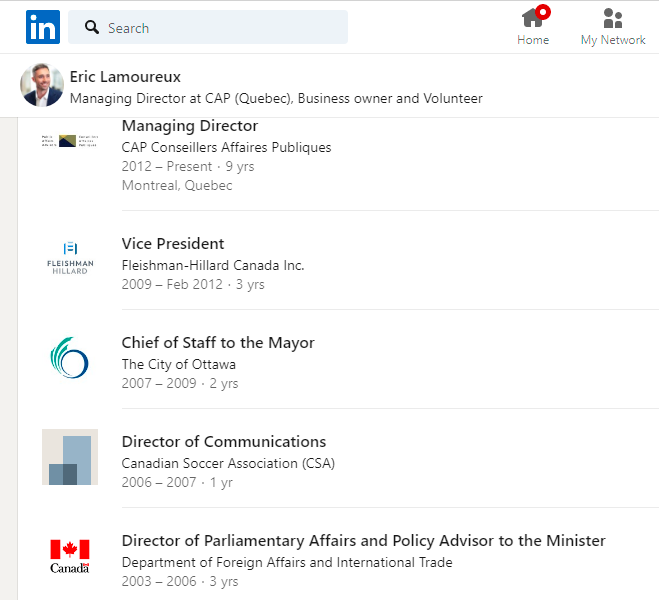 According to his LinkedIn page, Lamoureux worked for the Liberals from 2003 to 2006. Keep in mind, this is the period that Jean Chretien was forced to resign (because of corruption allegations). Later, Paul Martin was voted out of office (because of corruption allegations). Afterwards, Lamoureux became the Chief of Staff for the Ottawa Mayor.
So why not just lobby Ottawa directly? Well, that was done as well, primarily by Bruce Hartley (a Chretien operative), and William Pristanski (a Mulroney operative). Check earlier pieces in the series. Lamoureux and PPA were just another level of pressure, trying to get Quebec to pile on with the Federal Liberals.
Now, it's possible that Lamoureux is just puffing his chest, and he isn't the mastermind. But then, why brag about something like this? It's strange that his name doesn't appear anywhere in the mainstream press about this "accomplishment".
Looking through the index of advisors, it's clear that these are political hacks (of different Parties), who come together to peddle influence for whoever happens to pay their bills.
Felix Wong is an Advisor in PAA's Ottawa office with nearly a decade of political experience and a strong background in communications, public policy, issues management and stakeholder engagement.
.
Felix understands the government decision-making process, having worked in various roles on Parliament Hill, including as an advisor to several Cabinet Ministers. In addition, he served as Manager of National Outreach for the Conservative Party of Canada and has been a part of two national election campaign teams for the Conservatives. In these roles, he helped create a stakeholder outreach strategy to communicate policies to Canada's diverse cultural communities.
Maryanne Sheehy is an Advisor in Ottawa providing strategic analysis, public policy, media, and stakeholder relations advice to clients.
.
Maryanne has an in-depth knowledge of government having worked in the Prime Minister's Office in Ottawa for over five years where she served in a variety of roles including as an Advisor for stakeholder relations and outreach. She brings expertise in developing and implementing communications, stakeholder, and issues management strategies for key business and political decision makers. During her time on Parliament Hill, Maryanne also worked as an Advisor to the Prime Minister's Chief of Staff and was part of two national campaign teams for the Conservative Party of Canada.
Not to worry, this isn't just a problem of Liberal cronyism. At least at few advisors at PPA has ties to the higher ups on the Conservative Party of Canada.
Latitia Scarr is a Senior Advisor & Client Director in Ottawa, where she brings extensive experience in policy, government relations and communications. Most recently, she worked for the Canadian Produce Marketing Association, managing advocacy and regulatory issues affecting trade.
.
Previous roles have included Caucus Services in the Liberal Research Bureau/Office of the Leader of the Opposition and Policy Manager at the Liberal Party of Canada National Office. These and other positions have given her wide-ranging knowledge on issues such as trade, agriculture and food, public safety, health, customs, innovation, Indigenous affairs, natural resources, among others, as well as of the public policy arena.
Bit of a side note: she also worked for the coalition for gun control. Now she works with so-called conservatives. How peculiar.
Dan Pfeffer is a Senior Advisor & Client Director in Ottawa, working with the firm's clients at the federal, provincial and municipal levels of government. Based in Ottawa, he holds a Ph.D. in political science and has researched and published on various aspects of public policy and government decision making. He also has taught in faculties of various universities including McGill and l'Université du Québec à Montréal.
.
Dan brings extensive knowledge of group mobilization and stakeholder engagement to his work on behalf of clients in the health, technology, financial services and telecommunications sectors. In addition to his academic work, he served as a key member of the campaign team that elected Anthony Housefather in the hotly contested federal riding of Mount Royal in 2015.
Pfeffer taught at McGill University. That is a strange coincidence (if it is one) that current Attorney General David Lametti is a Professor there, currently on leave. Lametti was brought in as the "fixer" after Jody Wilson-Raybould refused to grant SNC Lavalin their DPA.
Noah Niznick is a Senior Advisor & Client Director in Ottawa, where he works closely with clients in the financial services, natural resource and health care sectors. He joined the firm after serving for several years as the senior political advisor to the national caucus chair of Canada's Official Opposition.
.
In that role, Noah established deep policy knowledge and strong relationships with elected officials, government advisors, as well as the many stakeholders engaged in public policy at the federal level. He has developed significant policy initiatives on a range of economic, consumer, and technology issues, working with a range of diverse interests. He also manages traditional and social media strategies, as well as issue-focused communications campaigns to reach targeted audiences.
Michael von Herff founded the firm in 2010 and works with clients to advance their public policy and regulatory agendas in Canada, the United States and Europe.
.
Over the past 25 years, Michael has helped clients protect and promote their interests with governments, media and stakeholders on the issues that matter most to their business. He has delivered success on a range of challenging assignments including: convincing a U.N. body to pass new regulations to accommodate the concerns of one of the world's most important commodity groups; securing $100 million in new government support for a research fund in a previously ignored disease area; and, ensuring a major Canadian services company did not become a victim of policy change during a major overhaul of financial services regulations.
Other than political cronyism, what else are these people up to these days? Who's writing the cheques now?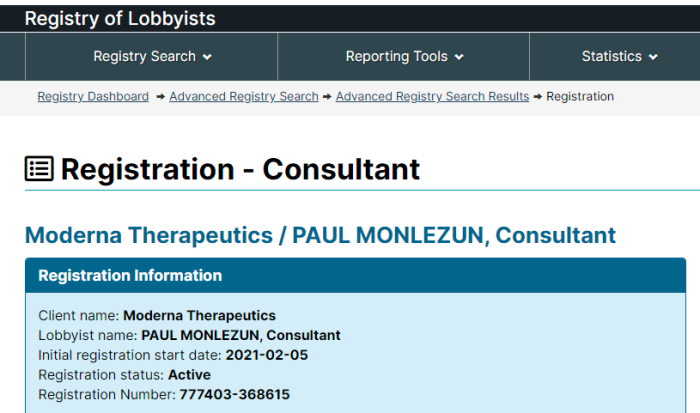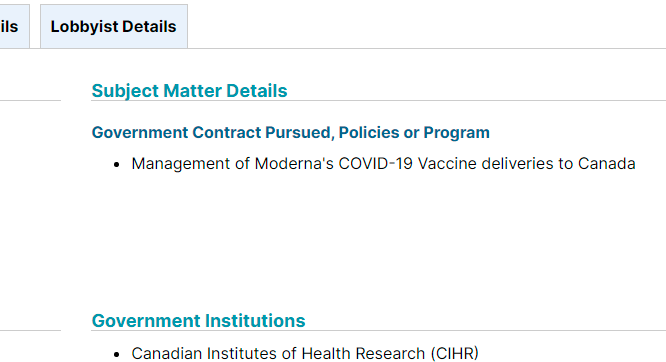 Seems that Public Affairs Advisors is now lobbying on behalf of Moderna. After all, Canadians need those interim authorized (not approved), mRNA vaccines to be distributed immediately. Seems that the PPA really will represent anybody. We'll have to see what else comes their way.
(1) https://nationalpost.com/news/politics/quebec-premier-wants-ottawa-to-settle-with-snc-lavalin-so-firm-avoids-trial
(2) https://canucklaw.ca/corruption-reviews-snc-lavalin/
(3) http://publicaffairsadvisors.com/eric-lamoureux/
(4) https://www.linkedin.com/in/ericlamoureux/
(5) http://publicaffairsadvisors.com/our-advisors/
(6) http://publicaffairsadvisors.com/felix-wong/
(7) https://www.linkedin.com/in/wongfelix88/
(8) http://publicaffairsadvisors.com/maryanne-sheehy/
(9) https://www.linkedin.com/in/maryanne-sheehy/
(10) http://publicaffairsadvisors.com/latitia-scarr/
(11) https://www.linkedin.com/in/latitia-scarr-59a31435/
(12) http://publicaffairsadvisors.com/dan-pfeffer/
(13) https://www.linkedin.com/in/dan-pfeffer-95a48319/
(14) http://publicaffairsadvisors.com/noah-niznick/
(15) https://www.linkedin.com/in/noahniznick/
(16) http://publicaffairsadvisors.com/michael-von-herff/
(17) https://www.linkedin.com/in/michael-von-herff-2aab2411/
(18) https://lobbycanada.gc.ca/app/secure/ocl/lrs/do/advSrch?V_SEARCH.command=navigate&time=1620295865125
(19) https://lobbycanada.gc.ca/app/secure/ocl/lrs/do/vwRg?cno=368615&regId=911693
(20) https://www.cbc.ca/news/canada/montreal/snc-lavalin-quebec-caq-1.5056385