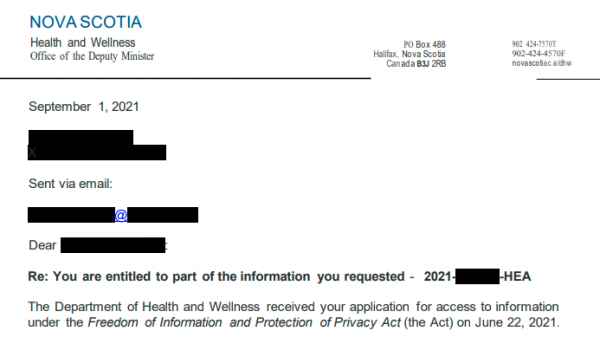 Thank you to a concerned Nova Scotia resident who took the time to contact the NS Department of Health and Wellness regarding masks in schools. The same person also went through the efforts to contact the Government asking for data about ICU hospitalizations and capacity going back to 2015. This earlier result is well worth a read.
Note: when scrubbing details, a few pages at the end turned out a bit wonky. Hopefully, that doesn't detract from the overall information.
The Department of Health and Wellness received your application for access to information under the Freedom of Information and Protection of Privacy Act (the Act) on June 22, 2021.
.
In your application, you requested a copy of the following records:
.
All scientific data, correspondence, studies, final briefing notes, risk-benefit analysis that justify and or support the government's actions and decision-making that masking children in schools is necessary to reduce the spread of COVID-19 that are held by Dr. Strang Chief Medical Officer of Health. (Date Range for Record Search:
From 02/29/2020 To 06/21/2021)
This is a very reasonable request. If young children are going to be forced (or coerced) into wearing masks for 4 or 6 hours per day, then we need to see some justification for this. For all the rambling about following the science, let's see some actual science.
You are entitled to part of the records requested. However, we have removed some of the information from the records according to subsection 5(2) of the Act. The severed information is exempt from disclosure under the Act for the following reasons:
• Section 14(1): The head of a public body may refuse to disclose to an applicant information that would reveal advice, recommendations or draft regulations developed by or for a public body.
• Section 20(1): The head of a public body shall refuse to disclose personal information to an applicant if the disclosure would be an unreasonable invasion of a third party's personal privacy.
The Province is redacting part of the information, claiming that it would force them to reveal regulations currently being drafted. They also allege some 3rd party invasion of privacy. It's scant on details, so there's really no way to verify this.
We are refusing access to a portion of the records for the following reason pursuant to subsection 4(2) of the Act:
• The Act does not apply to the following kinds of information in the custody or control of a public body: published information, material available for purchase and material that is a matter of public record.
As an additional ground, no information can be released, since apparently it's already in the public domain. Now, there are links provided on the next page, but this doesn't really help narrow down where exactly that information is.
Information that is not responsive to the scope of your requests has been removed from the
records package.
Dude, you haven't provided any information. Does the Chief Medical Officer of Health in Nova Scotia not have any records related to the health of children in schools, and how masks would impact them?
Nova Scotia's Covid -19 response actions have been based on national and international guidance from the Public Health Agency of Canada (PHAC) and the World Health Organization (WHO). As the leading agencies for pandemic response nationally and internationally, both PHAC and WHO are continuously reviewing the evolving scientific evidence regarding COVID-19 and the effectiveness of various measures. These reviews are used to form their guidance, position statements, and other documents all of which are in the public domain.
This is the typical self-congratulations, that doesn't really answer the question being asked. Now, there are another 10 pages attached, mostly redacted. The information provided is pretty useless. Now, if there truly was a scientific and medical basis for the decision to push masks on the public (and especially on kids) why not share it openly?
There has to be far more information that the pages (even the redacted ones) provided. This is a major decision, and not something that can be done on a whim. What are they really hiding?
And since we're on FOIs, go visit Fluoride Free Peel. Amazing work done there by Christine Massey to expose the scam of this so-called virus. It's never been isolated, anywhere, ever, by anyone in the world.
(1) Nova Scotia Masks At School FOI
(2) https://canucklaw.ca/nova-scotia-foi-response-tacitly-admits-there-is-no-wave-of-hospitalizations/
(3) https://www.fluoridefreepeel.ca/fois-reveal-that-health-science-institutions-around-the-world-have-no-record-of-sars-cov-2-isolation-purification/