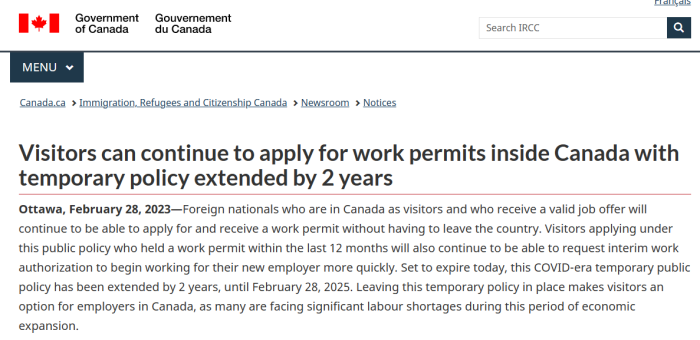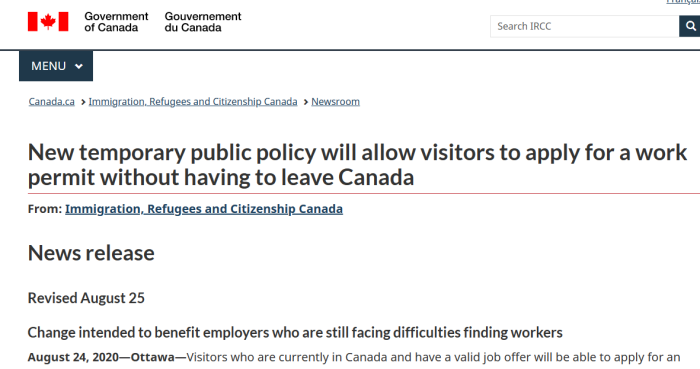 This concerns a recent announcement that's worth revisiting. A 2020 policy that gave work visas to foreign visitors has been extended for at least another 24 months.
In August 2020, with a "global pandemic" supposedly underway, Ottawa made changes that went largely under the radar. Foreigners on visitor visas would be able to get work in Canada without first having to leave the country.
The stated reasons never made any sense.
Change intended to benefit employers who are still facing difficulties finding workers
August 24, 2020 —Ottawa— Visitors who are currently in Canada and have a valid job offer will be able to apply for an employer-specific work permit and, if approved, receive the permit without having to leave the country, thanks to a new public policy announced today by the Honourable Marco E.L. Mendicino, Minister of Immigration, Refugees and Citizenship.
This temporary policy change takes effect immediately and will benefit employers in Canada who continue to face difficulties finding the workers they need, as well as temporary residents who would like to contribute their labour and skills to Canada's recovery from the COVID-19 pandemic.
During the pandemic, temporary residents who remained in Canada were encouraged to maintain valid legal status. With air travel limited around the world, some visitors to Canada have been unable to leave, while some foreign workers had to change their status to visitor because their work permit was expiring and they didn't have a job offer to be able to apply for a new work permit. Some employers in Canada have also faced ongoing labour and skills shortages throughout this period, including those who provide important goods and services that Canadians rely on.
This is the requirement that there be a labour market impact assessment (LIMA) performed. And that would make the visitor a Temporary Foreign Worker (TFW) if they took the position.
Of course, the obvious questions have to be asked:
(a) Why were there a large amount of foreign visitors in Canada in August 2020 if a "pandemic" had been declared several months earlier?
(b) How were there huge labour shortages if Governments were ordering entire industries to be closed in the name of safety?
(c) If these shortages existed, why were all kinds of financial supports in place to keep Canadians from working? CERB comes to mind.
(d) Why are there all these TFW positions available if people are being forced out of work in the name of public safety?
The program was then extended in March 2021, even as there were still lockdowns and "circuit breaker" shutdowns of various industries in this country. It was stated that over 1,000 people had thus far taken advantage of this. However, it didn't give any estimate as to how many over 1,000 that was.
Remember, the Fall of 2021 is when the vaccine passports hit.
It wasn't just visitors who are needed to work. In October 2022, Ottawa scrapped a rule that limited international students to working 20 hours per week when classes were ongoing. The IRCC also admits that nearly 100% of applications to extend study permits are granted.
A further update in November 2022 meant that visitors had to remain in Canada (and couldn't leave) while their applications were being processed.
A month ago, in February 2023, it was extended yet again. It's now set to expire at the end of February 2025, assuming further changes don't happen. The stated reason is to cope with labour shortages due to rapid economic expansion.
To summarize:
Canada had severe labour shortages in 2020, even as businesses were ordered to close, due to the so-called global pandemic. We had to let anyone and everyone get permission to work.
These shortages continued into the Spring of 2021, again, despite continued shutdowns that were mandated by the Government.
International students — who were normally capped at working 20 hours per week — suddenly are eligible to work as much as they want
We needed workers so badly, that in 2022, a policy change meant that people applying for a work permit under this program weren't allowed to leave while it was being processed.
Canada still has severe labour shortages in 2023, despite letting in over a million people — at least officially — in the previous year.
It's worth pointing out that there doesn't seem to be any limit on the number of people who can apply. The LIMA requirement still seems to be in place.
Ever get the feeling that the "official numbers" are way off?
(1) https://www.canada.ca/en/immigration-refugees-citizenship/news/2020/08/new-temporary-public-policy-will-allow-visitors-to-apply-for-a-work-permit-without-having-to-leave-canada.html
(2) https://www.canada.ca/en/immigration-refugees-citizenship/news/notices/extension-public-policy-visitors-apply-work-permits.html
(3) https://www.canada.ca/en/immigration-refugees-citizenship/news/2022/10/international-students-to-help-address-canadas-labour-shortage.html
(4) https://www.canada.ca/en/immigration-refugees-citizenship/corporate/publications-manuals/operational-bulletins-manuals/updates/2022-visitors-apply-work-permit.html
(5) https://www.canada.ca/en/immigration-refugees-citizenship/news/notices/visit-to-work.html