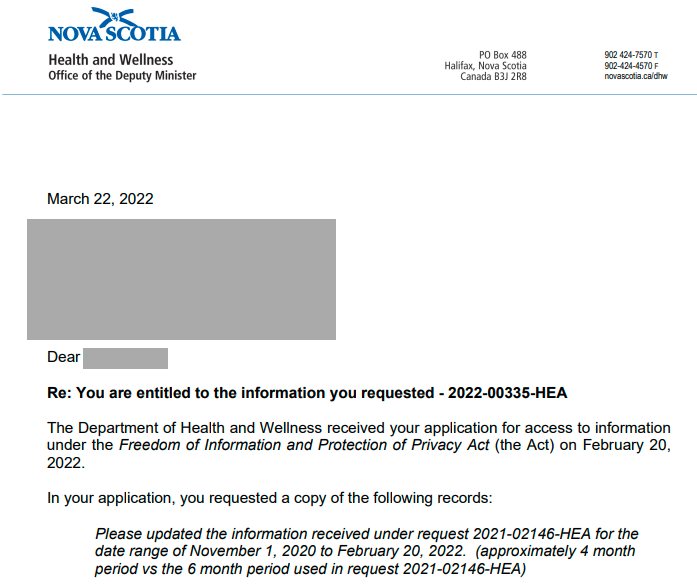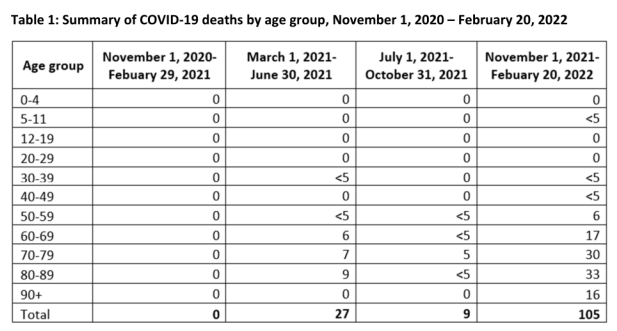 A reader to the site recently brought up a freedom of information request release related to "Covid deaths". Nova Scotia is a province that releases their FOIs after they are sent off — with personal information redacted, of course.
There were zero (0) so-called "Covid deaths" in the period of November 1, 2020 until February 28, 2021.
By contrast, there were 105 so-called "Covid deaths" in the period of November 1, 2021 until February 28, 2022. This would be the period where vaccine passports were implemented.
Of course, this "virus" isn't real, and germ theory is a hoax. That being said, it's pretty interesting when Nova Scotia's own data shows that there are more deaths resulting well after the vaccine release. Even their information would lead reasonable people to question the side effects of these shots.

The definition of a "Covid death" has also been covered on this site. It amounts to nothing less than medical and scientific fraud.
And if you haven't seen Christine Massey's work with Fluoride Free Peel, go do that. There are some 200 or so FOIs showing that no one, anywhere in the world, has ever isolated this "virus". It's never been proven to exist. There's no point having a discussion on what treatments are beneficial, until the existence of this is demonstrated.
(1) 2022-00335-HEA_PublicPackage.pdf Deaths by age ranges
(2) https://www.fluoridefreepeel.ca/fois-reveal-that-health-science-institutions-around-the-world-have-no-record-of-sars-cov-2-isolation-purification/
PREVIOUS FOI RESULTS FROM NOVA SCOTIA
(A) https://canucklaw.ca/nova-scotia-foi-response-tacitly-admits-there-is-no-wave-of-hospitalizations/
(B) https://canucklaw.ca/nova-scotia-foi-result-province-refuses-to-turn-over-data-studies-justifying
(C) https://canucklaw.ca/more-foi-requests-from-nova-scotia-trying-to-get-answers-on-this-pandemic/
(D) https://canucklaw.ca/nova-scotia-foi-request-shows-province-reduced-icu-capacity-in-recent-years/
(E) https://canucklaw.ca/nova-scotia-foi-shows-province-has-no-evidence-asymptomatic-spreading
(F) https://canucklaw.ca/nova-scotia-foi-province-refuses-to-turn-over-contract/
(G) https://canucklaw.ca/nova-scotia-foi-19-1-million-spent-on/
(H) https://canucklaw.ca/nova-scotia-foi-no-real-increase-in-deaths-due-to-pandemic/