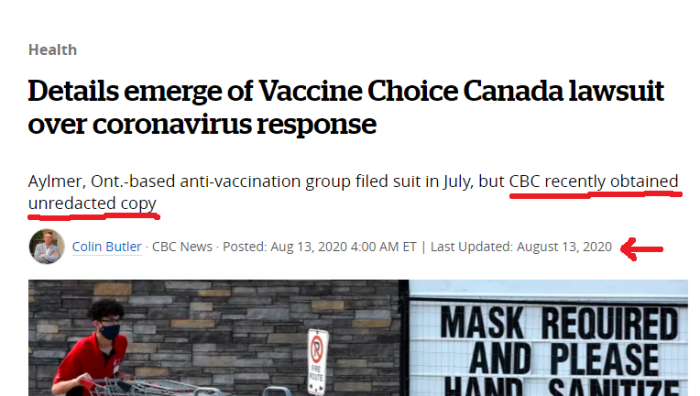 A high profile Toronto lawsuit filed July 6, 2020 will finally be heard in Court.
To clarify, this will not be a Trial, or anything of the sort. Instead the Court will hear Motions to throw the case out as frivolous, vexatious, an abuse of process, moot (no longer relevant) and "bad beyond argument". The Factums state that the Statement of Claim — the initial filing — is incoherent, unintelligible, lacks required facts and particulars, and fails to meet even the basics of Civil Procedure.
And they're not wrong.
See these critiques from 2021 and 2022. These upcoming Motions parallel those predictions a lot.
It doesn't help that this case remained inactive from July 2020 until January 2023. That's 2 1/2 years. Makes it hard to view this as urgent.
On a side note: as of the time of publication, there appear to only be 2 Factums on file, despite there being 5 Motions to Strike. Perhaps there has been a delay in filing from other lawyers.
Also, it needs to be pointed out that this group has 2 (two) separate lawsuits. Both were written by "Mr. Bad Beyond Argument" himself, and both are a complete waste of time and money.
1. Vaccine Choice Canada's 2019 Lawsuit Dormant
Back in October 2019, VCC filed a lawsuit against the Ontario Government challenging requirements to give injections to students. A response was filed, and the case garnered some attention.
But what these people don't tell you is that the case has been idle for 4 years now. It hasn't had a single Court appearance since then. There have been no hearings, evidence filed, or obvious attempts to move the case forward.
Ontario Court cases are typically dismissed for delay if they haven't reached Trial within 5 years, if there isn't a reasonable explanation. That will happen in October 2024, just 11 months from now.
2. Vaccine Choice Canada's 2020 Lawsuit To Get Thrown Out
Here's the Mercer Factum. However, the Ahmed/WEC Factum is even juicier with the following. It comes across as a lot more blunt in regards to these circumstances. When others are filed, they'll be made available too.
(26) It has been outlined in the jurisprudence that it is fundamental to the trial process that a plaintiff plead material facts in sufficient detail to support the claim and relief sought. Opposing parties cannot be left to speculate as to how the facts support the causes of action pled. Rather, the pleading must tell the defendant who, when, where, how and what gave rise to its liability.
(28) In Adelberg v. Canada, a Statement of Claim was filed by some 600 plaintiffs who alleged they suffered harm because of a COVID-19 vaccination policy issued by the Treasury Board of Canada. The claim was almost 50 pages long, with nine pages devoted to remedies sought, some of which were not available in a civil action, including administrative declarations and injunctive relief. The claim included allegations of constitutional invalidity, criminal culpability and broad assertions of scientific knowledge. The pleading did not particularize the facts and was devoid of material facts pertaining to the personal circumstances of the plaintiffs. The Court found the pleading to be "bad beyond argument" and it was struck in its entirety. It is worthy to note that counsel for the plaintiffs in Adelberg is the same plaintiff counsel as in this matter before this Court.
(29) Similarly, the Court in Action4Canada v. British Columbia (Attorney General), struck the plaintiffs' pleading in which they sought damages and other relief from various government entities and employees for harms they allegedly suffered as a result of various restrictions instituted in British Columbia due to the COVID-19 pandemic. The Court held that the pleading could not be properly answered by a responsive pleading as it described wide-ranging global conspiracies and sought rulings of the court on issues of science. The pleading was also labelled as "bad beyond argument" and could not be mended by striking portions of it. The plaintiffs counsel in Action4Canada was one in the same as the Plaintiffs' counsel in this case and in Adelberg.
(32) Much like in the cases of Adelberg and Action4Canada, the pleading in this matter is "bad beyond argument". It is 190 pages long, violates the rules of pleadings, improperly names defendants, is replete with lengthy diatribes and makes allegations of cover-ups and conspiracies. It leaves many of the Defendants speculating as to how the facts support the causes of action pled. The pleading is, simply put, unintelligible and lacking in clarity, and should be struck. It cannot be mended by striking portions as it would only create more confusion and result in greater expenditure by the parties and this Court.
(37) In the alternative, this Court should strike or dismiss the Plaintiffs' pleading in its entirety on the grounds that the pleading is scandalous, frivolous, vexatious and otherwise an abuse of process as it contains many hallmarks of litigant behaviour as identified in the jurisprudence. As already indicated, the pleading is 190 pages in length, misnames defendants, contains 235 footers, includes rambling discourse, repeated misuse of legal, medical and other technical terms and makes discerning a legitimate cause of action very difficult. The pleading is unintelligible and is indicative of litigant behaviour resulting in five separate motions to strike before this Court.
(38) The courts have recognized that scarce resources should not be devoted to proceedings that are clearly frivolous and vexatious. They take away from meritorious cases and there is no benefit served in allowing them to continue. Scarce resources have already been devoted to this matter by the numerous counsel and parties involved as well as three days of valuable court time. The Plaintiffs' pleading should be struck in its entirety with no leave to amend. The pleading cannot be partially struck or mended to fix the multiplicity of signposts of a vexatious proceeding. Any attempt to do so would only result in the consumption of more time and limited resources and result in further confusion. It is "bad beyond argument".
Action4Canada struck as "bad beyond argument" at Paragraph 45:
https://www.canlii.org/en/bc/bcsc/doc/2022/2022bcsc1507/2022bcsc1507.html#par45
Adeberg struck as "bad beyond argument" at Paragraph 52:
https://www.canlii.org/en/ca/fct/doc/2023/2023fc252/2023fc252.html#par52
Earlier this year, the B.C. Law Society roasted the Action4Canada case, including it their training manual for new lawyers as an example of a "Wholly Inadequate Pleading".
Where's the lie here? Despite all of the things that various Governments have done to its citizens in recent years, these pleadings are so incomprehensible that they'll never make it to Trial. Litigants with valid concerns will never get their day in Court. These cases aren't thrown out on their merits, but because they're so poorly written. At some point, one has to wonder it this was done intentionally.
Despite the Claim being nearly 200 pages long, it fails to plead details that would have established liability of the Defendants. Yes, this needs to be spelled out. Instead, the bulk of the document is almost entirely irrelevant to a CIVIL Court in Ontario.
Moreover, Klaus Schwab, the World Economic Forum, Bill Gates, GAVI, the Rockefeller Foundation, and others aren't listed as Defendants, so the information about them is irrelevant.
The Rules of Civil Procedure for Ontario, particularly Rule 25.06, lay out the basics for how pleadings should be drafted. These aren't optional. Cases that don't follow them will get struck down. Hard to imagine how veteran lawyers don't know this.
Part of the problem with suing so-called "Medical Officers of Health" is that they have immunity from civil and criminal liability unless bad faith can be established. The Statement of Claim doesn't plead any facts that would allow that to be bypassed.
By letting so much time elapse, the Defendants can now introduce "mootness" as an escape. One has to wonder why the suit was never diligently pursued, and why it was just allowed to sit.
Vaccine Choice seems content to simply file high-profile cases with no concern as to whether they'll ever advance in the Courts. Kuntz himself has stated that their are other ways to get results other than from what a Judge has to say. This is improper, and a clear abuse of the Court system.
The Respondent (Plaintiff) Factum is due December 8th. Most likely, it will be a rehash of earlier ones, begging and pleading for a chance to rewrite. It will say that "it's not plain and obvious" the case has no merit. And after it is struck, expect a trip to the Court of Appeals, and requests for more donations.
And please do remember to donate!
Remember, by checking this link, anyone can SEARCH ONLINE FOR FREE to see what's happening with various cases. Don't accept the word of anyone here, but check it out for yourselves. Call the Court, or visit in person if that's a feasible option.
Ontario Superior Court, Civil Branch
330 University – Toronto
330 University Ave.
Toronto ON M5G 1R7
Court file# CV-20-00643451-0000
Civil – Superior Court of Justice
tel. 416-327-5440 (front desk)
VACCINE CHOICE CANADA DOCUMENTS (2019 CLAIM):
(1) VCC – Statement Of Claim, October 2019 Lawsuit
(2) VCC – Statement Of Defence, October 2019 Lawsuit
(3) VCC – October 2019 Press Release
VACCINE CHOICE CANADA DOCUMENTS (2020 CLAIM):
(1) VCC – Statement Of Claim Unredacted
(2) VCC – Discontinuance Against CBC
(3) VCC – Mercer Statement Of Defense
(4) VCC – Mercer Affidavit Of Service
(5) VCC – Requisition For CPC Motion To Strike
(6) VCC – Notice Of Motion To Strike
(7) VCC – Factum WEC Wajid Ahmed
(8) VCC – Factum Nicola Mercer