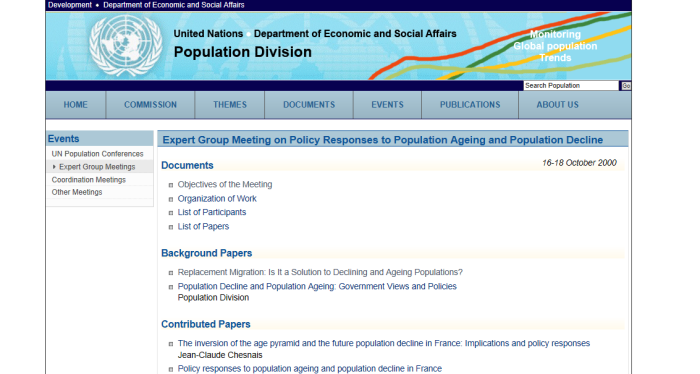 1. Important Links
CLICK HERE, for Gov't views & policies.
CLICK HERE, for participant contact info.
CLICK HERE, for Russian replacement migration.
CLICK HERE, for European replacement migration.
CLICK HERE, for Korean population decline.
CLICK HERE, for various conferences.
CLICK HERE, for the "About" page.
CLICK HERE, for "resolutions" from the UN Population Division.
2. List Of Documents
CLICK HERE, for the 2000 UN Expert Group Meeting On Policy Responses
REPLACEMENT MIGRATION: IS IT A SOLUTION TO DECLINING AND A GEING POPULATIONS? (United Nations Population Division)
UN/POP/PRA/2000/2 POPULATION AGEING AND POPULATION DECLINE: GOVERNMENT VIEWS AND POLICIES (Anatoly Zoubanov – United Nations Population Division)
UN/POP/PRA/2000/3 THE INVERSION OF THE AGE PYRAMID AND THE FUTURE POULATION D ECLINE IN FRANCE: IMPLICATIONS AND POLICY RESPONSES (Jean-Claude Chesnais)
UN/POP/PRA/2000/4 POLICY RESPONSES TO POPULATION AGEING AND POPULATION DECLINE IN FRANCE (Georges Tapinos)
UN/POP/PRA/2000/5 DEMOGRAPHIC AGEING AND POPULATION DECLINE IN 21ST CENTURY G ERMANY – CONSEQUENCES FOR THE SYSTEMS OF SOCIAL I NSURANCE (Herwig Birg)
UN/POP/PRA/2000/6 POLICY RESPONSES TO POPULATION AGEING AND POPULATION DECLINE IN GERMANY (Charlotte Hoehn)
UN/POP/PRA/2000/7 POSSIBLE POLICY RESPONSES TO POPULATION AGEING AND P OPULATION DECLINE: THE CASE OF ITALY (Antonio Golini)
UN/POP/PRA/2000/8 FEWER AND OLDER ITALIANS, MORE PROBLEMS? LOOKING FOR S OLUTIONS TO THE DEMOGRAPHIC QUESTION (Maria Rita Testa)

UN/POP/PRA/2000/9 THE COMING OF A HYPER-AGED AND DEPOPULATING SOCIETY AND P OPULATION POLICIES – THE CASE OF JAPAN (Makoto Atoh)
3. How Far Back Does This Go?
United Nations Conferences on Population
.
Since the United Nations officially came into existence on 24 October 1945 three world conferences on population have been held. The first conference, Bucharest World Population Conference, dates back to 1974. Ten years later Mexico City hosted the second International Conference on Population. The last world conference, the Cairo International Conference on Population and Development, was held 1994. Two other conferences on population have been convened. The first one in 1954 in Rome. The second one in Belgrade in 1965. In 1999 a Special Session of the General Assembly on Population was held in New York.
Let's Think About This:
Meet in 1954 in Rome
Meet in Belgrade in 1965
1st Conference in 1974
2nd Conference in 1984
3rd Conference in 1994
4. Overview
The Population Division was established in the earlier years of the United Nations to serve as the Secretariat of the then Population Commission, created in 1946. Over the years, the Division has played an active role in the intergovernmental dialogue on population and development, producing constantly updated demographic estimates and projections for all countries, including data essential for the monitoring of the progress in achieving the Millennium Development Goals, developing and disseminating new methodologies, leading the substantive preparations for the United Nations major conferences on population and development as well as the annual sessions of the Commission on Population and Development.
The United Nations Population Division assists the Department of Economic and Social Affairs in discharging its functions as member of the Global Migration Group. It provides programmatic support to the Special Representative of the Secretary-General for International Migration and Development. It co-chairs the Population cluster of the Executive Committee on Economic and Social Affairs (EC-ESA), together with the Population Division of ECLAC.
Why would the UN want to know all this information? Why would it want to know the population and demographic trends of memberstates? Almost like it wants to control the world.
5. Want A Job?
CLICK HERE, and see if you're qualified.
Responsibilities
Within delegated authority, the duties of the Associate Population Affairs Officer are the following:
.
•Assists in developing and maintaining databases on demographic indicators, population and development indicators, population policy information and indicators or information on other population-related issues.
•Applies the techniques of demographic analysis to estimate demographic indicators and to evaluate population data for completeness and accuracy so as to adjust the data as needed. It also includes the application of techniques or methods of projection of family planning indicators, and the provision of input to the periodic revisions of assumptions underlying those projections.
•Prepares first drafts and inputs to technical studies or research reports.
•Applies methodologies for demographic analysis.
•Attends international, regional and national meetings on population issues to present results of demographic analysis and research; keeps abreast of developments in the field, gathers information, network and holds discussions on population issues with colleagues in other institutions.
•Provides, as necessary, substantive support to technical cooperation projects in the area of population and development.
•Performs other related duties as required, including a variety of administrative tasks necessary for the final delivery of the work unit's products.
Does plotting and calculating the future demographic trends turn you on? Get a kick out of becoming a minority in your own homeland? You can document the destruction of your nation and get paid quite well.
WHY ISN'T THE PUBLIC AWARE?

The United Nations has been studying population and demographic trends since at least 1974 (though probably much longer). They have been gathering all this information, and it is more than a passing interest.
Keep in mind, the UN also promotes agreements such as the Global Migration Compact. There is no way the UN "wouldn't" know about the long term trends and consequences from facilitating mass migration. There is no way the UN "wouldn't" know about the breakdown and weakening of social cohesion by engaging in this.
There is only one explanation
UN WANTS DEMOGRAPHIC REPLACEMENT