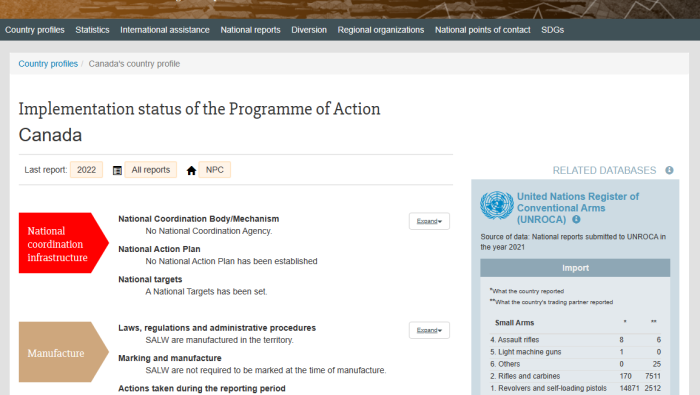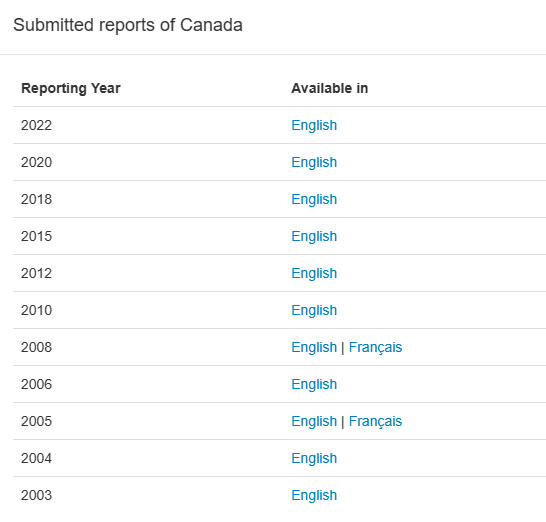 The title isn't clickbait. The UNODA, or United Nations Office for Disarmament Affairs, keeps records of the various actions taken by Member States. Canada is one of them.
One of the specific initiatives is the UN Programme of Action (PoA) and its International Tracing Instrument (ITI), which essentially amounts to global gun control efforts.
Interestingly, the Federal Government is reporting some of the restrictions they've made on gun owners in the 2022 report as the progress being made towards the implementation of PoA and the ITI. (See archive).
This raises the obvious question of who is really in charge here.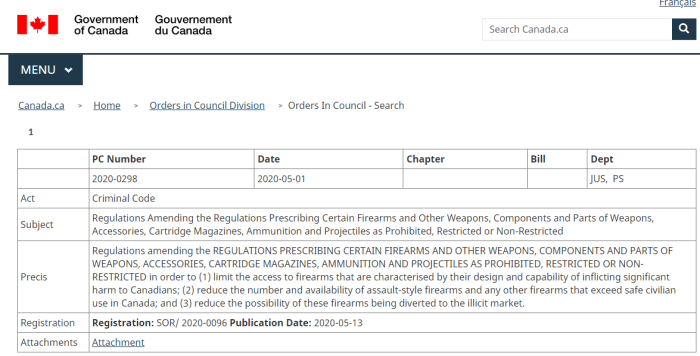 Let's start with O.I.C. 2020-0298.
[Page 3]
National targets
1.4. Has your country set national targets relating to the implementation of the PoA and ITI?
1.4.1. If so, describe
In May 2020, the Government of Canada prohibited over 1,500 models of assault-style firearms and their variants. These prohibited firearms cannot be legally sold, or imported, and can only be used or transported under limited circumstances. An Amnesty Order is in effect until October 30, 2023 to allow firearms owners and businesses to come into compliance with the law, and to allow time to implement a mandatory buyback program.
.
As part of the Government of Canada's comprehensive strategy to keep communities safe from gun violence, the Government intends to continue the implementation of regulations for firearms licence verification and business record-keeping; require the permanent alteration of long-gun magazines so that they can never hold more than five rounds; ban the sale or transfer of magazines capable of holding more than the legal number of bullets; implement the gang prevention and intervention program to provide direct funding to municipalities and Indigenous communities; introduce red flag laws to allow the immediate removal of firearms if that person is a threat to themselves or others, particularly to their spouse or partner, and increase maximum penalties for firearms trafficking and smuggling.
Target year:
2024
If this is to be taken at face value, then the May 1, 2020 Order In Council was aimed at complying with the PoA and the (ITI).
The "Red-Flag Laws" are a reference to Bill C-21, which was introduced in the last session of Parliament, and reintroduced in this one.
Altering firearms so they can never hold more than 5 bullets is also something that Bill C-21 addresses, although the details are sparse.

Then there's O.I.C. 2022-0447.
[Page 6]
ITI 12a 2.3.2. How long must manufacturing records be kept?
[if other, please explain]
For businesses only (NOT for manufacturers): As of May 18, 2022, firearms businesses are required to keep records which describe each firearm in their possession, and record activities related to each firearm, the date on which these activities are performed, and their disposal, as follows, in order to facilitate the tracing of firearms by law enforcement in the event that a firearm is diverted to the illicit market:
.
i) Manufacturer, make, model, type of firearm, classification, action, gauge or caliber, barrel length, magazine capacity (in the case of a fixed magazine), and all serial numbers found on the frame and receiver.
.
ii) Manufacture, importation, exportation, purchase, alteration, repair, storage, exhibition, deactivation,
destruction, sale, barter, donation, consignment, pawn, or any other category related to the possession or disposal of the firearm, and the date on which the change occurred;
.
iii) The name of the shipper, their permit number or carrier licence number, and the reference number, if the shipper is different from the business keeping the records. Businesses would be required to retain the possession and disposal records for 20 years from the record's creation. Once a business ceases to be a business they must transfer their records to the Registrar of Firearms who will hold them for no less than 20 years.
By another Order In Council, it's now the law that businesses must keep records of all gun sales for a minimum of 20 years, regardless of whether they are non-restricted. Again, this is the "progress" that's being reported to the UNODA.
Keep in mind, Target 16.4 of the U.N. Sustainable Development Goals states that: "By 2030, significantly reduce illicit financial and arms flows, strengthen the recovery and return of stolen assets and combat all forms of organized crime". The full text is available online.
Were these changes made because politicians believed they were the right things to do? Or, were they done in order to comply with international agreements?
(1) https://disarmament.unoda.org/conventional-arms
(2) https://smallarms.un-arm.org/sustainable-development-goals
(3) https://smallarms.un-arm.org/country-profiles/CAN
(4) https://unoda-poa.s3.amazonaws.com/reports/CAN-English-1186-SUBMITTED.pdf
(5) UNODA 2022 Report On Gun Control Measures
(6) https://orders-in-council.canada.ca/attachment.php?attach=39208&lang=en
(7) https://orders-in-council.canada.ca/attachment.php?attach=41953&lang=en
(8) https://www.parl.ca/legisinfo/en/bill/43-2/c-21
(9) https://sustainabledevelopment.un.org/content/documents/21252030%20Agenda%20for%20Sustainable%20Development%20web.pdf