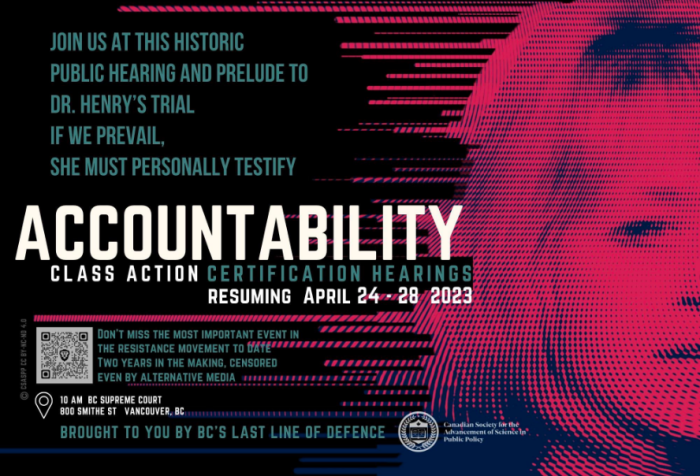 Monday, April 24, the B.C. Supreme Court in Vancouver is set to resume certification hearings for a proposed class action lawsuit. It was brought by a group called CSASPP, the Canadian Society For The Advancement Of Science In Public Policy.
This is not a Trial, but simply procedural hearings to determine if the class action is to be certified (approved), and can go ahead. Even if certified, there is still a lot to be done afterwards.
There won't be livestreaming of the proceedings, but at least one person, Eva Chipiuk, is promising real-time updates on Twitter. It's explained here, in a short video clip.
The hearings started on December 12, 2022, and were supposed to have been concluded during the week of the 12th to the 16th. But things took a lot longer than expected, to be blunt.
CSASPP provides a page for their status updates, which is in reverse chronological order. If the court documents themselves are a bit overwhelming, this will provide a "Coles Notes" version.
Videos of the December 2022 hearings are available online.
Should this case go ahead, then Bonnie Henry, the "British Columbia Provincial Health Officer" would likely be forced to testify. And does she ever have things to answer for.
On a side note: it would be nice to see the issue of whether this "virus" exists confronted head on. After all, if the Government is lying about vaccines, masks, lockdowns, testing, contact tracing and pretty much everything else, why should we assume they tell the truth about viruses?
As for the Action4Canada suit, there's been no amended Notice of Civil Claim filed in the 8 months since the last one crashed spectacularly. The organization is still fundraising, on the premise that it will refile at some point. The group decided to file a baseless appeal, rather than do a rewrite, which was allowed. It's now used by the B.C. Law Society as a "teaching moment". Heck, even the OPCA hacks aren't really pushing this case anymore.
Below are a significant portion of the CSASPP documents. It's not exhaustive, but should provide readers with much needed background information. These can be saved or duplicated at will.
DOCUMENTS AVAILABLE FROM CASE
(A) CSASPP 20210126 Notice of Civil Claim
(B) CSASPP 20210321 Request for Assignment of Judge
(C) CSASPP 20210331 Response to Civil Claim
(D) CSASPP 20210531 Cease and Desist Letter to Regulators
(E) CSASPP 20210621 CSASPPs Case Plan Proposal
(F) CSASPP 20210621 Dr Bonnie Henrys availability requested
(G) CSASPP 20210731 Defendants Case Plan Proposal
(H) CSASPP 20210813 Requisition for JMC for 1 October 2021
(I) CSASPP 20210817 Demand for Particulars
(J) CSASPP 20210821 Plaintiffs Response to Demand for Particulars
(K) CSASPP 20210913 Oral Reasons for Judgment Short Leave Application Seeking Stay
(L) CSASPP 20210915 Amended Notice of Civil Claim
(M) CSASPP 20211025 Affidavit No 2 of CSASPP Executive Director
(N) CSASPP 20211028 Proceedings in Chambers Defendants Application for Further Particulars
(O) CSASPP 20221101 Affidavit No 3 of Redacted Deponent Redacted
(P) CSASPP 20221102 Dr Henry and HMTKs Application Response for Webcast Application
(Q) CSASPP 20221115 Respondents Requisition Seeking 16 Nov 2022 CPC to Be Held by MS Teams
(1) https://justice.gov.bc.ca/cso/index.do
(2) https://www.covidconstitutionalchallengebc.ca/court-documents
(3) https://www.covidconstitutionalchallengebc.ca/status-updates
(4) https://www.covidconstitutionalchallengebc.ca/faq
(5) https://www.covidconstitutionalchallengebc.ca/transparency
(6) https://www.covidconstitutionalchallengebc.ca/hearing-videos
(7) https://www.canlii.org/en/bc/bcsc/doc/2022/2022bcsc2108/2022bcsc2108.html