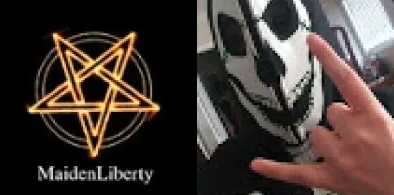 The Babylon Beaver welcomes notorious YouTuber, Maiden Liberty, to run the Crisis Actor Department. This is the fastest growing department in mainstream and alternative news these days.
Sure, Babylon's rating have been decreasing, and advertisers won't pay as much, but that has no relation to the new business model of producing quality content. This outlet is independently owned and operated, just please don't ask who our biggest donors are.
Maiden is known for kicking ass, kicking more ass, still kicking ass, continuing to kick ass, then taking names once in a while. This job however, will be more of management position.
She is also a former researcher into human behaviour. Knowing what words, images and events will trigger people (but not too much) is a critical skill to have.
Crisis actors to serve an important role for any media outlet. The general public won't know whether to be fearful or outraged without the correct shills saying the right things. Banding together groups of "independent" people can help spread whatever message needs to be pumped out.
Product placement will continue to be available for all donors. If you want a facemask that represents "Business A", or a sweater that advertises "Cause B", you can be assured that at least a few actors will be accommodating. Appropriate roles will also be selected, so as to not damage your brand.
On a related note: the "Occupy Wall Street" product line has been discontinued, given the abundance of fed posting and infiltration. Research into substitutes in ongoing.
Maiden will also be responsible for keeping track of which actors appeared in which psy-op. Obviously, if the same faces are too prevalent, even the idiot normies will eventually catch on.
Contact her if you are interested in being a before/after model for vaccination. Having healthy, fit people is essential to overcoming vaccine hesitancy, and ensuring the sheep take it en masse. Interviews will continue for the next few weeks.
Welcome aboard, Maiden Liberty!
Those malakas won't know what hit them.