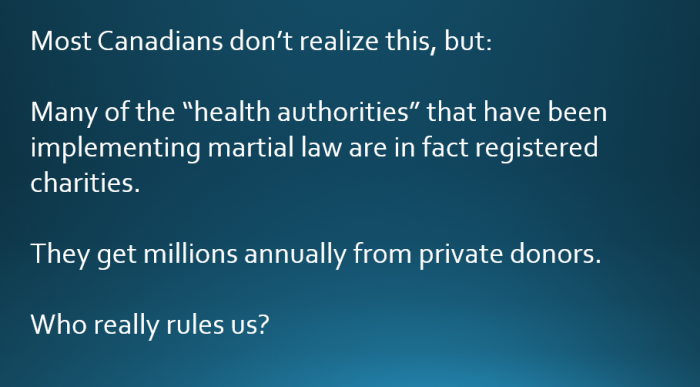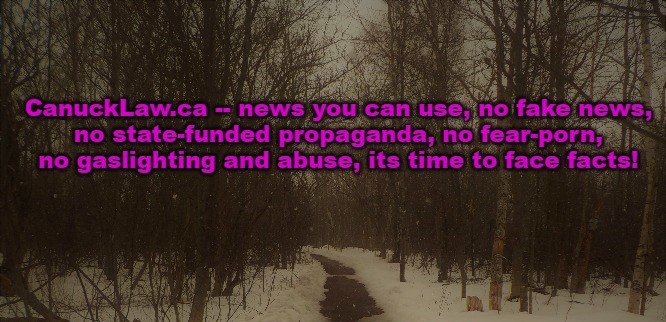 Most people (reasonably) assume that the institutions stripping rights away in the name of "infection control" are at least part of the Government. But is that really the case? Turns out, many "health authorities" are registered charities which receive millions each year from outside sources.
All of this information is freely available on the Canada Revenue Agency's website. The C.R.A. is responsible for monitoring the finances of charities.
Side note: most colleges and universities in Canada are also structured as charities. Presumably, it makes it easier to attract donations, knowing that the public really pays for almost half. Of course, the University of Toronto — epicenter of the Ontario Science Table — is one as well.
All of this would be common knowledge if the media wasn't paid to deceive and mislead.
(1) https://apps.cra-arc.gc.ca/ebci/hacc/srch/pub/bscSrch
INTERNATIONAL HEALTH REGULATIONS
(A.1) WHO International Health Regulations Legally Binding
(A.2) A Look At International Health Regulation Statements
(A.3) Quarantine Act Actually Written By WHO, IHR Changes
(A.3.2) Oversight For QA Proposals Removed, Slipped In Budget Bill
(A.4) Provincial Health Acts Domestic Implementation Of WHO-IHR, Part I
(A.5) Provincial Health Acts Domestic Implementation Of WHO-IHR, Part II
(A.6) World Health Treaty Proposed, Based On WHO-IHR
CHARITIES, PUBLIC HEALTH AGENCY OF CANADA
(B.1) Public Health Agency Of Canada Created As WHO-IHR Outpost
(B.2) Health Canada Initially Created For Population Control Measures
(B.3) Robert Steiner Claims To Be Major PHAC Advisor To Liberals
(B.4) BC Provincial Health Services Authority A Private Corporation, Charity
(B.5) BCCDC Foundation A Registered Charity; Funded By Big Pharma
(B.6) Alberta Health Services: Mostly Autonomous Corporation, Charity
(B.7) Ontario Public Health An Autonomous Corporation, OST Ties
(B.8) Executives Of "Charity" Public Health Orgs. Paid Very Well
(B.9) Canada Public Health Association A Charity, Funded By Big Pharma
(B.10) University Of Toronto; Charity; Merck; Millers; OST
(B.11) McMaster University; Charity; Gates; Donations; Pandemic
(C.1) Hotel, Restaurant Groups Getting Wage/Rental Subsidies
(C.2) Liberals, Conservatives, NDP All Getting Bailout Money
(C.3) Lawyers, Bar Associations Receiving CEWS Money
(C.4) Conflicting Out? Lawyers Getting More Than Just CEWS
(C.5) Churches Are Charities, Getting CEWS, Subsidies & Promoting Vaccines
(C.6) Trucking Alliance Grants Raising many Eyebrows
(C.7) Chambers Of Commerce Subsidized By Canadians, Want Open Borders
(C.8) Banks, Credit Unions, Media Outlets All Getting CEWS
(C.9) Publishing Industry Subsidized By Taxpayer Money
(C.10) Gyms Getting Subsidized To Implement Masks, Vaxx Passes
(D.1) Unifor, Media, In Bed With Gov't, $595M
(D.2) Government Subsidizes Media To Ensure Positive Coverage
(D.3) Postmedia Subsidies/Connections, Lack Of Real Journalism
(D.4) Latest "Pandemic Bucks" Grants In 2021, Lorrie Goldstein
(D.5) Nordstar; Torstar; Metroland Media; Subsidies & Monopoly
(D.6) Aberdeen Publishing Takes Handouts, Ignores Real Issues
(D.7) More Periodicals Taking Grants, Parroting Gov't Narrative
(D.8) Tri-City News, LMP Pulls Bonnie Henry Article; Pandemic Bucks
(D.9) Black Press Group; Media Outlet Doxing Of Convoy Donors
(D.10) Subsidized Fact-Check Outlets Run By Political Operatives
(D.11) Digital Citizen Contribution Program: Funds To Combat "Misinformation"
(D.12) Counter Intelligence "Disinformation Prevention" Groups Are Charities
(D.13) CIVIX, More Grants To Combat "Disinformation" In 2021, Domestic, Foreign
(D.14) PHAC Supporting #ScienceUpFirst Counter Intel Effort
(D.15) Rockefeller Spends $13.5 To Combat Misinformation
(D.16) Media, Banks, CU, Getting CDA Emergency Wage Subsidies (CEWS)
(D.17) John Tory's Sister Board Member At Bell; CEWS; Subsidies
(D.18) True North Not Honest About Bailouts/Subsidies It Receives