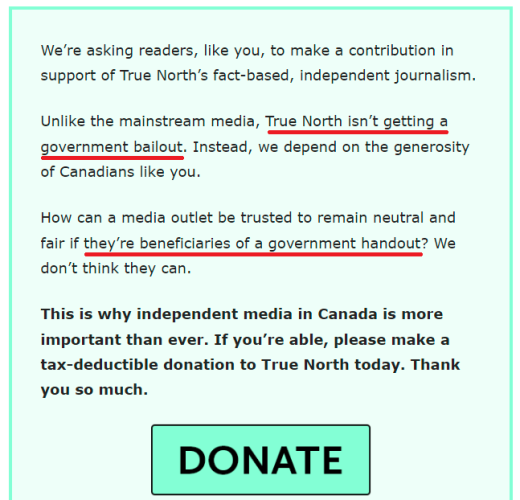 The following is attached to the bottom of every article. There's nothing inherently wrong with asking readers, clients, customers, etc…. for money for providing a product or service. After all, bills do need to be paid, and it's reasonable for people to be compensated for their time. This isn't an argument against this practice.
All of that being said, if your organization is funded by the Government, be honest about it. Don't lie, especially when it's so easy to check out.
We're asking readers, like you, to make a contribution in support of True North's fact-based, independent journalism.
.
Unlike the mainstream media, True North isn't getting a government bailout. Instead, we depend on the generosity of Canadians like you.
.
How can a media outlet be trusted to remain neutral and fair if they're beneficiaries of a government handout? We don't think they can.
.
This is why independent media in Canada is more important than ever. If you're able, please make a tax-deductible donation to True North today. Thank you so much.
CEWS, the Canada Emergency Wage Subsidy Program, has been around since the Spring of 2020. As the name implies, it pays a large part of a company's wages. This is typically the biggest expense businesses have. This would be especially true for an online media company.
This may be a reference to the infamous $600 million media bailout Trudeau announced back in 2018. However, that was just one of many schemes going back decades to subsidize and prop up Canadian media. There are plenty of these handouts, documented extensively on this site.
It's worth pointing out that many True North contributors also either work for or have worked for the Postmedia empire. This conglomerate has subsidized long before CEWS came along. And about those "tax deductible donations" they are asking for…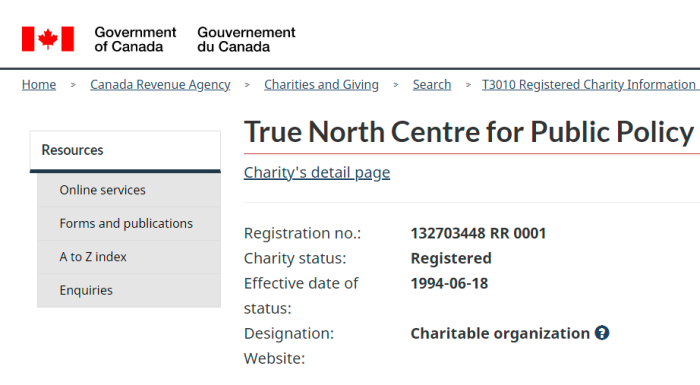 In 1994, a charity called the Independent Immigration Aid Association was formed. It was a resettlement program for people wishing to get to British Columbia. In 2017, this was repurposed as a media outlet called True North Centre for Public Policy. Press Progress covered it in detail. The most likely reason for doing this — and not starting a charity from scratch — was that it would involve less work, costs, and scrutiny from Revenue Canada.
While claiming not to get Government bailouts or handouts, True North has been subjected to a much more favourable tax scheme with its charity setup. One might view that as milking the taxpayer.
It seems the mainstream and alternative medias are just 2 sides of the same Trudeau-funded coin.
(1) https://tnc.news/2021/11/22/trudeau-re-opens-roxham-road-to-illegal-border-crossers/
(2) https://apps.cra-arc.gc.ca/ebci/hacc/cews/srch/pub/bscSrch
(3) https://ic.gc.ca/app/scr/cc/CorporationsCanada/fdrlCrpDtls.html?corpId=2643260&V_TOKEN=null&crpNm=true%20north&crpNmbr=&bsNmbr=
(4) https://apps.cra-arc.gc.ca/ebci/hacc/srch/pub/dsplyRprtngPrd?q.srchNmFltr=true+north+centre&q.stts=0007&selectedCharityBn=132703448RR0001&dsrdPg=1
(5) https://pressprogress.ca/right-wing-media-outlet-accredited-for-leaders-debate-is-also-registered-as-a-charity-for-immigrants/