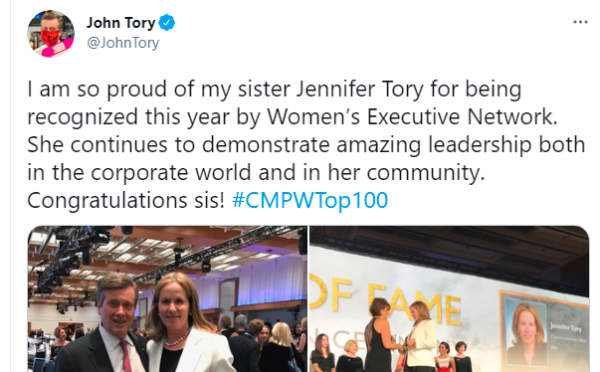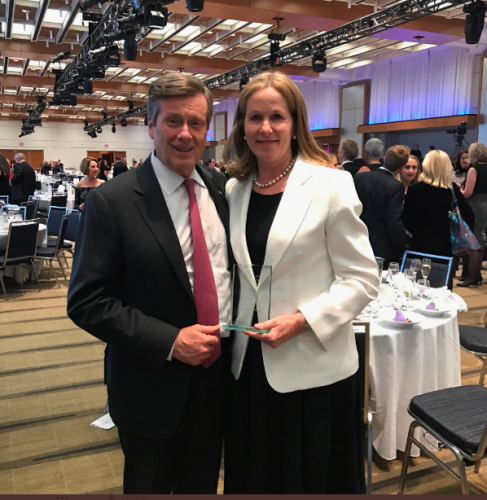 Family time is always a wonderful thing. Even as adult, brothers and sisters should appreciate and celebrate the accomplishments of each other. On the surface, this is a lovely display of affection between John and Jennifer Tory. The thread also mentions Jennifer's work with Sunnybrook at RBC
Then we have this: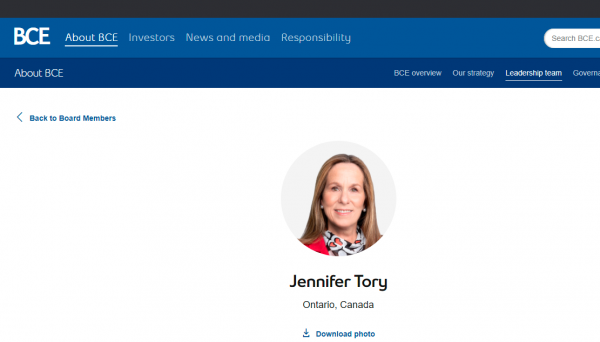 Jennifer Tory is a corporate director who was, until her retirement in December 2019, the Chief Administrative Officer of RBC (a chartered bank) where she held responsibility for Brand, Marketing, Citizenship & Communications, Procurement and Real Estate functions globally. Prior to this role, she was Group Head, Personal & Commercial Banking, leading RBC's retail and commercial customer businesses and operations in Canada and the Caribbean from 2014-2017.
.
Throughout her 42-year career, Ms. Tory held a number of key senior operating positions across retail distribution and operations including overseeing digital & cost transformation of the business. She is Chair, Toronto International Film Festival Board, a member of the Sunnybrook Hospital Foundation Board, and completed her ICD.D designation. Ms. Tory is a Member of the Order of Canada.
.
Ms. Tory is a director of BCE and Bell Canada board since April 2021.
Jennifer Tory, sister of Toronto Mayor, John Tory, is a Board Member at Bell Media. They own a good chunk of the television and radio media in Canada. Funny thing is, this relationship is not really discussed. Granted, she joined the board quite recently, but still.
Surprisingly, the Toronto Star did quite a good piece on Bell's new management changes. However, it's an open question how fairly the Bell media empire will cover things, given the Tory relationship. It seems unlikely Jennifer would hang her brother out to dry.

Gordon M. Nixon is Chair of the Board of BCE and Bell Canada since April 2016. He was President and Chief Executive Officer of the Royal Bank of Canada (a chartered bank) from August 2001 to August 2014. Mr. Nixon first joined RBC Dominion Securities Inc. (an investment banking firm) in 1979, where he held a number of operating positions, serving as Chief Executive Officer from December 1999 to April 2001.
.
Mr. Nixon is a Director and past Chair of MaRS, a Toronto based network of partners that helps entrepreneurs launch and grow innovative companies and is a Trustee of the Art Galley of Ontario. He is a Director and Chair of the Corporate Governance Committee at Blackrock, Inc. and is Lead Director of George Weston Limited.
.
Mr. Nixon earned a Bachelor of Commerce degree with Honours from Queen's University and was awarded honourary Doctorate of Law degrees from Queen's University and Dalhousie University. He is a Member of the Order of Canada, the Order of Ontario and was inducted into the Canadian Business Hall of Fame.
Nixon is the Director and Chair of Corporate Governance at Blackrock, which owns SNC Lavalin, and has ties to the Communist Party of Canada. And like Tory, he was an Executive for RBC for a prolonged period. And George Weston Limited is the parent company of countless grocery chains.
David Denison is a former President and CEO of CPPIB, the Canada Pension Plan Investment Board, and also was an RBC exceutive.
Calin Rovinescu was the CEO of Air Canada from 2009 until 2021. He's also a pension fund manager and a Director at the Bank of Nova Scotia.
Cornell Wright is Executive Vice President of Wittington Investments, Limited (the principal holding company of the Weston-Loblaw-Choice Properties group). He's scheduled to leave at the end of 2021. He also spent 20 years at Torys LLP law firm, founded by John Tory's family.
Given the number of television channels and radio stations that Bell owns, having any sort of bias in management is likely to lead to censorship. A quick look through Wikipedia will show just how large the empire is.
In fairness however, CTV seemed to have little interest in doing accurate "pandemic" coverage beforehand, but this won't help matters.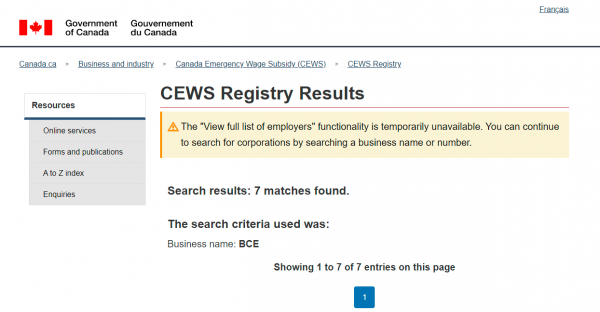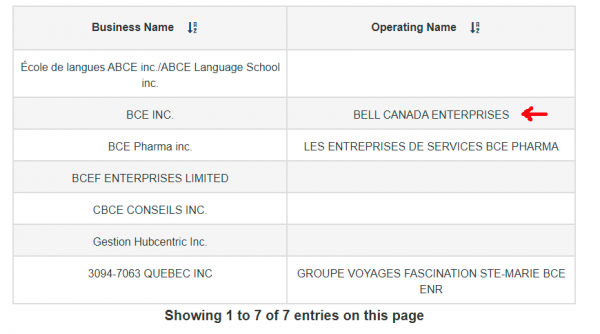 Bell, or BCE, has received CEWS, or Canada Emergency Wage Subsidy. Although the amount is not listed, it's possible that some 75% of wages are being subsidized by taxpayers. That could contribute to why their television and radio stations simply parrot the Government narrative uncritically.

It's worth pointing out that Rogers Media, which John Tory used to be President and CEO of, also received benefits from the Canada Emergency Wage Subsidy.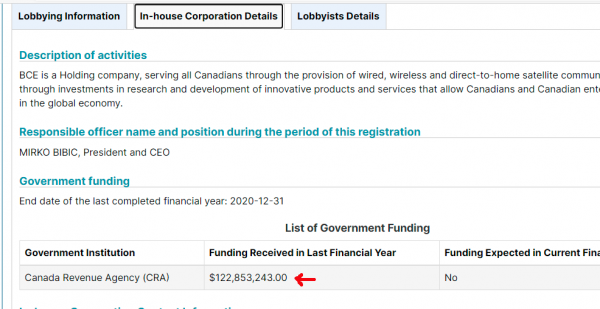 According to the Office of the Lobbying Registrar, BCE received almost $123 million from the Canada Revenue Agency in the year 2020. Although the details aren't specified in this, it is likely a combination of Government programs like CEWS, the Commercial Rent Subsidy, and grants awarded to the company. It would be interesting to know the exact terms of this funding.
Think that biased and slanted coverage in the media is just poor reporting? It's likely to be more deliberate and organized than that. Bell, like most companies, aren't too likely to bite the hand that feeds them.
(1) https://twitter.com/JohnTory/status/933891571015192576
(2) https://bce.ca/about-bce/leadership-team/board-members/jennifer-tory
(3) https://bce.ca/about-bce/leadership-team/board-members/gordon-m-nixon
(4) https://bce.ca/about-bce/leadership-team/board-members/david-f-denison
(5) https://bce.ca/about-bce/leadership-team/board-members/calin-rovinescu
(6) https://bce.ca/about-bce/leadership-team/board-members/cornell-wright
(7) https://en.wikipedia.org/wiki/List_of_assets_owned_by_Bell_Media
(8) https://en.wikipedia.org/wiki/John_Tory
(9) https://apps.cra-arc.gc.ca/ebci/hacc/cews/srch/pub/bscSrch
(10) https://lobbycanada.gc.ca/app/secure/ocl/lrs/do/vwRg?cno=4971&regId=907642