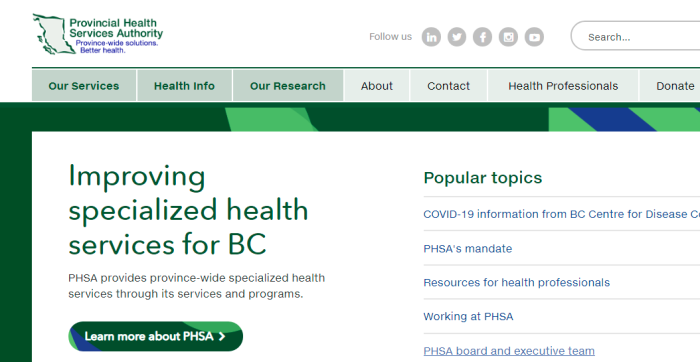 The PHSA, or Provincial Health Services Authority of British Columbia, is a private organization that runs health care in the Province. It operates similar to SROs, or self-regulating organizations in other Provinces. It was founded in 2001. True, it receives FUNDING from the public, but is set up as a corporation, and acts in an autonomous manner.
Part 2 — Fundamental Matters in Relation to Societies
.
Division 1 — Nature of Societies
.
Purposes
2(1) Subject to subsection (2), a society may be formed under this Act for one or more lawful purposes, including, without limitation, agricultural, artistic, benevolent, charitable, educational, environmental, patriotic, philanthropic, political, professional, recreational, religious, scientific, social or sporting purposes.
.
(2) A society must not have, as one of its purposes, the carrying on of a business for profit or gain, but carrying on a business to advance or support the purposes of a society is not prohibited by this subsection.
.
(3) The registrar may, in writing and giving reasons, order a society to alter its purposes if the registrar considers one or more of those purposes to be contrary to this Act or otherwise unlawful.
Liability of members
5 A member of a society is not, in that capacity, liable for a debt or other liability of the society.
.
Capacity and powers of society
6 A society has the capacity, rights, powers and privileges of an individual of full capacity.
Division 3 — Incorporation of Societies
.
Application for incorporation
13 One or more persons may incorporate a society by filing with the registrar an incorporation application that
.
(a) sets out the name reserved under section 9 [name] for the society and the reservation number given for that name,
.
(b) contains
(i) a constitution,
(ii) bylaws, and
(iii) a statement of directors and registered office, and
(c) sets out the full name and contact information of each of the applicants for incorporation.
The PHSA, is a corporation that acts under the BC Societies Act. It has the by-laws and constitution like any other company, and has the legal protections and rights of a full person.
In section 2.1 of its By-Laws, the PHSA specifies that there must always be at least one person appointed from the University of British Columbia. Very strange to have a quota system from an institution. It's even more strange since Adrian Dix and several members running PHSA also have attended UBC.
Members are also able to rack up large debts in the name of the PHSA, but won't be held personally responsible for any of them.
Why does all of this matter? Because the PHSA is the group that oversees all health care in British Columbia. According to a 2018 mandate letter from Health Minister Adrian Dix:
PHSA is directed to develop, review, and/or update evidence informed provincial clinical policy, in alignment with the policy direction set by the Ministry, to ensure appropriate, consistent, and equitable patient care services to strengthen the quality of our system of health care, in the following areas:
• Cancer Health
• Women's Health
• Perinatal Health
• Children's Health
• Mental Health and Substance Use (as requested by the Ministry of Mental Health and
Addictions)
• Forensic Psychiatric
• Health Care for Provincial Correctional Institutions
• Out-of-Hospital Emergency Health
• Disease control
• Renal Health
• Cardiac Health
• Organ Donation and Transplantation Health
• Trans Health
• Trauma Care
• Stroke Care
• Laboratory Medicine
• Provincial Blood and Blood Product Utilization
• Other areas as requested by the Ministry.
The mandate letter from Dix also specifies the PHSA is to "provide effective provincial oversight which includes provincial planning, coordination , monitoring, evaluating, and reporting on province-wide results and health outcomes for the following specialized provincial services". In essence, PHSA is to be the brains and coordination behind health care in BC.
Keep in mind, Adrian Dix became Health Minister without being a doctor, or having any medical background whatsoever. His education consists of studying history and political science at the University of British Columbia. He is a former Chief-of-Staff for ex-Premier Glen Clark. It's political climbing, not skill, that landed him in this current role. So he likely serves as little more than a yes-man.
In May 2008, the BC Health Act was replaced by the BC Public Health Act, also, implementing provisions from the 2005 Quarantine Act (Bill C-12). This included "Modernization of powers and duties of public health officials for communicable disease prevention and control, environmental health hazard response, chronic disease and hazard prevention, and public health emergency response; e.g. updated inspection powers, powers to issue orders, quarantine and isolation provisions".
The Public Health Act also requires that there be a "Provincial Health Officer" appointed, and that such person be given broad powers. Currently, it's Bonnie Henry, who has never had her name on any ballot.
There are references to "the Authority" in the Public Health Act, but it isn't clear if it refers to the PSHA. Likely it means the people enforcing the various orders, not the policy heads. In any event, it goes on and on about the power to enforce "safety measures".
What does all of this mean? It means that health care policy in BC is being determined by an autonomous group that isn't really part of the Government. Yes, they receive public money, but they act on their own to determine how care shall be provided. While technically answering the Minister of Health, Adrian Dix has no qualifications, and can't act to check that power. Not only that, the Public Health Act was modelled after the WHO International Health Regulations and 2005 Quarantine Act.
A body that isn't accountable to the public, and a "Provincial Health Officer" who can't be easily replaced are enforcing laws written by the World Health Organization. This is the state of affairs in British Columbia. With a set up like this, it's no wonder that people like Bonnie Henry, Adrian Dix, John Horgan and Mike Farnworth are able to get away with so much. Collusion between political parties doesn't help.
Update To Article

Pardon the oversight, but the B.C. Provincial Health Services Authority actually has charity status with the Canada Revenue Agency. In the fiscal year ending March 31, 2020, this group took in some $3.8 billion in revenue from various sources.
Receipted donations $37,800.00 (0.00%)
Non-receipted donations $172,585.00 (0.00%)
Gifts from other registered charities $754,945,753.00 (19.86%)
Government funding $2,947,928,518.00 (77.55%)
All other revenue $98,427,173.00 (2.59%)
Total revenue: $3,801,511,829.00
Charitable programs $3,536,901,905.00 (93.05%)
Management and administration $264,235,205.00 (6.95%)
Fundraising $0.00 (0.00%)
Gifts to other registered charities and qualified donees $0.00 (0.00%)
Other $0.00 (0.00%)
Total expenses: $3,801,137,110.00
Total compensation for all positions: $1,373,060,592.00
Full-time employees: 8760
Part-time employees: 6403
Professional and consulting fees: $83,454,434.00
It's also worth pointing out that 10 people made at least $350,000
LAWS, POLICIES, DOCUMENTS
(1) BC Societies Act, Full Text
(2) BC Public Health Act Announcement
(3) Full Text Of BC Public Health Act, Effective 2008
(4) http://www.phsa.ca/about/leadership/corporate-governance#About
(5) http://www.phsa.ca/about-site/Documents/PHSA%20Bylaws.pdf
(6) Provincial Health Services Authority BC Bylaws
(7) http://www.phsa.ca/about-site/Documents/PHSA%20Constitution.pdf
(8) Provincial Health Services Authority BC Constitution
(9) http://www.phsa.ca/about-site/Documents/PHSA%20Foundational%20%20Mandate.pdf
(10) Provincial Health Services Authority Foundational Mandate 2018
(11) http://www.phsa.ca/about-site/Documents/2019-20%20PHSA%20Mandate%20Letter.pdf
(12) Provincial Health Services Authority Foundational Mandate 2019
(13) http://www.phsa.ca/about/leadership/board-of-directors
PREVIOUS CANUCK LAW POSTS
(1) WHO International Health Regulations Legally Binding
(2) A Look At International Health Regulation Statements
(3) Quarantine Act Actually Written By WHO, IHR Changes
(4) Provincial Health Acts Domestic Implementation Of WHO-IHR, Part I
(5) Provincial Health Acts Domestic Implementation Of WHO-IHR, Part II
(6) World Health Treaty Proposed, Based On WHO-IHR
(7) Public Health Agency Of Canada Created As UN Outpost