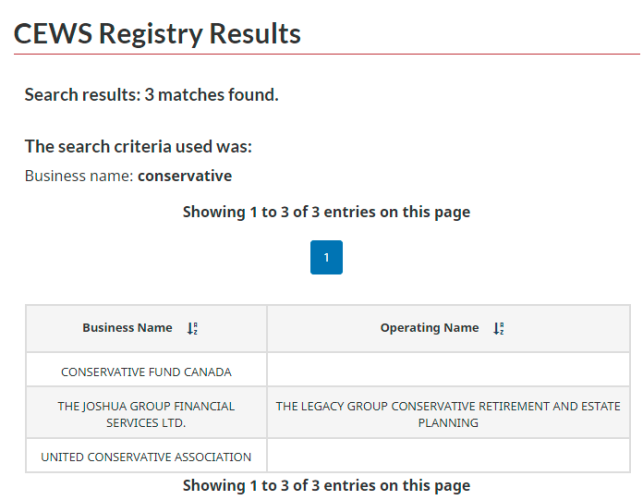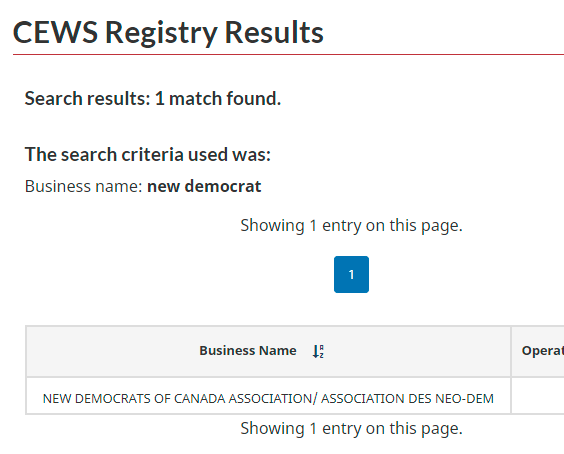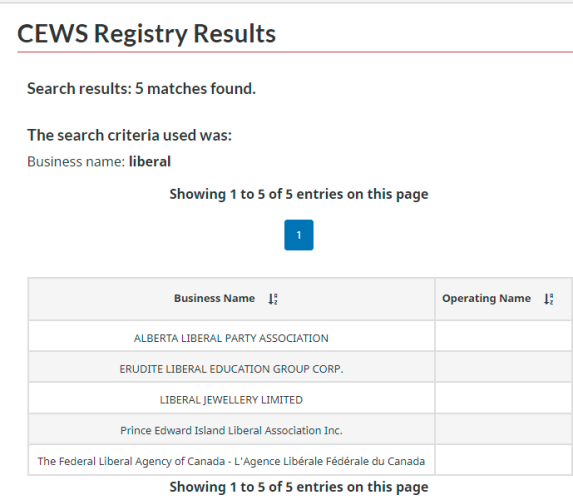 Ever wonder why Erin O'Toole, Michelle Rempel-Garner, and the other so-called "Conservatives" never really push back on Trudeau? Isn't it strange that the "Official Opposition" does next to nothing in the way of being an opposition? There may be another reason for this. Specifically, it may be that the CPC has been a recipient of CEWS, the wage subsidy. The Conservative Fund is essentially the fundraising/financial arm of the Conservative Party of Canada.
This isn't just on the right. The New Democratic Party (NDP) of Canada also gets the same financing from the Liberal Government it claims to hate.
And who exactly is the the Federal Liberal Agency of Canada? Well, if you go on the Liberal Party of Canada website, at the bottom they explain that they are the registered agent for the LPC. This is another registered corporation.
Copyright 2021 Liberal Party of Canada. All Rights Reserved. Authorized by the Federal Liberal Agency of Canada, registered agent for the Liberal Party of Canada
In other words, the group that runs the financial operations of the Liberal Party are financially benefitting from policies like the CEWS Program, which Trudeau enacted. Talk about a conflict of interest.
The United Conservative Association, as is obvious, is the group that runs the UCP in Alberta. This is headed by Jason Kenney, a globalist ex-Bilderberger, and current Premier of Alberta. Interestingly, the Alberta Liberals are also on the dole.
Out in B.C., the Green Party (which used to be in a coalition with John Horgan's B.C. Liberals) has also been getting CEWS.
This is pretty screwy, isn't it? As politicians are forcing people to shut down their businesses, they enact policies which profit their own parties. Of course, this is in addition to rules which allow donors to write off the bulk of their contributions with the Canada Revenue Agency.
Also worth a review is the previous article. It outlined how several Bar Associations, and hundreds of law firms in Canada were getting bailed out by Trudeau. Just a thought, but perhaps they don't want this to end anytime soon.
Just to reiterate, the Canada Emergency Wage Subsidy is just one program that these organizations would be eligible to collect from.
Where's the independent media on this? Turn out many of them, such as True North, are getting the subsidies as well. So does the National Citizens Coalition, which employs Spencer Fernando. Naturally, mainstream outlets like Postmedia, Bell, Rogers, and Torstar are pocketing these funds, and others. Perhaps this is why no one will come clean with the public on how widespread it is.
Moral of the story: if you're not following the money, you're flying blind as to what's really going on.
(1) https://canucklaw.ca/law-firms-bar-associations-receiving-canada-emergency-wage-subsidy-cews/
(2) https://apps.cra-arc.gc.ca/ebci/hacc/cews/srch/pub/bscSrch
(3) https://www.ic.gc.ca/app/scr/cc/CorporationsCanada/fdrlCrpDtls.html?corpId=4207246&V_TOKEN=null&crpNm=conservative%20fund&crpNmbr=&bsNmbr=
(4) https://www.dnb.com/business-directory/company-profiles.conservative_fund_canada.bf182781d80aa3a6f5fa6d597acaed27.html
(5) https://opengovca.com/corporation/2105128
(6) https://www.ownndp.ca/wp/wp-content/uploads/2018/02/model-federal-constitution.pdf
(7) https://albertacorporations.com/united-conservative-association
(8) https://static.unitedconservative.ca/United-Conservative-Party-Bylaws-Approved-October-17.-2020.pdf
(9) https://liberal.ca/
(10) https://www.ic.gc.ca/app/scr/cc/CorporationsCanada/fdrlCrpDtls.html?corpId=929085&V_TOKEN=null&crpNm=liberal&crpNmbr=&bsNmbr=
(11) https://www.can1business.com/company/Active/The-Federal-Liberal-Agency-Of-Canada
RESOURCES FOR MEDIA ACTING AS COUNTER-INTELLIGENCE
(A) https://canucklaw.ca/media-subsidies-to-counter-online-misinformation-groups-led-by-political-operatives/
(B) https://canucklaw.ca/taxpayer-grants-to-fight-misinformation-in-media-including-more-pandemic-bucks/
(C) https://canucklaw.ca/counter-intelligence-firms-to-influence-elections-canada-and-abroad-registered-as-charities/
(D) https://canucklaw.ca/more-pandemic-bucks-for-disinformation-prevention-locally-and-abroad-civix/
(E) https://canucklaw.ca/disinfowatch-ties-to-atlas-network-connected-to-lpc-political-operatives/
(F) https://canucklaw.ca/phac-supporting-science-up-first-online-counter-misinformation-group/
(G) https://canucklaw.ca/rockefeller-spends-13-5-million-to-combat-misinformation-in-u-s-elsewhere/
(H) https://canucklaw.ca/poynter-self-claimed-factchecking-group-funded-by-media-giants/
(I) https://canucklaw.ca/journalism-trust-initiative-trusted-news-initiative-project-origin-the-trust-project/
(J) https://canucklaw.ca/coalition-for-content-provenance-and-authenticity-c2pa-project-origin-content-authenticity-initiative/
(K) https://canucklaw.ca/public-media-alliance-brussels-declaration-protecting-journalists-media-freedom/
(L) Institute For Strategic Dialogue: Partners, Funding
EVEN MORE MEDIA SUBSIDIES
(A) https://canucklaw.ca/media-1-unifor-denies-crawling-into-bed-with-government/
(B) https://canucklaw.ca/media-in-canada-obedient-to-govt-covid-narrative-largely-because-of-subsidies/
(C) https://canucklaw.ca/postmedia-subsidies-connections-may-explain-lack-of-interest-in-real-journalism/
(D) https://canucklaw.ca/postmedia-gets-next-round-of-pandemic-bucks-from-taxpayers-in-2021/
(E) https://canucklaw.ca/nordstar-capital-torstar-corp-metroland-media-group-more-subsidies-pandemic-bucks/
(F) https://canucklaw.ca/aberdeen-publishing-sells-out-takes-those-pandemic-bucks-to-push-narrative/
(G) https://canucklaw.ca/many-other-periodicals-receiving-the-pandemic-bucks-in-order-to-push-the-narrative/
(H) https://canucklaw.ca/cv-37i-tri-city-news-pulls-article-where-bonnie-henry-admits-false-positives-could-overwhelm-system/