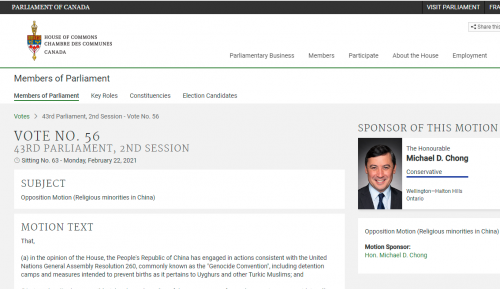 Canada passed a resolution, declaring a genocide in China. It was sponsored by Michael Chong, and Ontario Member of Parliament with the Conservative Party of Canada. While the Motion itself is not the issue, the lack of consistency is.
1. Trafficking, Smuggling, Child Exploitation
Serious issues like smuggling or trafficking are routinely avoided in public discourse. Also important are the links between open borders and human smuggling; between ideology and exploitation; between tolerance and exploitation; between abortion and organ trafficking; or between censorship and complicity. Mainstream media will also never get into the organizations who are pushing these agendas, nor the complicit politicians. These topics don't exist in isolation, and are interconnected.
2. Text Of Motion Declaring Genocide
MOTION TEXT
That,
.
(a) in the opinion of the House, the People's Republic of China has engaged in actions consistent with the United Nations General Assembly Resolution 260, commonly known as the "Genocide Convention", including detention camps and measures intended to prevent births as it pertains to Uyghurs and other Turkic Muslims; and
.
(b) given that (i) where possible, it has been the policy of the Government of Canada to act in concert with its allies when it comes to the recognition of a genocide, (ii) there is a bipartisan consensus in the United States where it has been the position of two consecutive administrations that Uyghur and other Turkic Muslims are being subjected to a genocide by the Government of the People's Republic of China, the House, therefore, recognize that a genocide is currently being carried out by the People's Republic of China against Uyghurs and other Turkic Muslims, call upon the International Olympic Committee to move the 2022 Olympic Games if the Chinese government continues this genocide and call on the government to officially adopt this position.
Michael Chong introduced a Motion to declare what has been going on in China as "genocide". Have they always thought that the Chinese Government was bad?
3. Michael Chong Then V.S. Now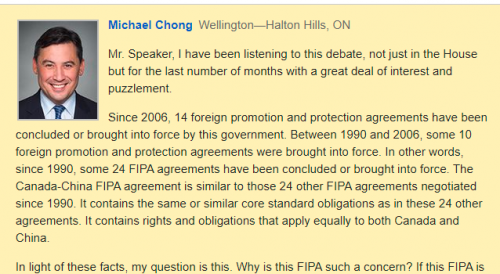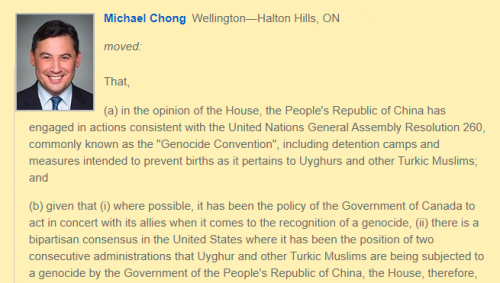 https://openparliament.ca/debates/2013/4/18/michael-chong-1/
https://openparliament.ca/debates/2021/2/18/michael-chong-1/
It's interesting how Chong was a huge fan of letting China infiltrate Canada (via FIPA), in 2013/2014. He shrugged off the many justifiable objections to this.
In fact, Conservatives in general have been largely supportive of "free trade" arrangements which outsource Canadian industries. They see nothing wrong in engaging in a rigged game with a country that can undercut Canadian workers and companies.
4. Erin O'Toole Then V.S. Now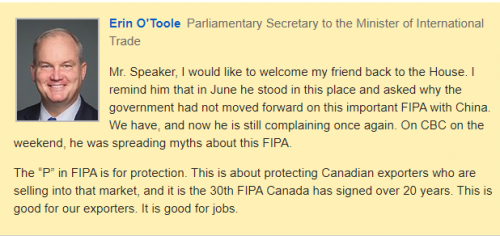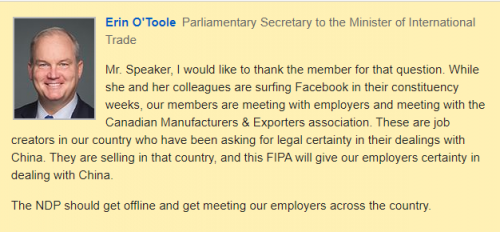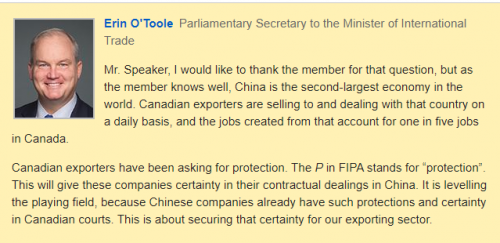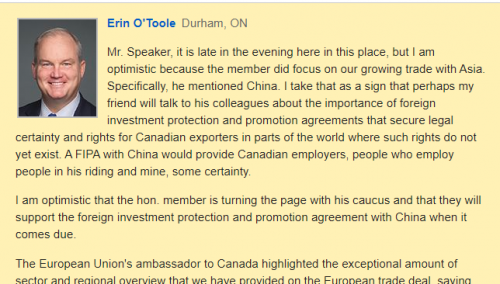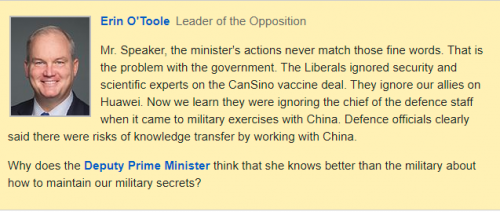 https://openparliament.ca/debates/2014/9/22/erin-otoole-1/
https://openparliament.ca/debates/2021/2/17/erin-otoole-7/
Since first getting elected as an MP, O'Toole was a Parliamentary Secretary to the Minister of International Trade. O'Toole repeatedly hyped up how Canada would benefit from FIPA, and how the concerns were unwarranted. His recent opposition to China appears to be politically motivated, not based on ideology or morality.
5. Federal Cabinet Abstains In Vote
The vote was 266-0, and sold as "unanimous" to the public. However, that's misleading, considering that the Prime Minister and the Cabinet all abstained from voting. Was this done to at least make working with China possible, while pretending to object?
Considering that everyone else voted to declare this a genocide, a predicted election would be interesting. Discussions around foreign relations could get awkward and strained.
What really happens now, anyway? Other than some words on paper, what will actually be accomplished? Will the Chinese Government suddenly realize the error of its ways? Will these camps suddenly be shut down?
6. Arbitrary Detention in State-to-State Relations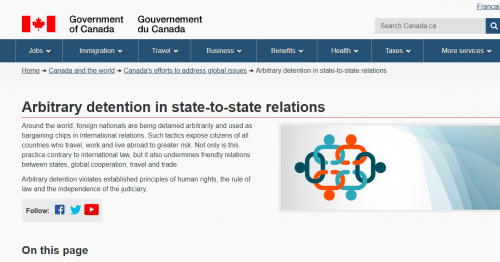 Declaration Against Arbitrary Detention
It was addressed a week ago that Canada, and dozens of other nations signed the Declaration Against Arbitrary Detention in State-to-State Relations. This seemed (at least in part), to be a shot a China, given it held 2 Canadians prisoner, and was abusing Muslim minorities on a massive scale.
While this is fine in principle, the elephant in the room is that Canada has been under varying levels of martial law over the last year. Using the false of pretense of a health emergency, politicians of all parties have supported suspending indefinitely the basic rights of citizens.
Going abroad to seek human organs should be criminalized (Bill S-240), but forcing quarantine on healthy people, and medical experimentation locally is very hypocritical.
7. Support Genocide Via Population Replacement
The Canadian Government grandstands about how morally superior it is to China. Even so, successive Administrations have engaged in the practice of population replacement, to eliminate the "old stock", or at least, dilute their numbers. While it's certainly not exclusively Chinese, they are in the top 3 source countries, year after year.
Not only are the people replaced, but the culture, history and traditions go as well. This is supported by the United Nations. A "Canadian" identity is substituted for a "multicultural" one. This inevitably leads to balkanization and enclaves, as similar people band together.
In most countries, this would be considered genocide. In Canada, and other Western nations, it's diversity, and only racists question the agenda.
These symbolic actions against China ring hollow when considered against other things that go on.
8. Canada-China Business Council
There is Ambassador Dominic Barton, featured prominently.
Who else runs the group?
Paul Desmarais Sr. — former head of Power Corp (deceased)
Andre Desmarais — son-in-law of Jean Chretien
Oliver Desmarais — Vice President of Power Corp
Sam Boutziouvis — VP (Government Relations) of SNC Lavalin
Morgan Elliott — VP (Government Affairs) of Huawei
Tim McGuire — Executive VP, China Construction Bank
Martin Cauchon — was in Jean Chretien's Cabinet
James Moore — was in Stephen Harper's Cabinet
Stockwell Day — was in Stephen Harper's Cabinet
Scott Brison — was in Justin Trudeau's Cabinet
Sure, Canadian politicians will grandstand to show how righteous they are with regards to China. But will any of this stop them from doing business with them? That seems highly unlikely. Morals are morals, but money is money.
In fact, take a look at the CCBC website. There isn't a single mention of genocide by the Chinese listed anywhere.
While there is talk locally of boycotting the 2022 Beijing Olympics, that is pretty minor in the scheme of things. It is a single event.