Testimony at
Parliament
is available to watch. China's human rights abuses are detailed in the House of Commons.
1. Trafficking, Smuggling, Child Exploitation
Serious issues like smuggling or trafficking are routinely avoided in public discourse. Also important are the links between open borders and human smuggling; between ideology and exploitation; between tolerance and exploitation; between abortion and organ trafficking; or between censorship and complicity. Mainstream media will also never get into the organizations who are pushing these agendas, nor the complicit politicians. These topics don't exist in isolation, and are interconnected.
2. Important Links
1948 UN Convention Genocide Prevention Punishing
Canadian Gov't Condemns Treatment Of Uyghurs In China
House Of Commons Study
Testimony From Dominic Barton
Business Council Of Canada
Dominic Barton's Century Initiative Profile
Canada-China Business Council
CBC Article By John Paul Tasker
CBC Article On New Canadian Measures For China
uyghur.01.letter
uyghur.02.another.letter
uyghur.03.prisoner.testimony
uyghur.04.situation.of.the.camps
uyghur.05.testimonial
uyghur.06.CSRDN.plea.for.help
uyghur.07.global.affairs.canada
3. UN On Preventing/Punishing Genocide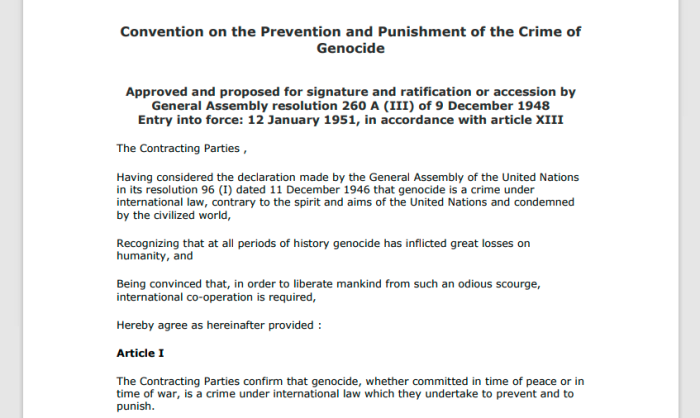 Hereby agree as hereinafter provided :
Article I
The Contracting Parties confirm that genocide, whether committed in time of peace or in time of war, is a crime under international law which they undertake to prevent and to punish.
Article II
In the present Convention, genocide means any of the following acts committed with intent to destroy, in whole or in part, a national, ethnical, racial or religious group, as such:
(a) Killing members of the group;
(b) Causing serious bodily or mental harm to members of the group;
(c) Deliberately inflicting on the group conditions of life calculated to bring about its physical destruction in whole or in part;
(d) Imposing measures intended to prevent births within the group;
(e) Forcibly transferring children of the group to another group.
Article III
The following acts shall be punishable:
(a) Genocide;
(b) Conspiracy to commit genocide;
(c) Direct and public incitement to commit genocide;
(d) Attempt to commit genocide;
(e) Complicity in genocide.
This is how the United Nations defines genocide, and how it seeks to punish it. Keep this in mind for later.
4. Canada Condemns Abuses By China
Building on the important testimony of seven witnesses over five sessions before the Subcommittee in 2018, on 20–21 July 2020 the Subcommittee convened urgent meetings to understand the latest developments in the plight of the Uyghurs. Over two days and 12 hours of testimony, the Subcommittee heard from academics, civil society as well as many survivors of the Government of China's atrocities in the region. The subcommittee wishes to make clear that the condemnations in this statement are directed towards the Government of China, as represented by the Chinese Communist Party, and not the Chinese people, who the Subcommittee support wholeheartedly and hope that one day will benefit from the peace, freedom and security enjoyed by many others in this world.
The Subcommittee was profoundly disturbed by what it heard and is convinced of the need for a strong response. The Subcommittee heard that the Government of China has been employing various strategies to persecute Muslim groups living in Xinjiang, including mass detentions, forced labour, pervasive state surveillance and population control. Witnesses were clear that the Government of China's actions are a clear attempt to eradicate Uyghur culture and religion. Some witnesses stated that the Government of China's actions meet the definition of genocide as set out in Article II of the 1948 Convention on the Prevention and Punishment of the Crime of Genocide (Genocide Convention).
The Subcommittee unequivocally condemns the persecution of Uyghurs and other Turkic Muslims in Xinjiang by the Government of China. Based on the evidence put forward during the Subcommittee hearings, both in 2018 and 2020, the Subcommittee is persuaded that the actions of the Chinese Communist Party constitute genocide as laid out in the Genocide Convention.
The Government of Canada should also impose sanctions on entities and individuals that benefit from the use of forced labour. Furthermore, recognizing the impact that government and corporate corruption play in allowing the practice of forced labour to continue throughout the world, the Government of Canada must condemn corruption in all its forms and take firm actions to combat it.
The Government of Canada should empower the Canadian Ombudsperson for Responsible Enterprise with independence and the power to investigate human rights abuse allegations and enact a comprehensive human rights due diligence law that compels businesses to respect the most current international human rights standards across their global operations and supply chains and be held accountable for harms caused or on behalf of their operations.
The Government of Canada should conduct a review of its procurement practices to ensure it is not purchasing products manufactured through forced labour. It should also create legislation with respect to federal government procurement practices to strengthen transparency and oversight mechanisms, such as reporting to parliament, particularly as it relates to product origins, production and manufacturing.
The Subcommittee was informed that the Government of China's repressive measures against Uyghurs and other Turkic Muslims in Xinjiang are part of a broader strategy to control the region. Xinjiang is a resource-rich area with important oil deposits. It also borders several Central Asian countries that the Government of China considers strategically important for its Belt and Road Initiative and its pursuit of expansionism. Because some Uyghurs desire more autonomy or independence from China, the Government of China considers them a threat to its economic development and prosperity. The Subcommittee was informed that its solution is the elimination of Uyghurs and other Turkic Muslims in the region.
The Canadian Government has declared that what is going on in China amounts to genocide. These measures seem designed and calculated to bring about the destruction of these groups as a whole.
5. Open Borders Policies Are Genocide
Yes, displacing or eliminating a group is a human rights violation. To address the elephant in the room: current policies in Canada amount to open borders, and to erosion of distinct groups. These are things the public never voted for. Such a replacement would be considered genocide under the UN's own definition here. But to speak up against the Kalergi Plan is considered racism.
6. Such Measures Now Used In "Pandemic"
Considering that many nations are at least considering mandatory vaccinations, would this not lead to mass sterilization? After all, that could easily happen. Given the "isolation centers" being built, and the increase in surveillance, is this not a roundabout way of imposing these conditions? Perhaps this "pandemic" is a method to get the public to accept this as normal.
7. Dominic Barton Supports Trade With China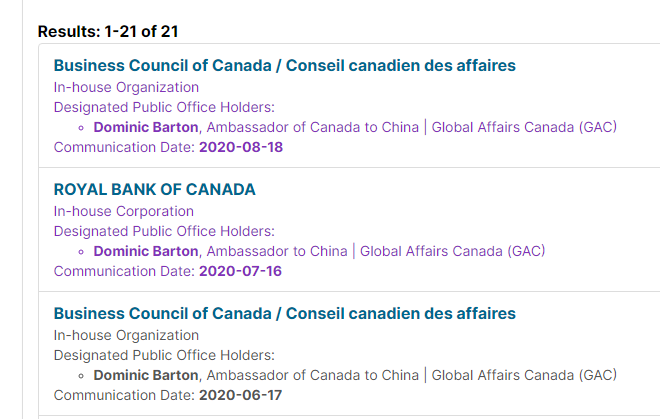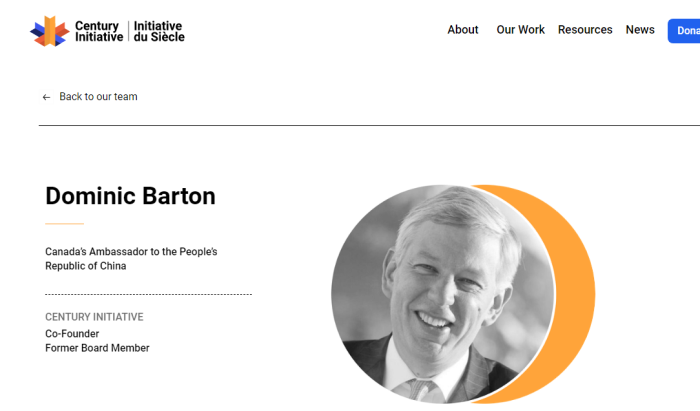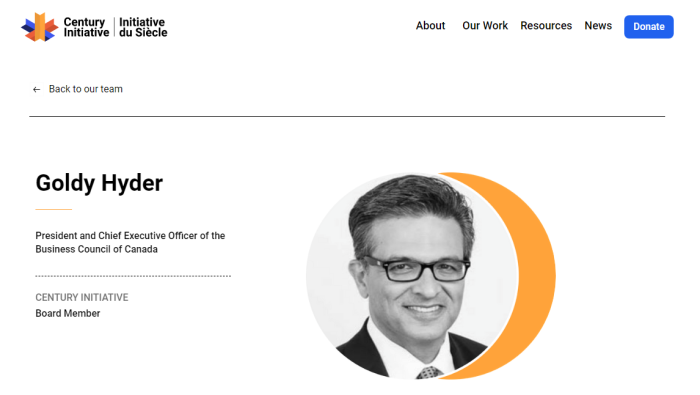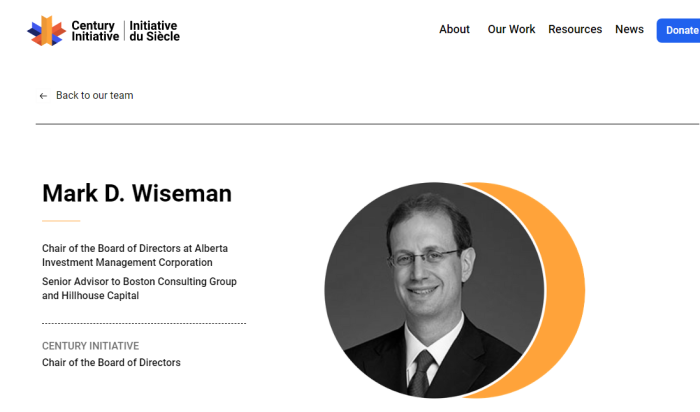 Canada's Ambassador to China, Dominic Barton, supports continued trade with China. It's worth pointing out, however, he is a co-Founder, and former Board Member of Century Initiative, an NGO committed to growing Canada's population 100 million people. Considering the economic focus of the group, Barton likely sees little real issue with China, or large scale Chinese immigration.
Barton has also been lobbied by the Business Council of Council, which Goldy Hyer is President and CEO. Hyer also is on the Board of Century Initiative.
As a bit of an aside, Century Initiative is chaired by Mark Wiseman. He was the Senior Managing Director of Blackrock, which owns SNC Lavalin.
8. Canada-China Business Council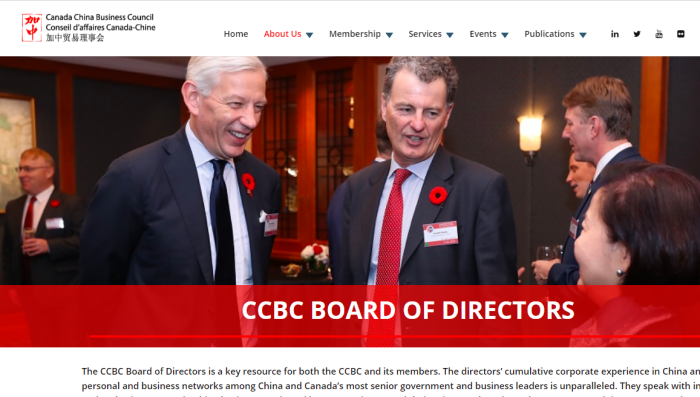 There is Ambassador Barton, featured prominently.
Who else runs the group?
Paul Desmarais Sr. — former head of Power Corp (deceased)
Andre Desmarais — son-in-law of Jean Chretien
Oliver Desmarais — Vice President of Power Corp
Sam Boutziouvis — VP (Government Relations) of SNC Lavalin
Morgan Elliott — VP (Government Affairs) of Huawei
Tim McGuire — Executive VP, China Construction Bank
Martin Cauchon — was in Jean Chretien's Cabinet
James Moore — was in Stephen Harper's Cabinet
Stockwell Day — was in Stephen Harper's Cabinet
Scott Brison — was in Justin Trudeau's Cabinet
Do you think that these connections might have something to do with the fact that Canada is still doing business with China? Perhaps these things are related.
9. Canada (Not Really) Stops China Trade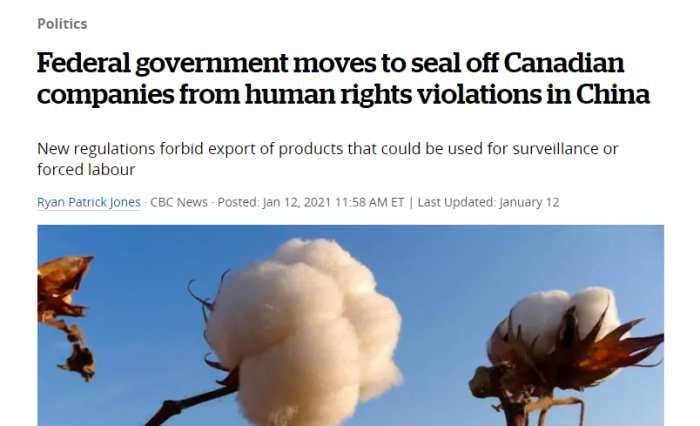 The federal government announced a suite of new regulations today meant to ensure that Canadian companies are not complicit in human rights abuses or the use of forced labour in China's Xinjiang province.
The measures include new requirements for firms that do business in the region and a pledge to ban the export of products from Canada to China if there is a chance they could be used by Chinese authorities for surveillance, repression, arbitrary detention or forced labour.
"Canada is deeply concerned regarding the mass arbitrary detention and mistreatment of Uighurs and other ethnic minorities by Chinese authorities," Foreign Affairs Minister François-Philippe Champagne said in a news release shortly before leaving the department to become the new minister of Innovation, Science and Industry.
"Nobody should face mistreatment on the basis of their religion or ethnicity," Champagne added.
To be clear on this, the Canadian Government has no issue with doing business with China, in spite the human rights abuses they allege. Instead, the requirement is that there be no exports if the goods themselves can be used to aid in those abuses.
This is a bit of tortured logic. If trading with China enriches the Government, then couldn't ANY trade potentially be used to finance such abuses?
So, do human rights abroad mean anything? Or is the "illusion" of caring about human rights what matters? Seems that the Government's actions are all just for show.