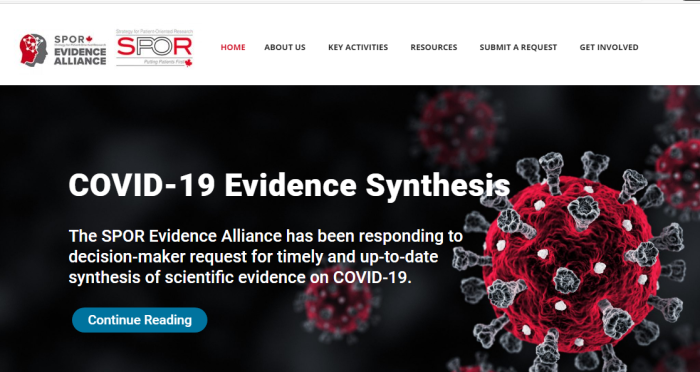 This is another look at the Ontario Science Table, and their partners. Now we get to the SPOR Evidence Alliance, which was supported by CIHR, the Canadian Institutes for Health Research. SPOR itself is an acronym for "Strategy for Patient Oriented Research". Okay, it's funded by the Canadian Government, but by itself, that isn't too bad.
Problem is, SPOR is also supported and sponsored by, the World Health Organization, although the distinction isn't clear. It's also sponsored by CADTH, the Canadian Agency for Drugs and Technologies in Health, a WHO Working Group.
How We Manage Conflicts of Interests
.
-We currently DO NOT accept any funding from private industry (e.g., pharmaceutical companies, medical device manufacturers) to support our research activities.
-All our members must declare annual statements of conflicts and competing interests.
We encourage and nurture open communication and respectful relationships, and strive to resolve conflicts and competing interests through diplomacy.
While this sounds fine on paper, it overlooks 2 details. First, Governments, supra-national bodies and academia "can" and often do have conflicts of interest. Second, even if they don't have conflicts of interests, groups they partner with can.
SPOR has more sponsors. This includes the University of Toronto, which has all kinds of ties to the Ontario Science Table. Furthermore, it's sponsored by McMaster University, which hosts Cochrane Canada (another WHO partner), and receives money from the Bill & Melinda Gates Foundation.
At a Glance
The Strategy for Patient-Oriented Research (SPOR) Evidence Alliance is a pan-Canadian research initiative designed to promote evidence-informed health policy and practice changes. Our 300+ network of researchers, trainees, patient partners, and stakeholders is led by Dr. Andrea Tricco and 11 principal investigators from across Canada.
The SPOR Evidence Alliance was founded in 2017, thanks to a five-year grant awarded by the Canadian Institutes of Health Research (CIHR) under Canada's SPOR Initiative, and the generosity of partners from 41 sponsors from public and not-for-profit sectors in Canada.
From this description, SPOR seems to present itself as a researching and consulting group, one designed to cause systematic change to health care. How many of these groups are there?
And when they take money from institutions like the World Health Organization, how independent can they really be?
Also, CIHR funds initiatives that seem to run counter to independence, like paying groups to act as vaccine salesmen and improve uptake rates. How independent is this group, or any part of the Canadian Government?
IMPORTANT LINKS
(1) https://sporevidencealliance.ca/
(2) https://sporevidencealliance.ca/about/governance-structure/
(3) https://sporevidencealliance.ca/wp-content/uploads/2021/04/SPOREA_Alliance-Infographic.pdf
(4) https://cihr-irsc.gc.ca/e/193.html
(5) https://cihr-irsc.gc.ca/e/41204.html
EARLIER IN THIS SERIES
(a) Michael Warner Financially Benefits From Prolonged Lockdowns
(b) Who Is Ontario Deputy Medical Officer, Barbara Yaffe?
(c) OST, Monopoly From The University Of Toronto Connected
(d) OST, University Of Toronto, Look At Their Members And Partners
(e) OST's Robert Steiner Claims To Be Behind PHAC Canada Creation
(f) OST's Kwame McKenzie Headed 2017 UBI Pilot Project
(g) OST UofT Prelude Actually Set Out In May 2019
(h) OST's Murty Has Tech Firm That Benefits From Lockdowns
(i) OST: Como Foundation Gives Trillium Health Partners $5M
(j) OST: Current PHO Officials Also Sitting On As Partners
(k) OST: Canadian Agency For Drugs & Technologies In Health; pCPA
(l) OST: Centre For Effective Practice Gets Money From Lockdown
(m) OST: Cochrane Canada; WHO; McMaster University