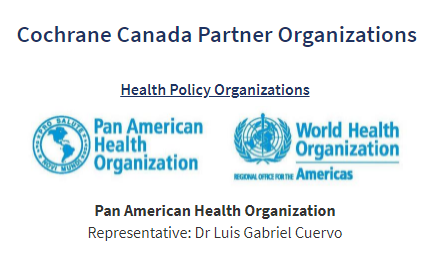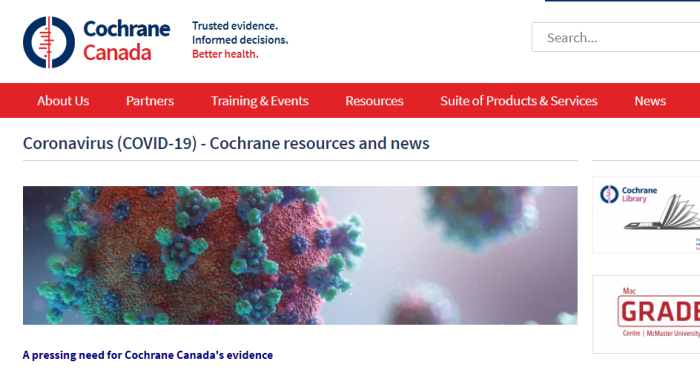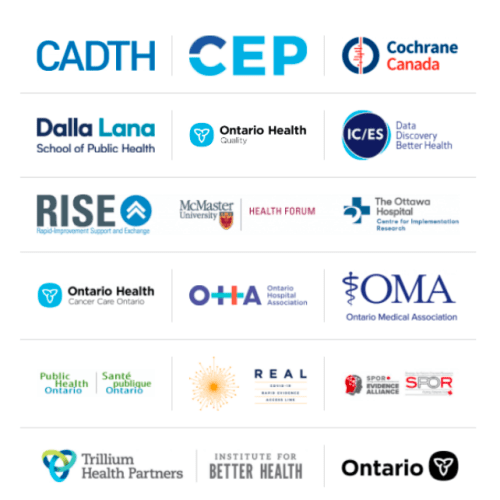 Cochrane Canada is listed as a partner for the Ontario Science Table. However, there are important things about this organization that are not being publicly discussed. For starters, Cochrane is partnered with the World Health Organization, and receives funding from them. Cochrane (the parent org) also gets funding from various Governments and universities.
What is the end result of this? Cochrane helps to legitimize the actions of the very Governments that it gets funded from. After all, it refuses to accept commercial funding.
It's a bit like the 2003 Iraq war. U.S. Government Officials leaked their "information" to various journalists. Those journalists were then cited as sources to show there were weapons of mass destruction.
Cochrane is for anyone interested in using high-quality information to make health decisions. Whether you are a doctor or nurse, patient or carer, researcher or funder, Cochrane evidence provides a powerful tool to enhance your healthcare knowledge and decision making.
Cochrane's members and supporters come from more than 130 countries, worldwide. Our volunteers and contributors are researchers, health professionals, patients, carers, and people passionate about improving health outcomes for everyone, everywhere. Our global independent network gathers and summarizes the best evidence from research to help you make informed choices about treatment and we have been doing this for 25 years.
We do not accept commercial or conflicted funding. This is vital for us to generate authoritative and reliable information, working freely, unconstrained by commercial and financial interests.
Cochrane appears to have legitimacy, because it only takes money from Government or academic sources. But then it publishes material that validates the actions and conclusions of those very parties. It's pay-for-play, but with very serious consequences.
The largest single donor to Cochrane (globally) is the National Institute for Health Research in the UK. But it's worth pointing out that the World Health Organization is high up on that list.
More than 1 million GBP
National Institute for Health Research (NIHR) (UK)
Danish Health Authorities (Denmark)
National Institutes of Health (USA)
500k to 1 million GBP
Federal Ministry of Health (Germany)
100k to 500k GBP
South African Medical Research Council
Anonymous non‐profit organizations (charitable donations or commissioned work)
Department for International Development (UK)
Cochrane Charity ‐ central funds awarded
National Health and Medical Research Council (Australia)
Chief Scientist Office (Scotland)
World Health Organization
McMaster University (Canada)
Norwegian Agency for Development Cooperation (Norway)
Ministry of Health (New Zealand)
Ministry of Health, British Columbia (Canada)
Lower Austrian Health and Social Fund (Austria)
Laura & John Arnold Foundation
South African Department of Health
Institut national du Cancer (France)
50k to 100k GBP
Ministry of Health (Austria)
laurence le cleach (France)
HSC Research and Development (Northern Ireland)
Ministerio de Sanidad, Servicios Sociales e Igualdad/Ministry of Health, Social Services and Equality (Spain)
Joint Research Centre (Italy)
Vermont Oxford Network
Swiss Medical Board
Ministry of Health and Welfare (Taiwan)
The Gerber Foundation
Ciber de Epidemiología y Salud Pública (Spain)
Centre for Future Health, University of York / Wellcome (UK)
The National Health Research Institutes (Taiwan)
Skåne University Hospital (Sweden)
20k to 50k GBP
National Research Foundation (South Africa)
Federal Ministry of Education and Research (Germany)
University of Vermont, Larner College of Medicine (USA)
Liverpool School of Tropical Medicine (South Africa)
Cochrane Oral Health Global Alliance
Lund University (Sweden)
Federal Ministry of Education (Nigeria)
National Institute for Medical Research Development (Iran)
European Respiratory Society
Farncombe Family gift
Canadian Rheumatology Association
The Global Fund
Northumberland, Tyne and Wear NHS Foundation Trust (
UK)
Monash University (Australia)
University of York (UK)
Ministry of Science and Technology (Taiwan)
Institut de Recerca de Sant Pau (Spain)
Public Health Wales
Instituto Ramón y Cajal de Investigación Sanitaria (IRYCIS) (Spain)
Kazan Federal University Program, Federal Ministry of Education and Science (Russia)
Universidad Francisco de Vitoria (Spain)
Dr. Peter Tugwell University Account (Canada)
Hamilton Health Sciences
State of Lower Austria
Lazio Region (Italy)
Universidad Tecnológica Equinoccial (Ecuador)
Niederösterreich Gesundheits und Sozialfonds (NOGUS)/Health and Social Funds, Lower Austria (Austria)
Odense University Hospital, University of Southern Denmark
Canadian Association of Gastroenterology (Canada)
Anonymous non‐profit organization (charitable donation)
10k to 20k GBP
American College of Gastroenterology (USA)
Navarre Health Service (Spain)
Foundation IRCCS ‐ Istituto Neurologico Carlo Besta, Milan (Italy)
Federal Ministry of Health (Nigeria)
University of Pécs (Hungary)
Campbell Collaboration
Economic and Social Research Council (UK)
Workshop 2018/2019
Medical Center – University of Freiburg (Germany)
Training (self‐funded)
Erasmus University (Netherlands)
Faculty of Medicine and Health Sciences, Stellenbosch University (South Africa)
Ministry of Health and Regione Lombardia (Italy)
INSTITUTO DE EVALUACIÓN TECNOLÓGICA EN SALUD ‐ IETS‐ and UNIVERSIDAD NACIONAL DE COLOMBIA (Colombia)
PROPUESTA PARA LA ESTRUCTURACION TECNICA Y OPERATIVA DE UN MODELO DE EXCELENCIA PARA LA RUTA INTEGRAL DE
0.5k to 10k GBP
University Hospital Gaetano Martino Messina (Italy)
Faculdade de Medicina de Lisboa (Portugal)
Region Skåne (Sweden)
University of Copenhagen (Denmark)
MDS Foundation (Portugal)
Mapi Research Trust
CHU de Québec ‐ université Laval research center: Population Health and Optimal Health Practices (Canada)
Canada research chair critical care neurology and trauma (Canada)
Instituto Universitario Hospital Italiano (Italy)
Jagiellonian University Medical College (Poland)
University of the Basque Country (Spain)
Cochrane Canada
National Insitute for Clincal Excellence (NICE) (UK)
University of Split, School of Medicine (Croatia)
Cochrane Japan (commissioned work)
INSTITUTO SALVADOREÑO DE SEGURO SOCIAL ISSS and INSTITUTO DE INVESTIGACIONES CLÍNICAS DE LA UNIVERSIDAD NAC
Cochrane Response
Ministry of Science and Education (Croatia)
Pan American Health Organization (PAHO)
City of Zagreb (Croatia)
Motor Neurone Disease Association (UK)
RCSI & UCD Malaysia Campus (formerly Penang Medical College) (Malaysia)
John Wiley & Sons, Ltd
Center for Primary Care and Public Health (Unisanté), Lausanne, Switzerland (formerly Institute of Social and Preventive Med
German Academic Exchange Service (DAAD)
City of Split (Canada)
Split‐Dalmatia County (Croatia)
Croatian Academy of Sciences and Arts
Less than 500 GBP
Center for Reproductive Medicine (Netherlands)
Health Authority, Umbria Region (Italy)
As for the operation of Cochrane Canada, it is tied to McMaster University in Hamilton, Ontario. In fact, several people have an interest in that school.
McMaster is a major donor to Cochrane, as is the British Columbia Ministry of Health.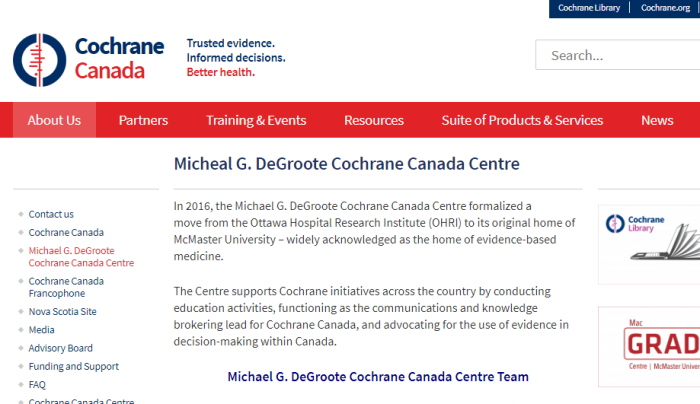 In 2016, the Michael G. DeGroote Cochrane Canada Centre formalized a move from the Ottawa Hospital Research Institute (OHRI) to its original home of McMaster University – widely acknowledged as the home of evidence-based medicine.
The Centre supports Cochrane initiatives across the country by conducting education activities, functioning as the communications and knowledge brokering lead for Cochrane Canada, and advocating for the use of evidence in decision-making within Canada.
Link to search IRS charity tax records:
https://apps.irs.gov/app/eos/
Let's clarify here: there are actually 2 separate entities. The Foundation is the group that distributes money to various organizations and institutions. The Foundation Trust, however, is concerned primarily about asset management.
BILL & MELINDA GATES FOUNDATION
EIN: 56-2618866
gates.foundation.taxes.2016
gates.foundation.taxes.2017
gates.foundation.taxes.2018
BILL & MELINDA GATES FOUNDATION TRUST
EIN: 91-1663695
gates.foundation.trust.taxes.2018


Above are records from the Bill & Melinda Gates Foundation. The records are publicly available with the IRS. The top is from the year 2017, and the bottom 2018.

McMaster claimed to have isolated the virus that causes Covid-19. That's very interesting, considering that when Fluoride Free Peel did a freedom of information request for it, there were no records available.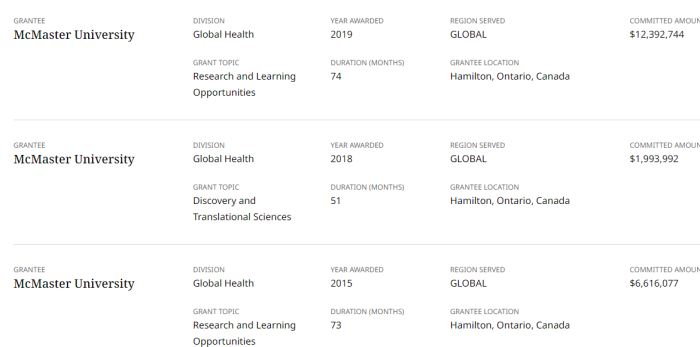 $21 million from the Gates Foundation since 2015, according to their publications. Is McMaster University an institution we can trust, or has it been corrupted by special interest money and ideology?
Also, is Cochrane (either Cochrane Canada, or the parent organization) something that we can trust? Or is it just helping conceal the intentions of interested parties?
IMPORTANT LINKS
(1) https://covid19-sciencetable.ca/our-partners/
(2) https://covid19-sciencetable.ca/our-partners/
(3) https://esnetwork.ca/
(4) https://www.cochrane.org
(5) https://www.cochrane.org/about-us/our-funders-and-partners
(6) https://canada.cochrane.org/about-us/micheal-g-degroote-cochrane-canada-centre
(7) https://apps.irs.gov/app/eos/
(8) https://healthsci.mcmaster.ca/home/2020/03/13/mcmaster-researcher-plays-key-role-in-isolating-covid-19-virus-for-use-in-urgent-research
(9) https://www.fluoridefreepeel.ca/university-of-toronto-sunnybrook-hsc-have-no-record-of-covid-19-virus-isolation/
(10) https://www.gatesfoundation.org/about/committed-grants/2019/11/inv003448
(11) https://www.gatesfoundation.org/about/committed-grants/2019/11/inv003448
(12) https://www.gatesfoundation.org/about/committed-grants/2015/06/opp1129405
(13) https://www.gatesfoundation.org/about/committed-grants?q=mcmaster%20#jump-nav-anchor0
EARLIER IN THIS SERIES
(a) Michael Warner Financially Benefits From Prolonged Lockdowns
(b) Who Is Ontario Deputy Medical Officer, Barbara Yaffe?
(c) OST, Monopoly From The University Of Toronto Connected
(d) OST, University Of Toronto, Look At Their Members And Partners
(e) OST's Robert Steiner Claims To Be Behind PHAC Canada Creation
(f) OST's Kwame McKenzie Headed 2017 UBI Pilot Project
(g) OST UofT Prelude Actually Set Out In May 2019
(h) OST's Murty Has Tech Firm That Benefits From Lockdowns
(i) OST: Como Foundation Gives Trillium Health Partners $5M
(j) OST: Current PHO Officials Also Sitting On As Partners
(k) OST: Canadian Agency For Drugs & Technologies In Health; pCPA
(l) OST: Centre For Effective Practice Gets Money From Lockdown