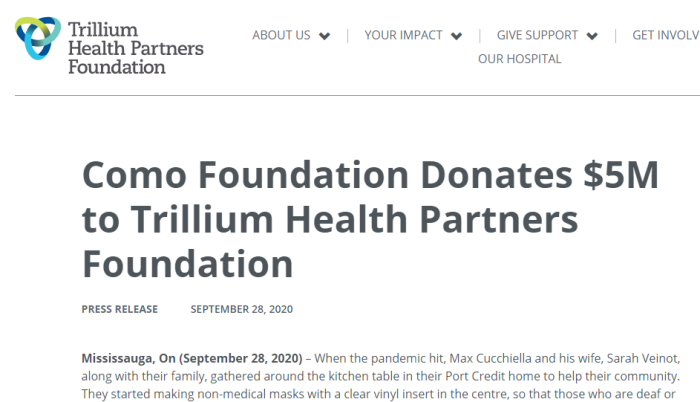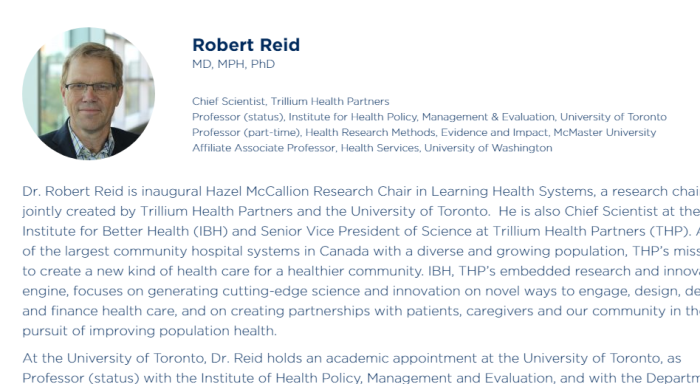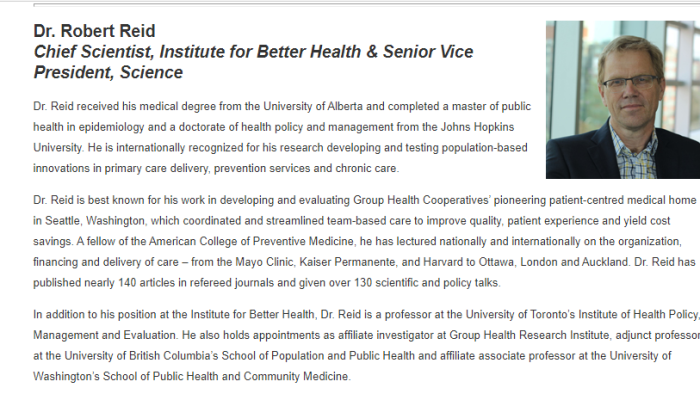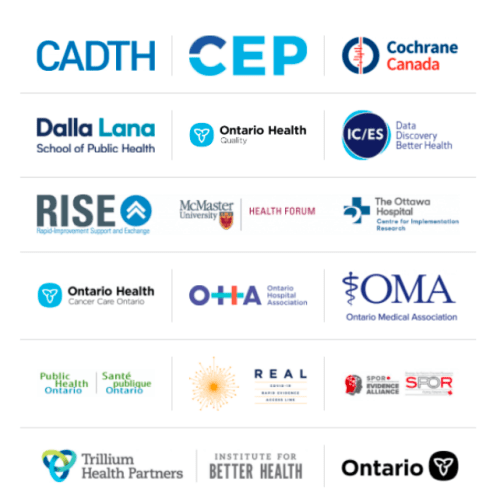 Robert Reid is a member of the Ontario Science Table. He is also on the Senior Leadership Team of Trillium Health Partners. This is important because it sets up an interesting conflict of interest.
Trillium is also a partner with the OST. So, when Reid is speaking, does he talk as a member of THP, or of the OST?
For some perspective, the OST is already a questionable organization given: (a) rampant ties the the University of Toronto; (b) conflicts of interest with its partners and members; (c) the brainchild of PHAC works for them; (d) the former research chief of the Ontario UBI pilot project works for them; (e) the groundwork for OST was laid out in 2019; and (f) another member has a technology business that benefits from lockdowns.
Ontario Deputy Medical Officer, Barbara Yaffe, is worth a long hard look. She has climbed the ranks and gained power, despite never practicing as a doctor. Another one is Michael Warner, who financially benefits from prolonged lockdowns. It's also disturbing that NSERC/CIHR are actually paying people to act as vaccine salesmen, and cloak it as research.
Now, what does all of this have to do with Reid and Trillium? On the surface, it looks like OST's policies are once again being influenced by special interests. Back in September 2020, word of a $5 million donation from the Como Foundation was announced to the public.
Mississauga, On (September 28, 2020) – When the pandemic hit, Max Cucchiella and his wife, Sarah Veinot, along with their family, gathered around the kitchen table in their Port Credit home to help their community. They started making non-medical masks with a clear vinyl insert in the centre, so that those who are deaf or hard of hearing and rely on lip-reading could rejoin the conversation during COVID-19. The lip-reading lens mask, called My Access Mask, is continually evolving with a commitment to quality, innovation and design. Demand took off and the family launched the Como Foundation, which today is announcing a $5 million gift to Trillium Health Partners Foundation with proceeds from mask sales. The generous donation will be used to support the redevelopment and expansion of Mississauga Hospital.
The gift is the result of local innovation, benefitting not just those who are deaf or hard of hearing and Trillium Health Partners (THP), but also McRae Imaging, a local medium-sized business hurt by lost revenue as a result of COVID-19. McRae is now producing these novel masks at a commercial volume in Ontario and is listed on the province's Workplace PPE Supplier Directory.
How much is the mask industry thriving when a company can afford to cut a $5 million cheque, based on the proceeds from the last 8 months or so? Trillium Health Partners becomes relevant when you realize they are one of Ontario Science Table's Partners. Not only is Robert Reid in management for THP, but he's part of the OST as well. Trillium and Reid are in a position to press the Province for mask mandates.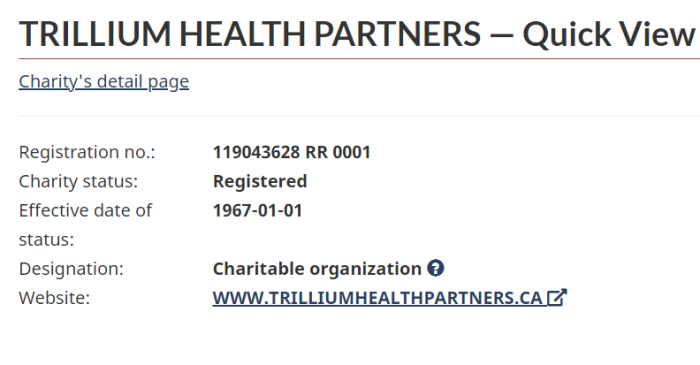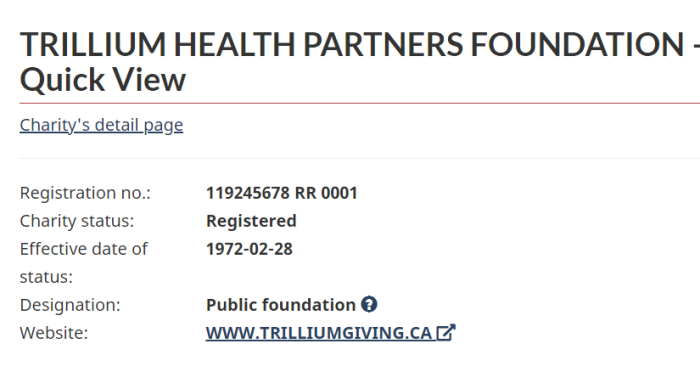 According to the Canada Revenue Agency, there are in fact 2 charities: (i) Trillium Health Partners; and (ii) Trillium Health Partners Foundation. The first is the teaching hospital aspect, and in 2019, it had about $1.2 billion in revenue. The second is the fundraising arm, and in 2019, it raised about $20 million.
There is also an interesting question that needs to be asked: was any consideration given to the Como Foundation in return for this $5 million donation? In the world of public fundraising, it's a bad idea to do anything that would harm a donor's business. And declaring an end to the "pandemic", or even just mask mandates, would certainly dry up a large part of the Como Foundation's revenue.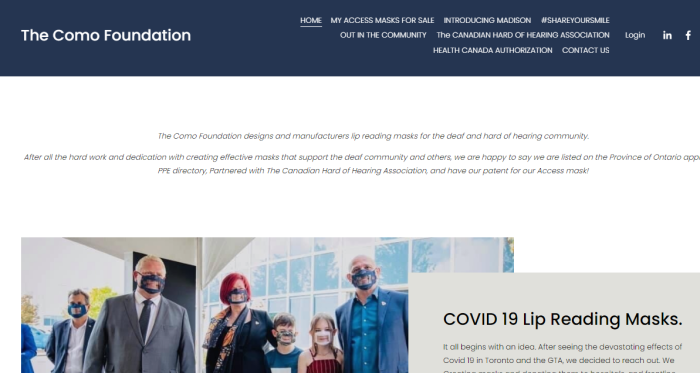 The Como Foundation makes a specialized product: see-through masks to help with people who have disabilities read lips and understand better. While there is definitely a benefit to this, it would have been considered a niche market until about a year ago, when masks became mandated.
What was once a limited business has suddenly exploded in growth, thanks almost entirely to politicians imposing mask mandates on the public. In fact, Como's business is doing so well, that they can make a $5 million donation to one of the Ontario Science Table's partner organizations.
Also in September 2020, Doug Ford gave the company a public shoutout, saying that these products were absolutely necessary. Now, his Government, encouraged by the Ontario Science Table, supports mandatory masks for the foreseeable future.
Considering Health Canada only authorized their product in June 2020, they seem to have done remarkably well.
What do you think? Does this donation from Como to Trillium come with any conditions, or any "understandings"? Or is it just a coincidence?
(a) https://covid19-sciencetable.ca/about/
(b) http://trilliumhealthpartners.ca/aboutus/Pages/Seniorleadership.aspx
https://archive.is/1YZFu
(c) https://trilliumgiving.ca/press-releases/como-gift/
(d) https://www.thecomofoundation.ca/
(e) https://www.youtube.com/watch?v=EDhBOmG5ZIc
(f) https://www.thecomofoundation.ca/healthcanada
Como Foundation Mask Health Authorization June 2020