Dr. Michael Warner of Toronto is constantly giving media appearances, demanding more lockdowns and more restrictions. Just a few examples are here and here. Even a year later he still advocates for having basic freedoms stripped in the name of "safety". Now, is this just his professional, medical opinion? Or does he have other reasons for supporting such draconian measures?
This will sound petty, but Warner has a creepy demeanor, which comes across as MK Ultra. Beyond that, he has consistently demanded more and more restrictions be imposed on the public. The mainstream "news" outlets haven't seen fit to really challenge him on anything he says.
Credit where it's due: Stormhaven recently published a piece exposing the rampant conflicts of interest that Michael Warner has in promoting lockdowns and vaccines. Hopefully, this article can expand on that.
Despite Warner's frequent visits to the Canadian media circuit, and in spite of his constant alarming tone, his other business interests are not discussed. He is only referred to as a doctor at Michael Garron Hospital. Either the Canadian media does no research, or they are intentionally not disclosing his other business ventures. Not sure which, but both options are bad.
Michael Warner On CBC, March 21, 2020
Michael Warner On CBC, March 23, 2020
Michael Warner, April 3, 2021
Background Information From Stormhaven
https://www.linkedin.com/in/michaelwarnermdmba
https://archive.is/WI06K
https://www.linkedin.com/company/ontariohealth/
https://archive.is/17Zmb
https://www.advisorymd.com/
https://www.pwc.com/
https://www.utoronto.ca/news/nine-u-t-researchers-receive-federal-grants-covid-19-projects
https://www.utoronto.ca/news/u-t-researchers-receive-federal-grants-covid-19-modelling-projects
https://healthydebate.ca/2016/07/topic/doctor-apps/
https://archive.is/dmNbb
https://www.prweb.com/releases/2016/03/prweb13287286.htm
https://archive.is/8gTxX
https://www.owler.com/news/askthedoctor
https://twitter.com/askthedr
https://www.askthedoctor.com/
https://www.askthedoctorfoundation.org/ppe
https://theppedrive.com/
https://betakit.com/ask-the-doctor-acquires-sehat-indias-largest-health-platform/
https://vator.tv/news/2012-01-05-askthedoctor-and-nih-partner-for-ai-medical-research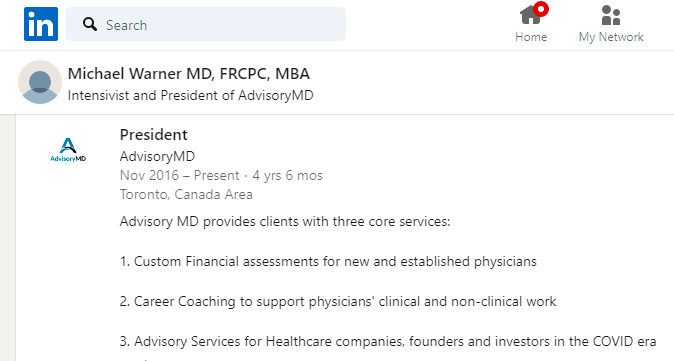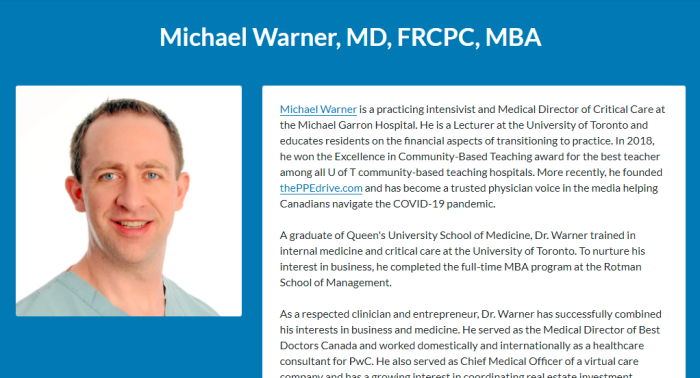 Michael Warner is a practicing intensivist and Medical Director of Critical Care at the Michael Garron Hospital. He is a Lecturer at the University of Toronto and educates residents on the financial aspects of transitioning to practice. In 2018, he won the Excellence in Community-Based Teaching award for the best teacher among all U of T community-based teaching hospitals. More recently, he founded thePPEdrive.com and has become a trusted physician voice in the media helping Canadians navigate the COVID-19 pandemic.
.
A graduate of Queen's University School of Medicine, Dr. Warner trained in internal medicine and critical care at the University of Toronto. To nurture his interest in business, he completed the full-time MBA program at the Rotman School of Management.
.
As a respected clinician and entrepreneur, Dr. Warner has successfully combined his interests in business and medicine. He served as the Medical Director of Best Doctors Canada and worked domestically and internationally as a healthcare consultant for PwC. He also served as Chief Medical Officer of a virtual care company and has a growing interest in coordinating real estate investment opportunities for physicians.
.
In 2016 Dr. Warner started AdvisoryMD. He provides career coaching and personal finance education to physicians clients. For corporate clients he offers clinically informed business advice to companies ranging from healthcare start-up to private equity firm.
There is nothing inherently wrong with having multiples sources of income. However, the problems start to creep in when interests in one (financial or otherwise), collide with another. While Warner's patients, and society as a whole would likely benefit from ending this martial law, his other businesses may not.
From April 2014 to October 2016, Warner was a consultant with Pricewaterhouse Coopers. One of the areas this company focuses on is transforming the health care sector by increasing the size and scope of virtual care available. Interesting that their former representative now advocates for the sorts of measures that would ensure their growth.
Warner has also moonlighted as a lecturer at the University of Toronto since 2011. Nothing particularly insidious about that. However, it's worth noting that 9 researchers from UofT got collectively some $6 million to do coronavirus modelling in March 2020. Even more money was handed out in April 2021, despite the awful job done previously for the modelling.
In both his ABOUT section of his LinkedIn page and advisorymd.com site, Warner states that he served as Chief Medical Officer of a virtual care company, but does not identify the company. He also doesn't make it clear if he is still with them in any capacity. It's not AdvisoryMD, since he lists that separately. Strange, considering he seems to have no issue with naming other organizations he's affiliated with.
Spoiler: It's https://www.askthedoctor.com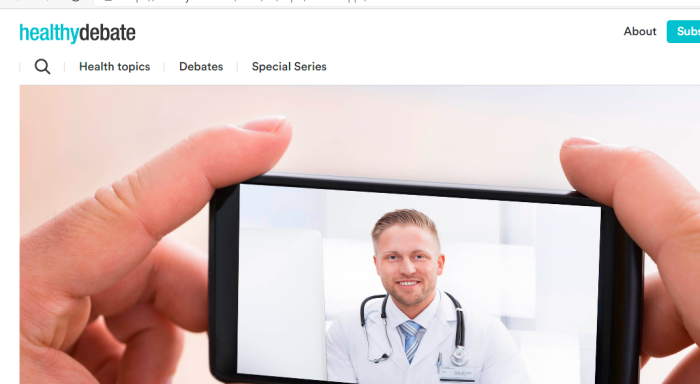 This lack of system support is one reason Ask The Doctor decided not to enter the market of offering live access to doctors. The Toronto-based company has doctors answer patient questions within one hour for a fee, and has answered more than 5 million questions worldwide. Patients can also ask doctors on the site for a second opinion, uploading documents such as CT scans or pathology reports along with their self-reported descriptions of their medical history.
The company was almost ready to get into the business of providing virtual and home doctors visits before deciding at the last minute to pull out. "We leased two Teslas, we had decals on them, we created our Android app, we had hired the physicians and we had 100 companies signed up," says Michael Warner, chief medical officer of Ask The Doctor and a physician at Toronto's Michael Garron Hospital.
But they decided not to move forward because they felt that the market had already become dominated by some major US players such as Doctor on Demand, and because e-consultations weren't covered by many provinces. Instead, they're sticking with their specialty, health advice without the ability to formally diagnose problems, write prescriptions or order tests. "We know that one-quarter to one-third of visits to doctors are for doctors to talk to patients about their medical problems, to explain something, review something," Warner says. "Helping people understand what's going on in their body is an important part of primary care."
One would think that Warner's other role would be more obvious, given his high profile nature over the last year. But this took some digging.
In a now deleted article, Michael Warner was set to become the head the virtual health company "Ask The Doctor" as Chief Medical Officer of Canadian Operations. There is also a mention in the March 21, 2016 entry on Owler. Of course, as lockdowns and free movement continue to be restricted, the value in virtual health care will grow. As such, it would be AGAINST Warner's business interests to advocate for a full reopening.
Ask The Doctor does have a Twitter account going back to 2009. However, all but 1 tweet prior to March 2020 has been removed.
Warner states he worked (or works) for a virtual care company, but does not name it. The website does not list him anywhere, despite his high profile, and the above articles are some of the very few that mention him. Does he not want people knowing his ties with the Ask The Doctor Foundation?
Warner's hospital, the Michael Garron Hospital (formerly Toronto East General) started the PPE drive in the Spring of 2020, asking for donations of surplus equipment. Ask The Doctor Foundation started one around the same time. Whose idea was it?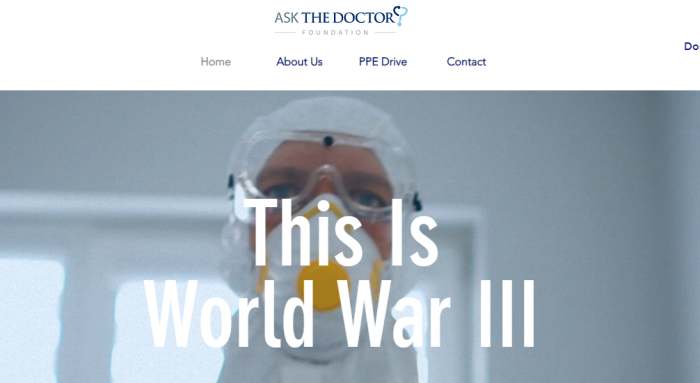 Ask The Doctor also uses the World War III rhetoric on its website, wording Warner has employed several times. Odd they are both so hyperbolic if there is no connection.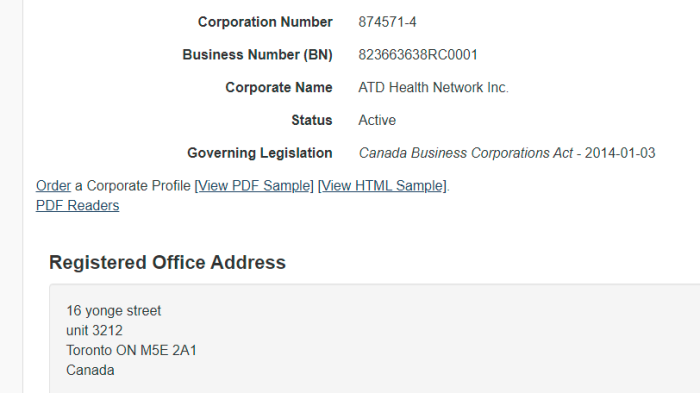 For the curious minded, copies of some of ATD Health Network's corporate filings are available to read. However, they aren't all that exciting.
ATD Health Network 01 Amendment
ATD Health Network 02 Annual Return
ATD Health Network 03 Annual Return 2018
ATD Health Network 04 Annual Return 2019
ATD Health Network 05 Annual Return 2017
ATD Health Network 06 Annual Return 2021
ATD Health Network 07 Annual Return 2020
ATD Health Network 08 Directors 2017
ATD Health Network 09 Directors 2017
ATD Health Network 10 Directors 2017
ATD Health Network 11 Directors 2018
ATD Health Network 12 Dissolution
ATD Health Network 13 Dissolution 2014
ATD Health Network 14 Registered Board
ATD Health Network 15 Revival
In October 2015, Ask The Doctor acquired Sehat, the largest health platform in India. In November, they bought Patients Connected Ltd. as well. (Stormhaven erred in stating these were recent). In 2012, ATD partnered with the National Institute of Health to advance AI medical research.Without going too deep into it, Ask The Doctor is huge.
Warner lists his professional interests — except Ask The Doctor — which is bizarre. Also, has he cut ties with them, or is he still affiliated? Is he still their Chief Medical Officer?
With all of this in mind, there are 2 questions that need to be asked:
(a) Why does Michael Warner REALLY support continuous lockdowns?
(b) How come he is never challenged by the mainstream media?