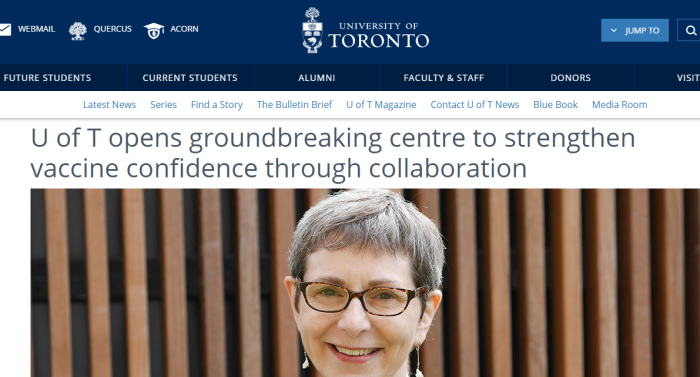 On May 9, 2019, the University of Toronto announced the creation of the "Centre for Vaccine Preventable Diseases".
It seems that the groundwork for the Ontario Science Table (OST) was laid out months before this "pandemic" hit. It came when the Center for Vaccine Preventable Diseases was launched.
The OST is already a questionable organization given: (a) rampant ties the the University of Toronto; (b) conflicts of interest with its partners and members; (c) the brainchild of PHAC works for them; and (d) the former research chief of the Ontario UBI pilot project works for them.
Ontario Deputy Medical Officer, Barbara Yaffe, is worth a long hard look. She has climbed the ranks and gained power, despite never practicing as a doctor. Another one is Michael Warner, who financially benefits from prolonged lockdowns. It's also disturbing that NSERC/CIHR are actually paying people to act as vaccine salesmen, and cloak it as research.
The centre will draw on strengths across many disciplines of U of T and its key partners in Toronto, including Public Health Ontario, ICES and Toronto Public Health, and globally including the World Health Organization and Gavi, a vaccine alliance. It will bring together experts from public health, medicine, pharmacy, nursing, social work, chemistry and the social sciences, along with bioethicists and biostatisticians, to turn the tide on vaccine rates in Ontario and around the globe.
"Vaccine hesitancy is a highly complex problem because it mirrors the public's historically low trust in institutions and experts overall," says Natasha Crowcroft, the centre's director and a professor at Dalla Lana School and the Faculty of Medicine's department of laboratory medicine and pathobiology who is also chief science officer at Public Health Ontario and adjunct scientist at ICES.
"With the return of diseases once thought to be eradicated in many countries, we need a much wider group of experts around the table."
Anti-vaccine beliefs are growing just as the immunization field is expanding, with new technologies and target diseases, and improved opportunities to save lives around the globe. With this progress, gaps in our understanding of basic biological and immunological mechanisms are rapidly emerging. The centre will help to fill these knowledge gaps through interdisciplinary collaboration.
Very interesting that the World Health Organization and GAVI (Global Alliance for Vaccines and Immunizations) are partners with the University of Toronto. Surely, that won't lead to any problems down the road.
Bit of a side note: Jeff Kwong, Interim Director of CVPD co-authored a piece with Bonnie Henry in 2017 on mandatory vaccinate or mask policies in B.C. health care facilities.
Kwong has been a vocal shill for WHO/UofT talking points. Chief among them, that vaccines are perfectly safe, and only a fringe group of "anti-vaxxers" would oppose such measures. He uncritically supports the official narrative, which makes him perfect for the role.
The Globe & Mail covered the story originally, but apparently has picked up on nothing out of the ordinary coming in the months since.
On November 13, 2019, the CVPD held a seminar regarding working with the WHO. This differed considerably in tone from Event 201, which was a simulated disaster.
Join the Centre for Vaccine Preventable Diseases for a panel discussion on What it Means to be an International Expert for the World Health Organization. The discussion will focus on improving understanding of:
-The role of immunization experts with global agencies like the World Health Organization, and how this differs from expert roles within national organizations
-The contribution of Canadians to global policy on immunization.
Did no one think it strange that the biggest vaccination effort in human history would start just months after this conference? In all seriousness, this should alarm people. Right now, the University of Toronto is simultaneously connected to:
Increasing vaccine uptake
Modelling for Covid-19 cases/deaths
Advising Doug Ford on restricting the rights of Ontario
Several Medical Officers of Health work here
Some of the same people whose job it was to get more people vaccinated (with the Centre for Vaccine Preventable Diseases) are now in a position to more or less impose that mandate (with the Ontario Science Table).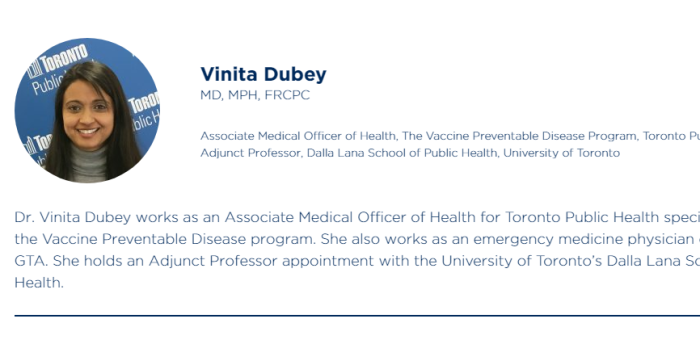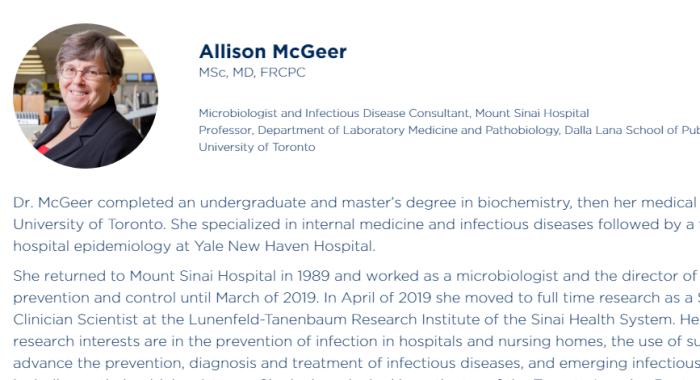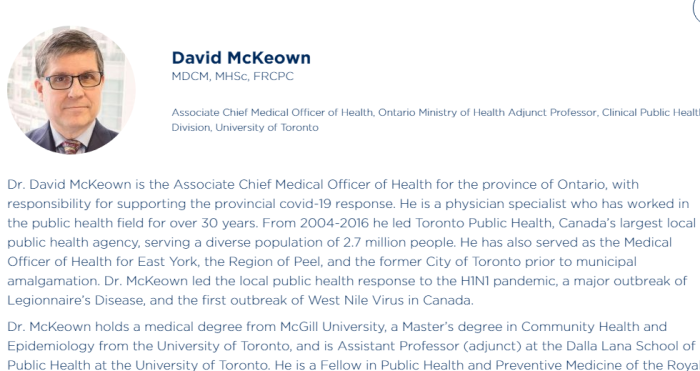 Vinita Dubey is part of the CVPD, and is part of the Behavioural Science Working Group. She is also an Associate Medical Officer of Health for Toronto at the same time. She reports to Eileen De Villa, another UofT Professor, who is very lockdown happy.
Jennie Johnstone was named to the CVPD, and is now part of the Congregate Care Setting Working Group with the OST.
Allison McGeer is part of the CVPD, and later joined the OST, but doesn't appear to be part of any working group.
David McKeown and Fiona Kouyoumdjian get an honourable mention. They part of the Behavioural Science Working Group at OST, while being Associate Medical Officers of Health for Ontario, working with David Williams and Barbara Yaffe.
And as shown in previous posts, a high number of Medical Officers in Ontario either work for the University of Toronto, or have gone to school there, or both.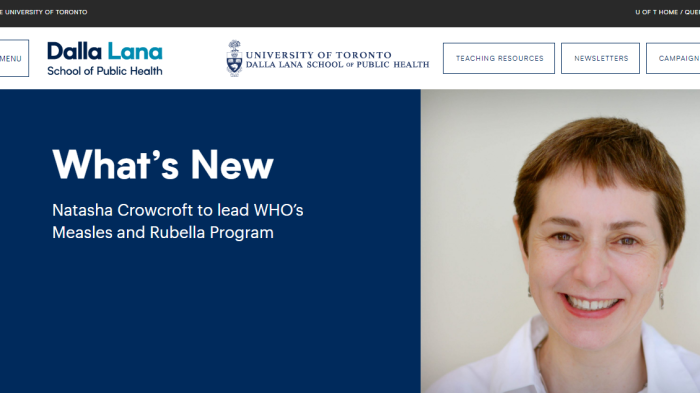 In April 2020, it was announced that Natasha Crowcroft, the former head of CVPD, would join the World Health Organization as their Senior Technical Advisor for measles and rubella control. She still keeps a position at U of T in the meantime.
With the benefit of hindsight, does none of this seem strange? The University of Toronto sets up a group to promote vaccine uptake, and the following year, the same people are running the "pandemic narrative" in Ontario. Many of the Medical Officers also have ties to this institution. Even normies should be asking questions.
(a) https://www.utoronto.ca/news/u-t-opens-groundbreaking-centre-strengthen-vaccine-confidence-through-collaboration
(b) https://www.dlsph.utoronto.ca/institutes/centre-for-vaccine-preventable-diseases/our-people/
(c) https://pubmed.ncbi.nlm.nih.gov/29223487/
(d) https://www.utoronto.ca/news/end-pandemic-near-u-t-expert-urges-patience-following-pfizer-vaccine-update
(e) https://www.theglobeandmail.com/canada/article-university-of-toronto-launches-the-centre-for-vaccine-preventable/
(f) https://www.eventbrite.ca/e/centre-for-vaccine-preventable-diseases-seminar-tickets-79618096871
Also worth a mention, U of T has some interesting donors. True, this is a small amount, but it's curious to see just who they are accepting money from. Not that it would ever influence how they do business.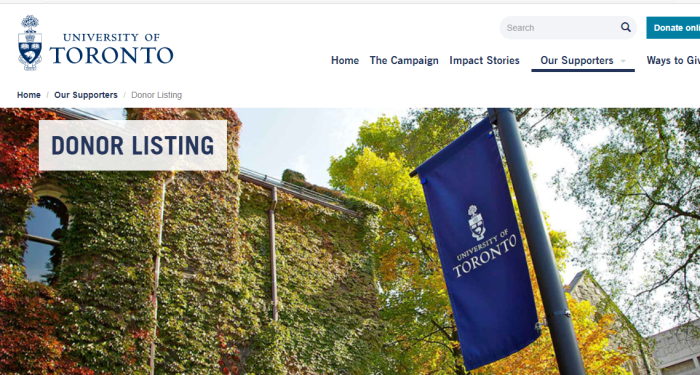 A major part of this centre's mandate will be in finding ways to convince people that vaccines are safe. And what a coincidence, that those services would be needed the following year, on a scale never before seen.
Our Deepest Thanks and Gratitude
.
Since 2011, Boundless: The Campaign for the University of Toronto has engaged thousands of donors to support our highest priorities and aspirations. To date, more than 100,000 alumni, friends and organizations have supported hundreds of vital initiatives that are changing the lives of students and contributing to the health and vibrancy of our society.
.
Campaign Donors
The University wishes to express its thanks to the following benefactors who have made gifts to the Boundless campaign at a level of $25,000 or more. We are grateful to all our donors for helping to establish U of T as a philanthropic priority in Canada, and demonstrating their belief in the University's pursuit of accessible excellence.
https://boundless.utoronto.ca/our-supporters/donor-listing/
$25,000,000 or more
$10,000,000 to $24,999,999
$5,000,000 to $9,999,999
BMO Financial Group
RBC Foundation
$1,000,000 to $4,999,999
The Honourable David Peterson
AstraZeneca Canada Inc.
CIBC
Goldcorp Incorporated
Google Inc
HSBC Bank Canada
Loblaw Companies Limited
Merck Canada Inc
Novartis Pharmaceuticals Canada Inc
Pfizer Canada Inc.
Scotiabank
Sun Life Financial
Teva Canada Limited
Walmart Canada Corp.
$100,000 to $999,999
Amazon Research Awards
Aspen Pharmacare Canada Inc.
Associated Medical Services
Bayer
Bayer Inc. Canada
BDC Capital
Bristol-Myers Squibb Pharmaceutical Group
Coca-Cola Company
The Dow Chemical Company
Eli Lilly Canada Inc.
Facebook Canada
GlaxoSmithKline
Hoffmann-La Roche Ltd.
Janssen Inc
Johnson & Johnson
Johnson & Johnson Medical Companies
Mastercard Worldwide
Medical Alumni Association, University of Toronto
Medical Pharmacies Group Limited
Microsoft Canada
Microsoft Corporation
National Bank of Canada
Norton Rose Fulbright Canada LLP
Postmedia Network Inc.
Power Corporation of Canada
Sanofi Canada
Sanofi Pasteur Limited
TD Waterhouse Canada Inc.
Tides Canada Foundation
The Tides Foundation
$25,000 to $99,999
Aga Khan Trust for Culture
Air Canada
Alexion Pharma Canada Corp.
Alion Pharmaceuticals, Inc
ApoPharma Inc.
Apotex Foundation / Honey and Barry Sherman
Black Creek Investment Management Inc.
Blackberry
Cargill Incorporated
Costco Wholesale Canada Ltd.
Deloitte & Touche Foundation Canada
Deloitte
Gilead Sciences Canada, Inc.
McKinsey & Company
Microsoft Research Limited
Novartis Ophthalmics
Pfizer Consumer Healthcare