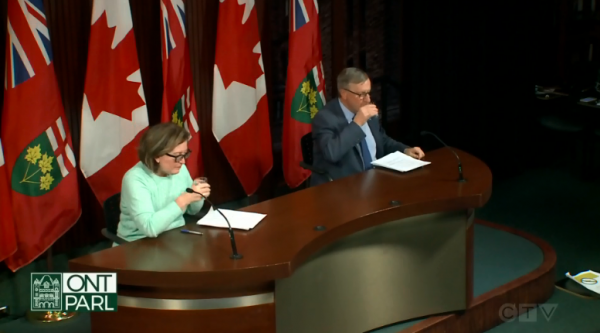 The now infamous clip of Barbara Yaffe telling Ontario that these testing methods can result in 50% false positives. Amazingly, she has never faced real scrutiny from this.
It's interesting how little information is available on Yaffe, considering she has been in a position of power for years. In some ways, this looks like another Theresa Tam.
https://www.linkedin.com/in/barbara-yaffe-b5395111/
https://archive.is/eaKt7
https://doctors.cpso.on.ca/DoctorDetails/Barbara-Ann-Yaffe/0026394-31217
https://opengovca.com/ontario-employee/Yaffe,_Barbara
https://mds.servicerating.ca/office/p-a-rostas-medicine-professional-corporation
https://academic.oup.com/pch/article/5/6/319/2655770?login=true
Canadian Journal Of Public Health
https://www.nejm.org/doi/full/10.1056/NEJMoa032111
https://academic.oup.com/cid/article/62/2/139/2462731?login=true
https://www.dlsph.utoronto.ca/faculty-profile/yaffe-barbara/
https://www.dlsph.utoronto.ca/faculty-profile/de-villa-eileen/
https://www.dlsph.utoronto.ca/faculty-profile/moloughney-brent/
CIHR Grants To Conduct Modelling, Other Research (2020)
Ottawa Announcing Grants For CV-19 Research
UofT "Modellers" Getting More Taxpayer Money (2021)
April 17, 2020 Memo To Ontario Doctors
National Collaborating Centre For Infectious Diseases
U of Toronto, McMaster Claim To Have Isolated Covid-19
Fluoride Free Peel On UofT Virus Isolation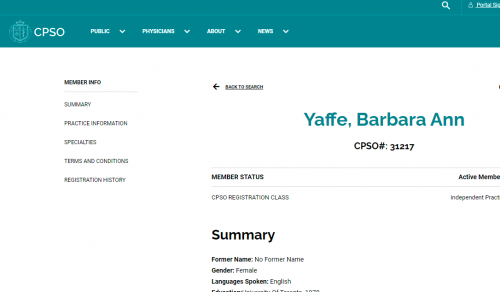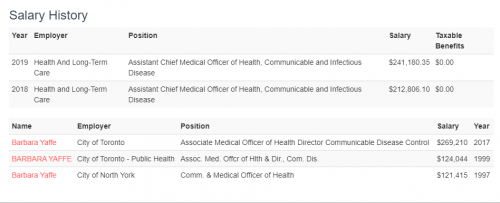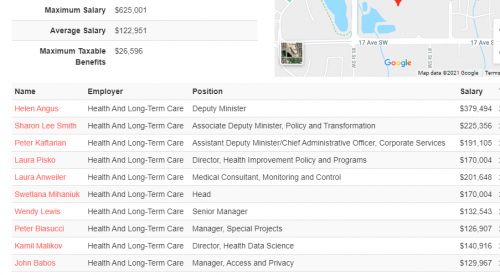 Barbara Yaffe is more than just on the "Sunshine List" for Ontario. She's taking in over $250,000 per year, plus a generous benefits program, courtesy of taxpayers. That's in addition to the money she gets moonlighting as a Professor for the University of Toronto. For that kind of money, one would hope that the Province is getting a skilled professional. However, her work history isn't all that impressive.
Yaffe is also part of the NCCID, which aims on implementing aspects of public health into all areas of life. She is a Member, and on the Advisory Board. However, it's unclear what, if anything, she actually does.
Yaffe is still 1 of 2 registered shareholders of P.A. Rostas Medicine Professional Corporation, which "appears" to be a medical practice set up in 2008, but no information is available about it.
Not only is Yaffe paid quite well, it appears that the entire upper echelon of Ontario Health is making great salaries. Seems none of them have lost jobs, or been forced onto EI or CERB.
Keep in mind, Yaffe blurted out last December that she "only says what they write down for [her]". This suggests she is little more than a puppet for the political masters. As for her education, she's a lifer at U of T.
1974 – University of Toronto, General Science
1978 – University of Toronto, Medical Degree
1981 – University of Toronto, Masters of Public Health
1983 – University of Minnesota, Epidemiology (online?)
1984 – University of Toronto, Fellowship in Public Health and Preventative Medicine
That's from the LinkedIn page. The CPSO profile simply lists medical school in 1978, and a specialty in "Community Medicine" in 1984. Is the LinkedIn page fake? Or is the professional CPSO profile missing information? Anyhow, the "ABOUT" section on LinkedIn states:
I am a public health physician with over 30 years of experience working in local public health in Toronto, Ontario, both as a Medical Officer of Health and as an Associate MOH. My current position is Director of Communicable Disease Control and Associate MOH with Toronto Public Health. My areas of interest include the prevention and control of infectious diseases and emergency preparedness and response, but also much broader areas of public health. My work has increasingly focused on identifying and helping to address the unique needs of our diverse populations and communities – new immigrants/refugees, the homeless, drug users etc. My work involves collaboration with multiple stakeholders (local, provincial and national), advocacy, policy development and program implementation. I am interested in contributing to public health at a national and international level as possible.
If this is to be taken at face value, Yaffe has been a political operative in Ontario for over 30 years. This means she hasn't actually practiced medicine much, if at all. Yaffe's talent seems to be in helping write papers on the topic of population control measures. More can be found on Google Scholar. Here are a few of them.
In September 2000, Yaffe co-authored a paper for Oxford Academic that outlined measures should a terrorist attack happen in Canada. If it wasn't predictive programming, it's quite the coincidence.
In 2004, Sheela V. Basrur, Barbara Yaffe and Bonnie Henry wrote for the Canadian Journal of Public Health outlining the quarantine, contact tracing and restrictions of movement around SARS.
In 2004, Yaffe co-authored (along with Bonnie Henry) a piece in the New England Journal of Medicine called: Public Health Measures to Control the Spread of the Severe Acute Respiratory Syndrome during the Outbreak in Toronto.
From the last 2004 SARS paper:
METHODS
We analyzed SARS case, quarantine, and hotline records in relation to control measures. The two phases of the outbreak were compared.
.
CONCLUSIONS
The transmission of SARS in Toronto was limited primarily to hospitals and to households that had had contact with patients. For every case of SARS, health authorities should expect to quarantine up to 100 contacts of the patients and to investigate 8 possible cases. During an outbreak, active in-hospital surveillance for SARS-like illnesses and heightened infection-control measures are essential.
.
QUARANTINE AND CALLS TO THE HOTLINE
During the outbreak, 23,103 contacts were identified as requiring quarantine (Figure 2). Of those in quarantine, 27 (0.1 percent) were issued a legally enforceable quarantine order owing to initial noncompliance. A breakdown of 316,615 calls to the Toronto Public Health SARS hotline is given in Table 1. The most common reason for calling was to discuss potential exposures.
Even back in 2003/2004, these public health officials were discussing and research details and methods related to quarantine and contact tracing. Not that it will ever be abused some day.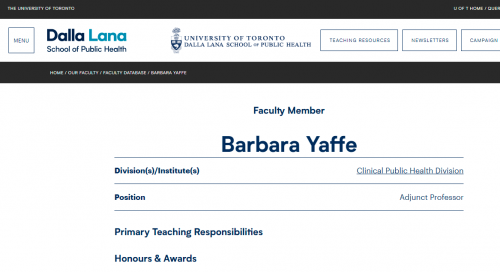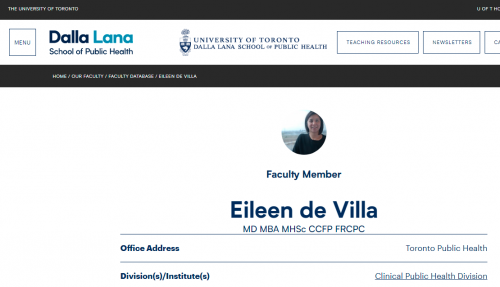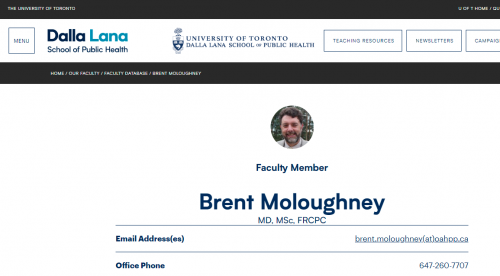 Yaffe is also an Associate Professor at the Dalla Lana School of Public Health at the University of Toronto. So is Eileen De Villa, Toronto Medical Health Officer. De Villa has her own backstory, as explained by Stormhaven and Diverge Media. Brent Moloughney is the Associate Medical Officer for Ottawa, and also a Dalla Lana Professor. Notice a trend?
In 2020, at least 9 people at the University of Toronto got grants from the CIHR, Canadian Institutes for Health Research, for Covid-19, some of it to conduct modelling.
Roy Gillis of the department of applied psychology and human development at the Ontario Institute for Studies in Education: Responding to the stigma, fear, discrimination and misinformation related to the COVID-19 disease outbreak – a novel analyses and intervention for a novel coronavirus
Shaf Keshavjee of the department of surgery in the Faculty of Medicine and the University Health Network: Reducing the health-care resource burden from COVID-19 (SARS-CoV-2) –Rapid diagnostics to risk-stratify for severity of illness
Robert Maunder of the department of psychiatry in the Faculty of Medicine and Sinai Health System: Peer champion support for hospital health-care workers during and after a novel coronavirus outbreak: It's a marathon, not a sprint
Vijaya Kumar Murty of the department of mathematics in the Faculty of Arts & Science and the Fields Institute for Research in Mathematical Sciences: Agent-based and multi-scale mathematical modelling of COVID-19 for assessments of sustained transmission risk and effectiveness of countermeasures
James Rini of the departments of biochemistry and molecular genetics in the Faculty of Medicine: Neutralizing antibodies as SARS-CoV-2 therapeutics
Simron Singh of the Dalla Lana School of Public Health and the department of medicine in the Faculty of Medicine and Sunnybrook Health Sciences Centre: Assessment of cancer patient and caregiver perspective on the novel coronavirus (COVID-19) and the impact on delivery of cancer care at an institution with a confirmed case of COVID-19
Darrell Tan of the Institute of Health Policy, Management and Evaluation at the Dalla Lana School of Public Health and department of medicine in the Faculty of Medicine and St. Michael's Hospital: COVID-19 ring-based prevention trial for undermining spread (CORPUS)
Xiaolin Wei of the Institute of Health Policy, Management and Evaluation at the Dalla Lana School of Public Health: Developing integrated guidelines for health-care workers in hospital and primary health-care facilities in response to Covid-19 pandemic in low- and mddle-Income countries (LMICs)
Xiao-Yan Wen of the department of physiology in the Faculty of Medicine and St. Michael's Hospital: Therapeutic development for COVID-19 coronavirus-induced sepsis and ARDS targeting vascular leakage
Even going back to March 2020, Ottawa was handing out money everywhere to conducting research on Covid-19. Overnight, it became a growth industry for researchers looking for work. The grants have continued into 2021.
This is nowhere near exhaustive, and a deeper dive will surely uncover far more grants being doled out.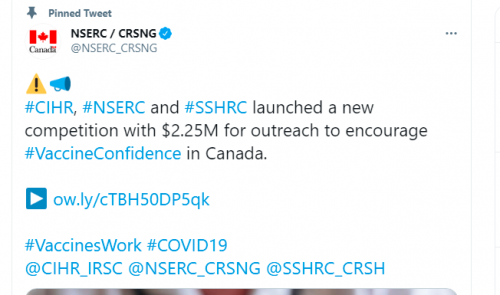 Even as groups like the CIHR are shelling out money to conduct modelling and "response plans", they are also funding efforts to convince people that vaccines are safe. A significant conflict of interest.
With lives at stake, and large amounts of taxpayer money, one would think that oversight and review mechanisms would be tighter.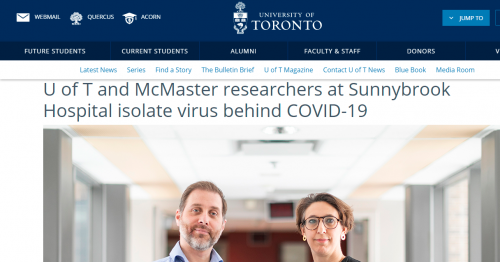 Some of the research went to (at least allegedly) for isolating and purifying Covid-19. In fact, the University of Toronto proudly broadcast that achievement as a marvel of modern science. On March 13, 2020, a prominent article was posted on the University website.
While that sounds great, it doesn't seem to withstand scrutiny. An organization called Fluoride Free Peel has been looking for proof isolation from all over the world. When presented with a freedom of information request, there were "no records available". What happened? Was this contracted out to some 3rd party, or was there never any isolation to begin with?
The University of Toronto is receiving large amounts of money in the name of pandemic research. Barbara Yaffe (and Eileen De Villa), are both Faculty Members at U of T. At the same time, both are Medical Officers, with De Villa in Toronto, and Yaffe Provincially. They are able (at least in theory) to use their positions of power to prolong the narrative and keep and "pandemic bucks" going.
Last Spring, Health Minister Christine Elliott openly admitted that death "with the virus" are being conflated with deaths "from the virus". The counting system is at best dysfunctional, and at worse, fruadulent. Moreover, Toronto Public Health made a similar admission and nothing came of it.
It really does go past the point of being absent minded. These medical experts have to be deliberately ignoring what is in front of their faces. More likely, they are fully complicit in perpetuating a hoax.
Yaffe seems to offer nothing productive about this "pandemic", and only pushes continued medical tyranny. She's never practiced as a doctor (unless it's well hidden) and just writes papers and lectures at University of Toronto. Nor has she shown any interest in the myriad of legitimate concerns related to human rights violations. She simply acts to give Ford's Government a cloak of legitimacy.
After all, she just says whatever they write down for her.