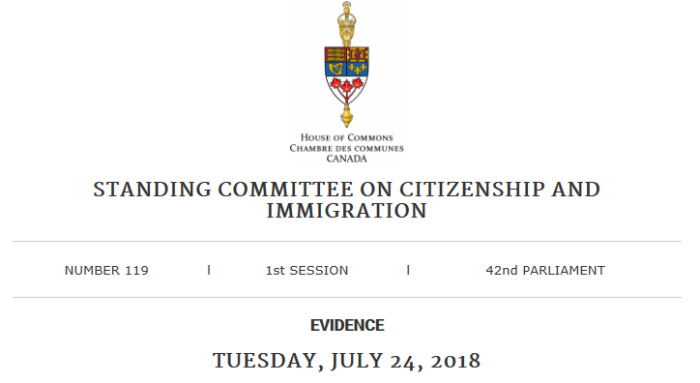 1. Trafficking, Smuggling, Child Exploitation
Serious issues like smuggling or trafficking are routinely avoided in public discourse. Also important are the links: between open borders and human smuggling; between ideology and exploitation; between tolerance and exploitation; between abortion and organ trafficking; or between censorship and complicity. Mainstream media will also never get into the organizations who are pushing these agendas, nor the complicit politicians. These topics don't exist in isolation, and are interconnected.
2. Important Links
CLICK HERE, for 42nd Parliament on illegals entering Canada.
Committee.Evidence.Sept.28.2017
Committee.Evidence.Oct.3.2017
Committee.Evidence.Oct.5.2017
Committee.Evidence.may.3.2018
Committee.Evidence.may.29.2018
Committee.Evidence.July.24.A.2018
Committee.Evidence.July.24.B.2018
Committee.Evidence.July.24.C.2018
3. Context For This Article
IN 2017 and 2018, the Federal Parliament held many hearings for illegal crossings into Canada. Politicians use weasel words like "irregular" to water down the language.
Far from being productive, the parties acted as if they were helpless to do anything. They also behaved as if securing the border were somehow a war crime. This was a pitiful display of going through the motions of appearing to address border security in a meaningful. Not addressing border security, but "appearing to address" border security.
The hearing will be quoted, and some short video clips added. To summarize, it was incredibly frustrating to watch elected officials acting in bad faith to ensure these crossings don't happen.
True, at the time of writing this, the problem has been "fixed". By that it means that crossing between border ports is now illegal, but fake refugees coming from the United States can gain entry via normal ports. Furthermore, Roxham Road has been converted into a regular border port.
Also worth pointing out, that politicians and the media are incredibly misleading when they talk about immigration in Canada. They frequently talk about the number of PERMANENT RESIDENCIES that are handed out, not the total number of people ENTERING THE COUNTRY, with pathways to stay. Assuming the numbers are even accurate (which is doubtful), it doesn't even come close to painting the complete picture.
It's a nice little bait-and-switch which prevents Canadians from fully grasping what is going on.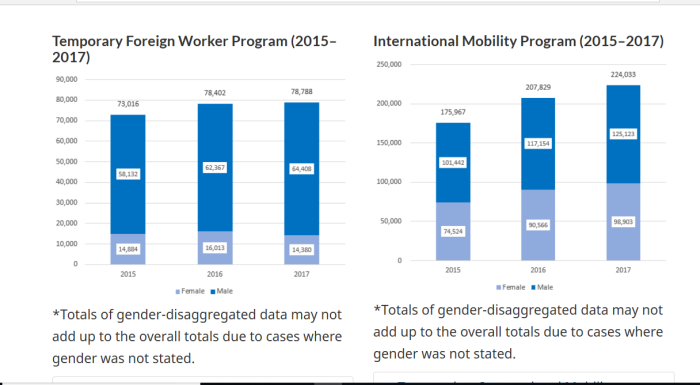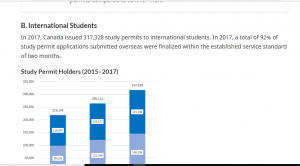 How many of these people remain? That has been addressed before, but there is no accurate count. There are a number of options to remain legally, and we don't actually track people leaving to go anywhere except the U.S.
The main focus of this article, however, are the 2017/2018 hearing on people crossing illegally into the country. All parties are committed to just going through the motions.
4. Quotes From 2017/2018 Hearings
This timely scheduling of eligibility interviews is crucial because in order to apply for an open work permit, an asylum seeker must first have their initial eligibility interview, have their claim referred to the IRB, and undergo an immigration medical examination.
.
To also help ease pressures, IRCC has begun to fast-track all work permit applications across Canada from asylum claimants with a commitment to process these within 30 days. In most cases, asylum claimants become eligible for interim federal health program, IFHP, coverage only after an officer has determined that their claim is eligible to be heard before the IRB. IFHP coverage is now available to asylum seekers who enter Canada between ports of entry in Lacolle, and are being processed on or after June 1, for those who have not yet had an eligibility interview.
.
To date, more than 5,600 persons have been issued this interim federal health program coverage under this special provision.
.
In closing, Chairs, IRCC, with the CBSA and all other partners in the federal family, continue to address irregular migration in accordance with Canadian and international law and in keeping with our values of an open and welcoming country.
Keep in mind that this was September 28, 2017 when this testimony was given, so the numbers are now much, MUCH higher.
Joanne Crampton
In terms of someone crossing the border between the ports of entry, the RCMP would intercept the person or persons. We then advise them that they are breaking the law under the Customs Act by crossing the border between ports of entry. The persons are then detained. Their possessions are searched to ensure there is no contraband or other illegal items. Their person is searched, because they are under arrest under the Customs Act. We then verify their identification. We do background checks and local indices checks, as well as international indices checks. If there is no noted criminality or concerns for national security and, once we have interviewed them and had a lengthy discussion as to where they came from and what their intentions are, if nothing negative comes as a result of that, we pass the individual over to Canada Border Services for further processing.
.
Mr. Jacques Cloutier:
At this point, for the CBSA, we receive the individual from the RCMP, as well as the information collected by the RCMP. We proceed with fingerprinting, taking of biometric information, and a cursory interview to elicit additional information. We verify identity. In those cases where we are satisfied that there are no immigration-related issues from an admissibility perspective, these individuals would be released on the terms and conditions and given an appointment to complete their eligibility interview. In cases where issues are discovered, several actions are taken immediately, including completing the interview for eligibility in its entirety, or proceeding with detention if the person is deemed to pose a risk to the public.
People coming into Canada illegally are briefly detained, and often released into the country on a promise to appear at a later date for a hearing.
Hon. Michelle Rempel:
Thank you.
Earlier this week there was a CBC article stating that Nigerian asylum claims were wanting to come to Canada because they're aware of the "pipeline". What additional measures is IRCC taking to outreach into the broader international community that the asylum claim system is not a, quote, "free ticket" to Canada?
.
Mr. Michael MacDonald:
We did several things. The first was to look at our communications and outreach plan and determine the best way to reach the Nigerian diaspora population here as well as in the United States as well back in Nigeria itself.
.
Second, we are also liaising and working with our American colleagues. We have a mission overseas, as do other allied partners, so we've also gone back to our immigration program overseas to try to look for ways and ideas to reach populations
.
Hon. Michelle Rempel:
Thank you.
Over to Mr. Maguire.
Does this sound like someone who is actually opposed to illegals strolling into Canada?
Ms. Jenny Kwan:
I'm interested in the comment about the United States that everything is good on the safe third country agreement piece, yet we do know, for example, that Mr. Seidu Mohammed, who crossed over the in the dead of winter, and lost digits as a result of it. His claim was rejected in the United States, and yet when he came to Canada, his claim was accepted. This is an outed LGBTQ man from Ghana.
.
Amnesty International also did a study, if you will, though informal, and the people they interviewed indicated that they don't feel safe in the United States. That's why they are crossing over. There seems to be some discrepancy in terms of the reality, at least from the IRCC's perspective and the government's perspective, versus what people are experiencing on the ground, which I think is very important to note.
.
There was a large influx in the last year, I would say, and yes it peaked in the summer for Quebec. It peaked in Manitoba in the winter, so there are different periods of time when it peaked.
.
Do I understand correctly that these cases have been referred to the IRB, and that the vast majority of them have not been heard? What are the wait times for people waiting for their cases to be heard? How does that compare with previous times? In the meantime, in terms of the resources for these individuals, who is providing resources to house them? Is it the province, and has the government provided additional resources to the province to support these asylum seekers? Regarding the NGOs that are on the ground doing this work, are they provided with additional resources as well, and if so, how much?
Mr. Michael MacDonald:
The federal government does not provide direct support to provinces for asylum seekers awaiting their claims. The support comes at the permanent resident granting determination process, afterwards. That being said, we have taken various measures to help the provinces and to help asylum seekers by expediting across Canada all work permit applications and trying to—
.
Ms. Jenny Kwan:
If I may interrupt then, how many work permit applications have been processed and approved?
.
Mr. Michael MacDonald:
About six or seven weeks ago, we had over 6,000 work permit applications for all asylum seekers across Canada in our inventory. That is now almost eliminated, and we are processing in under 30 days any new asylum seeker's work permit that is coming in from across Canada. We are doing those in well under 30 days. The idea is to help people get into the work force quicker.
Again, still trying to speed up the work permits for illegals into the country. And NGOs that are on the ground? Aren't these people at all concerned that NGOs are helping with people illegally coming into Canada?
Mr. Chair, Canadians can be assured that we've been monitoring the situation for many months and putting in place the necessary plans. Although it's far from a routine situation that we're facing, it's one that we've been able to manage responsibly, effectively, and professionally. I'd like to take the opportunity to thank my department officials and officials in all the different agencies involved for how they've been able to rise to the challenge and respond with the utmost professionalism, nimbleness, speed, and ingenuity.
I'll now outline the concrete ways in which we're responsive. When we saw the numbers of irregular migrants begin to increase at the Lacolle border crossing, we were able to quickly mobilize in order to reassign staff and set up additional office space so that we could keep up with the volume and process asylum seekers quickly for their eligibility hearings. In fact, these efforts have enabled us to bring the eligibility processing timelines of from five to seven months down to from five to seven days.
We figured out a way to fast-track work permit applications from asylum claimants across Canada in order to alleviate the pressure on the social assistance budgets of provincial governments. This is an issue that was raised by the Government of Quebec, and we moved quickly to establish a new 30-day service standard for work permit applications so that asylum seekers may support themselves and become self-sufficient while they await the final decision on their claims. This minimizes the impact they have on provincial social assistance programs.
Similarly, we have built in flexibility to ensure that asylum seekers are covered under the interim federal health program immediately after background checks are completed, but while they are awaiting their initial hearing. This is important because we want to ensure that public health is protected, that asylum seekers have access to basic care, and that there is no undue burden on hospital emergency rooms and provincial health care budgets.
Mr. Chair, all of these are great examples of how we have been responding to an uncommon situation in an effective manner. At the same time, we've been working to dispel the false information that has prompted many to embark on a journey to cross our border. We know this situation is, in part, fuelled by misinformation on various social media outlets and other channels suggesting that certain groups of individuals will receive preferential treatment or be given status in Canada. This is, of course, incorrect, and all claimants have been and will continue to be treated according to existing laws.
We've taken a number of steps to dispel false information and inform people in Canada and the United States of the facts regarding the asylum process in Canada. In recent weeks, two of our colleagues, multilingual members of Parliament, travelled to the United States to help counteract this false information among different diaspora communities.
So Hussan is sending people to the United States to combat this false information. Has the Government met with American officials about closing the loophole in the Safe 3rd Country Agreement?
Michelle Rempel
I'm not asking you to comment on that, but rather on the following question. Has the government broached the topic of amending the safe third country agreement to cover claims made by people entering Canada through unofficial points of entry with the new American administration, especially as we renegotiate NAFTA? I think it could be argued that it would be hypocritical for the Americans to ask Canada to improve border security if they're not willing to reciprocate.
.
Or, is the government content to allow the new administration a convenient option to encourage people to self-deport to our country with a minimum amount of American resources involved?
.
Hon. Ahmed Hussen:
I'd like to just begin by saying that we in no way encourage irregular migration. If your question is about Canada becoming sort of like a second option for people who have exhausted their options or feel that they've exhausted their options in the United States….
.
Hon. Michelle Rempel:
Just to clarify, my comment is whether or not the government has broached with the Americans the renegotiation of the safe third country agreement.
.
Hon. Ahmed Hussen:
We haven't done that.
.
Hon. Michelle Rempel:
Thank you
The Immigration Minister at the time hadn't even approached the Americans with regard to fixing the obvious loophole in the agreement.
video width="640″ height="360″ mp4="https://canucklaw.ca/wp-content/uploads/2020/05/CIMM-Meeting-No.-112-12-16-45.Hussans.Nigerian.Visits.mp4″][/video]
Mr. Gary Anandasangaree (Scarborough—Rouge Park, Lib.):
.
Thank you, Mr. Chair.
At the outset to both ministers, I'd like to thank you for your continued efforts in this and finding the appropriate balance in ensuring that Canada meets its international obligations under the refugee convention, the Convention on the Rights of the Child, the convention against torture, and other international instruments. I think the manner in which both of your departments have handled this is extraordinary, and I'm quite proud to see this in action.
.
Also, Commissioner Lucki, it's a pleasure to have you here. The historical shoes that you've put on are not lost on us and thank you for that.
.
I want to start, Mr. Hussen, with respect to your visit to Nigeria. Could you outline what specific engagements you had there, and what messaging you had for the Nigerian community?
Hon. Ahmed Hussen:
Thank you very much.
My visit to Nigeria was very productive. I visited the capital city of Abuja, as well as the commercial capital city of Lagos. In Abuja I met the permanent secretary of the Ministry of Interior, and on the same day I met the Minister of Foreign Affairs for Nigeria. I was able to indicate to both officials what we were facing. I made it very clear that, overall, the number of Nigerians coming regularly to Canada is actually high. There are a lot of visitors and tourists as well as international students and people who come through the express entry system, as well as the provincial nominee program.
In fact, the number that is coming irregularly is smaller than the regular numbers. However, it is an issue, and I emphasized to them the need for that government to co-operate closely with Canada on the issue of reiterating the message that we are always making, which is that we welcome newcomers, but we want people to come through regular migration.
The second request I had of the Nigerian government was that they should work closely with us to expedite the issuing of travel documents for Nigerian nationals who have exhausted the procedures and are set to be removed from Canada. On both of those requests, the Nigerian government officials I met, including the foreign minister, were clearly supportive and indicated very clearly that they will work with us on both those issues.
Very quickly, I also met representatives of various media outlets in Nigeria to, again, make the point that we value the contributions that Nigerian Canadians have made to our country, but that irregular migration is an issue. I also met civil society organizations who were very kind to let me know some of the challenges, some of the misinformation that was being fed to some of these officials.
How much more obvious does it have to be that these asylum claims are bogus? Hussan visits with Nigeria, and he works with their government to get replacement travel documents. Plenty of Nigerians come as tourists, as students and are admitted into the Provincial Nominee Program, yet there is a refugee crisis?
Hon. Michelle Rempel (Calgary Nose Hill, CPC):
Thank you, Mr. Chair.
On May 23, in the Stanstead Journal, the Minister of International Development and La Francophonie was quoted as saying, "We had [a lot of] calls from local businesses last year telling us they would gladly go pick them up there and hire them," since Canada is short on manpower and the influx of people entering illegally through Roxham Road is welcomed by a lot of people.
Do the ministers share the opinion of their colleague?
Hon. Ahmed Hussen:
The fact of the matter is that the issue of issuing work permits to asylum seekers was something that was brought to us through the intergovernmental task force on irregular migration. It was brought forward by the Province of Quebec. They felt that it was important for the federal government to help the Province of Quebec and other provinces expedite the issuing of work permits so that asylum seekers can support themselves as opposed to relying on provincial social services, and we've done that.
Hon. Michelle Rempel:
I would argue that planned, orderly migration, where we anticipate economic migration and match it to labour force needs would be a better management of Canada's immigration system, especially since Quebec and Ontario have both expressed that some of the people who are illegally crossing the borders need to be diverted to other places in the country.
I will ask the minister very bluntly. Does he actually want to stop people from illegally entering the country at the Roxham Road border?
.
Hon. Ahmed Hussen:
The question is important because it gives me an opportunity to talk about the things that we are doing. We have consistently said that there is no free ticket—
.
Mr. David Tilson:
How about yes or no?
.
Hon. Michelle Rempel:
Just in the interest of time, I'd like a yes or no answer. Does the minister want to stop the vast influx of people illegally crossing the border at Roxham Road from the United States?
.
Hon. Ahmed Hussen:
Yes.
Hon. Michelle Rempel:
Does the minister then share the opinion that his minister colleague expressed that it is acceptable for businesses to go and pick up people at the Roxham Road crossing, and does he feel that this sentiment perhaps incents people to illegally cross the border?
.
Hon. Ralph Goodale:
We have a clear set of immigration rules and procedures, including rules and procedures dealing with asylum seekers. That is specifically dealt with in section 133 of the Immigration and Refugee Protection Act, and we have an obligation to ensure that the law is enforced, and that's what we try to do in every case.
.
Hon. Michelle Rempel:
Thank you.
Hussan explicitly states that he wants to see the illegal crossings into Canada stop. However, the tone and urgency seems to be non-existent here. Hard to stop it when obviously bogus claims are from the United States are allowed through.
Ms. Jenny Kwan (Vancouver East, NDP):
Thank you very much, Mr. Chair.
Thank you to the ministers.
My first question is for the Minister of Immigration. He mentioned that his officials are engaging in a discussion with the United States about the modernization of the safe third country agreement. I'm wondering whether, in those discussions, the government has the raised the issue of the problem being the United States itself. Every time the President utters or tweets some anti-immigrant, anti-refugee rhetoric, it creates a situation and there's a reaction related to that. I wonder whether that has been brought up at the table with our U.S. counterpart.
Hon. Ahmed Hussen:
The discussions with respect to the safe third country agreement are in the early days. There are no formal negotiations—
.
Ms. Jenny Kwan:
Sorry, I'm just going to interrupt here.
My question is whether the minister has raised the issue on the asylum seekers crossing over to Canada as a result of the behaviour of the President of the United States.
Hon. Ahmed Hussen:
There are no formal negotiations with respect to the safe third country agreement. The discussions are essentially on opportunities to modernize the agreement.
.
Ms. Jenny Kwan:
Has there been informal discussion brought up from this government about the issue resting with the behaviour of the President of the United States?
.
[Expand]
Hon. Ahmed Hussen:
As I said earlier, the discussions have basically looked at the possibility of modernizing the agreement, as any 14-year-old agreement would be ripe for modernization.
Ms. Jenny Kwan:
That wasn't my question to the minister. The minister fails to understand.
I'm trying to see whether the government has raised the issue, gone to the core of the issue. The core of the issue is not so much about the asylum seekers crossing over but what causes them to do that. Frankly, my view rests with the U.S. administration, and most particularly with the President himself. Has that been brought to the table?
Perhaps Minister Goodale can answer that question. Has his ministry, or his ministry officials, brought that forward?
.
Hon. Ahmed Hussen:
There was no misunderstanding of the question. I understood your question. We just have a different perspective on asylum seekers and how they should claim asylum. We have a UN-supported position—
.
Ms. Jenny Kwan:
Sorry, my question was to Mr. Goodale.
Hon. Ralph Goodale:
I'd make two observations in response to that, Ms. Kwan.
The first is that the beginning of this issue took place before there was a change in administration in the United States. There's not a specific correlation that's identifiable, because the numbers began before the government changed in the United States.
.
Secondly, we have raised with American officials, a concern that if they change policy with respect to the status of persons who have been given temporary protected status in the United States, that could have an impact on border management with Canada. We have encouraged the Americans, in every case, to give as much advanced notice as possible of their intention to make a status change, so that we can be prepared to deal with the consequences of that. Since we made that request to the Americans quite some time ago, they have adopted a practice of giving 18 to 20 months' notice before an established change would come into effect.
.
We have observed that status changes in the United States could have an impact on the border. We have requested that they give advance notice if they have a status change in mind, and they have complied with that request. Now consistently, in every case I believe, they give us at least 18 months' notice that they might have a status change in mind.
Yes, apparently the flood of "refugees" coming from the United States is the fault of the U.S. President. Canada is expected to act as a dumping ground for illegal migrants who don't like Trump's rhetoric.
Hon. Pierre Poilievre (Carleton, CPC):
Thank you.
Minister Goodale, we have literally thousands of kilometres of highway that are enforced by the RCMP, which reports to you. Do we have RCMP eyes on every hundred metres of that highway in order to enforce those laws?
.
Hon. Ralph Goodale:
Not all the time.
.
Hon. Pierre Poilievre:
Thank you. That does answer my question.
You've mentioned that we cannot enforce the safe third party agreement across the entire Canadian border because we cannot have eyes on the entire Canadian border at all times. In other words, you've said that because we could not afford—and you're right—to put officials on every square inch of the Canadian border, we could not possibly enforce the safe third country agreement across that space.
.
You rightly acknowledged, though, that the RCMP is able to enforce traffic laws and traffic rules, right across the thousands and thousands of kilometres of highway that we already have in existence. What would stop the government, then, from simply applying the safe third party agreement to the entire border for the purposes of illegal border crossings?
Hon. Ralph Goodale:
Mr. Poilievre, I mentioned at least three difficulties with that particular proposal.
One is the requirement for officers, which you in your question have acknowledged, and, I gather, agreed with, that makes that type of border enforcement rather impractical.
.
The second part of it is that if you have a border port of entry that is 9,000 kilometres long, you need to have, correspondingly, cooperation from the United States on the other side of the border—which they are, I think it's fair to say, not likely to do. You have no counterpart.
Hon. Pierre Poilievre:
Have you asked?
.
Hon. Ralph Goodale:
It is an international boundary.
.
Hon. Pierre Poilievre:
Have you asked?
.
Hon. Ralph Goodale:
I have not asked that specific question.
Hon. Pierre Poilievre:
Wait a second here. You have not—
.
Hon. Ralph Goodale:
Mr. Poilievre, I would be delighted to—
.
Hon. Pierre Poilievre:
Excuse me, you just answered my question.
.
Hon. Ralph Goodale:
—and I'll be very quick to report their answer to you.
Hon. Pierre Poilievre:
You just answered my question. You know, you've continually claimed that you can't enforce the safe third country agreement because we can't have eyes on every square inch of the border, but you admit that we enforce rules all the time in places where we don't have law enforcement constantly observing. Secondarily, you have said that we cannot enforce the safe third country agreement because we do not have agreement from the United States of America. Now you admit that you haven't even sought such agreement, which really does raise the question of whether or not you're looking for a solution—
Hon. Ralph Goodale:
Yes, indeed, Mr. Poilievre—
.
Hon. Pierre Poilievre:
—or if you're perfectly comfortable with the situation we have right now, where thousands of people are crossing illegally into this country.
.
My next question is this. Do the Americans automatically turn away every single…? Excuse me, do the Americans apply the safe third country agreement to anybody who enters outside a recognized point of entry? Yes or no?
.
Hon. Ralph Goodale:
That would be a question for IRCC to respond to.
Would you like to repeat it for Mr. MacKinnon?
.
Hon. Pierre Poilievre:
Do the American apply the safe third country agreement to anybody crossing from Canada into the United States of America between official, recognized ports of entry?
.
Mr. Paul MacKinnon:
No. The U.S. applies the safe third country agreement in exactly the reciprocal fashion that we apply it for south-north traffic.
Ahmed Hussan was asked this question in October 2017, and then Ralph Goodale is asked in July 2018. The Liberals claim that there is nothing they can do to fix the loophole in the Safe 3rd Country Agreement, which allows fake refugees from the U.S. to enter Canada. Goodale and Hussan also admit the Government hasn't asked.
5. Conservatives Are Controlled Opposition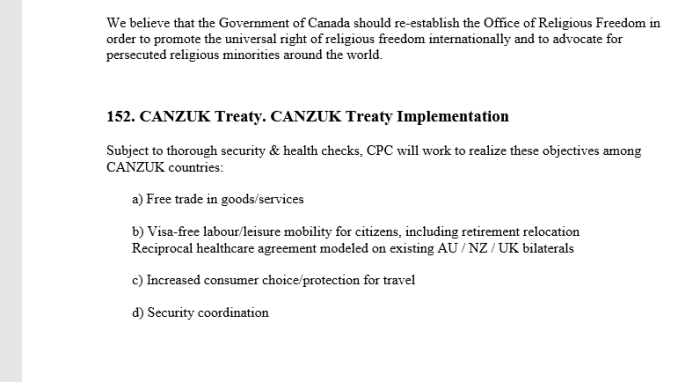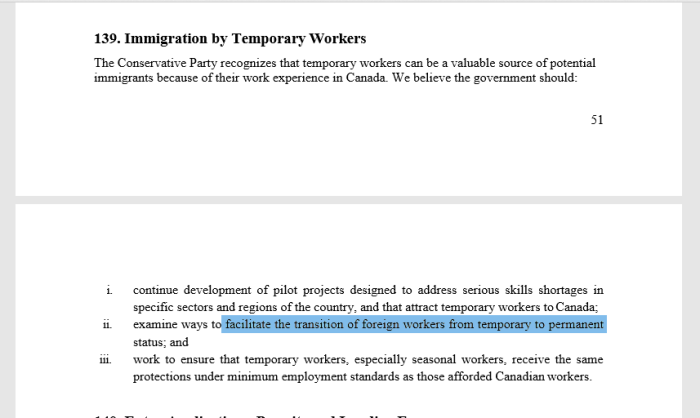 According to the CPC Policy Declaration, converting temporary workers into permanent residents is listed (Article 139), and so is erasing the borders with CANZUK (Article 152). Hard to be serious about border security when those policies are on the books.
At the 2:00 mark of the CANZUK video, Erin O'Toole explicitly talks about expanding CANZUK to other nations. He is not the only one to call for doing so. The 4 party set-up (Canada, Australia, New Zealand, United Kingdom), seems to be just a starting point.
One might wonder why Pierre Poilievre has relatively tame criticism of the Government's open border policies, and why more isn't done. He's clearly aware of the issues around Canada's border. One should also ask why he prominently flies an Israeli flag in his office during the "virtual Parliament".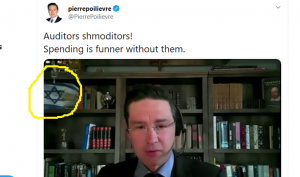 And one may question why the then-Immigration "Shadow Minister" seems so tepid about the vast scale of people entering the country (both legally and illegally). Here are some of her recent tweets.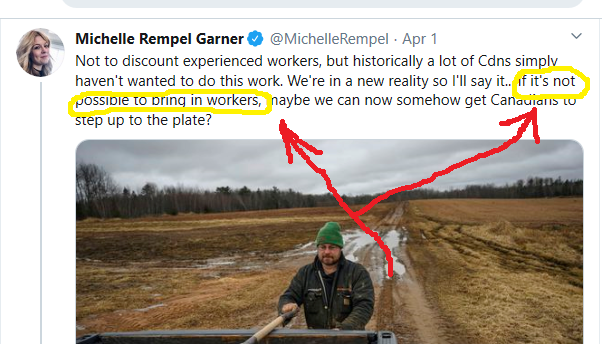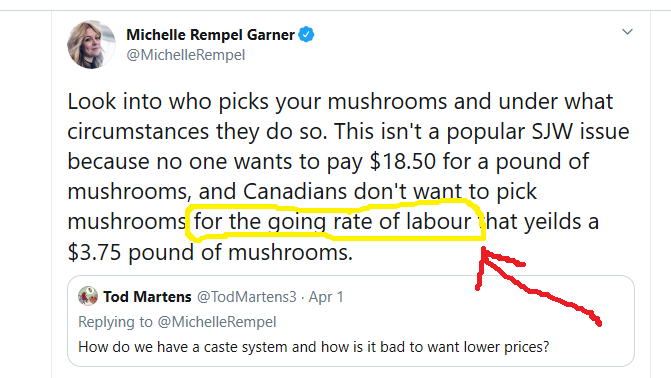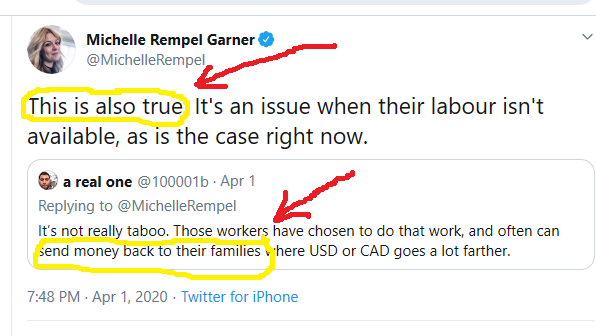 Yes, that is the face of modern conservatism is this country. Mass migration of people into Canada who will work for less, and drive down the wages of Canadians. Forget about the tens of billions sent off due to remittances, or the impact of the reduced supply of jobs for Canadians. Forget about all of the problems that diversity and multiculturalism bring.
6. All A Dog-And-Pony Show
Canadians concerned about their borders should be outraged by what is going on. This Parliamentary system is one where parties go through the motions of trying to secure the border, but have no intention of actually doing so.
Recently, Trudeau announced a temporary stop to illegal crossings into Canada. This shows that the Prime Minister had the power — all along — to stop illegal entries. These hearing were a farce because it was completely unnecessary. All of this has been an act played out in front of the public.
Watch all of the clips if you can. But it will make your blood boil.