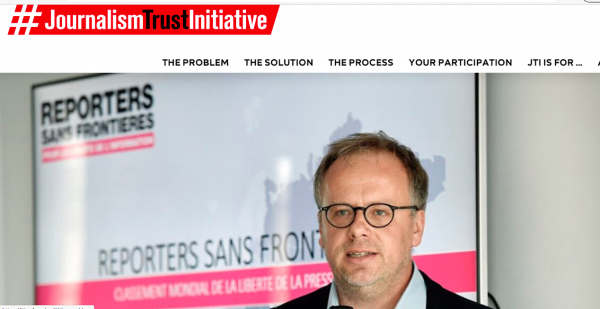 Having an open, independent and free media is essential to any functioning society. However, that is not the case here. Groups like the "Journalism Trust Initiative" sounds like something that might have been concocted in the Soviet Union. But no, it's operational within the free world.
1. Important Links
(1) https://jti-rsf.org/en/
(2) https://jti-rsf.org/en/about
(3) RSF Sues Facebook, Claims Too LITTLE Censorship
(4) https://archive.is/A6847
(5) https://www.bbc.com/mediacentre/2020/trusted-news-initiative-vaccine-disinformation
(6) https://www.originproject.info/
(7) https://id2020.org/
(8) https://www.youtube.com/watch?v=mdTTl-C4PTM
(9) https://firstdraftnews.org/latest/fake‐news‐complicated
(10) https://contentauthenticity.org
(11) https://www.partnershiponai.org
(12) https://www.partnershiponai.org/ai‐and‐media‐integrity‐steering‐committee
(13) https://www.wired.com/story/deepfakes‐getting‐better‐theyre‐easy‐spot
(14) https://arxiv.org/abs/2001.07886
(15) https://thetrustproject.org/
(16) https://thetrustproject.org/#indicators
(17) https://www.poynter.org/reporting-editing/2015/today-in-media-history-in-1947-the-press-reported-on-the-hutchins-commission-report/
(18) https://www.cbc.ca/news/editorsblog/editor-blog-trust-1.5936535
(19) https://cbc.radio-canada.ca/en/impact-and-accountability/local-news-directory
2. "News Trust" Groups To Investigate
There is something Orwellian or dystopian about organizations that have to stress so frequently that they are trustworthy sources. These are groups which are supposed to be doing this in journalism.
Journalism Trust Initiative

Reporters Without Borders (RSF)
European Broadcasting Union (EBU)
Agence France Presse (AFP)

Trusted News Initiative
Project Origin

British Broadcasting Corporation (BBC)
Canadian Broadcasting Corporation (CBC)
Radio-Canada
Microsoft
New York Times

The Trust Project

Sally Lehrman
Microsoft Defending Democracy Program
The Peg and Rick Young Foundation
the John S. and James L. Knight Foundation
Trustworthy Journalism Initiative of Craig Newmark Philanthropies
Bing
Facebook
Google
Who can forget the Q-Anon saying to "trust the plan"? After all, there was supposed to be some secret army ready to take out the Deep State, and put all of the pedophiles in jail. Also, "Operation Trust" was a scheme in the 1920s to keep the Communists in power in the Soviet Union, by letting people think there was a plot already underway.
This may seem crazy, but perhaps these "trust" groups operate in much the same way, and to achieve essentially the same purpose of deflating resistance to the current power structure.
There is another thread that runs through these NGOs. They all oppose what they call "misinformation" surrounding legitimate questions of this "pandemic". Each one supports the official narrative.
3. Who's Behind Journalism Trust Initiative


Reporters Without Borders (RSF) in partnership with:
European Broadcasting Union (EBU)
Agence France Presse (AFP)
Reporters Without Borders, the European Broadcasting Union, and Agence France Presse are the 3 main groups behind the Journalism Trust Initiative. That being said, their organization has grown considerably since the founding in 1985.
Here is a list of selected participants in the development stage of the JTI Standard included, in alphabetical order. Note: these names came directly from their website.
All-Russia State Television and Radio Broadcasting Company (VGTRK, Russia)
Associated Press (USA)
Association of Taiwanese Journalists (Taiwan)
Autorità per le Garanzie nelle Comunicazioni (AGCOM, Italy)
BBC (UK)
City University of New York (CUNY, USA)
Civil (USA)
Deutsche Presse Agentur (dpa, Germany)
Ethical Journalism Network (EJN)
European Association for the Co-ordination of Consumer Representation in Standardisation (ANEC)
Facebook (USA)
Fondation Hirondelle (Switzerland)
Free Press Unlimited (FPU, the Netherlands)
Gazeta Wyborcza (Poland)
Global Disinformation Index (GDI)
Google (USA)
The Independent Monitor for the Press (IMPRESS, UK)
Internews (UK)
Journalists Association of South Korea (JAK, South Korea)
NewsGuard (USA)
Norsk Rikskringkasting (NRK, Norway)
RTL Group (Luxembourg)
Society of Professional Journalists (SPJ, USA)
Swiss Press Council (Switzerland)
Tagesspiegel (Germany)
Tamedia (Switzerland)
Thomson Foundation (UK)
TT Nyhetsbyrån (Sweden)
World Wide Web Consortium (W3C)
United Nations Educational, Scientific and Cultural Organization (UNESCO)
Some of these names should immediately stand out, such as Facebook, Google and UNESCO. Yes, 3 of the most powerful organizations are involved in this. As for the 3 behind JTI:
(a) Founded in 1985, Reporters Without Borders (RSF) became one of the world's leading NGOs in the defence and promotion of freedom of information. RSF is registered in France as a non- profit organization based in Paris, with consultative status at the United Nations, UNESCO, the Council of Europe and the International Organization of the Francophonie (OIF). Our foreign sections, bureaux in ten cities, and a network of correspondents in 130 countries….
(b) The European Broadcasting Union (EBU) is the world's foremost alliance of public service media (PSM). Our mission is to make PSM indispensable. We represent 117 media organizations in 56 countries in Europe, the Middle East and Africa; and have an additional 34 Associates in Asia, Africa, Australasia and the Americas. Our Members operate nearly 2,000 television and radio channels alongside numerous online platforms….
(c) Founded in 1835, Agence France-Presse (AFP) is the third largest international news agency in the world delivering fast, accurate, in-depth coverage of the events shaping our world, from conflicts to politics, economics, sports, entertainment and the latest breakthroughs in health, science and technology.
That is how they describe themselves. While there is nothing wrong with people in the industry collaborating, the concern comes when viewpoint diversity is stifled. Legitimate debate and contrary points of view can simply be disregarded.
We live in an era of the grand de-enlightenment.
.
On the Internet, algorithms tend to amplify the extremes – sensationalism, rumours, hate and falsehoods. Opinion and beliefs trump facts. The rule-makers in big-tech are not accountable to anyone. The rules of the game are in- transparent and change all the time.
.
On this rocky, tilting and ever turning playing field, journalism is unfairly disadvantaged, losing reputation, reach and revenues – which renders it even less competitive.
.
That logic needs to be reversed. Democracy dies without a fact-based discourse.
Everything in this section sounds entirely reasonable, and valid. The internet does tend to promote fake news and sensationalized nonsense over real journalism. And true, democracy is dead without a fact based discourse. However, what this group finds acceptable does not match with many others.
4. RSF Sues Facebook, Too LITTLE Censoring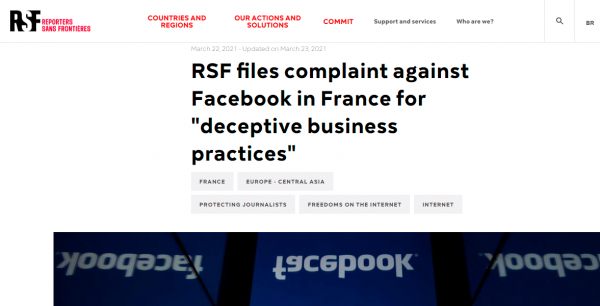 This Complaint, filed in France, should terrify people. Reporters Without Borders is upset that Facebook isn't doing enough to censor so-called misinformation on its platform. To repeat: the allegation is that Facebook SHOULD DO MORE to censor people spreading different views on the so-called pandemic.
Facebook has been notorious for its revised Terms of Service, and deplatforming, but that apparently wasn't enough. RSF is taking action against a member of its own group.
Note: the Complaint itself doesn't seem to be posted. RSF has been contacted for a copy of it.
For an example of how extensively Facebook already censors, consider this: Kevin Chan of Facebook Canada bragged to Canadian politicians that over 16 million pieces of "misinformation" had already been removed. But that apparently isn't good enough.
5. Trusted News Initiative (TNI)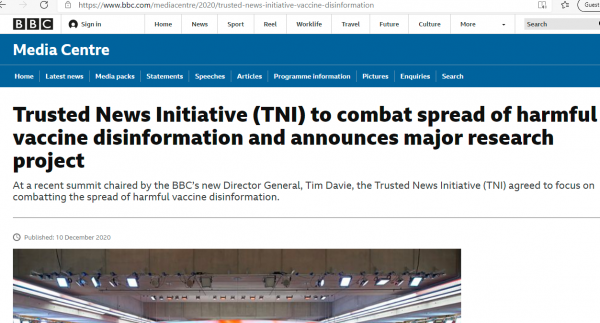 The Trusted News Initiative (TNI) was set up last year to protect audiences and users from disinformation, particularly around moments of jeopardy, such as elections. The TNI complements existing programmes partners have in place.
.
The partners currently within the TNI are: AP, AFP; BBC, CBC/Radio-Canada, European Broadcasting Union (EBU), Facebook, Financial Times, First Draft, Google/YouTube, The Hindu, Microsoft , Reuters, Reuters Institute for the Study of Journalism, Twitter, The Washington Post.
.
The TNI cooperative framework has been jointly developed amongst partners, and relates to only the most serious disinformation, which threatens life or the integrity of the electoral process. This is entirely separate from and does not in any way affect the editorial stance of any partner organisation.
At least we're getting some honesty here. The Trusted News Initiative was set up primarily to counter "misinformation" of a serious nature. It specifically cites elections and this "pandemic".
Although not explicitly stated, having these groups band together in such a way would be quite effective at censoring legitimate information. Of course, it would always be passed of as an emergency.
A cynic might wonder if Trump intentionally went on about election conspiracy theories in order to help justify the collusion of these "independent" media outlets. Perhaps this is reaching, but it would explain a lot.
Interestingly, although not surprisingly, Facebook and Google are both part of the Trusted News Initiative.
6. Project Origin — Microsoft A Partner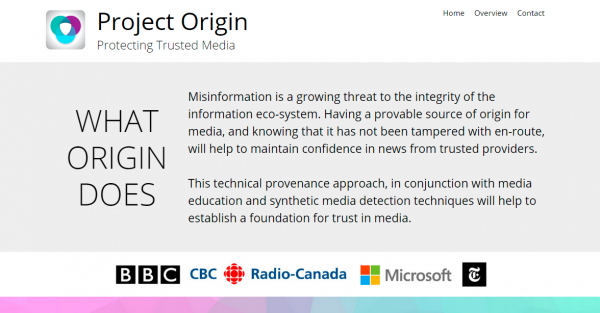 Project Origin was established to provide a platform for collaboration and discussion among a set of partners on the creation and adoption of a new media provenance tracking process, aimed initially at news and information content. At scale, this process could encompass traditional publishing (electronic and print), information technology, social media and consumer software. We are planning for a multiparty stakeholder, cross-organisational collaboration around combating disinformation.
Positive authentication of the provenance of legitimate news stories will help by making it easier to identify manipulated and synthetic audiovisual content. The Origin process is conceptually designed to work with text, video, images and audio content.
The Origin collaborators have agreed to develop a framework for an engineering approach, initially focusing on video, images, and audio. We hope this work could be helpful in developing a global standard for establishing content integrity.
CBC/Radio-Canada, the British Broadcasting Corporation and Microsoft are working together with what is called "Project Origin". The stated goal is to be able to find the origin and background of news that is making its way onto public domains.
Never mind that Microsoft is heavily involved in ID2020, or that the BBC receives regular financing from the Bill & Melinda Gates Foundation. Forget about Gates' ties to the pharmaceutical industry. Surely, this organization is about promoting truth and accuracy in media.
Project Origin offers a more technical way of finding the sources, such as tracing the image, or similar word patterns, or seeing where else it has been published. Consider it a form of cyber-sleuthing for content flagged as "misinformation".

Media Provenance Countering Synthetic Media
SOURCES:
1. C. Wardle, "Fake news. It's complicated", First Draft, Feb. 2017. Available at:
https://firstdraftnews.org/latest/fake‐news‐complicated.
2. "Setting the industry standard for digital content attribution", The Content Authenticity Initiative, 2019.
Available at: https://contentauthenticity.org.
3. The Partnership on AI. Available at: https://www.partnershiponai.org.
4. "AI and Media Integrity Steering Committee", The Partnership on AI, 2019. Available at:
https://www.partnershiponai.org/ai‐and‐media‐integrity‐steering‐committee.
5. G. Barber, "Deepfakes Are Getting Better", WIRED Magazine, May 2019. Available at
https://www.wired.com/story/deepfakes‐getting‐better‐theyre‐easy‐spot.
6. "News Provenance Project", New York Times, 2018. Available at:
https://www.newsprovenanceproject.com/resources.
7. P. England et. al., "AMP: Authentication of Media via Provenance", arXiv:2001.07886, Jan. 2020.
Available at https://arxiv.org/abs/2001.07886.
8. M Russinovich e.t al., "CCF: A Framework for Building Confidential Verifiable Replicated Services",
Microsoft Research Technical Report MSR‐TR‐2019‐16, Apr. 2019. Available at
https://www.microsoft.com/en‐us/research/publication/ccf‐a‐framework‐for‐building‐confidential‐verifiable‐replicated‐services.
Project Origin does post a research paper going into extensive detail about how such a system may be organized. It would incorporate AI into it, flagging content deemed suspicious. How the metadata is actually used is explained in considerable deta in video as well.
7. The Trust Project, Social Media Grouping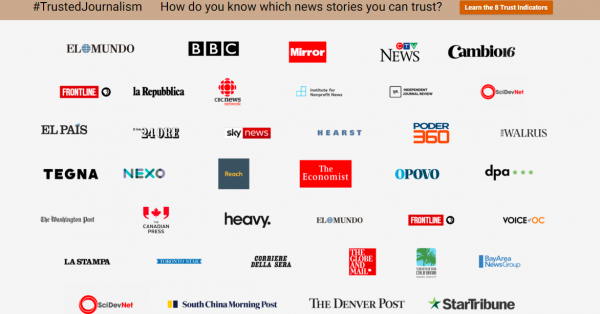 The Trust Project is an organization of some 200 media outlets which conform to certain preset standards of journalism. The propagation and promotion of the their work across social media in influenced by Bing, Facebook and Google. Among the Canadian members are:
CBC
CTV
Globe & Mail
The Canadian Press
Toronto Star
The Trust Project does have its 8 Trust Indicators listings, and they are quite good. The problem is that these organizations don't practice what they preach in terms of differing views. Specifically, contradictory information on this "pandemic" narrative are censored, and otherwise smeared as conspiracy theories.
At least on paper, there is nothing objectionable about this NGO. The issues arise when their behaviour in practice is considered.
The Trust Project references the 1947 Hitchens Commission to base this on. The report claims that democracy is in danger if there isn't a free media, and that control in the hands of too few people is a danger. Instead of reading this as a warning, it appears to have become a roadmap, given how much media collusion we now have.
These trust groups function like a modern day Mockingbird Media. It really is one group that controls nearly everything.
8. CBC's Efforts To "Rebuild Trust"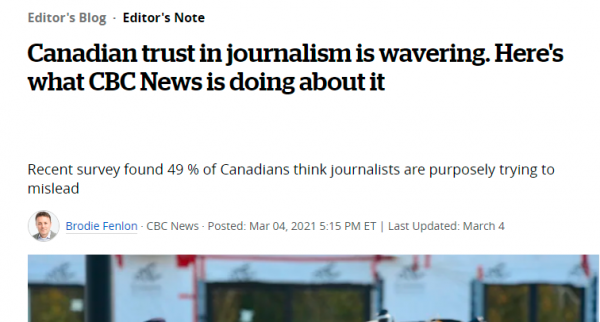 About a month ago, CBC, the Canadian Broadcasting Corporation, published an article that stated trust in it was waning. It emphasized that efforts were being undertaken to rebuild that trust, and went into significant detail.
CBC News is a member of the Journalism Trust Initiative (JTI), an effort to establish globally recognized standards of trustworthiness in news, led by Journalists without Borders, the European Broadcasting Union and Agence France-Presse. As part of a recent pilot, we submitted a 70-page questionnaire on our practices for an independent review and hope to share the results in the near future.
CBC/Radio-Canada has been a member of the Trusted News Initiative (TNI) since its inception in 2019. The TNI brings together global news organizations and tech platforms to combat disinformation. It created a real-time, early warning system to flag serious disinformation that may pose a threat to life or the integrity of the electoral process. It has been activated for the general elections in the U.K., Taiwan, Myanmar and the U.S., as well as the COVID-19 pandemic. The TNI will host a Trust in News conference later this month.
CBC/Radio-Canada has joined with the BBC, the New York Times and Microsoft in support of an effort to develop Project Origin, an open standard for confirming the authenticity of content from trusted sources to fight "deep fake" video news generated by artificial intelligence. This is a new application of established technology to digitally verify the authenticity of our news content when it appears on other online platforms.
CBC News is part of the Trust Project, an international partnership with tech and media companies to increase transparency and accuracy in online news. CBC policies on transparent labels, corrections, bylines and links to our JSP on our digital pages have become a model for other partners in the project.
While there are some legitimate steps in the article that CBC can take, it seems strange to partner up with so many other groups, such as the ones listed above. It takes away from the independence (or even the illusion of independence), to be so tightly interwoven with these "trust" groups.
CBC does have its own "directory" of trusted news groups, which seems Orwellian. Part of Canadians' tax dollars are going towards creating a database of outlets that will not stray from permitted narratives.
9. Media, Social Media, Influence And Subsidies
CBC claims it wants to improve the trust it has among Canadians. However, it doesn't raise any eyebrows when something like this happens: Dominic LeBlanc openly suggesting passing laws to combat "misinformation". Since there is ideological alignment, this chilling statement goes largely unchallenged.
It seems that outlets like CBC wish to "appear" to be trustworthy, but have no interest in conducting themselves in ways that genuinely foster trust. How bad is the media bias?
(1) Unifor, Media, In Bed With Gov't, $595M
(2) True North Canada A Fake Charity, Subsidized By Public
(3) Government Subsidizes Postmedia To Ensure Positive Coverage
(4) Aberdeen Publishing Takes Handouts, Ignores Real Issues
(5) More Periodicals Taking Grants, Parroting Gov't Narrative
(6) Subsidized Fact-Check Outlets Run By Political Operatives
(7) Groups Funded By Tax Dollars To Combat "Misinformation"
(8) Even More Subsidies Canadian Outlets Are Dependent On
(9) DisinfoWatch Has Ties To Atlas Network/Koch, Liberal Party
(10) Media, Banks, CU, Getting CDA Emergency Wage Subsidies
(11) Advertising And Marketing In Promoting "Pandemic" Narrative
(12) NSERC/SSHRC/CIHR Grants In "Confidence"; Mandatory Vaxx
(13) Bill C-10; Open Collusion Between Ottawa, Social Media
(14) Facebook; Kevin Chan; Peter Donolo; Rachel Curran; Erin O'Toole
The unfortunate reality is that there are many legitimate reasons to not trust the media in Canada, and elsewhere. Coming together in these groups does little to conceal the lack of genuine interest in journalism. While it's true that professionals so have to sell to make a living, it shouldn't come at the expense of their integrity.