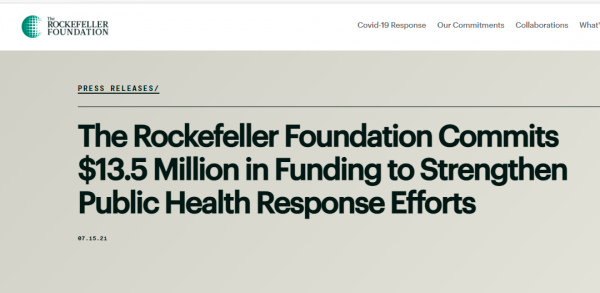 Think that it's only taxpayers who are funding efforts to stop so-called "misinformation"? Turns out, the Rockefeller Foundation is financing it as well, and this is quite the contribution.
July 15, 2021—The Rockefeller Foundation is announcing $13.5 million in new funding to strengthen Covid-19 response efforts in the U.S., Africa, India, and Latin America to counter health mis- and disinformation – confusing, inaccurate, and harmful information that spreads at an unprecedented speed and scale and threatens the health and wellbeing of communities around the world. The announcement responds immediately to Confronting Health Misinformation: The U.S. Surgeon General's Advisory on Building a Healthy Information Environment, which calls for a "whole-of-society" effort so that people around the world know what to do—and trust the sources they hear from—during a public health emergency.
"By identifying mis- and disinformation as a challenge to our collective health, the Surgeon General's guidance reinforces The Rockefeller Foundation's role in investing in data-driven public health interventions to meet the unique challenges of today's media environment," said Bruce Gellin, Chief of Global Public Health Strategy at The Rockefeller Foundation.
The funding will support the design and evaluation of interventions, tools, and methods to build trust in Covid-19 vaccination efforts and counter inaccurate information, and research to understand how inaccurate health information impacts online and offline behaviors, the true cost of mis- and disinformation on health and economic outcomes, and what strategies might be most effective to counter and manage inaccurate and harmful information from malicious sources. Funded projects will provide a foundation for modern information and communication networks that better serve people and are better prepared to encourage actions and behaviors essential to public health response efforts. Detailed information is slated to be released by the end of 2021.
"Science alone is not sufficient to drive action: the best data analysis in the world will not stop an outbreak if people at risk are not aware of the problem, do not think it is a real threat, do not trust the messenger, or do not know what actions to take to protect themselves and their loves ones," said Estelle Willie, Director of Health Policy and Communications at The Rockefeller Foundation. "The Rockefeller Foundation's $13.5 million commitment is a direct acknowledgment that effective public health begins with effective communication that cuts through the noise and confusion stemming from mis- and disinformation."
Today's announcement marks another step in The Rockefeller Foundation's commitment to reinvigorate public health for the 21st century so that the world can effectively prevent, detect, and respond to health threats to avert future pandemics. This investment builds on the Foundation's U.S. Equity-First Vaccination Initiative, which supports community-based organizations serving people of color with the expertise and resources to own and drive evidence-based, misinformation-resilient conversations about vaccines in their communities. Launched in April 2021, the year-long initiative will identify effective strategies to increase vaccine confidence in diverse communities, and assess, to the extent possible, the role misinformation plays in shaping knowledge, attitudes, and beliefs about Covid-19 vaccines.
"Vaccine equity" is a term that's based on the assumption that racism and structural inequalities are the reasons that certain minorities are unable to get vaccines in high enough numbers.
Of course, Rockefeller is also the same organization who brought the "Lockstep Narrative" back in 2010. It was also a partner in the 2016 project, ID2020.
Don't worry, nothing to see here.
(1) https://www.rockefellerfoundation.org/news/the-rockefeller-foundation-commits-13-5-million-in-funding-to-strengthen-public-health-response-efforts/
(2) https://www.rockefellerfoundation.org/covid-19-response/achieving-vaccine-equity/
(3) Rockefeller.Foundation.lockstep.2010
(4) https://id2020.org/alliance