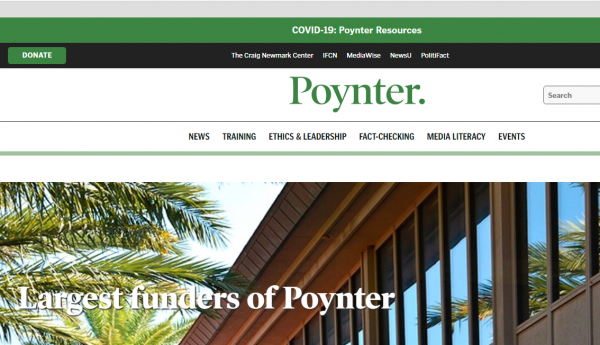 Ever get the impression that all major media is controlled by a few people? Well, meet Poynter, the factchecking group that is financed by media conglomerates. There's no conflict of interest here.
In short, these groups act as a form of counterintelligence groups. Their mission being to discredit and deflect from real truth, in order to promote what Governments and corporations are saying. This is little more than propaganda in today's society.
By supporting the Poynter Institute, you fortify journalism's role in a free society. Poynter champions freedom of expression, civil dialogue and compelling journalism that helps citizens participate in healthy democracies. We prepare journalists worldwide to hold powerful people accountable and promote honest information in the marketplace of ideas.
Founded in 1975, Poynter is an inspirational place but also a practical one, connecting the varied crafts of journalism to its higher mission and purpose. From person-to-person coaching and intensive hands-on seminars to interactive online courses and media reporting, Poynter helps journalists sharpen skills and elevate storytelling throughout their careers.
We bring together Poynter faculty and industry experts to explore the intersection of journalism, technology and the public interest. Poynter specializes in:
-Ethics and fact-checking
-Reporting and storytelling
-Developing journalism's leaders
-Advancing newsroom diversity
-Strengthening local news companies
Poynter claims it prepares journalists to hold powerful people accountable. That's interesting, considering who their donors are. Also, if truth is important, why the focus on storytelling? This group is noticeably silent on the topic of media and social media censorship. As an example, Kevin Chan of Facebook Canada bragged about removing 16 million pieces of information in 2020.
This group is part of the Coronavirus Facts Alliance, whose mission it is to route out "misinformation", which is pretty much anything that contradicts the official narrative.
As for their major donors, at least they are open about it:
BIGGEST FUNDERS
Charles Koch Foundation
Democracy Fund
Environmental Defense Fund
Facebook
Foundation to Promote Open Society
Gill Foundation
Google News Initiative
Institute for War and Peace Reporting
John S. and James L. Knight Foundation
Lumina Foundation
MacArthur Foundation
Miami Foundation
National Endowment for Democracy
Newmark Philanthropies
Newton & Rochelle Becker Charitable Trust
Omidyar Network | Luminate
Rita Allen Foundation
Robert R. McCormick Foundation
LARGEST CUSTOM TRAINING PARTNERS IN 2019-2021
American Society of Business Publication Editors
Charles Koch Institute
ESPN
Facebook
Huffington Post
Marketplace
MRC Media
Middle East Broadcasting Networks
National Public Radio
Newsweek
New York Times
Pinellas County School District
Southern Newspapers Publishers Association
The Washington Post
TikTok
USA Today Network
Vice
Voice of America – Broadcasting Board of Governors
Do you get it now? This is just another group of fact checkers doing what they can to ensure that the "correct" opinions and points of view are promoted. These aren't independents, or even quasi independents.
(1) ttps://www.poynter.org/
(2) https://www.poynter.org/major-funders/
(3) https://www.poynter.org/about/