The Dalla Lana School of Public Health, or DLSPH, is effectively a branch of the World Health Organization. While masquerading as scientists, this UofT cabal provides political cover for Doug Ford. There are conflicts of interest everywhere.
This focuses on David Fisman. It's not because he has anything particularly interesting or insightful to say. Instead, it's because his side grift with ETFO accidentally exposed a huge issue.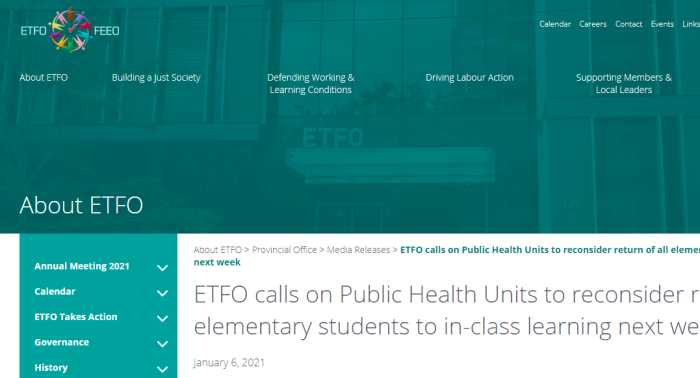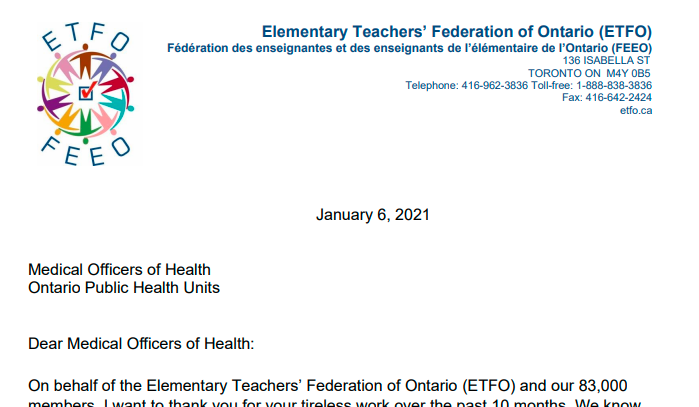 With vaccines slowly being rolled out, we must ensure that we do everything we can to protect those who are most vulnerable, especially as we can see the end of these challenging times in the months ahead.
Noted Hammond, "The provincial government's failure to listen to the advice of medical professionals has resulted in the current crisis we are facing. So now, we are asking Public Health Units to use their authority to reconsider the decision to resume in-person learning for all elementary students on January 11, particularly in communities where the rate of community transmission is high, and to implement asymptomatic surveillance testing in schools to ensure that we can better understand the role that schools are playing in the spread of the virus and base future decisions on sound data."
"There's a 10 per cent daily increase in ICU occupancy in Ontario right now. This is not the right time to restart in-person learning," said Dr. David Fisman, Professor of Epidemiology at the University of Toronto. "We have to assume that there is a lot of asymptomatic COVID-19 in schools. It is irresponsible to send children and educators back to schools without knowing for sure that it is safe to do so."
ETFO continues to demand that the provincial government provide much-needed supports to families, especially during periods when schools are closed to in-person attendance. "We also continue our advocacy to ensure that the government acknowledge and address the disproportionate impact the pandemic has had on marginalized communities, in particular racialized and low-income families," said Hammond.
A safe return cannot be ensured unless urgent and immediate actions are taken to implement a safety plan that reduces class sizes, improves ventilation, and introduces broad in-school asymptomatic testing when in-person attendance resumes.
Fisman acted as a sort of "hired gun" on behalf of ETFO to demand that physical classrooms remain shut down. People rightly saw that this could be a serious conflict, given his other job with the Ontario Science Table.
It certainly is a problem, but for different reasons.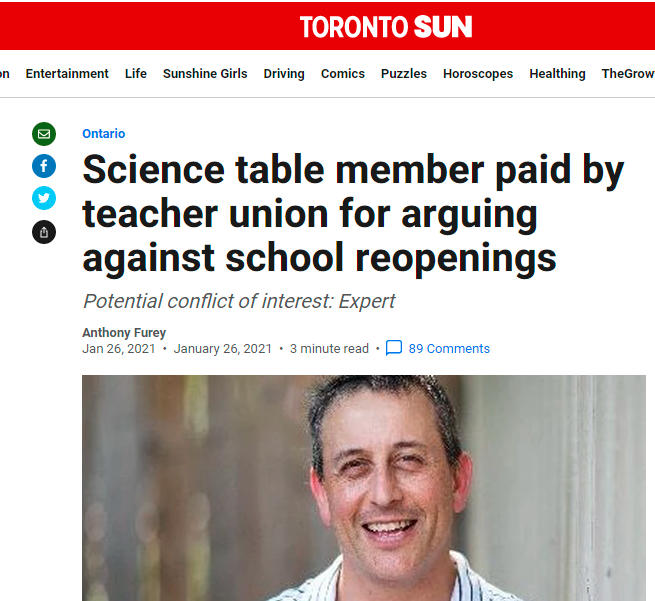 Even the Toronto Sun (which typically is a Ford mouthpiece) ran a story of Fisman having a side gig with the Elementary Teachers Federation of Ontario. They rightly questioned his impartiality.
Now, Fisman has claimed that there is no conflict of interest serving 2 masters: ETFO, and the Ontario Science Table. He's actually telling the truth here, which is a much bigger problem.
ETFO and OST "pretend" that they don't have preset agendas, and that they are open to new ideas. In reality, they are both pro-lockdown, pro-reset, pro-restrictions. However, they don't make this obvious to the public. In case there are doubts, consider ETFO's ties to the WEF, World Economic Forum, and what's in the Ontario Teachers Pension Plan.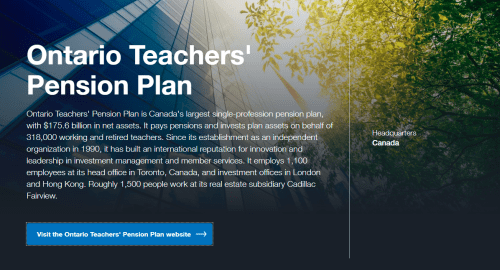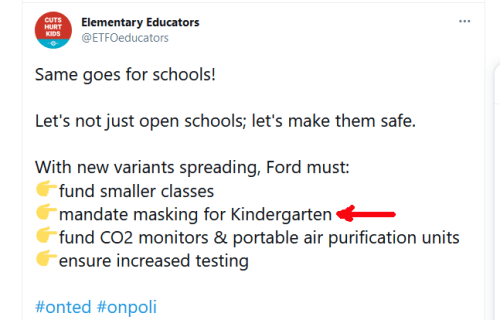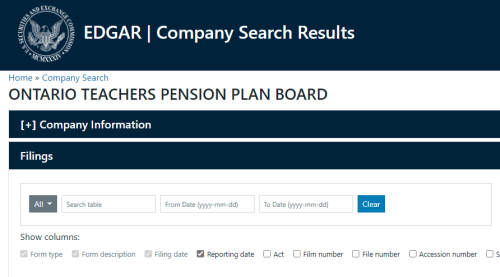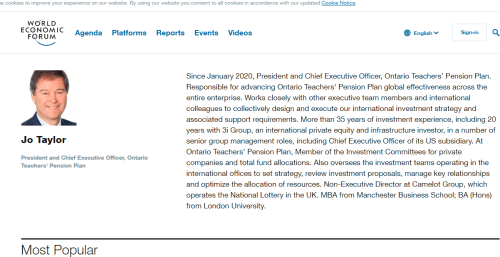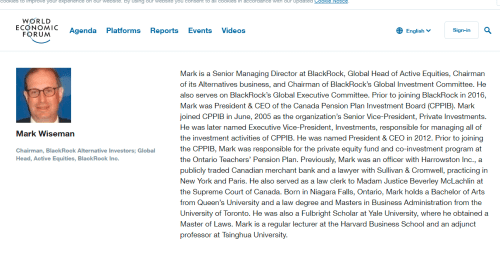 While it was nice to see the Fisman/ETFO angle covered, the media predictably chose not to look any further.
Mark Wiseman used to be the head of investments with the Ontario Teachers Pension Plan. He also used to run the CPPIB, or Canada Pension Plan Investment Board. He now runs Blackrock, which owns SNC Lavalin, and is a Chinese Communist Party asset.
Bill Chinery is on the OTPP corporate board. He used to be the CEO of Blackrock. Another connection not reported.
Jo Taylor is currently the head of the OTPP, and is another WEF associate. He wrote an article in March 2021 for WEF, promoting the "net-zero" initiative.
The Ontario Teachers Pension Plan holds a lot of assets which stand to appreciate in value from the status quo. One example is the $83 million of stock in 3M Co. (which makes face masks). OTPP's portfolio includes Eli Lilly, Gilead Sciences, Johnson & Johnson, Merck, Moderna & Pfizer. It also has assets in Amazon, Apple, Costco, Home Depot, Rogers, Shaw, Twitter, Visa and Zoom. All are companies that profit from these measures.
Fisman is the hired gun who gives legitimacy to keeping schools closed. If he hadn't participated in this side grift, he wouldn't have accidently exposed how OST and ETFO are ideologically aligned.
Ironically, teachers who demand it "for their safety", are just useful idiots.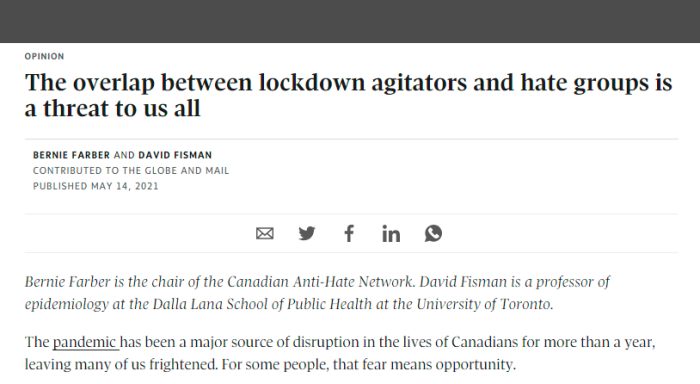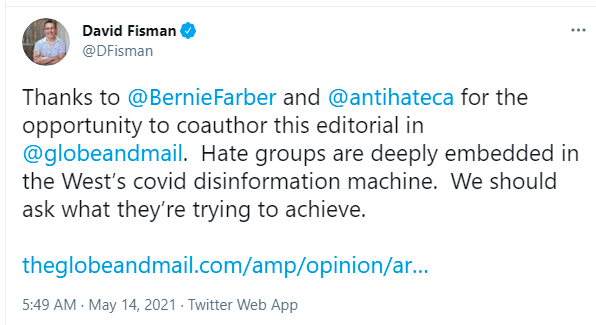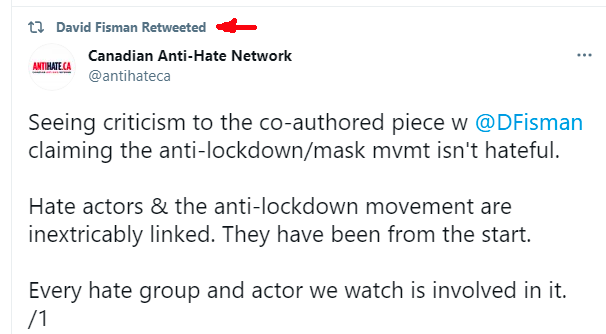 Having been exposed as a hustler, Fisman now turns to gaslighting and vilifying his opponents. He sees nothing wrong with smearing them as bigots, or trying to tie it to actual hate. His Twitter feed is full of it.
Fisman's latest tactic is smearing people who oppose these draconian measures as bigots, and he is hardly the first. The fact that people of all ethnicities are welcome to protest or march seems irrelevant. While there are grifters in the movement (Action4Canada, Hugs Over Masks, The Line, Chris (Saccoccia) Sky, Vaccine Choice Canada….) this is a disingenuous attempt to slime real opposition.
Reading through some of this, it doesn't appear Fisman actually believes what he's saying. Instead, it comes across as an intellectually dishonest way to deflect legitimate criticisms and concerns.
And a question to ponder: would Fisman have resorted to these tactics if his side business with ETFO hadn't been published at all?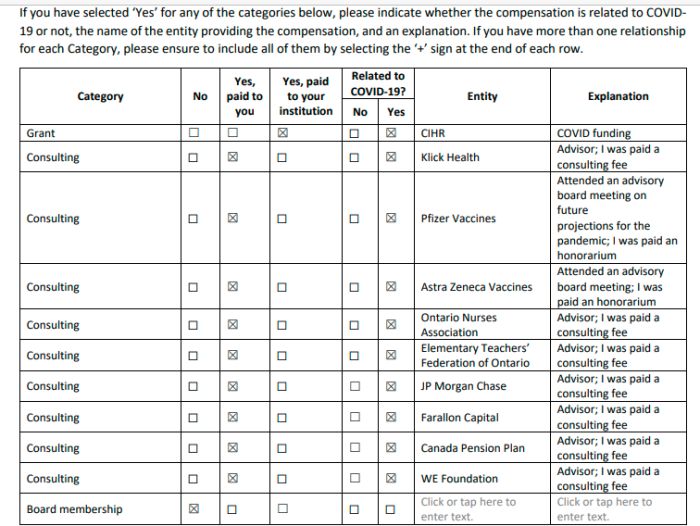 https://covid19-sciencetable.ca/wp-content/uploads/2020/07/Declaration-of-Interest_Science-Table_David-Fisman.pdf
Fisman has received some sort of compensation for plenty of consulting, including with Pfizer and AstraZeneca. Seems he's serving everyone except Ontario.
And he's hardly the only problem.
Michael Warner is head of the Canadian Division of askthedoctor.com. Kumar Murty of OST is an investor of a technology company called PerfectCloudIO, which stands to profit from lockdowns. Kwame McKenzie of OST led the research into the 2017 UBI project in Ontario. And on a related note: Trillium Health Partners got a $5 million gift from a company that makes face masks. Abdu Sharkawy makes a small fortune on the speaking circuit. Robert Steiner of OST, an LPC operative, claims to be the brains of PHAC, founded in 2004. Ryan Imgrund shills for lockdowns while his employer fundraises money. Isaac Bogoch is in the UofT club, is part of Ontario's "Operation Warp Speed", and pretends to be neutral. Kashif Pirzada has numerous side businesses.
(1) https://www.linkedin.com/in/david-fisman-465a243/
(2) https://archive.is/MRYZj
(3) ETFO January 6 Don't Bring Back Classes
(4) https://www.etfo.ca/DefendingWorkingConditions/ETFOTakesAction/Documents/01062021-PHU-InPersonLearning-FINAL.pdf
(5) ETFO Wants Classroom Shutdown David Fisman
(6) https://torontosun.com/news/provincial/science-table-member-paid-by-teacher-union-for-arguing-against-school-re-openings
(7) https://twitter.com/ETFOeducators/status/1371865858046365704
(8) https://canucklaw.ca/fclt-global-world-economic-forum-cppib-ontario-teachers/
(9) https://canucklaw.ca/ontario-teachers-pension-plan-and-the-interesting-stocks-they-own/
(10) https://www.sec.gov/Archives/edgar/data/937567/000090342321000011/xslForm13F_X01/infotable.xml
(11) https://www.weforum.org/agenda/authors/jo-taylor
(12) https://www.weforum.org/people/mark-wiseman
(13) https://www.otpp.com/corporate/board-members
(14) https://www.theglobeandmail.com/amp/opinion/article-the-overlap-between-lockdown-agitators-and-hate-groups-is-a-threat-to/?utm_medium=Referrer:%20Social%20Network%20/%20Media&utm_campaign=Shared%20Web%20Article%20Links&__twitter_impression=true
(15) https://twitter.com/DFisman/
(16) https://twitter.com/DFisman/status/1393186686532734982
(17) Declaration-of-Interest_Science-Table_David-Fisman
(18) https://covid19-sciencetable.ca/wp-content/uploads/2020/07/Declaration-of-Interest_Science-Table_David-Fisman.pdf