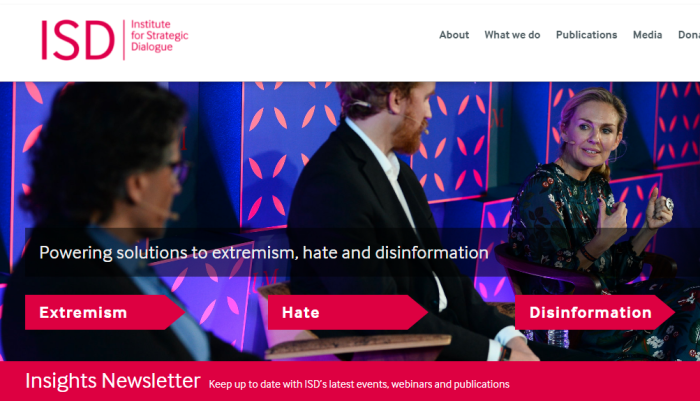 This piece on the Institute for Strategic Dialogue is a continuation of the last one. Now, let's look a little more into who's doing this, and what they actually want.
This may seem a bit ironic (or stupid), doing open source intelligence gathering on an intelligence gathering outlet. Nonetheless, the public does need to be aware of what is going on.
According to its latest tax return, the ISD took in about 5.6 million British Pounds, almost exclusively from "charitable" sources. That also describes the bulk of their spending. Perhaps the Government funding is simply classified as charities, or is being funneled through them
If you think these people aren't monitoring what you post, and using it as evidence in their reports, consider some of their profiles. All of this information came directly from them.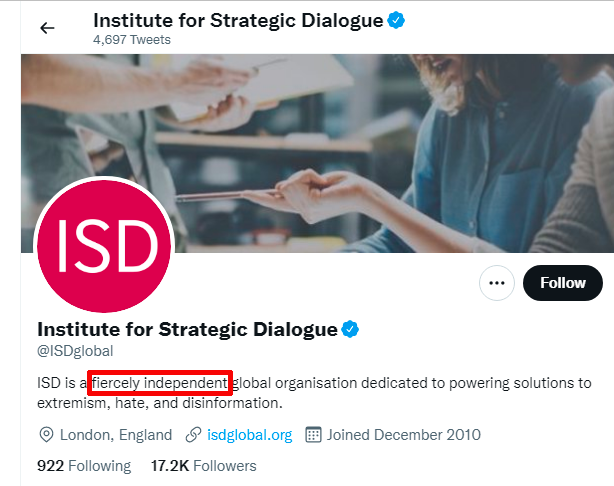 In its Twitter biography, the ISD describes itself as "fiercely independent". This is downright disingenuous, considering the partners it works with, and the sources of its funding. This is no more independent than the heavily subsidized media outlets that are everywhere in Canada. See the bottom links for more details.
Kata Balint is an Analyst on ISD's Digital Analysis Unit, primarily working on the analysis of the climate change debate in Hungary, using digital analysis tools and open source intelligence methods. Kata's main areas of research are political radicalisation and extremism, with a focus on far-right groups and movements; disinformation and conspiracy theories; and political attitudes and behaviour. Kata previously worked as an Analyst in the Radicalisation and Extremism Programme of Political Capital, an independent research institute based in Hungary, where she co-authored a number of research papers and was involved in radicalisation prevention activities. She gained her first professional experiences working in the Office of the Hungarian Parliament and in the European Parliament. Kata completed her postgraduate studies in Political Psychology at Queen's University Belfast in the UK, and she holds an undergraduate degree in Social Sciences with majors in International Studies and Communication from Roskilde University, Denmark.
Chloe Colliver is Head of Digital Policy and Strategy at ISD, where she leads a global team of analysts studying disinformation and extremism online, including programmes of work focusing on the German, European Parliamentary, UK, Swedish and US Elections. She has worked on the development of the Global Internet Forum to Counter Terrorism and has provided expert testimony to the UK Home Affairs Select Committee, the Swedish, New Zealand, Canadian, French and German governments on digital policy and tech regulation. She has been featured at CNN, the BBC, Sky News, the New York Times, the Wall Street Journal, Wired and Bloomberg. She is the co-author of ISD reports Spin Cycle: Information Laundering on Facebook, Developing a Civil Society Response to Online Manipulation, The 101 of Disinformation Detection, Click Here For Outrage: Disinformation in the European Parliamentary Elections 2019, The First 100 Days: Coronavirus and Crisis Management on Social Media Platforms, and Hoodwinked: Coordinated Inauthentic Behaviour on Facebook. Chloe is a Yale Mellon Fellow and sits on the Advisory Board for Accountable Tech.
Milo Comerford is Head of Policy & Research, Counter Extremism, leading ISD's work developing innovative research approaches and policy responses to extremism. Milo regularly briefs senior decision makers around the world on the challenge posed by extremist ideologies, and advises governments and international agencies on building effective strategies for countering extremism. He was previously Senior Analyst at the Tony Blair Institute for Global Change, where he led major research projects on Salafi-jihadi propaganda, international educational responses to extremism, and the transnational far right. His writing and research features frequently in international media and he has made recent broadcast appearances on BBC News, Sky News and Al Jazeera.
Jiore Craig is the Head of Political Integrity and Digital Communication at ISD. She has extensive international experience, previously spending eight years helping elected officials, political leaders, media organisations, academic institutions and civic society organisations across five continents to measure the impact of digital communication and influence campaigns on public opinion and communicate effectively in the wake of the threat of disinformation around elections. She was previously a Vice President at a global political consulting firm, where she built a digital practice serving Europe, Asia, Africa, South and Central America and the US. Jiore's work informed the design of major coalition efforts to counter disinformation in the 2020 US and 2019 European Parliament elections. Her work is cited in The Washington Post, New York Magazine, The L.A. Times, The New Yorker, and she has been a featured guest on the election podcast, Pod Save America.
Jacob Davey is Head of Research & Policy of Far-right and Hate Movements. His research focuses on the role of digital communications in inter-communal conflict, internet culture, online hate speech and the international far-right. He has led a number of projects piloting novel models for identifying extremist conversation online as well as interventions to counter this phenomenon. He has advised national and local policymakers on right-wing extremism, including the Home Affairs Select Committee, and has lead trainings with frontline practitioners on the mobilisation strategies of extremist groups. He has provided commentary on extremism-related issues in a number of platforms including The Guardian, The Independent, and The BBC, and also sits as a Senior Fellow at the Centre for Analysis of the Radical Right. He is the co-author of ISD reports Hosting the 'Holohoax': A Snapshot of Holocaust Denial Across Social Media, The Interplay Between Australia's Political Fringes on the Right and Left: Online Messaging on Facebook, The Genesis of a Conspiracy Theory, A Safe Space to Hate: White Supremacist Mobilisation on Telegram, An Online Environmental Scan of Right-wing Extremism in Canada, The Fringe Insurgency – Connectivity, Convergence and Mainstreaming of the Extreme Right, Counter-Conversations: A model for direct engagement with individuals showing signs of radicalisation online, "Mainstreaming Mussolini" – How the Extreme Right Attempted to 'Make Italy Great Again' in the 2018 Italian Election, 'The Great Replacement': The Violent Consequences of Mainstreamed Extremism, and An imprecise science: Assessing interventions for the prevention, disengagement and de-radicalisation of left and right-wing extremists.
Jasmine El-Gamal is a Senior Manager for Africa, Middle East and Asia (AMEA) at ISD, where she is responsible for overseeing prevention of violent extremism (PVE) research and programming. From 2015-2020, Jasmine was a Senior Fellow with the Middle East program at the Atlantic Council, where she focused primarily on U.S. policies in the Middle East. From 2013-2015, Jasmine served as a Special Assistant to three consecutive Under Secretaries of Defense for Policy at the Pentagon, where she advised on national security issues. From 2008-2013, Jasmine served as a Middle East advisor at the Pentagon, where she served three Secretaries of Defense. During her tenure, she prepared and staffed the Secretary of Defense on foreign trips and during Congressional briefings. She covered issues related to Iraq, Syria, the Arab Spring and ISIS, among others, and served as the Acting Chief of Staff for the Deputy Assistant Secretary of Defense for Middle East Policy. From 2014-2016, Jasmine served as a translator and cultural advisor to the Office for the Administrative Review of the Detention of Enemy Combatants (OARDEC) in Guantanamo Bay, Cuba, where she provided briefings on Islam and Arab culture to incoming military officers in advance of their participation on the Review Boards. She conducted over 100 detainee interviews during her time at GTMO regarding their background and journey to Afghanistan and ensured the integrity of their testimony during their review boards, many of which resulted in the illumination of their unjust detention. In 2003, Jasmine served as a translator with a U.S. Civil Affairs team responsible for reconstruction in Southern Iraq, helping to facilitate communication and cooperation between U.S. forces and the local population in rebuilding the area. Her commentary has appeared in The Washington Post, USA Today, The Atlantic, Newsweek, Time Magazine, CNN, Al Jazeera, Al Hurra, L'Orient du Jour, Sawt al Azhar, Al Masry Al Youm and other international outlets.
Aoife Gallagher is an Analyst on ISD's Digital Analysis Unit, focusing on the intersection between far-right extremism, disinformation and conspiracy theories and using a mixture of data analysis, open source intelligence and investigative techniques to understand the online ecosystem where these ideas flourish and spread. Previously, Aoife was a journalist with the online news agency, Storyful. She is co-author of the ISD reports The Genesis of a Conspiracy Theory and Profit and Protest: How Facebook is struggling to enforce limits on ads spreading hate, lies and scams about the Black Lives Matter protests. Aoife has completed an MA in Journalism.
Cooper Gatewood is a Senior Digital Research Manager within ISD's Digital Research Unit, focusing on quantitative research into the spread of hateful and polarising narratives online, and how they are leveraged by extremist actors. Cooper is currently contributing to ISD's research on disinformation campaigns, particularly those aimed to influence and disrupt election processes. He also manages on the Online Civil Courage Initiative in France, coordinating activities to support civil society's response to hate and extremism online. In addition, Cooper conducts ongoing evaluation of a number of ISD's programmes, including Be Internet Citizens and Young Digital Leaders. Cooper also develops monitoring and evaluation frameworks for a number of ISD's education projects. Previously, Cooper worked at Portland, where he advised clients from the non-profit and government sectors on their media engagement and social media strategies. He is the co-author of ISD reports The Boom Before the Ban: QAnon and Facebook, La pandémie de COVID-19: terreau fertile de la haine en ligne, Fostering Civic Responses to Online Harms, Promouvoir le civisme en ligne face aux malveillances à l'ère du numérique, Disinformation briefing: Narratives around Black Lives Matter and voter fraud, Mapping hate in France: A panoramic view of online discourse, and Building Digital Citizenship in France: Lessons from the Sens Critique project. Cooper holds a Masters of International Affairs from Columbia University and a Masters of International Security from Sciences Po and is fluent in Spanish and French, as well as speaking proficient Japanese.
Jakob Guhl is a Manager at ISD, where he works within the Digital Research Unit and with ISD Germany. His research focuses on the far-right, Islamist extremism, hate speech, disinformation and conspiracy theories. He is a frequent commentator on German radio and broadcast, including Deutschlandfunk, Tagesthemen, NDR and Radio Eins. Jakob has been invited to present his research about online hate to the German Ministry of the Justice and provided evidence to the German Minister of the Interior and the German Family Minister on how to strengthen prevention against right-wing extremism and antisemitism. His research has been featured in Die Zeit, The Guardian, DW, The Telegraph, CNN, Euronews, Coda Story, Vice, Politico, New Republic and Die Welt, among others. Additionally, he has published articles in the "Journal for Deradicalisation", "Demokratie gegen Menschenfeindlichkeit", Taz, Der Standard, GNET and co-authored an essay for an edited volume of the Munich Residence Theatre about the origins of contemporary political anger. He is the co-author of ISD reports Crisis and Loss of Control: German-Language Digital Extremism in the Context of the COVID-19 Pandemic, Hosting the 'Holohoax': A Snapshot of Holocaust Denial Across Social Media, A Safe Space to Hate: White Supremacist Mobilisation on Telegram and The Online Ecosystem of the German Far-Right. Jakob holds an MA in Terrorism, Security and Society from King's College London.
Sasha Havlicek is Co-Founder and CEO of ISD, having spearheaded ISD's pioneering research and data analysis, digital education, policy advisory, training, tech and communications programmes. With a background in conflict resolution and an expertise in extremism, digital information operations and electoral interference, she has advised a range of governments at the highest levels and has spearheaded partnerships with the UN, EU Commission and Global Counter-Terrorism Forum. She has also worked with the private and civil society sectors to promote innovation, including developing major programmes run in partnership with Google, FB and Microsoft. Sasha serves as an expert advisor to the UK Counter-Extremism Commission and the Mayor of London's counter-extremism programme, and is a member of the European Council on Foreign Relations. Sasha previously served as Senior Director at the EastWest Institute where she led conflict resolution programming. Sasha has testified before US Congress, the UK Parliament and is a regular commentator in the media (CNN, BBC, Channel 4 News and other networks).
Jennie King is a Senior Policy Manager at ISD. She supports programme design, policy outreach and strategy across the organisation. Jennie previously served as MENA Regional Director Arts, Assistant Country Director Egypt and Co-Director Hungary for the British Council, the UK's international body for cultural relations. She also served as an Attaché for the Guatemalan Diplomatic Mission. She is the co-author of the ISD report Hoodwinked: Coordinated Inauthentic Behaviour on Facebook. Jennie read Arabic and Spanish at Pembroke College, Cambridge, receiving a Foundation Scholarship and the Marie Shamma'a Frost Prize for Oriental Studies.
Daniel Maki is a Senior Manager in charge of open-source intelligence (OSINT) research for ISD's Digital Research Unit, as well as serving as ISD's Digital Risk Officer. Daniel leads a team of practitioners in the collection and analysis of intelligence related to investigations, ethnographic research, crisis response, and security monitoring. He also regularly serves as a subject-matter expert in intelligence collection and analysis within ISD and on behalf of ISD's key partners. As ISD's Digital Risk Officer, Daniel is responsible for tackling emerging digital risks and identifying operational security threats encountered in the course of research projects and investigations. Daniel has worked in the intelligence community for ten years as an investigator and intelligence analyst, conducting investigations into a wide variety of matters, including financial crime, insider threats, counterintelligence, espionage, organized crime and corruption, workplace misconduct, cybercrime, terrorism, and geopolitical conflict.
Ciaran O'Connor is an Analyst at ISD, working in the Research and Policy unit. Ciaran specialises in using open-source research to track and monitor disinformation and extremism online, with a particular focus on far-right activity and communication across open and closed networks and platforms. Ciaran is currently working on multiple ISD projects in analysing the intersection of misinformation and extremism with COVID-19 on social media. Ciaran previously worked as a journalist on the investigations team at Storyful, a social media news agency that specialises in the verification and analysis of amateur footage and misinformation online. He is the co-author of ISD reports The Boom Before the Ban: QAnon and Facebook and Disinformation briefing: Narratives around Black Lives Matter and voter fraud.
Christian Schwieter is a Project Manager at ISD Germany, leading the German-language research project on far-right activity on alternative and emerging online platforms. At ISD, Christian also co-led the pilot phase of the Digital Policy Lab, a new intergovernmental working group focused on charting the online policy path forward to prevent and counter disinformation, hate speech and extremism. Previously, Christian worked as a researcher for the Computational Propaganda Project at the Oxford Internet Institute, where he co-authored reports on state-backed information operations relating to the Covid-19 pandemic. In 2019, Christian was the Specialist Adviser on Disinformation Matters for the UK Digital, Culture, Media and Sports Select Committee at the House of Commons. Christian holds an MSc in Social Science of the Internet from the University of Oxford and a BA from Leiden University College The Hague.
Henry Tuck is Head of Policy & Programmes at ISD for work across Europe and the Five Eyes countries. He is responsible for the overall management of the Institute's research programme, including oversight of all publications, research methods, and ethics across a variety of topics, from disinformation to the far-right and extremism online. Henry also leads ISD's policy-focused work to counter online harms in collaboration with a range of key stakeholders, advising leading governments, international organisations and major private sector tech companies. He is the co-author of ISD reports An imprecise science: Assessing interventions for the prevention, disengagement and de-radicalisation of left and right-wing extremists, The Counter-Narrative Monitoring & Evaluation Handbook, Shooting in the right direction: Anti-ISIS Foreign Fighters in Syria and Iraq, and The Counter-narrative Handbook. Henry holds a Masters in International Conflict Studies from Kings College London, and a BA in Philosophy, Politics and Economics from Durham University.
Several profiles actually refer to "open source intelligence gathering". Do you realize what this means? Online posts and comments are being tracked, documented, archived, and used for later research. It's no surprise that so many have ties to Governments around the world, and that they appear as "experts" in the mainstream media quite often. This is (one of) the groups being paid to push certain narratives.
The ISD promotes the work of Marianna Spring, who does "anti-misinformation" efforts on behalf of the Gates-funded British Broadcasting Corporation.
The ISD has teamed up with social media influencers to "manage the narrative" around the latest climate change conference in the U.K. Obviously, the lay people are too dumb to think for themselves, and must be told what to believe.
ISD has also written about how Facebook can be more effective at enforcing the bans of people already removed from the network. Considering that Facebook is a major donor and partner, this isn't nefarious, or any sort of conflict of interest. They're also going after Tik Tok.
Apparently, the rapid demographic changes in Western countries since the 1960s just happened. There wasn't any concerted "replacement agenda", according to the report from ISD. It's just some racist conspiracy theory that gets thrown around.
By the way, if you need money and lack much of a soul, the ISD is currency hiring for a few different positions. Apply today!
On a more serious note: these people are doing "open source intelligence gathering", which means that content being posted is being used for other purposes. There is an agenda here, so truth and source material may not matter, nor would context. In a similar vein, edgy and trolling posts may be taken at face value and used to push certain narratives, like here. It's not your friends or family you need to worry about, but think tank operatives.
IMPORTANT LINKS
(1) https://www.isdglobal.org/
(2) https://www.isdglobal.org/disinformation/public-health-disinformation/
(3) https://www.isdglobal.org/disinformation/climate-disinformation/
(4) https://www.isdglobal.org/disinformation/conspiracy-networks/
(5) https://www.isdglobal.org/digital_dispatches/tags-flags-and-banners-evaluating-the-application-of-information-resources-on-vaccine-content-on-tiktok/
(6) https://twitter.com/ISDglobal
(7) https://twitter.com/ISDglobal/status/1460545038723788805
(8) https://twitter.com/shannonpareil/status/1459199605329915905
(9) https://isdglobal.recruitee.com/
(10) INSTITUTE FOR STRATEGIC DIALOGUE – 1141069
(11) https://www.isdglobal.org/isd-publications/the-great-replacement-the-violent-consequences-of-mainstreamed-extremism/
(12) The Great Replacement The Violent Consequences of Mainstreamed Extremism by ISD
(13) https://www.isdglobal.org/isd-chloe-colliver-on-trolling-of-un-migration-pact-for-danish-broadcasting-corporation/
RESOURCES FOR MEDIA ACTING AS COUNTER-INTELLIGENCE
(A) https://canucklaw.ca/media-subsidies-to-counter-online-misinformation-groups-led-by-political-operatives/
(B) https://canucklaw.ca/taxpayer-grants-to-fight-misinformation-in-media-including-more-pandemic-bucks/
(C) https://canucklaw.ca/counter-intelligence-firms-to-influence-elections-canada-and-abroad-registered-as-charities/
(D) https://canucklaw.ca/more-pandemic-bucks-for-disinformation-prevention-locally-and-abroad-civix/
(E) https://canucklaw.ca/disinfowatch-ties-to-atlas-network-connected-to-lpc-political-operatives/
(F) https://canucklaw.ca/phac-supporting-science-up-first-online-counter-misinformation-group/
(G) https://canucklaw.ca/rockefeller-spends-13-5-million-to-combat-misinformation-in-u-s-elsewhere/
(H) https://canucklaw.ca/poynter-self-claimed-factchecking-group-funded-by-media-giants/
(I) https://canucklaw.ca/journalism-trust-initiative-trusted-news-initiative-project-origin-the-trust-project/
(J) https://canucklaw.ca/coalition-for-content-provenance-and-authenticity-c2pa-project-origin-content-authenticity-initiative/
(K) https://canucklaw.ca/public-media-alliance-brussels-declaration-protecting-journalists-media-freedom/
(L) Institute For Strategic Dialogue: Partners, Funding
EVEN MORE MEDIA SUBSIDIES
(A) https://canucklaw.ca/media-1-unifor-denies-crawling-into-bed-with-government/
(B) https://canucklaw.ca/media-in-canada-obedient-to-govt-covid-narrative-largely-because-of-subsidies/
(C) https://canucklaw.ca/postmedia-subsidies-connections-may-explain-lack-of-interest-in-real-journalism/
(D) https://canucklaw.ca/postmedia-gets-next-round-of-pandemic-bucks-from-taxpayers-in-2021/
(E) https://canucklaw.ca/nordstar-capital-torstar-corp-metroland-media-group-more-subsidies-pandemic-bucks/
(F) https://canucklaw.ca/aberdeen-publishing-sells-out-takes-those-pandemic-bucks-to-push-narrative/
(G) https://canucklaw.ca/many-other-periodicals-receiving-the-pandemic-bucks-in-order-to-push-the-narrative/
(H) https://canucklaw.ca/cv-37i-tri-city-news-pulls-article-where-bonnie-henry-admits-false-positives-could-overwhelm-system/