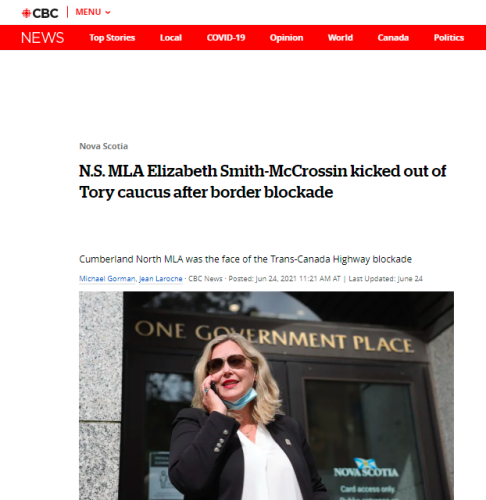 Elizabeth Smith-McCrossin, the Cumberland North MLA, supported an interprovincial blockade in June 2021. She ultimately became something of a folk hero in her riding.
CTV News posted a short clip of Elizabeth Smith-McCrossin's blockade support, and her ultimate removal from the Progressive Conservative Party of Nova Scotia. Smith McCrossin seems to portray herself as a hero of the people. But is she really what she appears to be?
On the surface, she appears to say the right things. However, upon looking deeper, she could just be a means of "managing" the opposition to medical tyranny out in the Atlantic. In fact, there are signs that her blockade was a publicly stunt, and not some deeply held belief.
A cynic may wonder if her blockade stunt was a calculated effort to secure reelection. After all, there was no guarantee she would have won.
For example, she opposed blockades only the year before, when done under the guise of Indigenous rights. Now, she's okay with doing it as a way to protest "pandemic measures".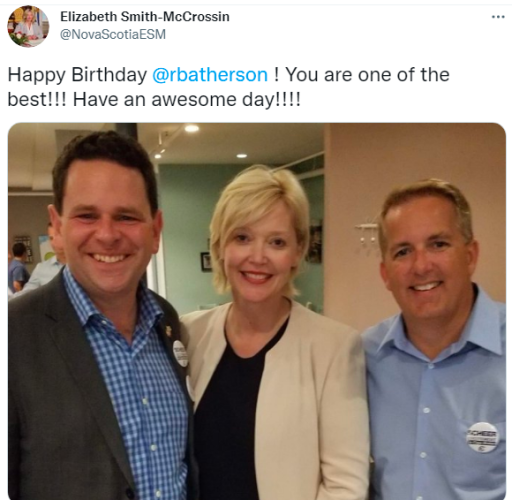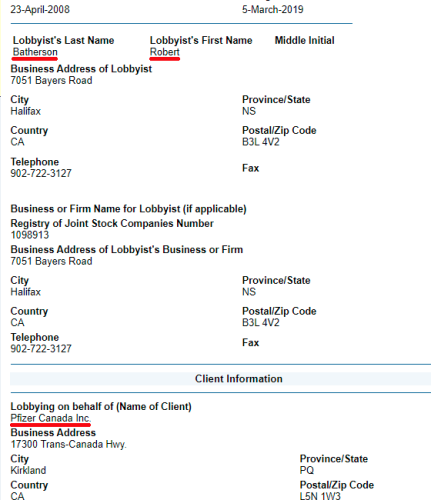 Nothing wrong with wishing someone a happy birthday. After all, Robert Batherson was Smith-McCrossin's Campaign Manager when she ran to be the Leader of the NSPC Party. She ended up losing to Tim Houston, who recently became Premier after defeating Iain Ranking.
From April 2008 until March 2009, Batherson was registered in Nova Scotia as a lobbyist for Pfizer Canada. Some will argue this is ancient and irrelevant, and they can hold that view. As a reminder, Pfizer also has ties to Erin O'Toole and Doug Ford. Batherson has also been a lobbyist for McCain Foods Limited, Sobey's Pharmacy Group and Pharmasave Atlantic.
Batherson is currently the President of the Conservative Party of Canada, and also heads his own lobbying firm: Harbourview Public Affairs. The CPC National Council Secretary is Amber Ruddy, who's a drug lobbyist, and also pushed for easier access for big pharma to your medical data. In fact, the CPC Caucus in general is anti-freedom. Anyone truly committed to liberty and bodily autonomy should stay the heck away from these people.
Smith-McCrossin received a Bachelor of Science Degree in Nursing from Dalhousie University. Her husband is a doctor in Nova Scotia who got his M.D. at Dalhousie. Is there a concern over his license if he speaks up? However, she's strangely silent on her Alma Mater's decision to begin experimenting on children as young as 6 months old. This is disturbing on many levels, but yet this "rebel" apparently has nothing to say on this issue.
The College of Physicians and Surgeons for the Province has made it clear that they don't want doctors handing out exemptions to the vaccine orders. Never mind that it's still experimental, with indemnified manufacturers and no long term testing. Smith-McCrossin never speaks out about this.
Side note: but the Bill & Melinda Gates Foundation recently offered Dalhousie research grants for "smart farming solutions". One was for $250,000, and the other for $1.5 million. Also, the "Global Grand Challenges" appear to still be open.
Here, Smith-McCrossin shows her true colours. She doesn't have any ideological issue with pushing the mass vaccination agenda. She just views coercion as an ineffective way of getting things done. It's a minor disagreement over methods, not the results. Scrolling though her Twitter feed, she's very much pro-vaxx, and there's a total lack of criticism of the public health dictatorship in the Province, and in Canada overall.
This tacit support of tyranny doesn't appear to be a partisan issue. She was silent when Iain Ranking (Liberal) was doing it, and she's still silent when Tim Houston does the same thing. This blockade stunt in the Spring appears to be a one-off, and not what she actually believes in.
Oddly, there are more comments from her about increasing women's representation in politics than on the oppression that Nova Scotians face under the twin evils of Rankin and Houston. Not once does she unequivocally condemn what these monsters are doing. She's basically just another Rempel.
Ultimately, people must come to their own conclusions. However, this "independent" doesn't seem to be the freedom fighter that the public has been led to believe.
(1) https://www.youtube.com/watch?v=gRasP5Qo6e8
(2) https://www.cbc.ca/news/canada/nova-scotia/elizabeth-smith-mccrossin-progressive-conservatives-1.6078399
(3) https://www.thecoast.ca/halifax/border-blockade-politician-takes-her-bias-on-the-road/Content?oid=26685363
(4) https://twitter.com/NovaScotiaESM/status/1455865080525033481
(5) https://en.wikipedia.org/wiki/Elizabeth_Smith-McCrossin
(6) https://novascotia.ca/sns/Lobbyist/consultant/confirmation.asp
(7) https://cpsnsphysiciansearch.azurewebsites.net/PhysicianDetails.aspx?LicenceNumber=010438
(8) https://canucklaw.ca/cv-8k-dalhousie-experimenting-on-6-month-old-infants-lisa-barrett-more-vaccine-hesitancy-grants/
(9) https://www.dal.ca/dept/research-services/opportunities/opportunities-announcements-news/news/2020/10/26/smart_farming_innovations_for_small_scale_producers.html
(10) https://www.dal.ca/dept/research-services/opportunities/opportunities-announcements-news/news/2021/11/15/bill_and_melinda_gates_foundation_global_grand__challenges.html
(11) https://twitter.com/NovaScotiaESM/status/1433584927447072769