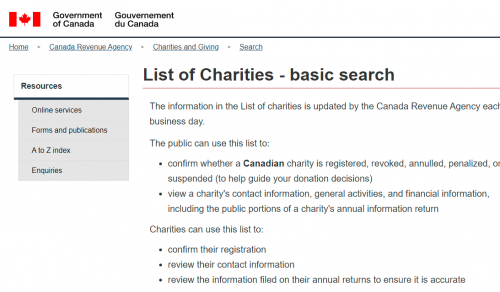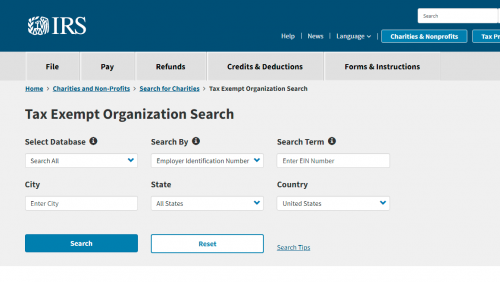 In both Canada and the United States, registered charities are open to at least some degree of scrutiny by members of the public. This is of importance since a surprising number of NGOs who try to influence your life are actually charities. In addition to meddling, these groups are being subsidized with your tax money. The upside is that it makes it much easier to look into them.
Also in this series, we covered: (a) research, investigative journalism for beginners; (b) FOI/ATIP filings; (c) court record searches; and (d) lobbyist registrations. This is meant as introductory lessons, and not to include everything.
While the focus on this is Canadian charities, you should be aware that it's possible to search the finances of American ones in much the same way. The information is made public by the Canada Revenue Agency, and Internal Revenue Service, respectively.
A disclaimer: it's probably best to go into this with an open mind. Surely, the bulk of these groups operate in a completely transparent manner. That said, groups that few have heard of have a disproportionate impact on our lives. Be curious, but willing to have beliefs changed. Also, a great many of these organizations have revenue of just a few thousand or tens of thousands per year. They aren't pulling too many strings.
Referring to the Canadian site: checking out if a company is registered as a charity is about as complicated as running a Google search. Simply type in the name, or part of a name. It is actually quite surprising the amount of places that are charities. This includes colleges, universities and many public health "authorities".
Now, let's try an example:
Searching with the term "public health", we get 6 hits. The Public Health Association of British Columbia is one of those on that list, so let's take a look at that.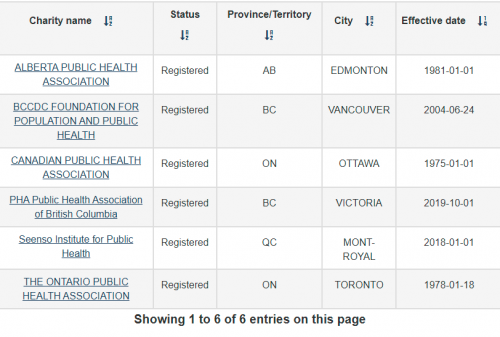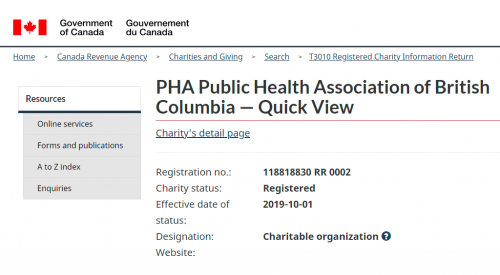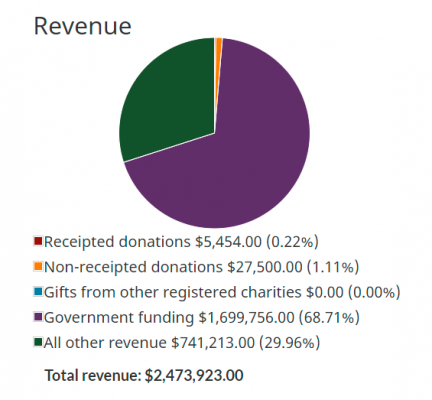 Basic information about the PHABC (and other groups) are instantly available. Typically, the last 5 years of financial data will be available, although one can ask the CRA for filings from further back. They will also list the number of employees, and typically the salary ranges of the top 10 highest paid. Usually, these are executives. While this certainly does not include everything, it's a great starting point when investigating charities.
(Anecdotally) it seems very common that a large part of the revenue is from "other" sources. It would be nice to know specifically what that involved. Perhaps some assets were sold off to make it happen?!
While non-profits are subject to many of the same laws, the financial information isn't so readily available. Just a clarification here.
The CRA Charity Page works well in conjunction with Corporations Canada. From here, one can look up which groups are registered, and obtain many of their filings. These are free. If a corporation is set up provincially, the filings can be obtained that way, although some charge for copies.
When you know who the Directors are — either from the CRA or a corporate search — do a little digging. Have they sat in Government before? Have they held any public office? Do they have relatives, close friends, or business associates who are in a position to influence policies? While this approach may make some uncomfortable, realize that this is how things work in the real world. It's not Bills or Motions, but secret handshakes that often determine how things go.
As for formal meetings, check the piece on getting started with lobbyist registries. It's amazing how much information is out there.
Now, why would a corporation structure itself as a charity? The most obvious explanation is for the tax benefits. Since donations are tax deductible — almost 50% in most cases — it provides an incentive for donors, as the public will actually help finance it. Also, charities are taxes by the CRA in a more generous way than other businesses, or even non-profits. But, there is a trade off: more forced transparency.
Can a person call up a charity to ask for information? Yes, absolutely. In fact, depending on how easy going you are, you may learn about things that never crossed your mind.
This isn't to suggest that all charities are run with some nefarious purpose. Far from it. However, it's important to know what you are helping to fund, and if and how they are trying to influence public policy.
Then of course, we have "charities" like the Century Initiative who promote genocidal policies of population replacement with open borders initiatives. Ones like this are definitely worth a deep dive.
Now, if the entity being researched is not a registered charity, then this article will have no impact. That said, a stunning number of them are, so it's at least worth a look.
One other thing to point out: programs run through the CRA — like the Canada Emergency Wage Subsidy and various sickness programs — post a lot of their data online. If nothing else, there's a significant amount of information available.
Is this a lot of work? It can be, but with practice, it gets much easier. And this is what this series is trying to underscore: self reliance. Instead of depending on some blogger, or YouTuber, or podcast, "you" are your own most reliable source of information. Figure out what's true and what's not.
IMPORTANT LINKS
(1) https://apps.cra-arc.gc.ca/ebci/hacc/srch/pub/dsplyBscSrch
(2) https://apps.irs.gov/app/eos/
(3) https://ic.gc.ca/app/scr/cc/CorporationsCanada/fdrlCrpSrch.html
PROGRAMS RUN BY THE CANADA REVENUE AGENCY
(A) https://apps.cra-arc.gc.ca/ebci/hacc/cews/srch/pub/bscSrch
(B) https://www.canada.ca/en/revenue-agency/services/subsidy/emergency-wage-subsidy.html
(C) https://www.canada.ca/en/revenue-agency/services/subsidy/emergency-wage-subsidy/cews-statistics.html
(D) https://www.canada.ca/en/revenue-agency/services/subsidy/emergency-wage-subsidy/cews-statistics/stats-detailed.html
(E) https://www.canada.ca/en/revenue-agency/services/benefits/recovery-benefit.html
(F) https://www.canada.ca/en/revenue-agency/services/benefits/recovery-caregiving-benefit.html
(G) https://www.canada.ca/en/revenue-agency/services/benefits/recovery-sickness-benefit.html
SURPRISING INSTITUTIONS THAT ARE "CHARITIES"
(1) https://canucklaw.ca/bc-provincial-health-services-authority-is-a-private-corporation-charity/
(2) https://canucklaw.ca/bc-centre-for-disease-control-foundation-is-registered-charity-with-pharma-funding/
(3) https://canucklaw.ca/alberta-health-services-mostly-autonomous-corporation-charity/
(4) https://canucklaw.ca/public-health-ontario-a-semi-autonomous-corporation-whose-leaders-sit-with-on-science-table/
(5) https://canucklaw.ca/executives-of-public-health-charities-drawing-huge-salaries-to-lock-you-down/
(6) https://canucklaw.ca/canadian-public-health-association-is-a-charity-funded-by-drug-companies/
(7) https://canucklaw.ca/charity-university-of-toronto-institute-for-pandemics-funded-by-millers-merck-run-by-ontario-science-table/
(8) https://canucklaw.ca/charity-mcmaster-university-bill-gates-future-of-canada-project-nexus-for-infectious-diseases/
(9) https://canucklaw.ca/media-5-the-origins-of-true-north-canada-which-its-founder-hides/