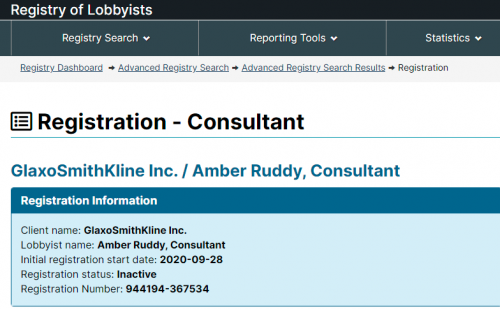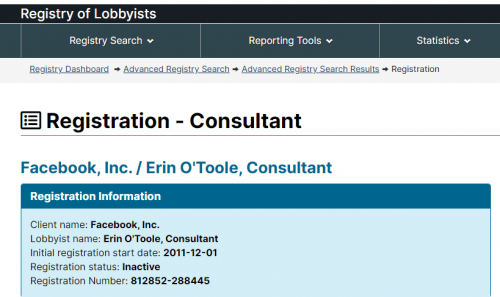 If you want to know what's really going on in your Government, talking to you M.P. or M.P.P. or M.L.A. might be a waste of time. Instead, you should be looking at who that person actually answers to. In most cases, it is corporate lobbyists, or lobbyists pretending to be involved in politics.
We come to the 4th part in the series: how to search lobbying registries. Contrary to what one might think, these can be a gold mine of information. These include names, dates, clients, subject matter, and whether the lobbyist(s) have ever held public office.
Also in this series, we covered: (a) research, investigative journalism for beginners; (b) FOI/ATIP filings; and (c) court record searches. This is meant as introductory lessons, and not to include everything.
Broadly speaking, these registries work in much the same way. You can search for a number of different things, and see what results come up. You can limit the search to more recent entries (which is usually 1 year), or do an advanced search, which flags everything irrespective of time.
These Registries can be used to run a "background check" of sort on politicians, and prospective politicians. If they have been lobbied, or used to be lobbyists, that is important information to know. The cronyism never really goes away. A huge warning sign, as shown above, is Erin O'Toole. He used to be a lobbyist for Facebook, working for Heenan Blaikie (same law firm as Jean Chretien and Pierre Trudeau).
Why do you want to do this? Well, are you at all curious about who runs your Government, and who is engaged in influence peddling? Do you wish to know why your elected "leaders" act in ways that are often detrimental to your well being? This is a good place to start.
Key Words
Lobbyist
Lobbying Firm
Client
Subject (Health, Finance, Education, etc….)
Also, these Registries work very well in conjunction with placed like LinkedIn, and other personal websites. After all, once lobbyists have been identified, it's time to learn about their many connections.
Of course, make sure to save your findings, just in case. Take screenshots, archive links, and download any pdfs that are available. Don't want the evidence disappearing, or even getting moved innocuously.
If you have any doubts about the wealth of information that can be uncovered, just search any article on this site where such registries were checked. A few are here, here, here, and here.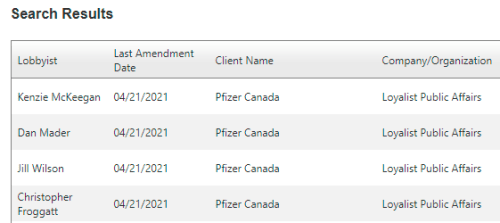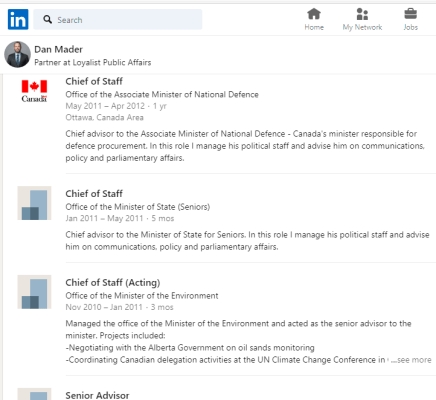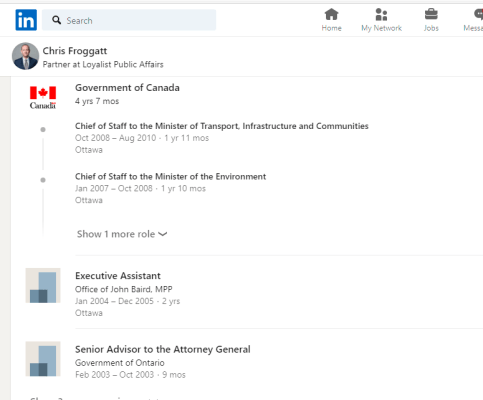 Above is a recent example that shows when political handlers have interest on the side. Of course, this is not limited to just Doug Ford.
Pfizer was covered in a May 2021 article. It was shown that Loyalist Public Affairs had lobbied the Ontario Government 4 times in April of that year. 2 of the lobbyists, Dan Mader, and Chris Froggatt, claimed responsibility for installing Ford in June 2018. Both are longtime "Conservative" operatives. Mader also alleged to have helped put in Erin O'Toole as head of the CPC. This simple example shows how intertwined lobbying and politics really is.
By connecting the lobbyist to their political cronies and allies, you are able to show a clear (or at least very plausible) link for certain legislation or spending.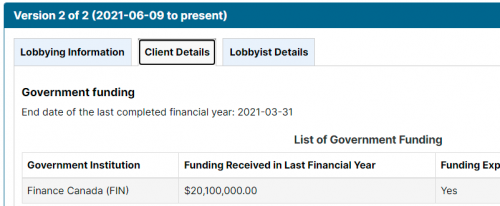 Another use for these Registries is they often list how much Government (or rather, taxpayer) money an organization has received. Chapters-Indigo is notorious for not honouring mask exemptions, however, they took the public for over $20 million in the last year.
In fairness, these databases don't help if there is no formal record. Conversations and meetings that are "off the books" will not show up here. Still, this is a pretty valuable tool in seeing who is really pulling the strings.
A criticism that frequently comes up is the frustration with "who can we trust?" when it comes to reporting Government affairs. The answer is no one. Rather than relying on someone else, a more effective tool is to take the initiative, and factcheck things for yourself. If an article or posting comes with links or documents attached, then go through them, and come to your own conclusions.
There is a Federal database, Provincial/Territorial ones (except NWT and Nunavit), and a few Municipalities have them as well. Since your taxes already go towards funding these, why not take full advantage of these resources?
Federal Lobbying Registry
https://lobbycanada.gc.ca/app/secure/ocl/lrs/do/advSrch
Alberta Lobbyist Registry
https://www.albertalobbyistregistry.ca/
British Columbia Office Of The Registrar of Lobbyists
https://www.lobbyistsregistrar.bc.ca/
Manitoba Lobbyist Registrar
http://www.lobbyistregistrar.mb.ca/index.php?lang=en
New Brunswick Office Of The Integrity Commissioner
https://oic-bci.ca/
Newfoundland & Labrador Registry Of Lobbyists
https://www.gov.nl.ca/dgsnl/registries/lobbyists/
Nova Scotia Registrar Of Lobbyists
https://novascotia.ca/sns/lobbyist/Default.asp
Ontario Lobbying Registry
http://lobbyist.oico.on.ca/Pages/Public/PublicSearch/Default.aspx
Prince Edward Island Lobbyist Registry
https://www.princeedwardisland.ca/en/feature/lobbyist-registry
Quebec Lobbyists Registry
https://www.commissairelobby.qc.ca/en/lobbyists-registry/
Saskatchewan Registrar Of Lobbyists
https://www.sasklobbyistregistry.ca/
Yukon Lobbyist Registry
https://yukonlobbyistregistry.ca/en
Toronto Lobbyist Registrar
https://www.toronto.ca/city-government/accountability-operations-customer-service/accountability-officers/lobbyist-registrar/