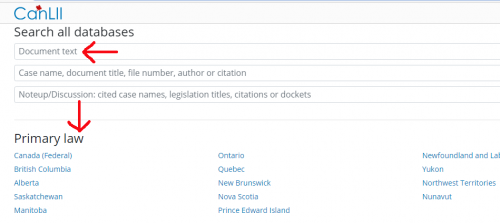 CanLII, the Canadian Legal Information Institute, is probably the most commonly searched index of court cases in Canada. According to its biography: "CanLII was founded and is paid for by the lawyers and notaries who are members of Canada's provincial and territorial law societies, which comprise the Federation of Law Societies of Canada. We have also gratefully received funding for particular projects from provincial and territorial law foundations and other organizations."
One disclaimer to add in: in certain instances records are sealed, or there may be a prohibition on publishing certain names. This is often done in sexual assault cases, young offenders cases, very high profile cases, or cases of national security. If the Judge has banned disclosing the names publicly, it's best to honour that.
There are a few ways to search for cases. You can search by key words, or by a case citation, or you can scroll through the cases of a particular court. Beyond court files, there are also many listings of legislation across Canada, and plenty of commentary as well.
In searching through the cases, related documents and rulings cited will often come up. These can be clicked on for more information. Overall, CanLII operates as a mixture of Google and Wikipedia combined (although only a select few people can edit information).
A limitation of this site: not everything is listed. Minor issues (such as small claims), and decisions that are delivered orally are typically not posted. Nonetheless, it's a great place to start looking for anyone. There are also Court Martial decisions, Court Martial Appeals, and tax cases available.
For the most part, CanLII is pretty thorough with its postings. Now, while it broadly covers cases across Canada, there are other databases that cover their own respective decisions. The Supreme Court of Canada has its own database, covering rulings of the Top Court. The Federal Court also posts rulings for both the Federal Court, and the Federal Court of Appeal.
With these courts (and others) people can also contact the court directly to ask for documents. Generally speaking, if the documents are in digital form, the clerks will email them for free. If not, there will likely be fees to make copies.
As for some Provincial examples, Nova Scotia posts its own decisions. It covers all levels of proceedings over there.
In Ontario, any member of the public can search online for a particular case. If the parties are known, or if they have a file number, the status and representations can be checked. If a lawyer claims to be pursuing a case — but isn't — that will be easy to check. As for searching for decisions, Ontario links a CanLII style page, and the same search options apply.
British Columbia allows members of the public to search for cases Provincially. There is also the option to search ongoing cases, and access documents (although B.C. typically charges a fee for them).
This doesn't cover all databases, of course. However, the point is that anyone with internet access and/or a phone can search for court cases, and Court rulings. If the person is local, they can visit the building in person. This isn't some secret repository, and proceedings are open to the public.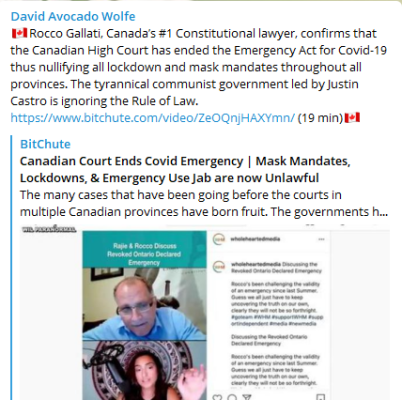 One other benefit: if someone starts reporting about Court decisions (that no one has heard of), claiming that major verdicts have been reached, it's easy to verify or refute. Unfortunately, there's too much misinformation — either intentional or inadvertent — being spread around. Videos like this talk about secret rulings which gave everyone back their freedom. Spoiler: they don't exist.
If the Supreme Court really handed down such a ruling as referenced above, it would be pretty easy to check. Also, wouldn't more people have heard about it? However, far too many will accept such outlandish statements at face value.
Instead of having to just take people's word that a certain thing happened, why not look for yourself? Find out what happened, and what was really said.
Don't be duped.
Check things out for yourself.
Note: this isn't meant to be an all-inclusive course on how searches work. Instead, it's just an introduction for people curious about this sort of thing.
(1) https://www.canlii.org/en/
(2) https://www.canlii.org/en/info/about.html
(3) https://www.scc-csc.ca/home-accueil/index-eng.aspx/
(4) https://decisions.scc-csc.ca/scc-csc/scc-csc/en/nav_date.do
(5) https://www.fct-cf.gc.ca/en/home/
(6) https://decisions.fct-cf.gc.ca/fc-cf/en/d/s/index.do?col=54
(7) https://courts.ns.ca/
(8) https://decisia.lexum.com/nsc/en/ann.do
(9) https://www.justiceservices.jus.gov.on.ca/MyAccount/screens/OneKey/login.xhtml?lang=EN
(10) https://www.ontariocourts.ca/search-canlii/ocj-en.htm
(11) https://www.bccourts.ca/search_judgments.aspx
(12) https://justice.gov.bc.ca/cso/esearch/civil/partySearch.do
(13) https://twitter.com/CanLII
(14) https://twitter.com/CanLIIConnects
(15) https://www.bitchute.com/video/ZeOQnjHAXYmn/