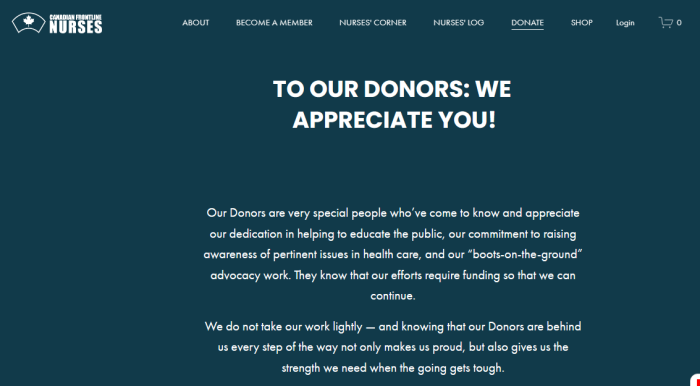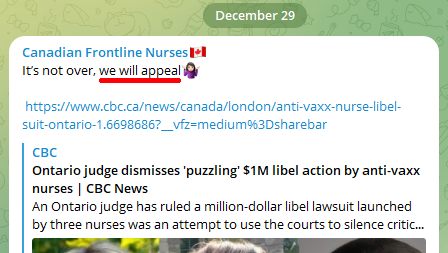 In a recent decision that wasn't very surprising, the activist group, Canadian Frontline Nurses (CFLN), has been hit with $315,000 in Court costs. This follows a December ruling that dismissed their million dollar defamation case as a SLAPP, over 2 publications. That is, of course, short for a "strategic lawsuit against public participation".
Costs are as follows:
$250,000 to Canadian Nurses Association Defendants
$65,000 to Together News Inc. Defendants.
See previous article for more information and context.
SLAPPs are a form of weaponizing the legal system to shut down discourse over public interest issues. By filing such cases, Defendants are "chilled" into being removed from the discussion.
What's particularly bad about this case is that the CFNL is a group that claims to have fought on behalf of the freedom of Canadians over the last few years. It seems that at least some have no issue with taking away the freedoms — specifically speech — of people they don't like.
This differs little from Kulvinder Gill and Ashvinder Lamba, who are on the hook for $1.1 million over a failed defamation suit from December 2020. Actually, it's mostly Gill.
To be clear, this isn't about defending the principles or character of organizations like the Canadian Nurses Association, as they were all too willing to shill for lockdown measures. Instead, it's about the right of everyone to say their piece, even if it's downright awful. Silencing people because they're not "on your side" is just downright wrong.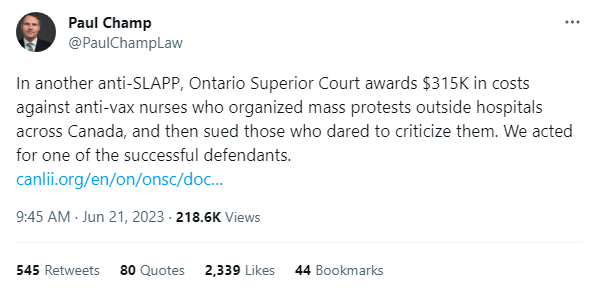 Seeing the replies to Paul Champ, one of the lawyers, was discouraging. So many in the "freedom movement" are showing disdain that the attempt at libel-chill had backfired. While they whine about their civil liberties being trampled on by Government, they cheer private citizens doing it.
Costs on dismissal
(7) If a judge dismisses a proceeding under this section, the moving party is entitled to costs on the motion and in the proceeding on a full indemnity basis, unless the judge determines that such an award is not appropriate in the circumstances.
Costs if motion to dismiss denied
(8) If a judge does not dismiss a proceeding under this section, the responding party is not entitled to costs on the motion, unless the judge determines that such an award is appropriate in the circumstances.
Damages
(9) If, in dismissing a proceeding under this section, the judge finds that the responding party brought the proceeding in bad faith or for an improper purpose, the judge may award the moving party such damages as the judge considers appropriate.
Now, the group tried to avoid something called "full indemnity", which is when the winning side of a lawsuit gets 100% of their costs back. In Ontario, the default is to grant this in cases where lawsuits are dismissed under anti-SLAPP laws. This is Section 137.1(7) of the Courts of Justice Act.
Interestingly, if an anti-SLAPP Motion fails, the Plaintiffs are not automatically entitled to costs.
Dismissing such a case doesn't mean that the Judge endorses or accepts the views of the Defendants. Instead, it's a finding that the lawsuit should never have been brought at all. In a (supposedly) free society, shutting down public discourse is rarely a good idea.
In any event, the CFLN attempted to cash in by suing, and it backfired. The result was predictably very expensive.
COURT DOCUMENTS
(1) CFLN Statement Of Claim
(2) CFLN Statement Of Defense CDN Nurses Association
(3) CFLN Statement Of Defense Together News/Comox Valley
(4) CFLN Responding Motion Record Of Plaintiffs
(5) CFLN Cross Examinations Volume 1
(6) CFLN Cross Examinations Volume 2
(7) CFLN Cross Examinations Volume 3
(8) CFLN Supplementary Motion Record Of Plaintiffs
(9) CFLN Freedom Rally Documentation
(10) https://www.canlii.org/en/on/onsc/doc/2022/2022onsc7280/2022onsc7280.html
(11) https://www.canlii.org/en/on/onsc/doc/2022/2022onsc7280/2022onsc7280.pdf
(12) https://canucklaw.ca/canadian-frontline-nurses-1-million-defamation-case-dismissed-as-a-slapp/
(13) https://twitter.com/paulchamplaw/status/1671560050249170950
OTHER LINKS
(1) https://www.canadianfrontlinenurses.ca
(2) https://www.canadianfrontlinenurses.ca/donate
(3) https://t.me/NursesAgainstLockdowns/2229
(4) https://www.cbc.ca/news/canada/london/anti-vaxx-nurse-libel-suit-ontario-1.6698686
(5) https://www.cna-aiic.ca/en/blogs/cn-content/2021/09/09/enough-is-enough-professional-nurses-stand-for-sci
(6) https://comoxvalley.news/quack-quack-these-pro-virus-nurses-have-dangerous-ideas/