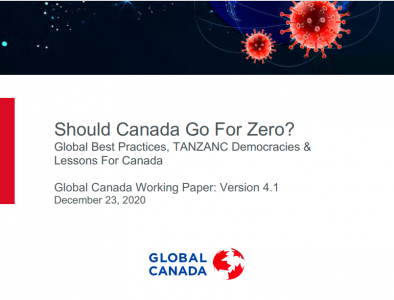 A group called Global Canada is proposing extremely strict lockdowns (a.k.a. martial law), in Canada, for a limited time. At least they claim it will be a limited time. Of course, there is more to this than meets the eye, and we will get to their paper soon enough.
And Brian Lilley, a so-called "journalist" with the Toronto Sun, can't be bothered to do even a small amount of research on this group.
1. Other Articles On CV "Planned-emic"
The rest of the series is here. Many lies, lobbying, conflicts of interest, and various globalist agendas operating behind the scenes, obscuring the vile agenda called the "Great Reset". The Gates Foundation finances: the WHO, the US CDC, GAVI, ID2020, John Hopkins University, Imperial College London, the Pirbright Institute, the BBC, and individual pharmaceutical companies. Also: there is little to no science behind what our officials are doing; they promote degenerate behaviour; and the International Health Regulations are legally binding. See here, here, and here. The media is paid off, and our democracy compromised, shown: here, here, here, and here.
2. Important Links
Brian Lilley's Toronto Star Article On Proposed Lockdown
Global Canada Proposes Complete Lockdown
Global Canada Proposes Total Lockdown
https://twitter.com/brianlilley/status/1346454136640974850
https://global-canada.org/
https://global-canada.org/supporters/
https://global-canada.org/team/
https://archive.is/JzFdL
https://archive.is/SETfE
https://archive.is/hGLwi
http://www.18millionwomen.ca/
Family Planning Initiative Calls For Money
3. Conservative Inc.'s Brian Lilley Reports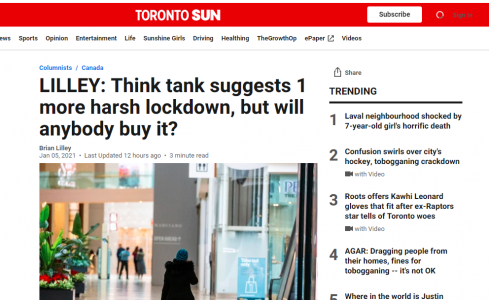 While I agree that they have diagnosed several problems with our current system correctly, the prescription isn't one I can get wholly behind.
The group smartly says we do need effective border controls, including testing of air travelers and proper quarantine methods.
The group even suggests making truckers and other essential workers who cross the Canada-US land border a priority group for vaccinations to prevent them from becoming new infection vectors.
What I have trouble with is the idea of another four-to-six week lockdown.
The plan is to invoke a harsh lockdown for four to six weeks, then gradually relax restrictions as cases fall by 17-25% per week until we reach a benchmark of one new case per day per one million of population.
How long that would take would vary greatly by province.
For Ontario and Alberta, that's at least four to six months, while in Manitoba the effort would take two months, possibly more.
I don't expect everything to open back up tomorrow, or for life to get back to normal anytime soon.
Yet I doubt many politicians have the desire to sell the public on this plan, of "just one more short lockdown" — and given the past week and how the political class have acted, I doubt very much the public wants to hear it.
From the looks of the article, Lilley doesn't seem to take any issue (on principle), of forcibly locking down Canada for months. He just seems mildly skeptical that it would be as effective as needed.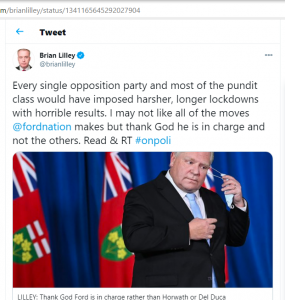 Keep in mind, Lilley takes the perspective that we should be grateful it's Doug Ford imposing lockdowns in Ontario, as others would surely be worse. Whether by accident or by design, Lilley only provides the most tame and meek efforts at holding the Government accountable. What else is he not reporting about this group that calls for more lockdowns?
4. Who Supports This NGO: Global Canada?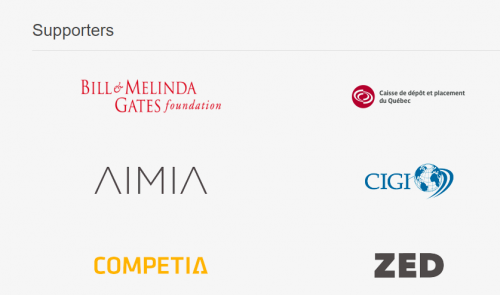 Bill & Melinda Gates Foundation
Caisse de Depot et Placement du Quebec
AIMIA
CIGI
Competia
ZED
Yes, the supporters of Global Canada include the Bill & Melinda Gates Foundation, who is heavily involved in the pharmaceutical push. Caisse de Depot et Placement du Quebec is a large investment firm. So is AIMIA.
It would have been nice if Brian Lilley included this is his article. He linked the original paper.
5. Robert Greenhill Chairs Global Canada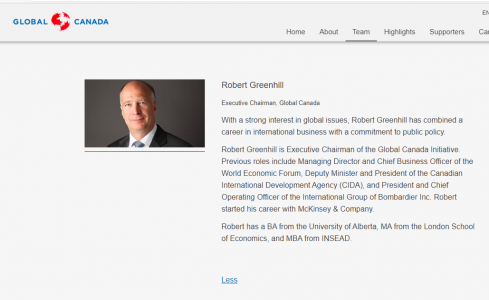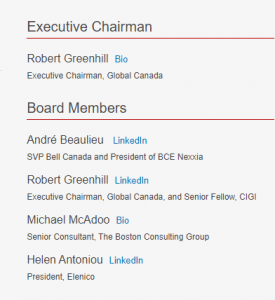 Robert Greenhill
Executive Chairman, Global Canada
.
With a strong interest in global issues, Robert Greenhill has combined a career in international business with a commitment to public policy.
.
Robert Greenhill is Executive Chairman of the Global Canada Initiative. Previous roles include Managing Director and Chief Business Officer of the World Economic Forum, Deputy Minister and President of the Canadian International Development Agency (CIDA), and President and Chief Operating Officer of the International Group of Bombardier Inc. Robert started his career with McKinsey & Company.
.
Robert has a BA from the University of Alberta, MA from the London School of Economics, and MBA from INSEAD
Global Canada is chaired by a former Managing Director and Chief Business Officer of the World Economic Forum, an organization pushing lockdowns, and which our politicians have ties to. Greenhill also has ties to Bombardier and McKinsey & Company.
Surely this is worth mentioning by the Toronto Sun. One of their roles is holding Government accountable for the things that they do, right?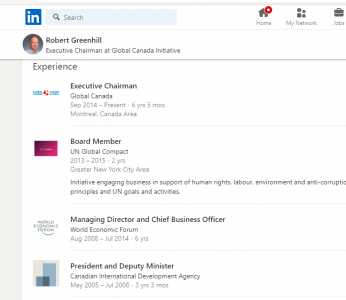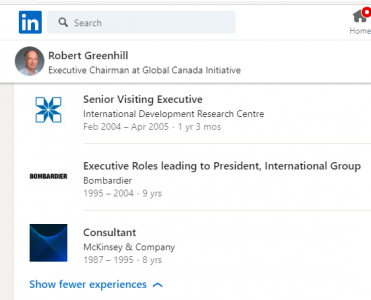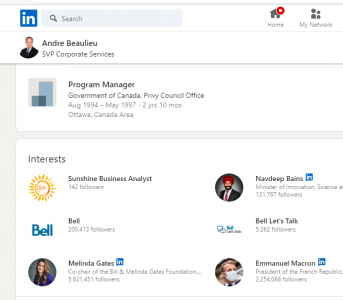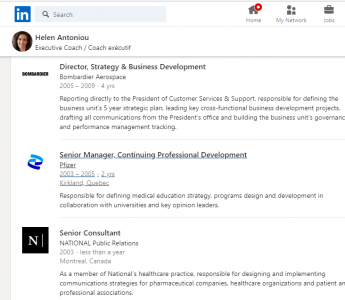 Michael McAdoo Bio
Senior Consultant, The Boston Consulting Group
.
Michael is a Senior Advisor with the Global Advantage practice area of The Boston Consulting Group (BCG), where he specializes in international trade issues and manufacturing. He brings over twenty-five years of experience at the intersection of business strategy, international geopolitics, public policy, and deep expertise in international trade issues and in cross-cultural operations management.
.
Prior to his current role, Michael was an Executive Vice president with the Business Development Bank of Canada (BDC). From 2001-2014 he held a series of senior executive positons with Bombardier. Prior to Bombardier, he was a Principal with BCG (Toronto/Monterrey).
.
Michael holds Masters degrees in International Relations and Journalism from Columbia University, and received his undergraduate education at Queen's University and Harvard. He has lived and worked in all three NAFTA countries, and is fluent in French and Spanish.
Quite the list of connections here:
Bain & Company
Bell Canada
Bombardier
Canadian International Development Agency
Boston Consulting Group
Business Development Bank of Canada
McKinsey & Company
Pfizer
Privy Council of Canada
UN Global Compact
World Economic Forum
6. Quotes From The Global Canada Proposal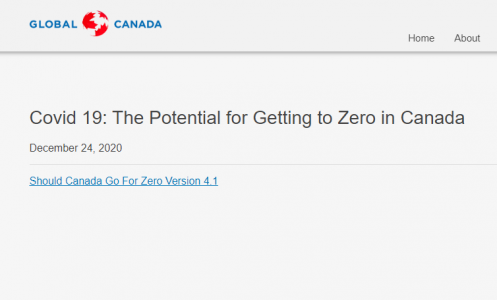 Canada is relatively well positioned to achieve zero COVID transmission. We are surrounded by ocean on 3 sides with a comparatively small population, engaged citizenry, strong institutions, a federal system of government, mid-sized cities similar to Sydney or Melbourne, and several domestic examples of zero COVID success.
Canada's situation is essentially the same as Australia's—with the addition of one major land border. By vaccinating the 200 thousand truckers that regularly cross the border and fully implementing other proven measures, Canada can seal off the U.S.-Canada border to the COVID virus while allowing essential trade to continue unimpeded.
Achieving zero transmission is feasible in Canada. Indeed, Canada may have inadvertently thrown away its shot to get to zero once already this summer.
With rising COVID cases and hospitalizations, difficult decisions have to be made. If the wrong decisions are made, we will face potential shutdowns again in 3 months. The time is right to determine whether going for zero is a superior strategy for Canada. We cannot afford to throw away our shot a second time.
Conclusion: We Have a Choice
Tough decisions will be necessary across Canada over the next few weeks. Canadians will doubtless be asked to make significant additional sacrifices. It is critical that these decisions and sacrifices are made with the right strategy in mind.
The TANZANC strategy of aggressive suppression is a viable option for Canada. Given the critical challenges to our present approach, the TANZANC model should be assessed and debated.
It may be that a cost-benefit analysis demonstrates that the TANZANC model is not a better strategy. If, however, the TANZANC model is right for Canada, or for certain provinces, we should act on it now. We cannot afford to throw away our shot a second time.
The conclusion from this report is that Canada has a choice. Living with COVID in the world is reality. Living with COVID in our communities is a choice.
Is it the right choice?
This paper brings up the same old talking points about lockdowns (martial law) being necessary in order to stop people from getting infected. In short, we still have problems because restrictions haven't been harsh enough.
No mention of the bogus science behind this, such as the virus not isolated, or PCR tests not designed for this. No mention that people overwhelmingly recover, or that restrictions have been applied in an arbitrary and inconsistent matter.
The group regularly talks about borders. But instead of closing the borders off completely, the proposal is to vaccinate everyone coming in. What could possibly go wrong.
7. Global Canada And 18MillionWomen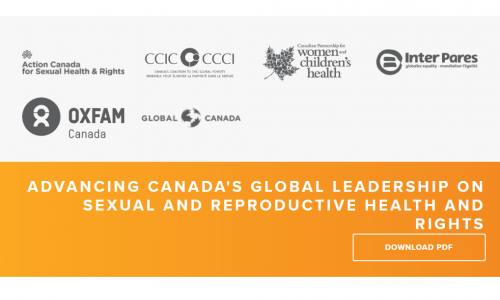 One area that was identified in our brainstorming with Canadian leaders was renewed Canadian leadership on family planning and reproductive health and rights. Over the past year Global Canada worked with other Canadian civil society actors to convene a gathering of global experts on reproductive health. The recommendations from this gathering (summarized at www.18millionwomen.ca) played an important role in Canada's 650M announcement to support women's sexual and reproductive health and rights announced in March, 2017. Global Canada will be exploring other "proof point" opportunities with the potential of significant global impact.
The Family Planning Initiative has put out a call for Canada to spend at least $500 million each year for 10 years on what it calls sexual and reproductive health and rights. Yes, this would amount to Canada helping to finance genocide abroad by paying for abortions in the 3rd World. Global Canada is one of the groups that is involved in helping push that along.
Nothing says a commitment to saving lives quite like ensuring that there are a lot less of them around.