Manitoba Premier Brian Pallister: will this become Canada's version of Dan Andrews?
1. Other Articles On CV "Planned-emic"
The rest of the series is here. Many lies, lobbying, conflicts of interest, and various globalist agendas operating behind the scenes. The Gates Foundation finances: the World Health Organization, the Center for Disease Control, GAVI, ID2020, John Hopkins University, Imperial College London, the Pirbright Institute, the British Broadcasting Corporation, and individual pharmaceutical companies. Also: there is little to no science behind what our officials are doing; they promote degenerate behaviour; the Australian Department of Health admits the PCR tests don't work; the US CDC admits testing is heavily flawed; and The International Health Regulations are legally binding. See here, here, and here.
2. Pallister Proposes "Temporary" Curfew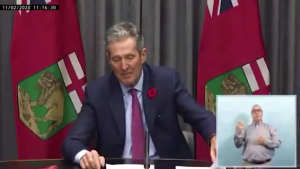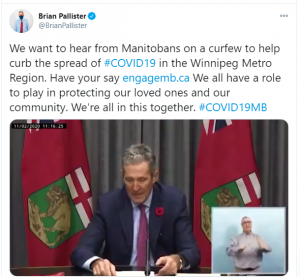 https://twitter.com/BrianPallister/status/1323638895586779136
Why is it always the conservatives (at least in Canada), who turn out to be the biggest tyrants? Is it ideological, or are they being bribed or threatened?
Yes, we're stepping up enforcement.
Yes, we need to be proactive.
Yes, we need to be preventative in our decision making.
And so, I also want Manitobans perspective on an initiative that's been taken in other jurisdictions around the world. It's actually been taken in Manitoba as well, and we are giving serious consideration to it.
As with all of our plans, we make them available to Manitobans before they're implemented, and I want to do the same with this one.
.
We're giving serious consideration to implementing a curfew, a curfew that would be designed to restrict travel between key hours, when gathering sizes tend to be dangerously in excess of the rules, (late night hours, obviously).
.
These late night situations in Winnipeg have expanded out Covid cases very significantly, According to Dr. Roussin, this is an action we should seriously consider, and I am seriously considering it now. I want Manitobans to tell us what they think of the idea of a limited period curfew (we hope very short time period is involved here). But, this potential measure will have to be acted upon. If Manitobans can support and encourage it. If they disagree, I want to hear from them.
It all seems so harmless and well intentioned, doesn't it? Pallister actually comes across as a sincere person, but anyone who pays attention knows where this is heading.
3. This Is Only The Beginning
There is little doubt that Brian Pallister will "claim" there is widespread support for curfews, even if the overwhelming majority oppose it. Alternatively, he may claim that it's the call of Public Health, and he has no say in the matter.
Calling it "temporary" or "limited" are just soft sells to deceive people into what is really going to happen. Look at Australia as a model.