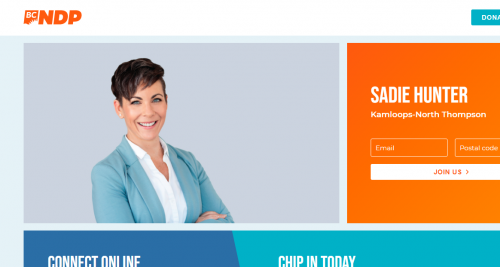 This might be considered a teachable moment. If you are running as a candidate, and there is an all-party agreement to abdicate governing to BC Public Health, it shouldn't be advertised. Therefore, sending unsolicited invitations to investigative journalists may not be the best option.
Another learning moment: There's not much point in voting for your party if NOT governing is part of the agenda.
1. Other Articles On CV "Planned-emic"
The rest of the series is here. Many lies, lobbying, conflicts of interest, and various globalist agendas operating behind the scenes. The Gates Foundation finances: the World Health Organization, the Center for Disease Control, GAVI, ID2020, John Hopkins University, Imperial College London, the Pirbright Institute, the British Broadcasting Corporation, and individual pharmaceutical companies. Also: there is little to no science behind what our officials are doing; they promote degenerate behaviour; the Australian Department of Health admits the PCR tests don't work; the US CDC admits testing is heavily flawed; and The International Health Regulations are legally binding. See here, here, and here.
2. BC Provincial Election Rigged In Advance
MILOBAR: BC Liberals (Monday, October 5th)

HUNTER: BC NDP (Wednesday, October 7th)

MARTIN: BC GREENS (Thursday, October 15th)

As was previously covered in this piece, the BC Liberals, BC NDP, and BC Greens all have an agreement to hand over control of the "pandemic measures" to Bonnie Henry. The BC Conservatives, whether by design, or just being disorganized, never returned multiple messages for information.
3. Sadie Hunter Won't Answer Hard Questions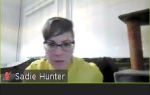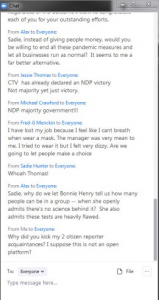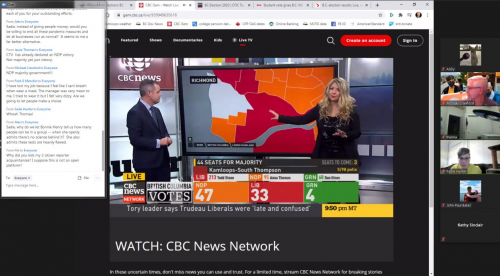 Asking difficult questions (even if done in a respectful way), is apparently grounds to boot people out of a Zoom call. Just a tip, if you want to run for public office, difficult questions are going to come up.
4. Opening BC Better Option Than Welfare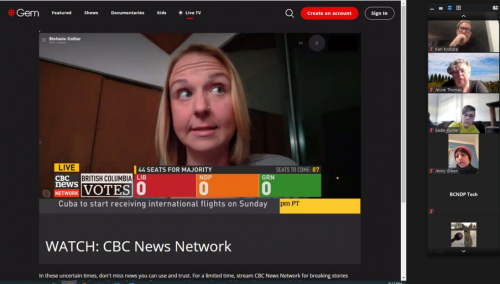 Just an opinion, but perhaps reopening BC is a good option. Certainly it's a better long term one than simply pumping up the welfare, which is what this person suggested.
5. BCPHO Bonnie No-Science-Behind-It Henry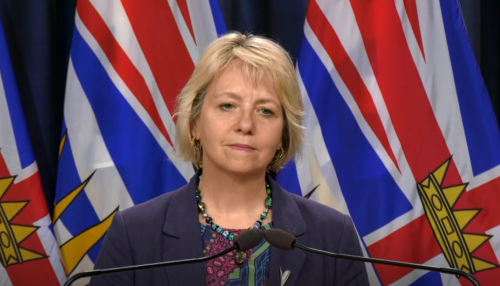 This was covered in Part 56. BC Provincial Health Officer Bonnie Henry admits there's no science behind a lot of what she does. Remember, all parties support leaving the "pandemic measures" to her. BC MLA Peter Milobar refers to her as "an expert".
6. BCPHO Bonnie Henry Lowballs True Error Rate
Bonnie Henry Previously said that there can be a 30% error rate when it comes to testing, but the truth is actually much worse than that.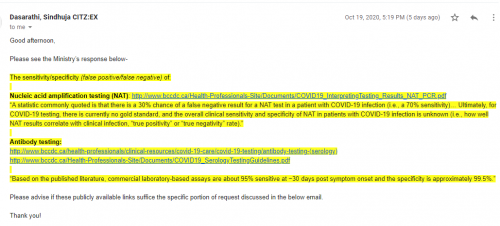 Queue a partial response on an access to information request, and we are told the following information. This confirms what had previously been published on the site.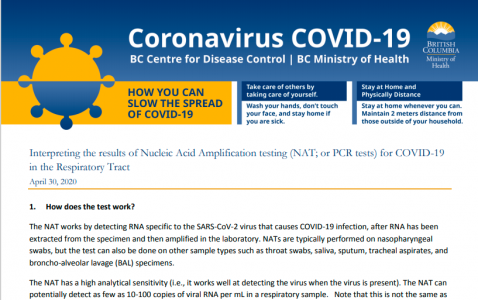 Good afternoon,
.
Please see the Ministry's response below-
.
The sensitivity/specificity (false positive/false negative) of:
.
Nucleic acid amplification testing (NAT): http://www.bccdc.ca/Health-Professionals-Site/Documents/COVID19_InterpretingTesting_Results_NAT_PCR.pdf
.
"A statistic commonly quoted is that there is a 30% chance of a false negative result for a NAT test in a patient with COVID-19 infection (i.e., a 70% sensitivity)… Ultimately, for COVID-19 testing, there is currently no gold standard, and the overall clinical sensitivity and specificity of NAT in patients with COVID-19 infection is unknown (i.e., how well NAT results correlate with clinical infection, "true positivity" or "true negativity" rate)."
.
Antibody testing:
.
http://www.bccdc.ca/health-professionals/clinical-resources/covid-19-care/covid-19-testing/antibody-testing-(serology)
http://www.bccdc.ca/Health-Professionals-Site/Documents/COVID19_SerologyTestingGuidelines.pdf
.
"Based on the published literature, commercial laboratory-based assays are about 95% sensitive at ~30 days post symptom onset and the specificity is approximately 99.5%."
.
Please advise if these publicly available links suffice the specific portion of request discussed in the below email.
.
Thank you!
http://www.bccdc.ca/Health-Professionals-Site/Documents/COVID19_InterpretingTesting_Results_NAT_PCR.pdf
http://www.bccdc.ca/health-professionals/clinical-resources/covid-19-care/covid-19-testing/antibody-testing-(serology)
http://www.bccdc.ca/Health-Professionals-Site/Documents/COVID19_SerologyTestingGuidelines.pdf
Despite there being quotes thrown around that there is a 30% false negative rate, the fact is that BC Health really has no idea what the error rate is.
This is a little confusing. Although the error rate for the virus tests themselves is completely unknown, the success rate for anti-body testing is supposed to be 95%? Really? Are we sure that this number isn't just completely made up as well?
7. Bonnie's 2015 Testimony On Vaxx/Masks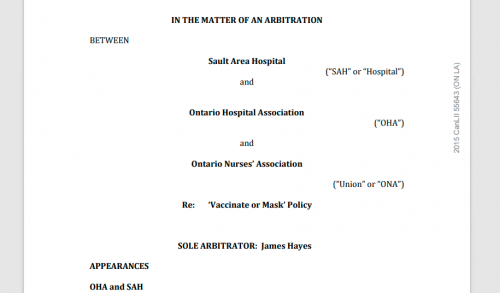 Sault Area Hospital and Ontario Nurses' Association, 2015 CanLII 55643 (ON LA)
This came from a labour arbitration hearing in 2015. Bonnie Henry (yes, that Bonnie Henry), testified as an expert. She said there was little evidence to support either the vaccination or mask mandate that the Sault Area Hospital demanded. Her testimony also helped influence proceedings in 2016, and 2018. Now, 5 years later, she says something completely different. It seems incomprehensible that BC health care workers "wouldn't" know about this. Unless of course, they do know, and are remaining silent for some reason.
8. WHO's International Health Regulations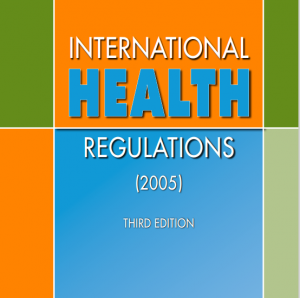 This has been addressed before. As part of its membership with the World Health Organization, Canada is forced to comply with the legally binding "International Health Regulations".
For some perspective, IHR (and the 2005 Quarantine Act), came from the WHO. Unelected bureaucrats (Bonnie Henry, Deena Hinshaw, Barbara Yaffe, Theresa Tam, etc….), are then put in charge of implementing those supra-national dictates.
Why aren't candidates being forthcoming about this? Why isn't this obligation to the WHO being openly and honestly discussed by the mainstream media in Canada? Here is one theory:
9. BC NDP, HC Workers, A Bit Cozy?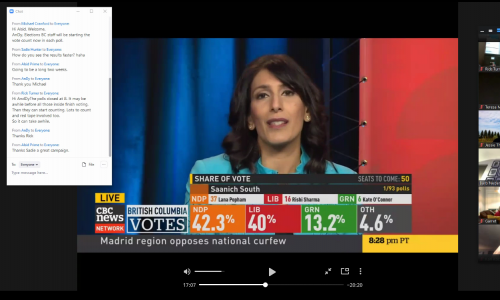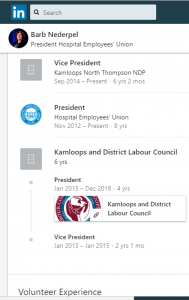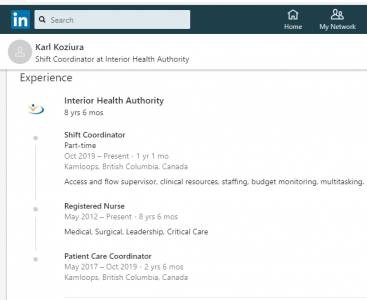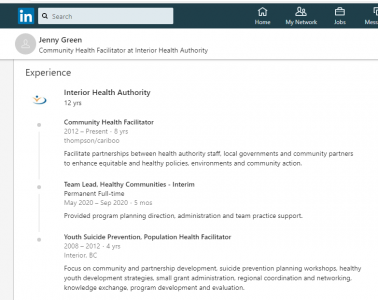 Barb Nederpel, Vice President of Kamloops North NDP, President of Hospital Employees Union
This may be nothing, but it did seem rather strange that at least 3 people in the very small stream (15 people) all had ties to the health care field. Health care workers should be outraged at the lies and deception that NDP Premier John Horgan has perpetuated in the Province.
Then again, considering the NDP, Greens and Liberals have a pact to hand off everything to Bonnie Henry, there really isn't much of a choice in voting. Sadie herself has said that she supports keeping these restrictions in place in BC until people are vaccinated. Never mind all the shoddy "science" behind it.
As for all of the "models" which predict death waves to come: predictions aren't evidence of anything. They are guesses. And we need to address Neil Ferguson and Imperial College London.
It's upsetting just how little people are speaking out about what is happening in BC (among other Provinces). It's not like any of this is difficult to find.