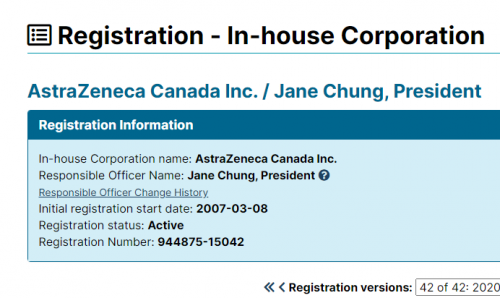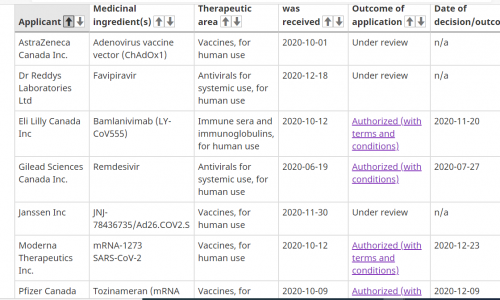 AstraZeneca is one of the pharmaceutical companies looking to sell large quantities of vaccines to Canada, for a virus that has a 99% survival rate. One has to wonder what the public isn't being told.
1. Other Articles On CV "Planned-emic"
The rest of the series is here. Many lies, lobbying, conflicts of interest, and various globalist agendas operating behind the scenes, obscuring the vile agenda called the "Great Reset". The Gates Foundation finances: the WHO, the US CDC, GAVI, ID2020, John Hopkins University, Imperial College London, the Pirbright Institute, the BBC, and individual pharmaceutical companies. Also: there is little to no science behind what our officials are doing; they promote degenerate behaviour; the Australian Department of Health admits the PCR tests don't work; the US CDC admits testing is heavily flawed; and The International Health Regulations are legally binding. See here, here, and here. The media is paid off, and our democracy compromised, shown: here, here, here, and here.
2. AstraZeneca Lobbied M-132 Cmte Vice-Chair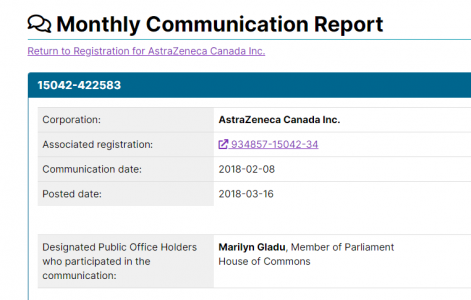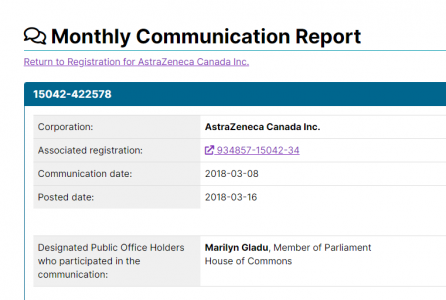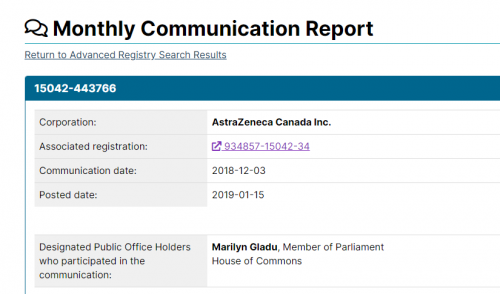 Motion Text
That the Standing Committee on Health be instructed to undertake a study on ways of increasing benefits to the public resulting from federally funded health research, with the goals of lowering drugs costs and increasing access to medicines, both in Canada and globally; and that the Committee report its findings and recommendations to the House no later than one year from the time this motion is adopted.
Remember Motion M-132? It was the Motion introduced in 2017 to finance drugs and drug research both for Canada and the world. See here and here. Marilyn Gladu was the Vice-Chair on that Committee, and hence, lobbying her would carry significant weight.
3. David Lametti Lobbied By AstraZeneca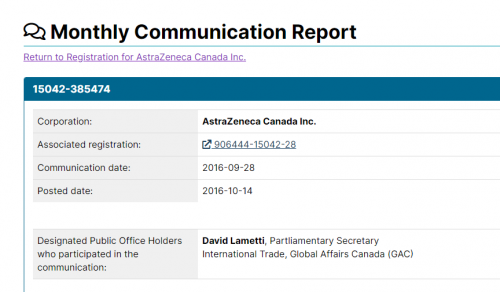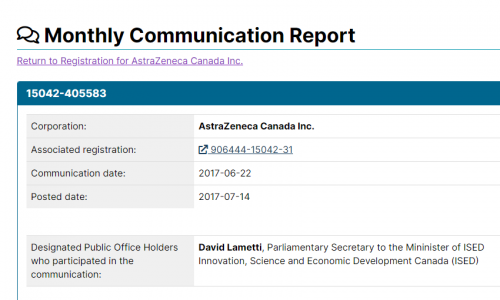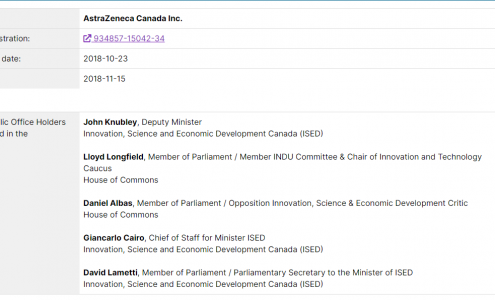 During the years of 2016 to 2018, David Lametti was a Parliamentary Secretary the Minister of Innovation, Science, and Economic Development. Since early 2019, however, he has been the Attorney General of Canada.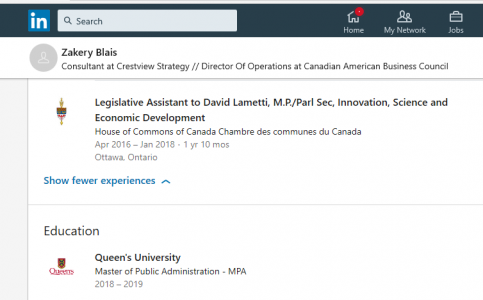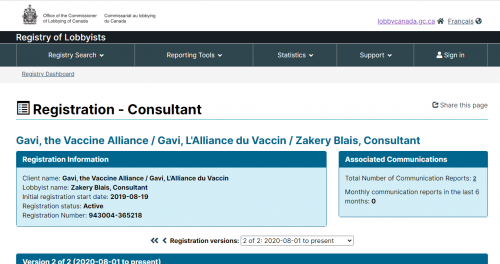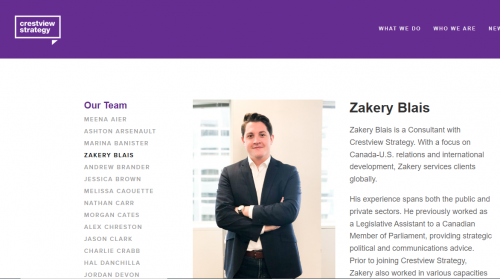 As addressed here, Zakery Blais was an Assistant to Lametti when he was a Parliamentary Secretary. Now, he works for the lobbying firm, Crestview Strategy, which was co-Founded by Rob Silver, Katie Telford's husband. Blais has been a lobbyist pushing for public money for his then client, GAVI
4. "Global Leader", Michelle Rempel-Garner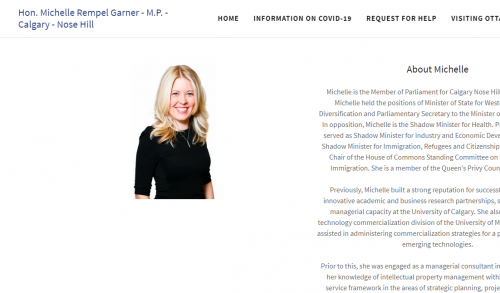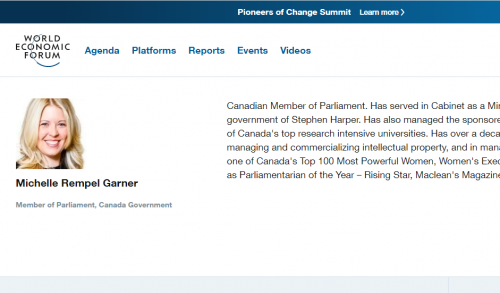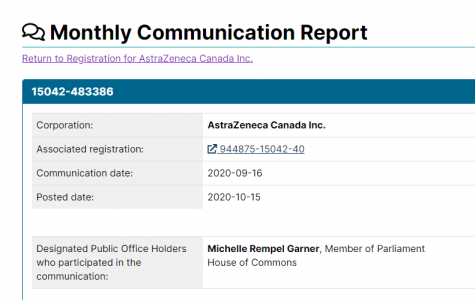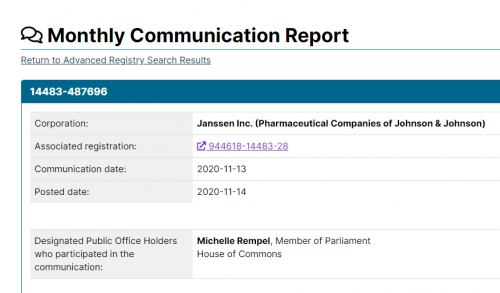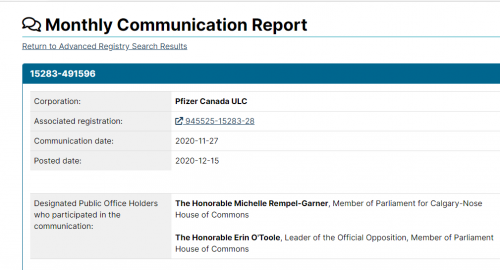 Michelle holds a degree in economics. Highlights of her many honours include being named one of Canada's Top 100 Most Powerful Women by the Women's Executive Network, Calgary's "Top 40 under 40", and being named twice by Maclean's Magazine as their Parliamentarian of the Year – Rising Star calling her "one of the government's most impressive performers." Michelle is also a Young Global Leader, invited to be so by the World Economic Forum. The World Economic Forum calls the Forum of Young Global Leaders a "unique and diverse community of the world's most outstanding, next generation leaders." Rempel was also recently named one of "Alberta's 50 Most Influential People".
Although the link seems disabled, Rempel is held in high regards by the World Economic Forum. She is part of the Young Global leaders. This raises the legitimate question of who she really serves. Information is also available on her website.
When Rempel-Garner openly and publicly calls for the entire Canadian population to be vaccinated, who's really speaking? Is it her, or the drug companies who lobby her?
5. AZ Pushing Canada For GLOBAL Pharma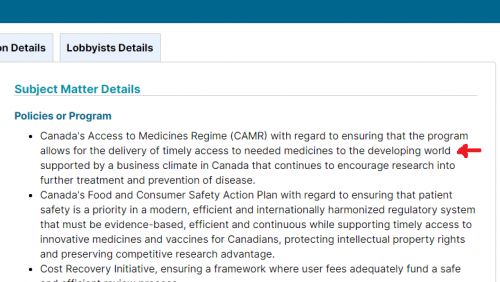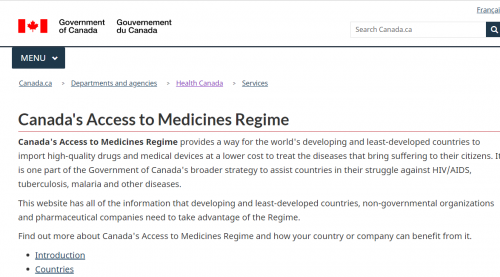 Canada's Access to Medicines Regime provides a way for the world's developing and least-developed countries to import high-quality drugs and medical devices at a lower cost to treat the diseases that bring suffering to their citizens. It is one part of the Government of Canada's broader strategy to assist countries in their struggle against HIV/AIDS, tuberculosis, malaria and other diseases.
Just so we're clear on what's going on, AstraZeneca is pushing for Canada to buy vaccines so that they can be provided at little or no cost to the 3rd World. In short, Canadian taxpayers would be on the hook for vaccinating other countries. Of course, this is in addition to getting a domestic supply.
And what about their lobbyists over the years?
Public offices held: Tara Bingham
Executive Assistant and Special Assistant for Parliamentary Affairs & Communications, Hon. Belinda Stronach, M.P., 2004-2005
Parliamentary Assistant, Grant McNally, M.P., 1999-2004
Researcher, Office of the Leader of the Opposition, Preston Manning, M.P., 1997-1999
Public offices held: William Charnetski
Special Advisor, The Honourable Allan Rock, Q.C., P.C., M.P., Minister of Justice and Attorney General of Canada, 1995-1996
Executive Assistant, William C. Graham, Q.C., Member of Parliament (Rosedale), 1993-1995
Public offices held: Marie-Chantale Lepine
Director of Communications, Rt. Hon. Joe Clark, M.P., 2001-2002
Ties to both the Liberal Party of Canada, and the Conservatives. In this case, it doesn't seem to matter who is in power.
6. Who Are AstraZeneca's Lobbyists?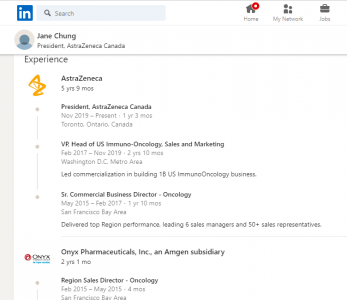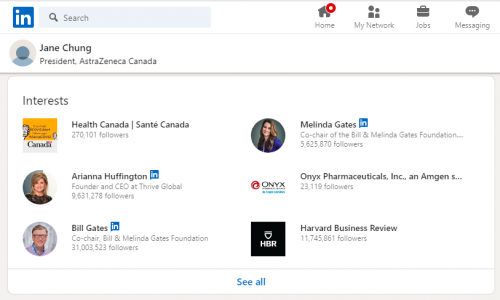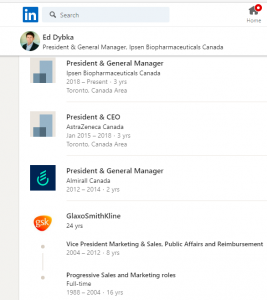 7. More Lobbying By AstraZeneca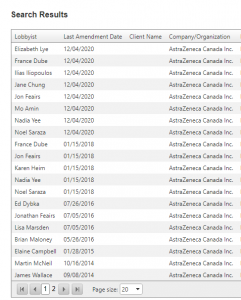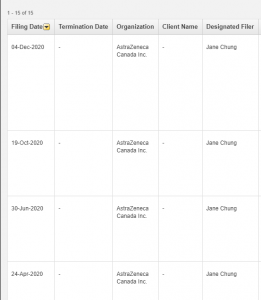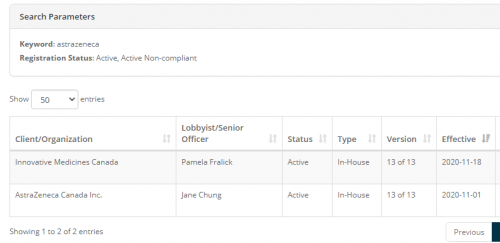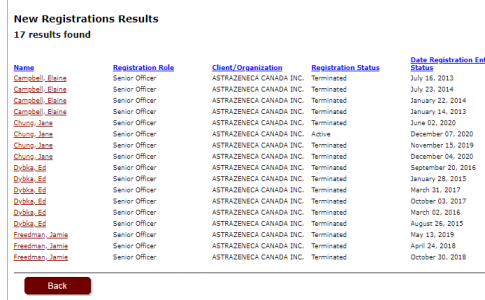 From the Alberta, Saskatchewan, Manitoba and Ontario Registries.
8. Who Runs AstraZeneca?
Pascal Soriot, Executive Director and CEO
Marc Dunoyer, Executive Director and CFO
Katarina Ageborg, Executive Vice-President, Sustainability and Chief Compliance Officer; President AstraZeneca AB, Sweden
José Baselga, Executive Vice-President, Oncology R&D
Pam Cheng, Executive Vice-President, Operations and Information Technology
Ruud Dobber, Executive Vice-President, BioPharmaceuticals Business Unit
David Fredrickson, Executive Vice-President, Oncology Business Unit
Menelas (Mene) Pangalos, Executive Vice-President, BioPharmaceuticals R&D
Jeff Pott, Executive Vice-President, Human Resources and General Counsel
Iskra Reic, Executive Vice-President, Europe and Canada
Leon Wang, Executive Vice-President, International
https://www.astrazeneca.com/our-company/leadership.html
9. AstraZeneca Ordered To Pay Money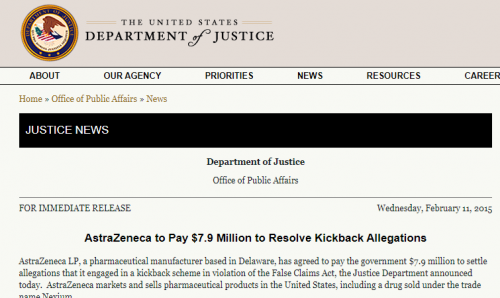 AstraZeneca LP, a pharmaceutical manufacturer based in Delaware, has agreed to pay the government $7.9 million to settle allegations that it engaged in a kickback scheme in violation of the False Claims Act, the Justice Department announced today. AstraZeneca markets and sells pharmaceutical products in the United States, including a drug sold under the trade name Nexium.
"We will continue to pursue pharmaceutical companies that pay kickbacks to pharmacy benefit managers," said Acting Assistant Attorney General Joyce R. Branda of the Justice Department's Civil Division. "Hidden financial agreements between drug manufacturers and pharmacy benefit managers can improperly influence which drugs are available to patients and the price paid for drugs."
The settlement resolves allegations that AstraZeneca agreed to provide remuneration to Medco Health Solutions, a pharmacy benefit manager, in exchange for Medco maintaining Nexium's "sole and exclusive" status on certain Medco formularies and through other marketing activities related to those Medco formularies. The United States alleged that AstraZeneca provided some or all of the remuneration to Medco through price concessions on drugs other than Nexium, namely on Prilosec, Toprol XL and Plendil. The United States contended that this kickback arrangement between AstraZeneca and Medco violated the Federal Anti-Kickback statute, and thereby caused the submission of false or fraudulent claims for Nexium to the Retiree Drug Subsidy Program.
In 2003, AstraZeneca had to pay $355 million to resolve criminal charges and civil liabilities related to marketing practices and drug pricing.
In 2010, AstraZeneca was forced to pay $520 million to for a fraud case that involved allegations of bribery and kickbacks in order to push schizophrenic medications.
In 2015, AstraZeneca was ordered to pay $7.9 million in a kickback scheme. Seems that the finances weren't exactly on the level.
AstraZeneca has also been in Canadian courts many times, often involving patents and intellectual property disputes.