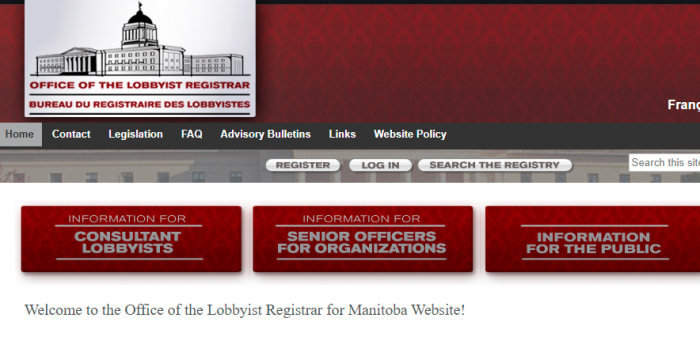 Former Manitoba Premier, Brian Pallister, really knows how to be an asshole. Recently, he doesn't even try to hide it anymore. Pardon the missing link to the original video, but this was from June 2021.
Welcome to our continuing series on who's pulling the strings of influential politicians. Previously, Elizabeth May, Erin O'Toole, Michelle Rempel, Steven Guilbeault (Part 1 and Part 2), Doug Ford (many times), Rankin & Strang, Jason Kenney and Scott Moe were covered.
Before anyone says anything, yes, Pallister has left office. That being said, he's done a lot of damage while he was still Premier. It's long past time to call him out for it.
| Company | Lobbyist | Active Since |
| --- | --- | --- |
| Abbvie Corporation | Nathan Clark | October 04, 2021 |
| Alliance For Safe Online Pharmacies | Joanna Carey | September 13, 2021 |
| Alliance For Safe Online Pharmacies | Dani Peters | June 25, 2021 |
| AstraZeneca Canada Inc. | Kiersten Combs | September 01, 2021 |
| Boehringer Ingelheim Canada | Andrea Sambati | September 15, 2021 |
| Canadian Generic Pharmaceutical Association | Dean Crawford | October 01, 2021 |
| Emergent BioSolutions | Rob Gilmour | August 26, 2021 |
| Emergent BioSolutions | Amber Ruddy | August 30, 2021 |
| GlaxoSmithKline | Faris El-Refaie | September 13, 2021 |
| Hoffman-La Roche | Ronnie Miller | September 24, 2021 |
| Innovative Medicines Canada | Pamela Fralick | September 13, 2021 |
| Janssen Canada Inc. | Lauren Stone | January 15, 2021 |
| Neighbourhood Pharmacy Association Of Canada | Stephanie Dunlop | December 18, 2020 |
| Neighbourhood Pharmacy Association Of Canada | Sandra Hanna | August 19, 2021 |
| Organon Canada Inc. | Michael Casia | July 06, 2021 |
| Pharmacists Manitoba | Jeremy Sawatzky | January 07, 2021 |
| Sanofi Pasteur | Erin Iverson | September 08, 2021 |
As with the last article, this only covers active registrations. Now, the presence of these drug lobbyists wouldn't have any impact on Pallister's hardline pro-vaccine stance, would it? Brian hasn't been compromised, has he? Let's take a look at who some of these people are.
1. Alliance For Safe Online Pharmacies, Dani Peters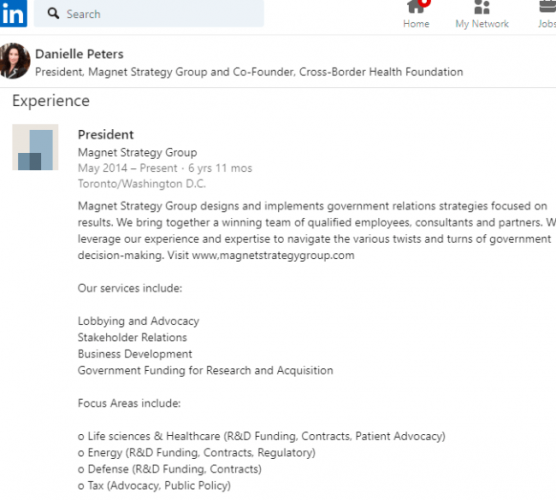 Dani Peters, or rather, Danielle Peters, runs a firm called Magnet Strategy Group. She also helped secure a $173 million Federal grant to Medicago. Partly this was for a vaccine, partly it was for the production of a pharmaceutical manufacturing plant.
As for ASOP, the Alliance for Safe Online Pharmacies, their agenda is pretty straightforward. They want it to be easier for people to purchase drugs online.
2. Emergent BioSolutions, Rob Gilmour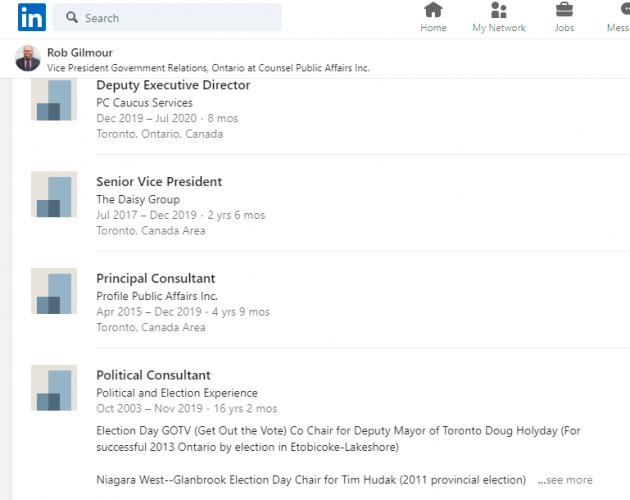 How very interesting. Rob Gilmour works for Counsel Public Affairs, which also employs Amber Ruddy. He's spent over 16 years as a political consultant in Ontario. Additionally, he has been the Deputy Executive Director of the PC Caucus while Doug Ford was Premier. What a small world it is.
Emergent BioSolutions is the company that actually manufactures AstraZeneca's products. Not too many people know that. So Kiersten Combs would have the same goal as the lobbyists for Emergent.
3. Emergent BioSolutions, Amber Ruddy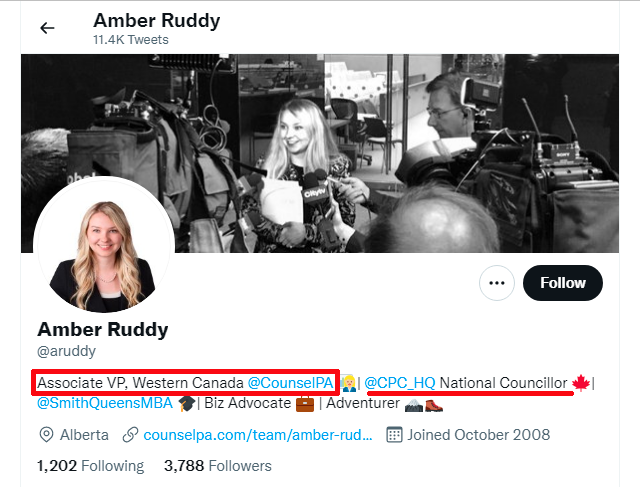 It has been brought up before how Amber Ruddy is actually the Secretary of the National Council of the Conservative Party of Canada. She does this while remaining a pharma lobbyist. She also works to undermine medical privacy in Canada. Apparently, few people have a problem with all of this.
Ruddy also used to be a lobbyist for GlaxoSmithKline, but doesn't appear to have a current registration.
4. Innovative Medicines Canada, Pamela Fralick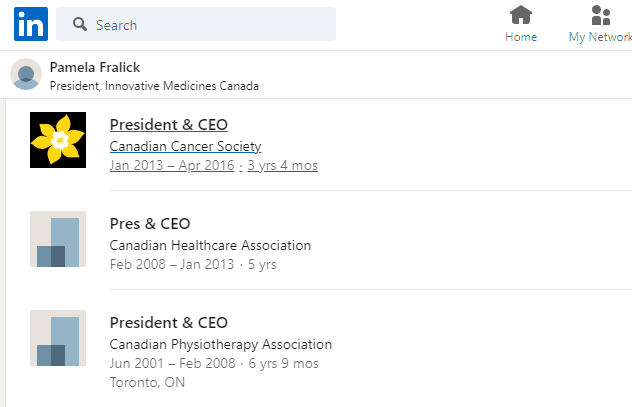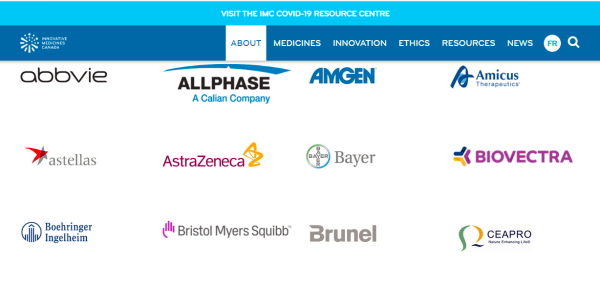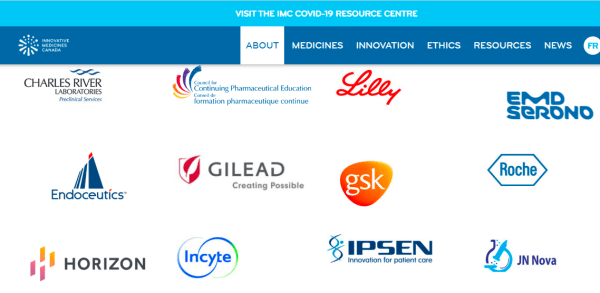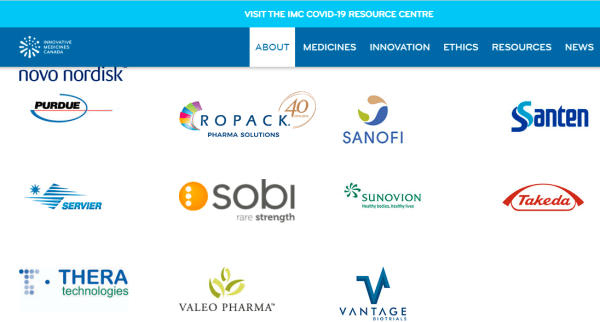 Pretty strange that the President of Innovative Medicines Canada would also be running: (a) the Canadian Cancer Society; (b) the Canadian Healthcare Association; and (c) the Canadian Physiotherapy Association. It especially makes sense when looking at how many organizations are part of this group.
5. Neighbourhood Pharmacy Ass'n of Canada, Stephanie Dunlop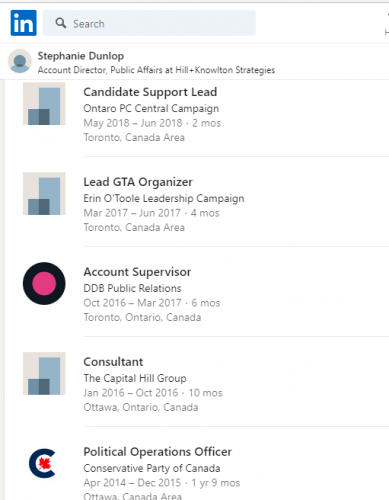 Stephanie Dunlop worked for the Conservative Party of Canada in 2014/2015. Then she tried to get Erin O'Toole installed as CPC leader in 2017. After that, she worked to make Doug Ford the Premier of Ontario. Now, she lobbies for big pharma. This is a pattern we see over and over again.
6. Neighbourhood Pharmacy Association Of Canada, Sandra Hanna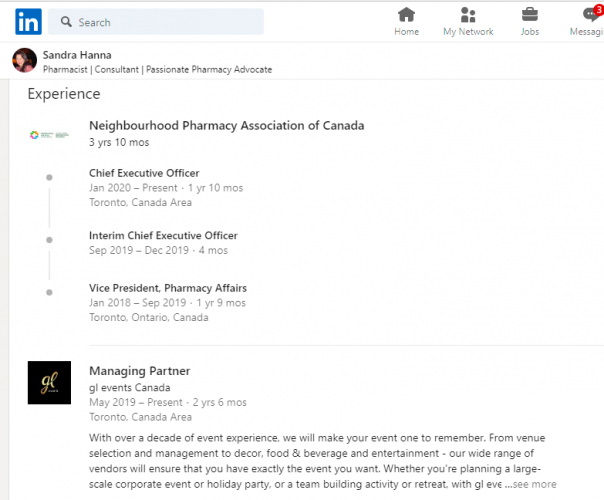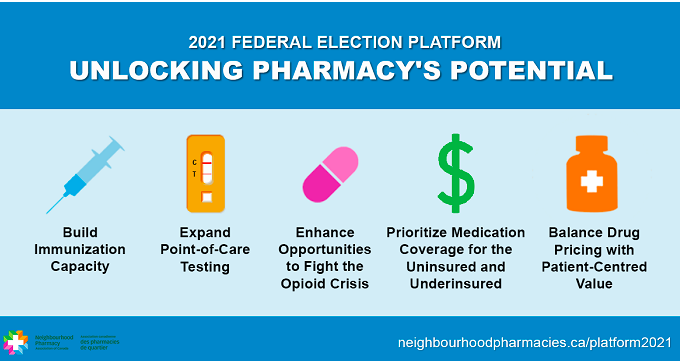 Sandra Hanna has been with Neighbourhood Pharmacy Association of Canada for close to 4 years, according to her LinkedIn profile. Curiously, she has a bachelor's degree in pharmacy from the University of Toronto. The Association has quite the interesting list of partners and members.
The Association was very interested in the recent Federal election, to put it mildly. They even released their own "toolkit" for how to influence the role of pharmacy.
7. Pharmacists Manitoba, Jeremy Sawatzky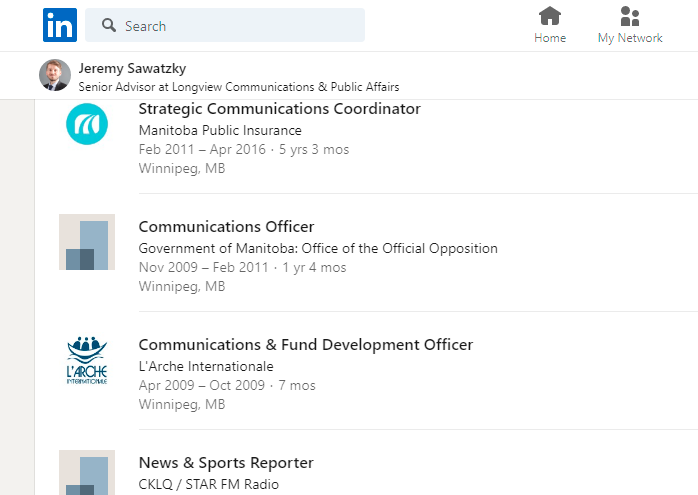 Before becoming a lobbyist, Jeremy Sawatzky had a career in news and sports broadcasting. Turns out, he also worked in the Manitoba Government, which probably proved useful.
As before, this isn't everyone who is involved in such activities. That being said, it should shed some light on just who the people are pulling the strings.
Additionally, Manitoba Health doesn't appear to be a registered charity. Other Provinces are. However, the Winnipeg Regional Health Authority certainly is one. What should shock no one is that its top 10 employees are paid over $350,000 per year.
Let's not forget about Pallister hiring G4S last year, a surveillance and intelligence firm, that also was involved with detentions and prisons. He also openly mused about imposing curfews late last year. Remember, this is all about keeping people safe from a virus.
Have to wonder why the mainstream press in Canada never bothers to report any of this. It's not like the information was difficult to find.
(1) https://registry.lobbyistregistrar.mb.ca/
(2) https://buysaferx.pharmacy/canada/
(3) https://www.linkedin.com/in/gilmourrob/
(4) https://twitter.com/aruddy
(5) https://canucklaw.ca/lobbyist-for-glaxosmithkline-astrazeneca-maker-sits-on-conservative-partys-national-council/
(6) https://canucklaw.ca/bill-c-11-cpc-national-secretary-lobbied-for-big-pharma-to-get-easier-access-to-your-medical-data/
(7) https://www.linkedin.com/in/pamela-fralick-6798baa/
(8) http://innovativemedicines.ca/about/member-companies/
(9) https://www.linkedin.com/in/stephdunlop/
(10) https://www.linkedin.com/in/sandra-hanna-63b87326/
(11) https://neighbourhoodpharmacies.ca/our-partners
(12) https://neighbourhoodpharmacies.ca/our-members-pharmacy-operator-partners
(13) Neighbourhood Pharmacy Association Of Canada Election Platform Toolkit
(14) https://www.linkedin.com/in/jeremy-sawatzky-a37b40102/
(15) https://apps.cra-arc.gc.ca/ebci/hacc/srch/pub/dsplyRprtngPrd?q.srchNmFltr=winnipeg+health&q.stts=0007&selectedCharityBn=107472532RR0001&dsrdPg=1
(16) https://canucklaw.ca/whos-pulling-elizabeth-mays-strings/
(17) https://canucklaw.ca/whos-pulling-erin-otooles-strings/
(18) https://canucklaw.ca/why-is-rempel-silent-on-harmful-effects-of-interim-authorized-vaccines/
(19) https://canucklaw.ca/whos-pulling-steven-guilbeaults-strings-part-1-eco-movement/
(20) https://canucklaw.ca/whos-pulling-steven-guilbeaults-strings-part-2-anti-free-speech-privacy/
(21) https://canucklaw.ca/ford-still-lobbied-by-political-operatives-on-behalf-of-vaccine-companies/
(22) https://canucklaw.ca/cv-10d-nova-scotia-pharma-lobbying-moh-robert-strang-an-anti-democratic-tyrant/
(23) https://canucklaw.ca/whos-pulling-jason-kenneys-strings/
(24) https://canucklaw.ca/whos-pulling-scott-moes-strings/