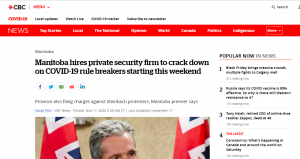 Manitoba Premier Brian Pallister has publicly floated the idea of a mandatory curfew, which he claims will be "limited". He has since banned the sale of what he calls "non-essential goods" in stores. However, he is not being forthcoming with residents about G4S, the security firm he brought in.
1. Other Articles On CV "Planned-emic"
The rest of the series is here. Many lies, lobbying, conflicts of interest, and various globalist agendas operating behind the scenes, obscuring the vile agenda called the "Great Reset". The Gates Foundation finances: the WHO, the US CDC, GAVI, ID2020, John Hopkins University, Imperial College London, the Pirbright Institute, the BBC, and individual pharmaceutical companies. Also: there is little to no science behind what our officials are doing; they promote degenerate behaviour; the Australian Department of Health admits the PCR tests don't work; the US CDC admits testing is heavily flawed; and The International Health Regulations are legally binding. See here, here, and here. The media is paid off, and our democracy compromised, shown: here, here, here, and here.
2. Important Links
(1) https://en.wikipedia.org/wiki/Controversies_surrounding_G4S#Immigrant-detainee_labour
(2) https://twitter.com/BrianPallister/status/1323638895586779136
(3) https://archive.is/p3MnX
(4) https://www.cbc.ca/news/canada/manitoba/covid19-enforcement-update-manitoba-pallister-1.5804774
(5) https://archive.is/8brqz
(6) https://www.reuters.com/article/us-florida-shooting-g4s-idUSKCN0Z02QS
G4S: Services That We Offer
(7) https://archive.is/VnobR
(8) https://www.g4s.com/en-gb/what-we-do/care-and-justice-services/custody-and-detention-services
(9) https://archive.is/LEWya
(10) https://www.latimes.com/socal/daily-pilot/entertainment/story/2020-09-24/garden-grove-approves-1-8m-contract-outsourcing-jail-security-service-to-g4s
(11) https://archive.is/UhceY
(12) https://www.g4s.com/what-we-do/care-and-justice
(13) https://www.g4s.com/en-us/media/news/2020/04/14/g4s-adds-ai-based-stabilitas-critical-event-intelligence-engine-to-roc-offering
(14) ttps://www.g4s.com/news-and-insights/insights/2018/08/30/the-future-of-drones-in-security
(15) https://www.lifesitenews.com/news/australia-to-deploy-drones-to-photograph-unmasked-faces-drivers-too-far-from-home
(16) https://canucklaw.ca/wp-content/uploads/2020/11/G4S-Contact-Tracing-Info.pdf
(17) https://www.g4s.com/en-ca/vancouver
(18) https://indianexpress.com/article/business/companies/gates-foundation-sells-stake-in-britains-g4s/
(19) https://www.g4s.com/investors/regulatory-announcements/2016/12/02/agreement-reached-on-sale-of-g4s-israel
3. CBC Article And Video On Hiring G4S
Private security officers will crack down on rule breakers after shoppers crowded into big-box stores, where many bought non-essential goods during the first weekend of the province's latest lockdown.
The province has hired security firm G4S Canada to boost its enforcement of COVID-19 regulations, and their personnel should be handing out tickets by this weekend, Premier Brian Pallister said Tuesday.
The province is also filing charges in addition to levying fines against those who took part in a rally in Steinbach this past weekend where protesters flouted COVID-19 regulations, Pallister said.
To start with the obvious question: who does Brian Pallister think he is, to determine what is and what isn't "essential items" to purchase? Aren't conservatives supposed to support free will and individual choice? And even if this were legitimate, why is it necessary to hire outside sources?
Beyond that, Pallister pitches this as glorified mall cops. However, this is disingenuous when you consider the other skills and resources G4S has. Perhaps this hiring is more about doing overall surveillance on Manitobans overall.
4. Mass Killer Omar Mateen Ex-G4S Employee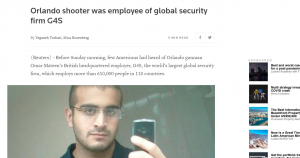 Bit of a sidenote: Omar Mateen, who killed 49 people in an Orlando nightclub in 2016, was an employee of G4S for years. They have been criticized for not doing enough to look into his background.
5. G4S Offers Consulting Services As Well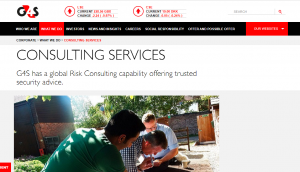 Whether threats are from crime or terrorism, or simply from entering new ventures markets or territories, we work to design and implement effective measures to mitigate or manage these risks. Should the unexpected happen, we can support clients in times of emergency or crisis.
.
We enable our clients to develop resilience to business risk by providing:
.
-Proactive intelligence gathering, analysis and research, using the latest techniques and processes
-World class risk advisory and mitigation services
-Outstanding crisis management and response capability
-Expert advice on risk management technologies.
–Specialist training and capacity building programmes
EVERY SOLUTION STARTS WITH UNDERSTANDING THE THREAT
Our team of 24/7 analysts provide insight and intelligence into the threats that our clients face. By understanding the threat we can use our expertise, global resources and intelligence to work with our clients to develop a solution which matches their exact requirements. With the aim of not only protecting people and assets but improving business efficiency.
.
We work with some of the world leading security consultants with expertise in Crowded Places, Aviation, High-Risk Environments, Secure by Design, Major Events, CNI, Counter-Terrorism, CBRN and Blast Modelling.
The client in this case is the Manitoba Government. What if the threat G4S was supposed to prevent was an informed population rising up tp assert its rights? This is much, MUCH more than simply doing local security for shopping centers. Here is a promotional video in Canada.
6. G4S Operates Private Prisons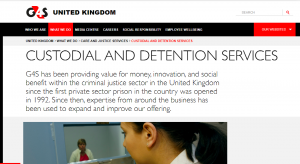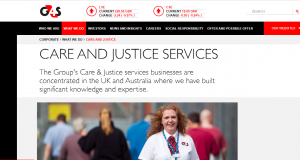 G4S has been providing value for money, innovation, and social benefit within the criminal justice sector in the United Kingdom since the first private sector prison in the country was opened in 1992. Since then, expertise from around the business has been used to expand and improve our offering.
One of the services G4S offers is in private prisons. They have existed (at least in the UK), since 1992. In September of this year, Garden Grove switched to G4S. These services are also offered in Australia. It should be noted that G4S is also involved in running immigration detention as well.
7. Using AI To Track Covid-19 Hotspots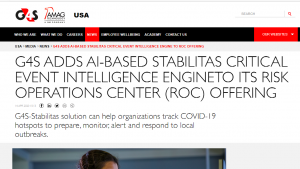 "The recent COVID-19 outbreak has made evident the need for local intelligence that can be globally communicated, as businesses with people and operations around the world need quick, comprehensive and actionable information to effectively respond to hotspots and make business-critical decisions daily," said G4S Americas CEO John Kenning. "G4S ROC analysts are able to use the Stabilitas' AI platform to provide customers with actionable data to help protect their employees, operations and assets. Our strategic partnership with Stabilitas enhances the integrated security service offerings we provide customers under our Security Operations Center (SOC) Practice."
Stabilitas' AI-based platform also equips G4S ROC staff to deliver real-time intelligence, travel risk management, asset visualization and mass notifications to clients, employees, travelers and assets to keep their operations secure, a particularly valuable resource in the face of rapidly evolving global threats such as the COVID-19 pandemic. The platform filters more than 17,000 trusted data sources across government, weather and geological, local and international, social media, IoT networks and other external data sources into a single feed that identifies critical events and correlates those on a global scale, far surpassing the capabilities of manual monitoring and analysis processes.
G4S claims to be able to better monitor and track outbreaks in this "pandemic" using artificial intelligence technology. Since they'll be providing actual security, at least in Manitoba, this will effectively cut out the middleman.
8. G4S Implementing Drone Technology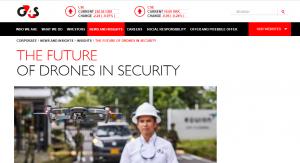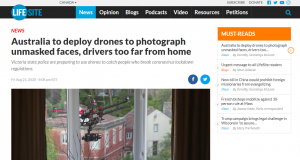 G4S now has drones in its inventory, allowing it to conduct search and surveillance in places and ways that had not been previously possible. Australia has an application for this technology: catching people who aren't wearing masks.
9. G4S Offers Tech For Contact Tracing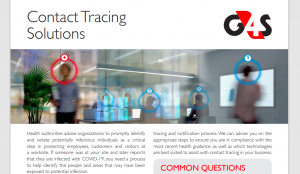 If you have an existing security access system, you may not realize that it can be used to supplement your contact tracing program. Access systems can track an employee or visitor and determine who else was in the same area at the same time. They provide timely information which is critical for contact protocols. You
can choose the amount of time to track. If an employee or visitor displays virus symptoms, these tools can tell you who that person may have come into contact with, and provide the data to notify other individuals who may have been exposed. Ongoing reports can be generated to maintain compliance and meet everchanging regulations.
G4S offers electronic visitor management systems to assist with contact tracing. These systems can prompt people to answer specific questions related to self-declaration (e.g. have you been in contact with anyone who has displayed symptoms of a fever in the past 14 days?) and can be used to alert personnel to any answers that may require secondary screening. As these systems are designed for employees and visitors to provide basic contact information, they can be used to generate a prescribed report as to who was in the building, when they were there and with whom they met.
Contact tracing benefits come from the basic information a user would enter when prompted, creating a contact list and a record of compliance as to who had entered, when they did and a phone number to reach them
G4S sees the contact tracing industry as an area for significant growth. Given the increase surveillance Governments are demanding, it seems smart from a business perspective.
10. G4S Also Involved In Airport Security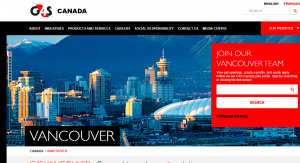 G4S is proud to provide services throughout the province of British Columbia.
.
G4S is Canada's leading security service provider to the energy sector. G4S specializes in providing service to mining, forestry, retail, special events & property management. G4S provides screening services to airports throughout British Columbia and the Yukon in partnership with the CANADIAN AIR TRANSPORT SECURITY AUTHORITY (CATSA).
Yes, the same group involved with contact tracing, artificial intelligence, drones, and pandemic management also has a foothold in airport security in Canada.
11. Gates Foundation Sells Shares Of G4S Stock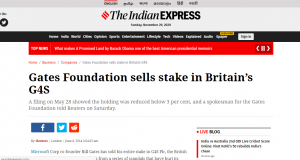 Until the Spring of 2014, the Bill & Melinda Gates Foundation was actually a co-owner of G4S, holding approximately 3% of the stock. However, it has since been sold off.
12. Sale: G4S Israel To FIMI Opportunity Funds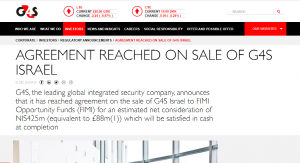 Effective December 31, 2015, G4S Israel was sold to FIMI Opportunity Funds for the equivalent of about 88 million British Pounds. Despite the change in ownership, G4S would still retain a presence in Israel. It's denied that the sale had anything to do with BDS (ban, divest, sanction) efforts launched in many countries.
13. Why Is G4S Really In Manitoba?
Premier Brian Pallister made it seem like he was just hiring extra security guards due to a personnel shortage. However, when it's considered what G4S does, and what they are capable of, what is the purpose of this? This certainly seems like overkill — unless there's another agenda.
Yes, the company has been used for tickets and commercial security before. However, in light of everything going on, this doesn't seem right.
If Ottawa or any Provincial Government ever wanted to give the order for G4S to start rounding up and detaining political dissidents, they would have the capability to do it.