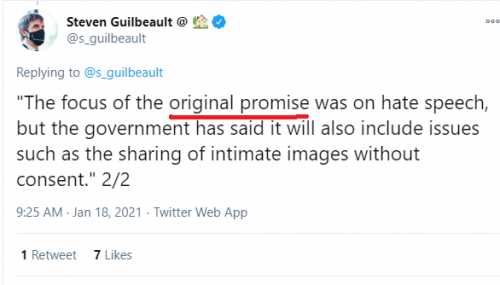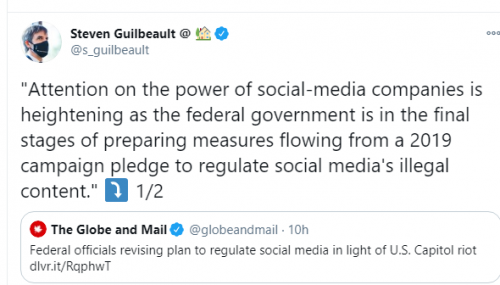 Last year, Steven Guilbeault (rightfully) took a lot of criticism for the recommendation that media outlets be forced to obtain licenses. He later backtracked somewhat, claiming that news outlets would be exempt. Now, he's back, pushing hate speech laws.
A disclaimer: it's entirely possible (likely), that there are groups pushing for these laws that are not listed publicly. However, all that is listed is documented information.
Worth noting: the original intent of the bill was on "hate speech". Sending pornography, or lewd images was just an afterthought. Still, this does raise privacy concerns, not just ones for free speech.
See Part 1 for Guilbeault's ties to the eco-movement.
1. Free Speech Is Under Constant Threat
Check here for the series free speech. It's a crucial topic, and is typically intertwined with other categories. Topic include: Digital Cooperation; the IGF, or Internet Governance Forum; ex-Liberal Candidate Richard Lee; the Digital Charter; Dominic LeBlanc's proposal. There is also collusion, done by UNESCO, more UNESCO, Facebook, Google, and Twitter lobbying.
2. The Media Is Not Loyal To The Public
Truth is essential in society, but the situation in Canada is worse than people imagine. MSM in Canada (and elsewhere), has been largely obedient to the official stories since they are subsidized to do so, though they deny it. Post Media controls most outlets in Canada, and many "independents" have ties to Koch/Atlas. Real investigative journalism is needed, and some pointers are provided.
3. Important Links
https://twitter.com/s_guilbeault/status/1351219226711912454
https://twitter.com/s_guilbeault/status/1351219225302618117
Office Of The Lobbying Commissioner Of Canada
Canadian Parliament Discusses Online Hate
(Audio) Testimony Into Online Hate
Toronto Sun On Hate Crime Hoax
National Post Shrugs Off Hate Crime Hoax
National Council Of Canadian Muslims Lobbying
Centre For Israel And Jewish Affairs Lobbying
Friends Of Canadian Broadcasting Lobbying
YWCA Receives $760,000 Anti-Hate Grant
Various Initiatives/Grants From Ottawa In Recent Years
Bill C-30, Vic Toews, Online Privacy, Pornography
4. The Downside To "Hate Speech" Laws
To begin with, let's address the elephant in the room: hate speech laws can, and often are used to silence legitimate concerns and criticisms. Worse, they are applied unevenly. When very different groups with different cultures and value are brought together, how it operates is fair discussion. What will be expected, what compromises will be made, and how to settle differences must be addressed.
Regardless of whether a person prefers a more assimilationist approach, or is more libertarian, hard questions have to be asked. When such questions cannot be asked — because of hate speech laws — it doesn't erase the concerns, but simply erodes public trust.
Banning valid discussion with false accusations of racism, or false claims of violence, does nothing to advance open discourse. Instead, it's used to gaslight and prevent necessary discussion.
Is this a call to violence, or to condone violence? Certainly not. But all too often, ideas and violence are wrongly conflated.
5. Hate Crime Hoaxes Undermine Public Trust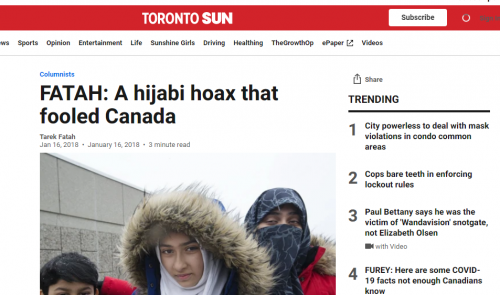 Now Toronto Police say the alleged attack on an 11-year-old girl wearing a hijab last week was a hoax. In other words, the hijabi girl and her brother simply made up the story.
We still don't know enough whether this incident was orchestrated to further entrench the sense of victimhood among Canada's Muslims or if it was a tale made up by the 11-year-old girl to cover up some other incident.
Khawlah Noman isn't the first Muslim girl to pull off such a hoax, but she surely must be the youngest to do so.
Another valid question must be asked. Before passing censorship laws to combat hate speech and related crimes, how many incidents actually happened, and how many are hoaxes? Before considering such laws, it's important to know the full scale of the problem. However, some outlets continue with the narrative, even when hoaxes are exposed.
6. Canadian Parliament On Online Hate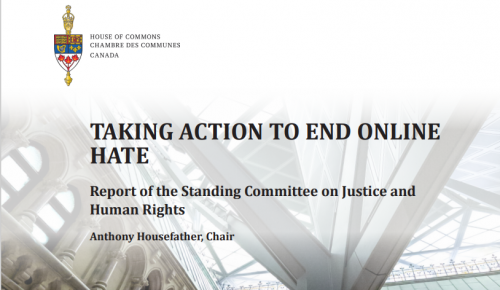 Check this page for information on a Parliamentary study in Canada concerning online hate. Witnesses were called to give more insight into the topic. While there was a lot of reasonable discussion, one problem remains: it's far too easy to demonize people by CLAIMING that certain topics are hate and violence.
7. National Council Of Canadian Muslims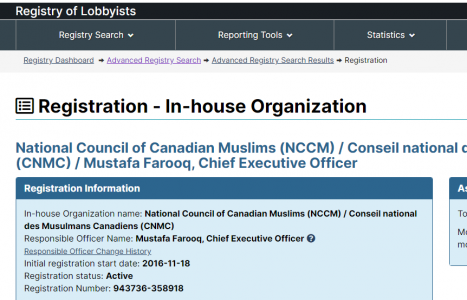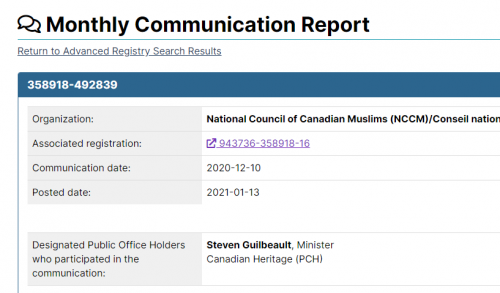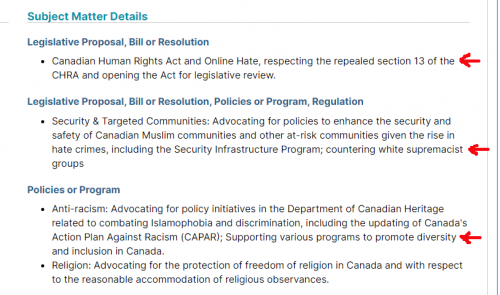 Subject Matter Details
Legislative Proposal, Bill or Resolution
Canadian Human Rights Act and Online Hate, respecting the repealed section 13 of the CHRA and opening the Act for legislative review.
.
Legislative Proposal, Bill or Resolution, Policies or Program, Regulation
Security & Targeted Communities: Advocating for policies to enhance the security and safety of Canadian Muslim communities and other at-risk communities given the rise in hate crimes, including the Security Infrastructure Program; countering white supremacist groups
.
Policies or Program
Anti-racism: Advocating for policy initiatives in the Department of Canadian Heritage related to combating Islamophobia and discrimination, including the updating of Canada's Action Plan Against Racism (CAPAR); Supporting various programs to promote diversity and inclusion in Canada.
Religion: Advocating for the protection of freedom of religion in Canada and with respect to the reasonable accommodation of religious observances.
One of the groups lobbying Guilbeault is the National Council of Canadian Muslims. They claim that "white supremacists" are causing a hateful environment, and that more diversity and inclusion is needed. Of course, ask how THEY accommodate minorities, and that's hate speech.
Also noteworthy: Walied Soliman, Erin O'Toole's Chief of Staff, is a member of the NCCM. He's on record as supporting their activities.
8. CIJA, Centre For Israel And Jewish Affairs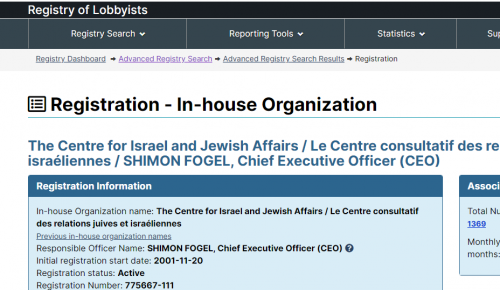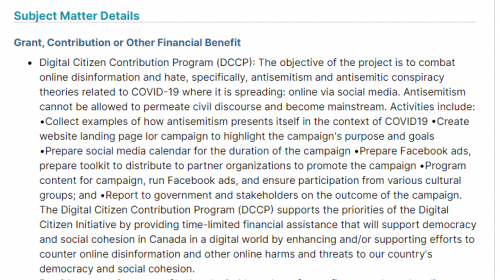 Subject Matter Details
Grant, Contribution or Other Financial Benefit
–Digital Citizen Contribution Program (DCCP): The objective of the project is to combat online disinformation and hate, specifically, antisemitism and antisemitic conspiracy theories related to COVID-19 where it is spreading: online via social media. Antisemitism cannot be allowed to permeate civil discourse and become mainstream.
-Activities include:
•Collect examples of how antisemitism presents itself in the context of COVID19
•Create website landing page lor campaign to highlight the campaign's purpose and goals
•Prepare social media calendar for the duration of the campaign
•Prepare Facebook ads, prepare toolkit to distribute to partner organizations to promote the campaign
•Program content for campaign, run Facebook ads, and ensure participation from various cultural groups; and
•Report to government and stakeholders on the outcome of the campaign. The Digital Citizen Contribution Program (DCCP) supports the priorities of the Digital Citizen Initiative by providing time-limited financial assistance that will support democracy and social cohesion in Canada in a digital world by enhancing and/or supporting efforts to counter online disinformation and other online harms and threats to our country's democracy and social cohesion.
-Provide economic support for the charitable and not-for-profit sector through a direct granting program. Donations from Canadians should be incentivized through a temporary enhancement of the charitable giving tax credit, or through a donor matching program, whereby the government matches donations from Canadians.
-Public Security threats to the safety and security of the Jewish community of Canada and the extension of funding of capital costs and staff training for security of communities at risk
-The project 'United Against Online Hate' aims to develop a national coalition with numerous targeted communities to actively combat online hate, following recommendations from the study conducted by the House of Commons Standing Committee on Justice and Human Rights. We have been granted $141,000 for the government's current fiscal year (ending March 31 2021). We were also awarded $31,800 for the year April 1 2021 to March 31 2022.
The page on lobbying information is very long, but well worth a read. A lot of effort has clearly gone into writing and updating this.
9. Friends Of Canadian Broadcasting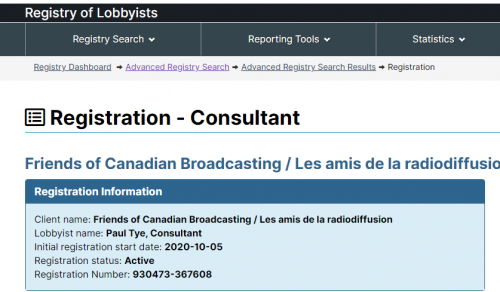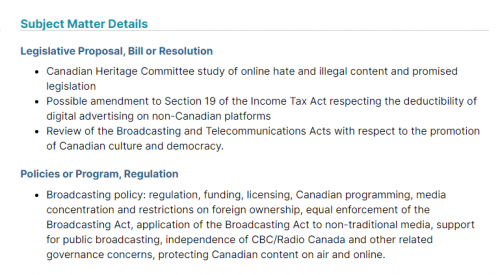 Subject Matter Details
.
Legislative Proposal, Bill or Resolution
Canadian Heritage Committee study of online hate and illegal content and promised legislation
Possible amendment to Section 19 of the Income Tax Act respecting the deductibility of digital advertising on non-Canadian platforms
Review of the Broadcasting and Telecommunications Acts with respect to the promotion of Canadian culture and democracy.
.
Policies or Program, Regulation
Broadcasting policy: regulation, funding, licensing, Canadian programming, media concentration and restrictions on foreign ownership, equal enforcement of the Broadcasting Act, application of the Broadcasting Act to non-traditional media, support for public broadcasting, independence of CBC/Radio Canada and other related governance concerns, protecting Canadian content on air and online.
This lobbying actually covers a number of topics, but online hate is one of them.
10. YWCA, Others Get Federal Grants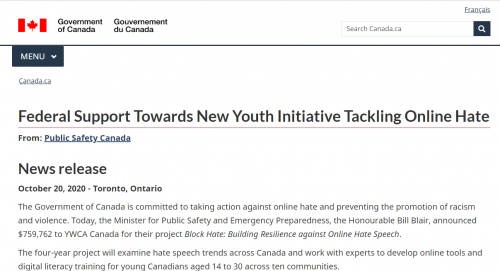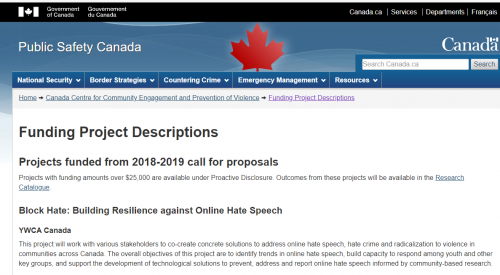 October 20, 2020 – Toronto, Ontario
.
The Government of Canada is committed to taking action against online hate and preventing the promotion of racism and violence. Today, the Minister for Public Safety and Emergency Preparedness, the Honourable Bill Blair, announced $759,762 to YWCA Canada for their project Block Hate: Building Resilience against Online Hate Speech.
The four-year project will examine hate speech trends across Canada and work with experts to develop online tools and digital literacy training for young Canadians aged 14 to 30 across ten communities.
The YWCA will bring together partners from digital industry, civil society, government, and academia to better understand online hate in Canada, support those targeted by hate speech, inform technical solutions to online hate, hate crime, and radicalization to violence, and increase community resilience.
The YWCA received a grant from the Federal Government, but it is hardly alone in that. Fighting online hate and hate speech appears to be a growth industry.
One also has to ask how such hate speech regulations would be enforced? What information would internet providers, or cell phone companies have to provide? What would the process and limits for that be? What privacy protections would be in place?
11. Vic Toews, Online Privacy, Bill C-30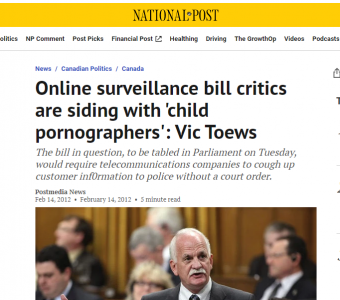 Since the proposal did mention punishing of sharing images (even as an afterthought), let's address this. It was in 2012 that "Conservative" Public Safety Minister Vic Toews tried to bring in Bill C-30, which could force online providers to hand over private information without a warrant. Toews gaslighted privacy concerns as people "siding with the child pornographers". While the Bill died in 1st Reading, could something like this happen again?
12. What Are Impacts On Free Speech? Privacy?
What will this bill look like, and what are the impacts? Until the legislation is tabled, we won't know for sure. Even then, amendments are quite likely, as are court challenges.
This shouldn't have to be repeated, but it is. Being critical of "hate speech" for being overreaching does not equate to supporting hate or violence. All too often, false accusations of racism, hate and bigotry are used to silence legitimate concerns and questions.
Vic Toews vilified critics of warrantless searches as "pedophile sympathizers". Could this iteration lead to critics being smeared as "Nazi supporters"? Will a provision for warrantless searches be slipped in?
It's also possible that such legislation will be scrapped altogether. After all, Guilbeault supported mandatory media licensing only last year, but backed down under heavy pressure. This is an important story to keep an eye on.