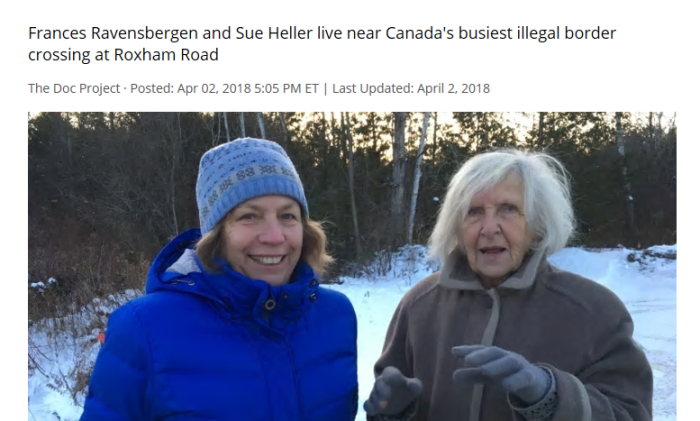 1. Trafficking, Smuggling, Child Exploitation
Serious issues like smuggling or trafficking are routinely avoided in public discourse. Also important are the links between open borders and human smuggling; between ideology and exploitation; between tolerance and exploitation; between abortion and organ trafficking; or between censorship and complicity. Mainstream media will also never get into the organizations who are pushing these agendas, nor the complicit politicians. These topics don't exist in isolation, and are interconnected.
2. Important Links
(1) http://www.bridgesnotborders.ca/
(2) http://archive.is/SwCTX
(3) http://www.bridgesnotborders.ca/about.html
(4) http://archive.is/n7ci7
(5) http://www.bridgesnotborders.ca/why.html
(6) http://archive.is/sRw1v
(7) http://www.bridgesnotborders.ca/news.html
(8) http://www.bridgesnotborders.ca/info-for-asylum-seekers.html
(9) http://archive.is/D61Wd
(10) irregular-arrivals-at-the-border-background-information-janjul2019-en
(11) https://www.unhcr.ca/newsroom/publications/
(12) http://archive.is/bYe0S
(13) bridges_not_borders_briefing_on_stca_english
(14) stca_legal_challenge
(15) guardian_haiti
(16) https://www.cbc.ca/radio/docproject/as-asylum-seekers-show-up-on-their-doorstep-two-quebec-women-struggle-with-how-to-help-1.4595233
(17) http://archive.is/lYllx
(18) https://www.vpr.org/post/other-side-roxham-road-canada-grapples-border-refugees#stream/0
(19) http://archive.is/DfGzD
(20) https://plattsburghcares.org/
(21) http://archive.is/yWdbn
(22) https://plattsburghcares.org/hestia-front/humanitarian-support/
(23) http://archive.is/a5tI3
(24) https://www.solidarityacrossborders.org/en/
(25) http://archive.is/oGtlX (2018)
(26) http://archive.is/XjrUY (2020)
(27) https://www.solidarityacrossborders.org/en/rally-and-march-in-solidarity-with-the-migrant-caravans-making-their-way-to-the-us-mexican-border
(28) http://archive.is/LeIED
(29) https://www.solidarityacrossborders.org/en/solidarity-city
(30) http://archive.is/0zUKG
(31) https://www.solidarityacrossborders.org/en/call-to-action-open-the-borders
(32) http://archive.is/5uuJN
3. BnB Doesn't Believe In Borders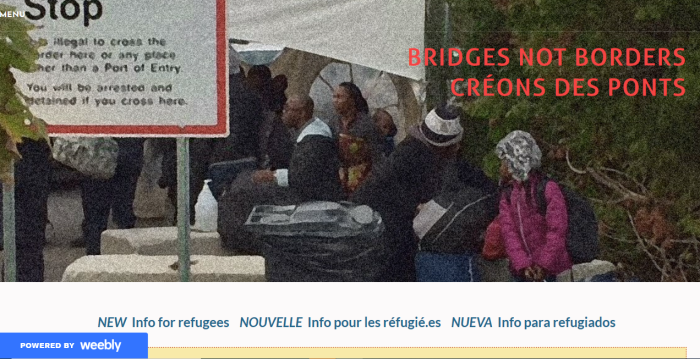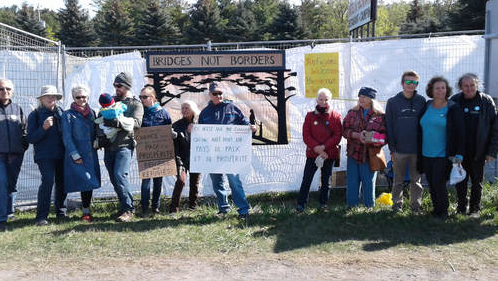 Also, the original links for the YouTube videos above are here and here
Earlier in 2017 President Trump signed executive orders that suspended the refugee admission program and allowed for widespread arrest and deportation of undocumented people in the USA. This means that people needing protection can be sent back to their countries of origin where they may face torture, persecution or even loss of life. Yet, this is prohibited under international law.
Trump has also withdrawn Temporary Protected Status from citizens of Haiti, El Salvador and Honduras. This will come into effect in late 2019. The Haitians had fled to the USA following the disastrous earthquake in 2010. Haiti was hit hard again by Hurricane Matthew in 2016 and is still in a very bad state, facing huge problems of homelessness, poverty, illiteracy, violence against women and indentured child labour (see PDF Guardian article below).
For all the above reasons many people no longer feel safe in the USA and want to seek asylum and safety in Canada. But they face a hurdle in the 2002 Safe Third Country Agreement (STCA) between Canada and the USA which came into effect in 2004.
The STCA means that, if someone crosses into Canada from the USA at an official border crossing and asks for asylum, they will be sent back to the USA, unless they fall under one of four exceptions to the Agreement. However if they cross the border at an irregular crossing such as Roxham Road, the Agreement does not apply. They can then make a claim for refugee status. That is why many people are choosing that route, so as to not risk being sent back to the USA and being unable to make a refugee claim in Canada in the future.
There are two issues here. The first one is: can the USA really be considered to be a safe country for refugees? The Canadian Council for Refugees, the Canadian Council of Churches and Amnesty International don't think so and have launched a legal challenge to the STCA (see PDF files below including our Briefing document). The second issue is that of irregular crossings. Given the STCA, most asylum seekers are in a 'catch 22' situation: it's not safe for them to stay in the USA and it's not safe for them to enter officially. The 1951 Refugee Convention, ratified by Canada, says that states shall not penalize asylum seekers if they enter a country irregularly, providing they present themselves without delay to the authorities. Section 133 of the (Canadian) Immigration and Refugee Protection Act also states that people seeking asylum will not be prosecuted for irregular entry into Canada.
People crossing irregularly are not 'illegal immigrants' as has been wrongly asserted. Nor are they 'queue jumpers', as refugee claims are treated as received. We believe the STCA should be revoked, so that everyone seeking asylum could enter Canada safely and with dignity at an official border crossing. This is especially important during the winter or any period of extreme weather. During the winters of 2016-2017 and 2017-2018, many people suffered hypothermia and frostbite during irregular crossings into Canada and have lost fingers and toes. Tragically, in spring 2017, a woman from Ghana, Mavis Otuteye, died while trying to cross from Minnesota into Manitoba.
Straight from the horse's mouth. This group believes that everyone should be allowed to enter Canada, and this includes from the United States. The fact that the U.S. gives asylum to tens of thousands of people each year seems to not matter.
4. BnB Encourages Asylum Shopping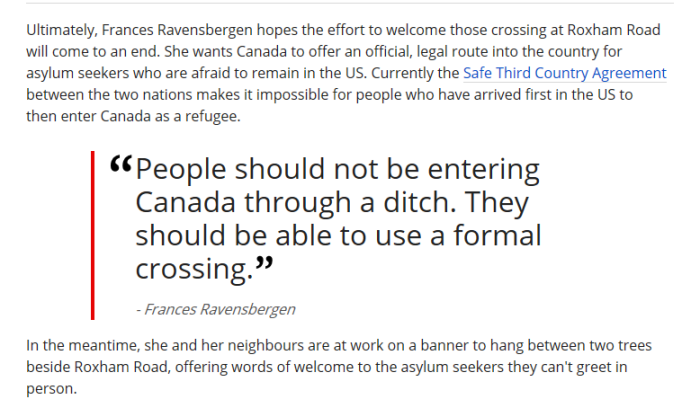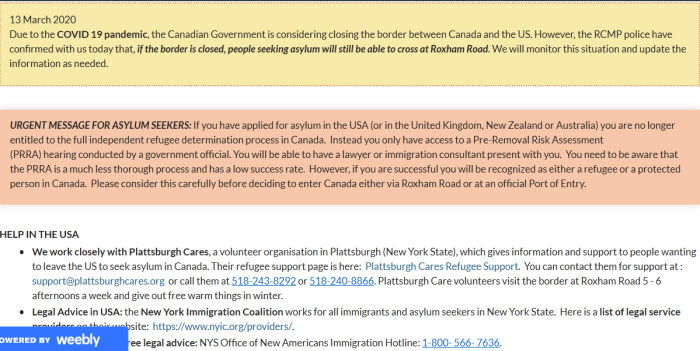 URGENT MESSAGE FOR ASYLUM SEEKERS: If you have applied for asylum in the USA (or in the United Kingdom, New Zealand or Australia) you are no longer entitled to the full independent refugee determination process in Canada. Instead you only have access to a Pre-Removal Risk Assessment (PRRA) hearing conducted by a government official. You will be able to have a lawyer or immigration consultant present with you. You need to be aware that the PRRA is a much less thorough process and has a low success rate. However, if you are successful you will be recognized as either a refugee or a protected person in Canada. Please consider this carefully before deciding to enter Canada either via Roxham Road or at an official Port of Entry.
Why would you publish this information, unless it was to help advise so-called "refugees" to circumvent the process by entering the U.S. under false pretenses, and then come illegally to Canada?
5. BnB Coordinates With "Plattsburgh Cares"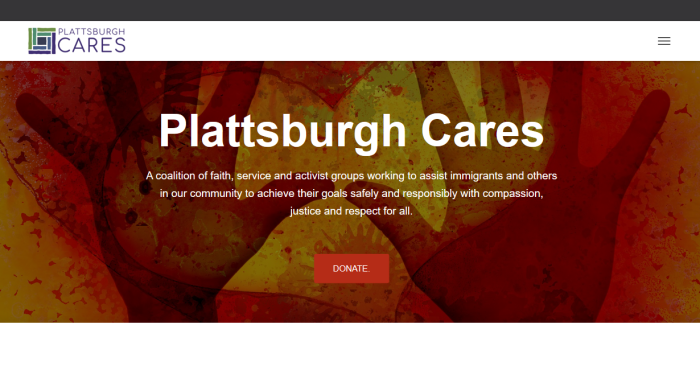 We have close connections with members of Plattsburgh Cares, a group that supports refugees who want to cross into Canada. We're also in contact with Solidarity Across Borders (Montreal), as well as with various groups, committees, and institutions that support refugees locally and in Montreal (including UNHCR).
That admission came from the about page. As for what Plattsburgh Cares claims to provide:
Let us know what support you can offer. Here's a partial list of what we need:
-Translation. The refugees who come through the area speak a variety of languages. If you are proficient in any second language and would like to help, let us know.
-Transportation. Individuals may need help getting to the grocery store, doctor's appointments and so forth.
-Legal advice. The refugees need access to qualified individuals with knowledge of immigration law.
-Short-term temporary housing. Some may need access to safe housing for a night or a week or two.
-Long-term temporary housing. Others may need a place for a longer period.
-Clothing. Some may need clothes, especially during the winter months.
-Educational outreach. We will need help getting educational materials into the hands of refugees coming into our region.
None of these items are bad per se. The problem is that this NGO, like many others, has no concern for whether people are in the country illegally. Moreover, they help facilitate illegal border crossings.
6. BnB Worked With Solidarity Across Borders
Our first group activity in September 2017 was a table at the Roxham Road Woolgathering, for which we had made buttons with the theme 'Refugees Welcome'. We also provided information explaining how the 'Safe Third Country Agreement' between Canada and the USA forces refugees to cross irregularly to prevent being sent back to the USA (see the pages WHY and WHO for this info).
​
Our second activity was to participate in a demonstration at the border crossing at Lacolle which was organized by the Montreal-based group Solidarity Across Borders. This was a response to the presence at the Lacolle border of far right groups opposed to the irregular crossings of asylum seekers. A local artist created the beautiful 'Bridges not Borders' wood cut after which we named our group.
This came from the ABOUT section of Bridges Not Borders. Apparently wanting borders makes you a member of the far right. Now, who is "Solidarity Across Borders"?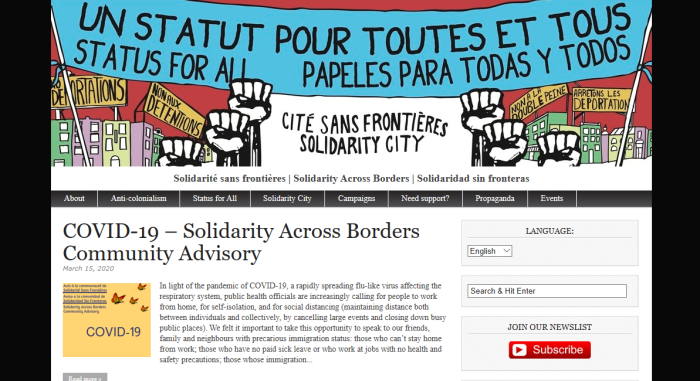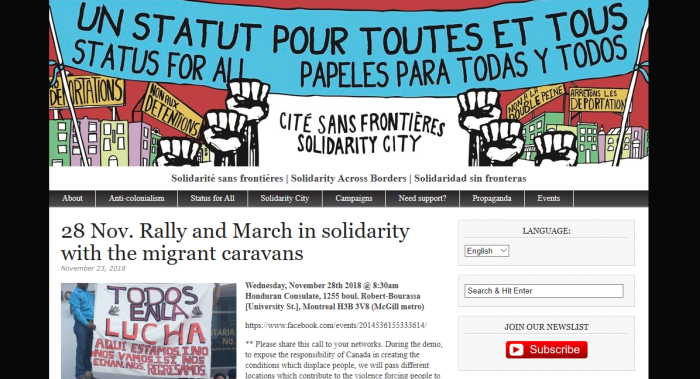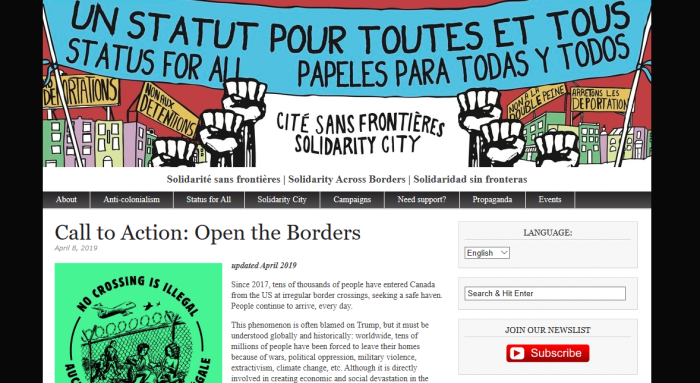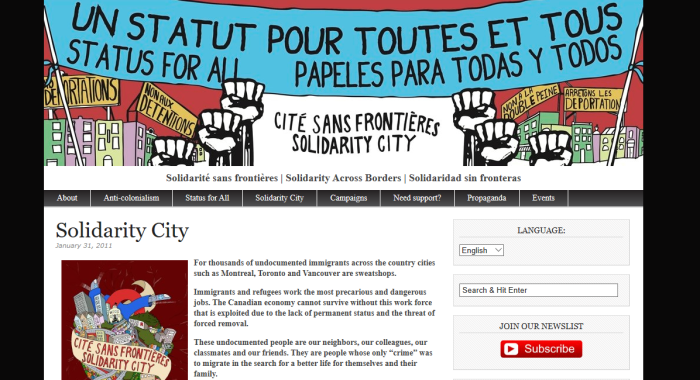 Let's just look at one of the demands of Solidarity Across Borders: free services for all illegals. Not joking. Here is the actual text.
We demand that:
.
everyone living here should have access to free health care in clinics, CLSCs and hospitals. Medical facilities should never ask for information on immigration status. Instead, they should work to provide appropriate and respectful care to all users. We want health care to be accessible to all and support efforts to defend the public health care system.
.
everyone living here should be able to attend school free of charge, regardless of their – or their parents – immigration status. We are in favor of universal education for all, from kindergarten to university, and defend accessible education at all levels and for all people.
.
the Canadian Border Services Agency (CBSA) should not have any right to enter and arrest migrants in hospitals, clinics, shelters, schools, or any space providing essential services; ultimately, the CBSA should not be welcome anywhere in our communities.
.
any person living here should have access to social housing, food banks, unemployment benefits and any other social welfare regardless of immigration status.
This is one of the groups that Bridges Not Borders sees no problem in partnering with. Free services and effective amnesty for all illegals. What could possibly go wrong?
7. UNHCR Admits These Claims Are Bogus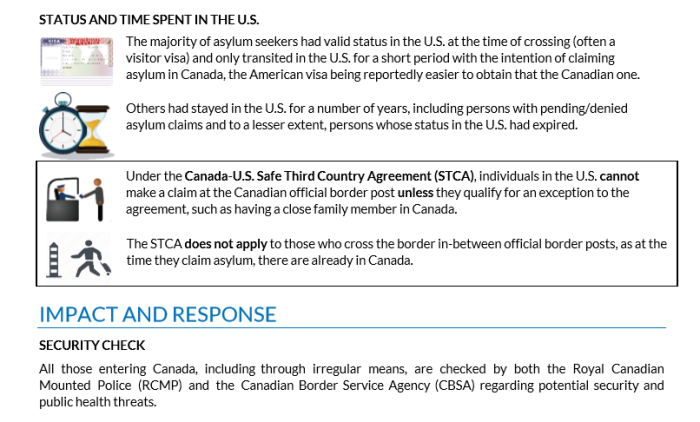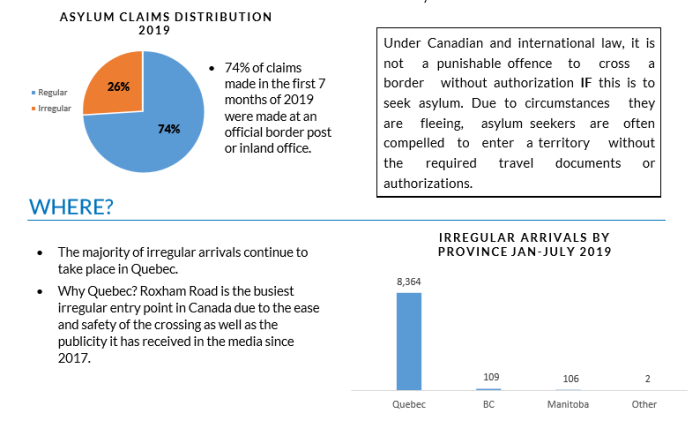 CLICK HERE, for UNHCR 2019 data on illegals.
irregular-arrivals-at-the-border-background-information-janjul2019-en
The majority of asylum seekers had valid status in the U.S. at the time of crossing (often a visitor visa) and only transited in the U.S. for a short period with the intention of claiming asylum in Canada, the American visa being reportedly easier to obtain that the Canadian one.
Others had stayed in the U.S. for a number of years, including persons with pending/denied asylum claims and to a lesser extent, persons whose status in the U.S. had expired.
Under the Canada-U.S. Safe Third Country Agreement (STCA), individuals in the U.S. cannot make a claim at the Canadian official border post unless they qualify for an exception to the agreement, such as having a close family member in Canada.
.
The STCA does not apply to those who cross the border in-between official border posts, as at the time they claim asylum, there are already in Canada.
8. Completely Undermining Border Security
This is (partly) why borders are so damn hard to enforce. It's because organizations like: (a) Bridges Not Borders; (b) Plattsburg Cares; and (c) Solidarity Across Borders are doing what they can do undermine it.
Further, efforts are crippled by the UNCHR, who make it clear that they see nothing wrong with illegal crossings, and hamstring local efforts to stop it. Efforts in court are at best mixed, since the "rights" of illegals must be balanced against those of society's.
Finally, corrupt politicians (both government and controlled opposition), do little to nothing to stop this problem. In short, border security COULD be a very straightforward issue, if the system weren't rigged to prevent that.
This is disheartening, to say the least.