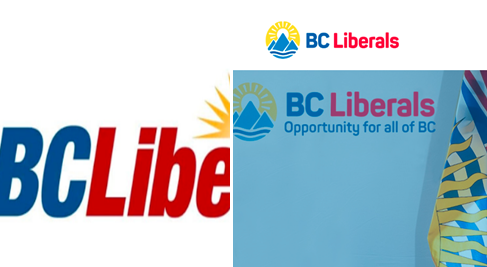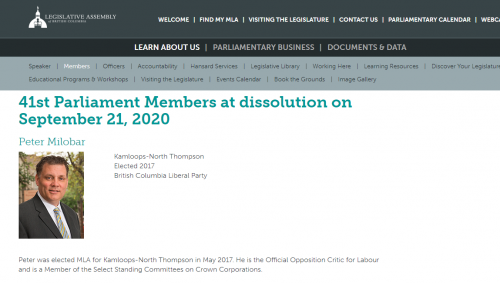 In politics, lobbying and money make the world go round. Consider a recent talk with a B.C. Liberal MLA (Member of Legislative Assembly), Peter Milobar. You would think that there'd be some real opposition to John Horgan, Adrian Dix, Mike Farnworth and Bonnie Henry. But no, this isn't the case. In fact, even referring to it as "controlled opposition" is a bit of a stretch.
In case this may just come off as having a bad day, consider what the candidates said in the October 2020 B.C. election. All parties agreed to abdicate responsibility to unelected bureaucrats. That said, trolling one of them afterwards was fun.
Milobar claims to have taken the AstraZeneca vaccine, which has now been pulled off the market. Let's see if he actually believes what he's saying. He also doesn't really object to anything.
BC Liberal Party 2020 Platform Restore Confidence Rebuild BC
B.C. held a Provincial election in October 2020. One would think that with Horgan, Henry and their cronies destroying the place, the "opposition" party would jump at the chance to fix things. Instead, their election platform goes out of its way to avoid addressing the elephant in the room. Milobar isn't alone in doing nothing for constituents. It's everyone.
It this problem deeper than what it seems?
A recent piece covered Wellington Advocacy. This is a lobbying firm that has pushed Jason Kenney and Doug Ford into keeping defective PCR rapid test kits made by Spartan Biosciences. It's worth noting that the same firm also has people connected to ex-Liberal Leader Christy Clark, and now outgoing leader Andrew Wilkinson.
According to Katy Merrifield's profile: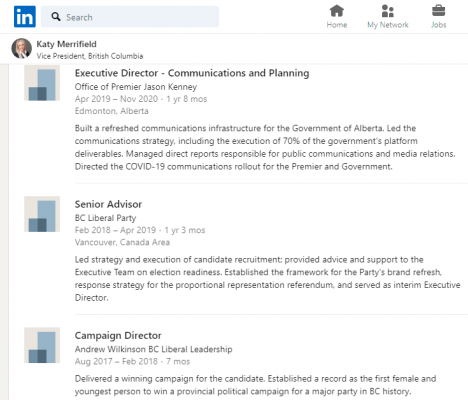 As a BC native, and having served as Executive Director of the BC Liberal Party and Director of Communications to British Columbia Premier Christy Clark, Katy has a unique understanding of the province's political, public and private sector landscapes. A seasoned expert in communications, corporate planning, campaign management and stakeholder advocacy, Katy is adept at delivering solutions with meaningful and measurable impact on public opinion. Katy has spent over a decade advising senior cabinet members and elected officials including as Chief of Staff to the Minister of Health, and the Minister of Jobs, Tourism, Skills Training and Labour in British Columbia.
According to Nick Koolsbergen's profile: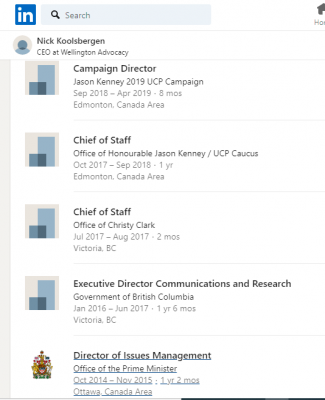 Nick spent the last two years serving as Alberta Premier Jason Kenney's Chief of Staff and Campaign Director. Prior to that Nick, served as former BC Premier Christy Clark's Chief of Staff, as Director of Issues Management to former Prime Minister Stephen Harper, and as a senior advisor to numerous federal Cabinet Ministers.
According to Peter Csillag's profile: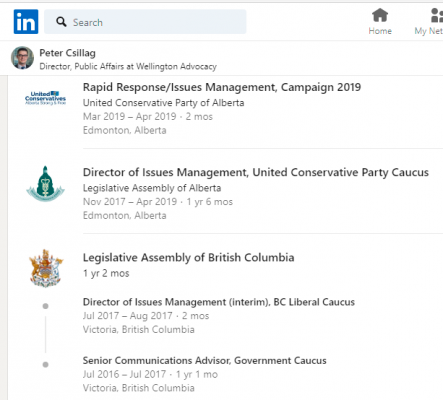 Peter joins after nearly ten years advising elected officials and candidates at the provincial and federal levels, and advising companies and non-profits in the private sector. He served as a senior advisor to Jason Kenney and Alberta's United Conservative caucus and to former BC Premier Christy Clark and caucus. In Ottawa, he worked for then-Minister Jason Kenney in three major federal departments. Most recently, he worked as a director for a national strategic communications firm.
At least 3 members of Wellington Advocacy (which is lobbying for Spartan rapid test kits) were part of the Government of then B.C. Premier, Christy Clark. True, Clark lost power — and her own seat — in July 2017, but she held tremendous influence over the party. And Wilkinson just resigned as leader. This is, of course, just one group that lobbies for money and influence.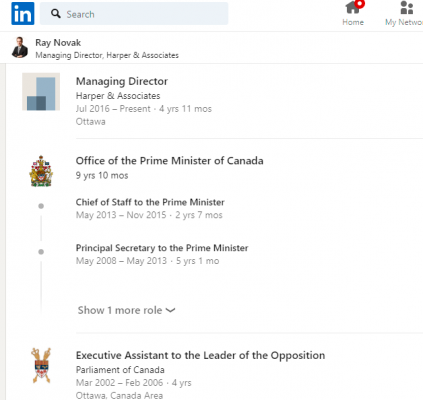 On a related note: Ray Novak is also part of the firm. He was involved with Harper's Government, is employed with the firm Harper & Associates, and is a Member of the International Democratic Union, which Harper chairs.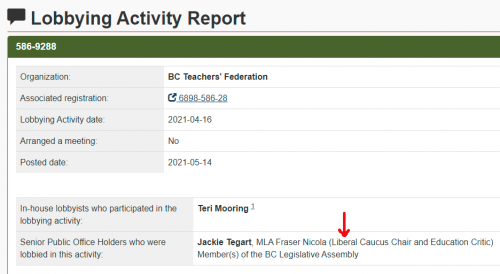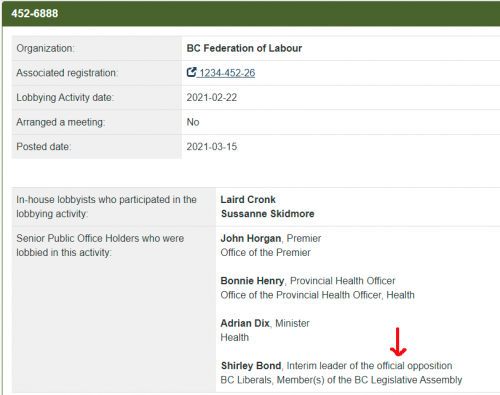 K-12 restart planning relative to COVID (restart plan, Personal protection equipment, privacy and the use of digital platforms, Foundational Skills Assessments (FSAs), social distancing and class size, ministry guidelines, remote learning options, health and safety standards/guidelines, consistent reporting
The B.C. Teachers Federation has been lobbying the "opposition" Liberals for a number of things, including shutting down schools in favour of remote learning, and forcing masks on very young students. And by young, many want them imposed on kindergarten students.
The B.C. Labour Federation is also pushing the Liberals for a number of things, such as more handouts. They also demand more protections for illegal aliens (who they disingenuously call "undocumented workers"), more green jobs, and pay equity, which sounds sort of communist.
The BC Government and Service Employees' Union (BCGEU), has also been pushing all parties for a number of benefits, or "pandemic bucks", but has also demanded that masks be made mandatory in all Government buildings. Public unions are very powerful, so it would be difficult to say no.
Drug companies like GlaoSmithKline, Innovative Medicines Canada, Merck and Pfizer have all been lobbying B.C. in recent months. Of course, they would never unduly influence politicians. Except for cases like Jean-Marc Prevost.
The above groups aren't the only ones trying to influence the B.C. Liberals. These are just a few for which there are actual records. It would be interesting to find out what isn't documented.
It isn't just one useless MLA like Milobar refusing to do anything. The entire Liberal Party has no real interest in stopping the medical tyranny imposed by Bonnie Henry, and the Horgan Government. They don't even pretend to be against it, but avoid the subject altogether.
Nor is their interest in Henry's flip-flop from when she was an expert witness in the Sault Area Hospital arbitration. She testified that neither masks nor vaccines do much against influenza. Considering Henry was picked by a Liberal Government, they seem particularly indifferent about challenging her.
Press Progress also put out an interesting piece on lobbying in Alberta. It's well worth a read.
(1) https://canucklaw.ca/cv-28-the-b-c-election-just-an-illusion-of-choice-all-parties-compromised/
(2) https://canucklaw.ca/handlers-for-lpc-ford-kenney-push-and-fail-to-continue-faulty-rapid-test-device/
(3) https://www.bcliberals.com/wp-content/uploads/2020/09/BC-Liberal-Party-2020-Platform-Restore-Confidence-Rebuild-BC.pdf
(4) https://www.wellingtonadvocacy.com/who-we-are
(5) https://www.linkedin.com/in/katy-merrifield-1a741055/
(6) https://archive.is/2C2Xr
(7) https://www.linkedin.com/in/nickkoolsbergen/
(8) https://archive.is/NRcE8
(9) https://www.linkedin.com/in/petercsillag/
(10) https://archive.is/iY8A5
(11) https://www.linkedin.com/in/ray-novak-289496128/
(12) https://archive.is/bVl6x
(13) https://en.wikipedia.org/wiki/Christy_Clark
(14) https://www.lobbyistsregistrar.bc.ca/app/secure/orl/lrs/do/guest
(15) https://www.lobbyistsregistrar.bc.ca/app/secure/orl/lrs/do/cmmLgPblcVw?comlogId=9288
(16) https://archive.is/mLLad
(17) https://www.lobbyistsregistrar.bc.ca/app/secure/orl/lrs/do/cmmLgPblcVw?comlogId=5434
(18) https://bctf.ca/NewsReleases.aspx?id=60409
(19) https://www.lobbyistsregistrar.bc.ca/app/secure/orl/lrs/do/cmmLgPblcVw?comlogId=6888
(20) https://www.lobbyistsregistrar.bc.ca/app/secure/orl/lrs/do/vwRg?cno=463&regId=56555680
(21) https://www.canlii.org/en/on/onla/doc/2015/2015canlii62106/2015canlii62106.html
(22) https://pressprogress.ca/lobbyists-with-ties-to-jason-kenneys-ucp-are-helping-private-health-companies-lobby-albertas-ministry-of-health/