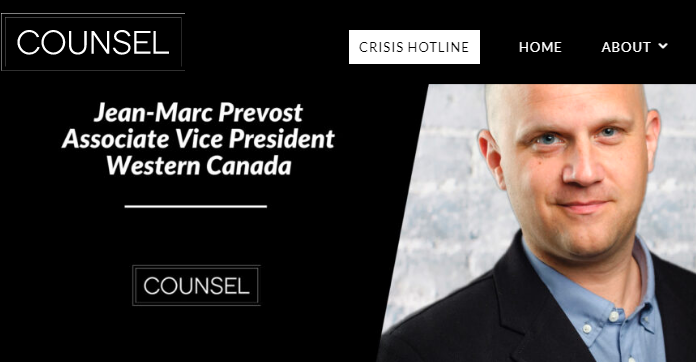 >
One would think that leaving the Ministry of Health, join a lobbying firm, and then lobby said Ministry would be a serious problem. However, that appears to be what has happened in B.C.
A disclaimer: the connection between Jean-Marc Prevost, Bonnie Henry, and Counsel Public Affairs was reported on by The Breaker. Go check out that article as well. While there is considerable overlap, this will not be a complete rehash, and will focus more on the source material involved. The Breaker also covered the hiring of a spin-doctor for Henry.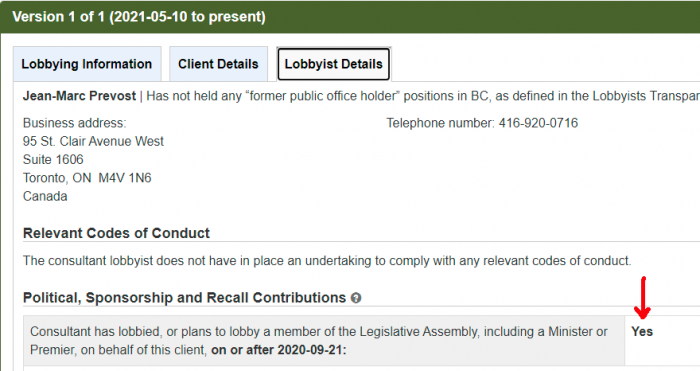 On May 10, 2021, Prevost became a registered lobbyist in B.C. on behalf of Emergent BioSolutions Canada Inc. (formerly Adapt Pharma Canada Ltd.) He's working for the firm Counsel Public Affairs, and is now planning to lobby the B.C. Government on behalf of AstraZeneca and Johnson & Johnson, which are mass producing vaccines to sell across the globe.
British Columbia Real Estate Association
Emergent BioSolutions Canada Inc.
Encorp Pacific (Canada)
Hello Fresh Canada Inc.
Insurance Council of British Columbia
North York Rehabilitation Centre Corp.
Toyota Canada Inc.
In the last week, Prevost has officially become registered as a lobbyist for 7 companies. He will be quite busy as a paid mouthpiece for the foreseeable future.
Prior to joining Counsel, Jean-Marc led B.C. Health's communications team. From the first confirmed COVID-19 case to the first vaccine shot, he supported Health Minister Adrian Dix and Provincial Health Officer Dr. Bonnie Henry on their globally-recognized pandemic response. Dr. Henry acknowledged his contributions and "powerful ways with words," in her book, Be Kind, Be Calm, Be Safe.
.
Jean-Marc held communications positions in economic, energy and justice ministries in the Government of Alberta under Premier Rachel Notley, including leading multi-department implementation of a province-wide coal phase-out. He also worked with economic development leaders to plan digital arts, health innovation, venture capital and market diversification initiatives for small and medium-sized businesses.
.
He held central roles in the Manitoba government under Premiers Gary Doer and Greg Selinger – including leading communications for two record floods and for Canada's delegation to the United Nations Permanent Forum on Indigenous Issues.
.
Jean-Marc has also travelled to many First Nations across the prairies, working with Indigenous organizations to develop public and private partnerships that support indigenous environmental, education, training, employment and housing initiatives.
.
Jean-Marc started his career as a journalist with CTV Winnipeg.
Prevost has spent considerable time with BCPHO Bonnie Henry, and B.C. Health Minister Adrian Dix. In fact, it was so much time that Bonnie acknowledged him in her book (which was written while working for the public). Additionally, he has worked in Government both in Alberta and Manitoba. Also, his time with the Bell-owned CTV gives him considerable clout into the Canadian media landscape.
Will any of this matter? In the media, probably not. After all, Bonnie Henry repeatedly makes comments about there being no real science behind the health measures she imposes. She never gets called out on any of it though. This will probably be more of the same.
The plot thickens. Another prominent lobbyist for Emergent BioSolutions is Brad Lavigne, a long time political operative, both in B.C., and Federally. Some information on him: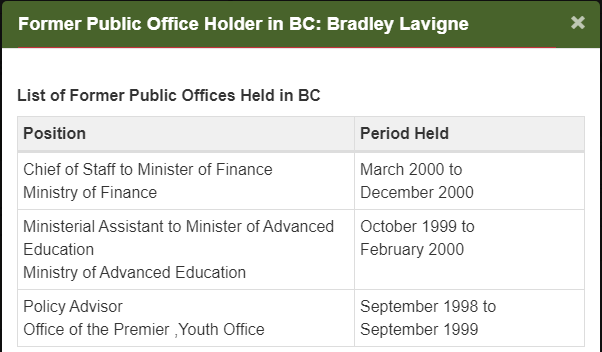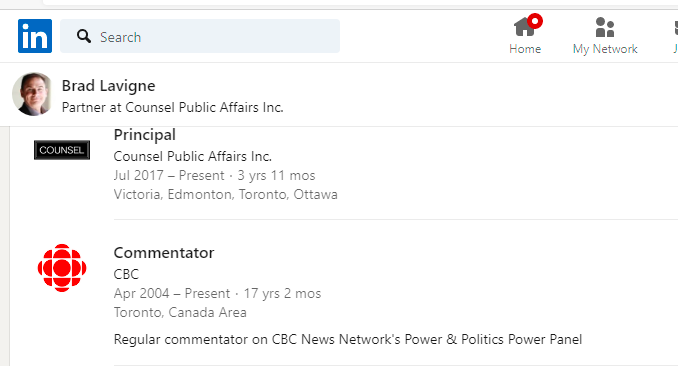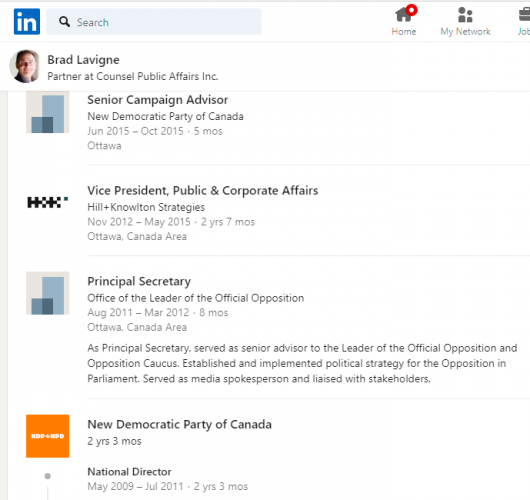 Prior to Prevost taking charge, Emergent BioSolutions was represented by Brad Lavigne, a longtime NDP political operative. He has also been a regular on CBC for some 17 years, which makes him just another political mouthpiece.
In March, despite various new restictions in the Province of B.C., wineries were still allowed to remain open for tasting. That seemed to be an odd exemption, as this isn't exactly "essential". Of course, things start to make sense once it's mentioned that Bonnie Henry co-owns a winery in Keremeos. Can't let a public health crisis get in the way of business.
In April, Health Canada announced that Emergent BioSolutions manufacturing facility in Baltimore, Maryland has been flagged by the U.S. Food & Drug Administration for serious quality issues, but claimed that there was nothing for Canadians to worry about.
Of course, the pharma lobbying is not restricted to B.C. It goes on elsewhere as well.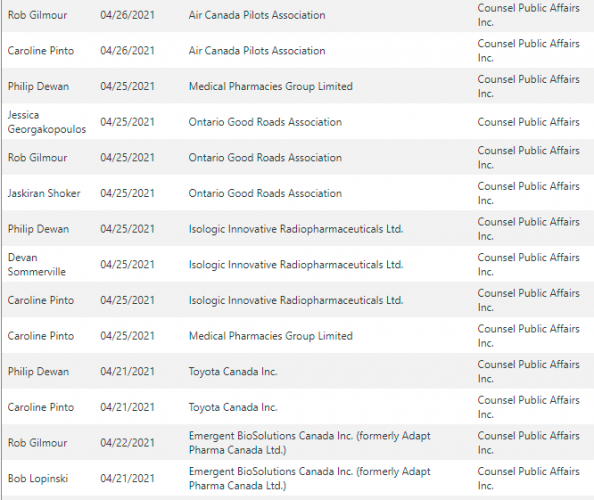 As an aside, Counsel Public Affairs operates throughout Canada, and most of its staff are based in Ontario. They are lobbying the Ford Government on behalf of several pharmaceutical companies, including GSK (GlaxoSmithKline) and Emergent Biosolutions. No wonder he and Christine Elliott are so vaxx happy. In fact, the Counsel Public Affairs firm seems to have connections throughout Ontario politics, and it spans different parties.

Nose spray anyone? Counsel Public Affairs is also trying to get a nasal spray sold in Canada on behalf of their client as well.
Of course, this isn't everything that is going on. However, it's another example of politicians and lobbyists being too close for it to be in the public interest. Anyhow, after reading this, go check the work from The Breaker.
(1) https://thebreaker.news/business/henry-wordsmith-lobbyist/
(2) https://thebreaker.news/business/bonnie-henry-spin-doctor/
(3) https://counselpa.com/insight/counsel-public-affairs-adds-experienced-government-communications-specialist-to-western-team/
(4) https://counselpa.com/team/brad-lavigne/
(5) https://www.linkedin.com/in/brad-lavigne-a0927a39/
(6) https://www.lobbyistsregistrar.bc.ca/
(7) https://www.lobbyistsregistrar.bc.ca/app/secure/orl/lrs/do/vwRg?cno=4186&regId=56559213
(8) https://www.lobbyistsregistrar.bc.ca/app/secure/orl/lrs/do/advSrch?V_SEARCH.command=navigate&time=1621194530444
(9) https://www.lobbyistsregistrar.bc.ca/app/secure/orl/lrs/do/cmmLgPblcVw?comlogId=9170
(10) https://www.linkedin.com/in/brad-lavigne-a0927a39/
(11) https://globalnews.ca/news/7732090/indoor-wine-tastings-bc-covid-restrictions/
(12) https://www.keremeosreview.com/news/similkameen-winery-co-owned-by-dr-bonnie-henry/
(13) https://www.canada.ca/en/health-canada/news/2021/04/statement-from-health-canada-on-astrazeneca-and-janssen-covid-19-vaccines-produced-at-emergent-biosolutions.html
(14) http://lobbyist.oico.on.ca/Pages/Public/PublicSearch/
(15) https://counselpa.com/team/
(16) https://lobbycanada.gc.ca/app/secure/ocl/lrs/do/advSrch
(17) https://lobbycanada.gc.ca/app/secure/ocl/lrs/do/vwRg?cno=365677&regId=905980