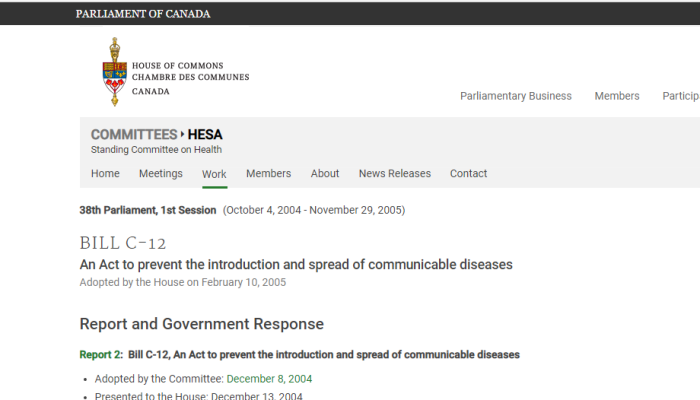 1. Other Articles On CV "Planned-emic"
The rest of the series is here. Many lies, lobbying, conflicts of interest, and various globalist agendas operating behind the scenes. The Gates Foundation finances many things, including, the World Health Organization, the Center for Disease Control, GAVI, ID2020, John Hopkins University, Imperial College London, the Pirbright Institute, the British Broadcasting Corporation, and individual pharmaceutical companies. Worth mentioning: there is little to no science behind what our officials are doing; they promote degenerate behaviour; the Australian Department of Health admits the PCR tests don't work; the US CDC admits testing is heavily flawed; and The International Health Regulations are legally binding. See here, and here.
2. Parliamentary Hearing Transcripts
CLICK HERE, for HESA, Bill C-12, 38th Parliament.
CLICK HERE, for HESA's report back to Parliament.
Canada Quarantine Act Oct 28 Hearing
Canada Quarantine Act Nov 4 Hearing
Canada Quarantine Act Nov 18 Hearing
Canada Quarantine Act Nov 23 Hearing
Canada Quarantine Act Nov 25 Hearing
Canada Quarantine Act Dec 7 First Hearing
Canada Quarantine Act Dec 7 Second Hearing
Canada Quarantine Act Dec 8 Hearing
WHO Constitution Full Document
ihr.2005.areas.for.implementation
3. Quotes From November 4, 2004 Hearing
(11:35)
Dr. Paul Gully: During an outbreak we certainly would communicate with the countries involved. During SARS we had close collaboration with the United States, the United Kingdom, and Australia, for example, as required, to share intelligence.
.
In terms of utilization of their legislation, such as quarantine acts, we feel that our relationship with WHO, which is closer, and also clarification of WHO's powers under the international health regulations will, I think, further ensure there is consistency in terms of response from individual member states as a result of that.
.
Does that answer your question?
.
Mr. Colin Carrie: Yes.
.
Are you aware of international standards for quarantine?
.
Dr. Paul Gully: The international health regulations would be the regulations that individual states would then use to design their quarantine acts. I don't know of any other standards out there or best practices to look at quarantine acts, but the IHRs really have been used over the years as the starting point.
.
Now, with the improvement of the international health regulations, maybe, as is the case in Canada, changes will occur to quarantine acts in other countries in order to better comply with the international health regulations.
(11:55)
Mrs. Carol Skelton: When did these consultations begin, and how long do you expect they will go on?
.
Dr. Paul Gully: We had a meeting in September with the provinces and territories in Edmonton about the Quarantine Act as it stood at that time. We got input. We're having another teleconference with the Council of Chief Medical Officers next week to talk about a number of issues that were raised and to further clarify what they would like to see as changes to the bill as it stands at the present time.
.
Mrs. Carol Skelton: Why did Health Canada proceed with a separate Quarantine Act at this time?
.
Dr. Paul Gully: Those of us who administered the Quarantine Act over the years always knew there were deficiencies in the old act, and because it was rarely used there wasn't the inclination to update it. As a result of SARS and utilization of the act, which certainly put it under close scrutiny, and the requirement for the Government of Canada to respond to the various reports on SARS, it was felt that updating the act sooner rather than later was appropriate.
.
In addition, during discussions about the international health regulations of the World Health Organization, it was felt that it was appropriate to do it and to spend time and energy, which it obviously does require, to do it now, before other parts of legislative renewal, of which Mr. Simard is well aware, were further implemented or further discussion was carried out.
(12:05)
Ms. Ruby Dhalla: I have one question. In terms of the Quarantine Act for our country, where are we at in terms of best practices models when we look at the international spectrum?
.
Dr. Paul Gully: I don't know the acts in other countries, but because we are updating our act right now and we're taking into account the probable revisions to the international health regulations, I believe we would be well in the forefront in terms of having modern legislation.
Canada Quarantine Act Nov 4 Hearing
Of course, the other transcripts are worth a read, but this one explicitly states that the 2005 Quarantine Act was drafted in order to comply with International Health Regulations.
Bill C-12, the 2005 Quarantine Act, was written in anticipation of changes to the International Health Regulations that the World Health Organization would make. Let's take a look.
4. Quarantine Facilities Discussed Dec 7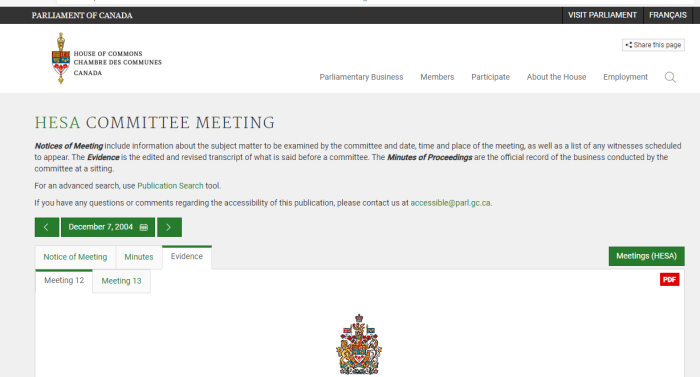 Mr. Réal Ménard: However, Mr. Thibault, you cannot behave as though this were a war measures act. You cannot take over a facility without the province giving it consent in some fashion.
.
You acknowledge that the bill says that the minister can establish quarantine stations throughout Canada. So that could be done in areas that come under provincial jurisdiction.
.
Hon. Robert Thibault: The bill will apply to people coming into the country and people leaving the country.
.
Mr. Réal Ménard: Or who are in the country.
.
Hon. Robert Thibault: When they are in the country, they will be covered by provincial legislation. If people attending a conference in Montreal become ill, this is the responsibility of the Quebec government. The Quebec Quarantine Act would apply. The bill before us will apply only when these individuals seek to leave Canada. The expert could give us more details on this matter.
.
Mr. Réal Ménard: Yes, I would appreciate that.
.
Dr. Jean-Pierre Legault: There seems to be some confusion between a quarantine station and a quarantine facility.
.
A quarantine station is a permanent infrastructure. It is somewhat like the customs stations in airports and ports, at entry and exit points. In order to manage the program, we must locate our permanent infrastructures in the highest risk areas and manage a national program. Normally, that is done on a federal lands or at federal entry points.
.
Quarantine facilities are established when the permanent infrastructure is inadequate to meet the demand. This could be done in isolated cases. Let us say, for example, that a traveller is very ill. We must remember that the role of quarantine is to identify, intercept and take the person to the hospital according to isolation procedures. This is one of the roles of the front line authority. The federal government does not have the infrastructure required to hospitalize people.
.
Quarantining people means putting them into medical isolation in order to protect the public. Clearly, we will be working in cooperation with the provincial authorities and with the hospitals. When we bring them a sick person, the room this person goes to will become a temporary facility, while the person is there. We have to be able to act quickly. We can talk about cost recovery and all those other things later, but we have to put these people somewhere.
.
In the case of much larger groups, we have to be able to mobilize quite quickly in order to respond. If we are talking about managing a crisis involving 1,000 people, for example, we have to be able to act very quickly. Negotiations are a problem at such a time.
.
Mr. Réal Ménard: However, your officials did make a distinction. First of all, we heard from witnesses. Representatives from national carriers came in and told us that there should be permanent quarantine stations in the eight largest airports.
.
Our concern has to do with the fact that temporary quarantine stations maybe established anywhere in the country. Obviously, we understand that we are talking about people in transit, who are entering or leaving Canada. We intercept them when they are on Canadian soil. As clause 8 states, the quarantine facility can be located anywhere in the country. As a result, it is not out of the question that there may be cases where the cooperation of provincial health authorities is required. However, according to the bill in its present form, the minister could establish a temporary quarantine facility in a place that comes under provincial jurisdiction without obtaining the province's approval.
Mass quarantine stations were discussed even back in 2004. Remember, WHO's International Health Regulations are legally binding, and were the basis for Bill C-12.
5. WHO's Constitution Gives Binding Authority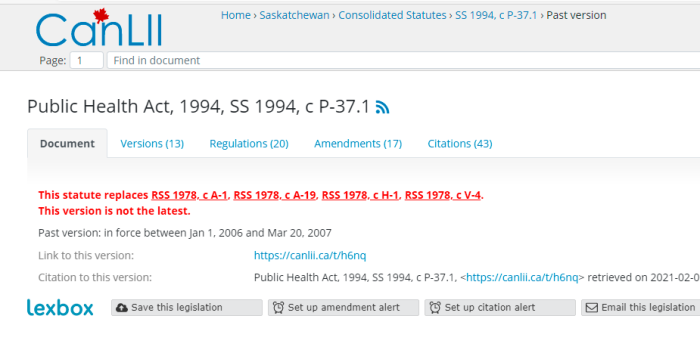 Article 21
The Health Assembly shall have authority to adopt regulations concerning:
(a) sanitary and quarantine requirements and other procedures designed to prevent the international spread of disease;
(b) nomenclatures with respect to diseases, causes of death and public health practices;
(c) standards with respect to diagnostic procedures for international use;
(d) standards with respect to the safety, purity and potency of biological, pharmaceutical and similar products moving in international commerce;
(e) advertising and labelling of biological, pharmaceutical and similar products moving in international commerce.
Article 22
Regulations adopted pursuant to Article 21 shall come into force for all Members after due notice has been given of their adoption by the Health Assembly except for such Members as may notify the Director-General of rejection or reservations within the period stated in the notice.
Articles 21 and 22 of the World Health Organization Constitution make it pretty clear that they will have power to adopt measures over member states. And those areas specify quarantines.
6. Int'l Health Regulations Legally Binding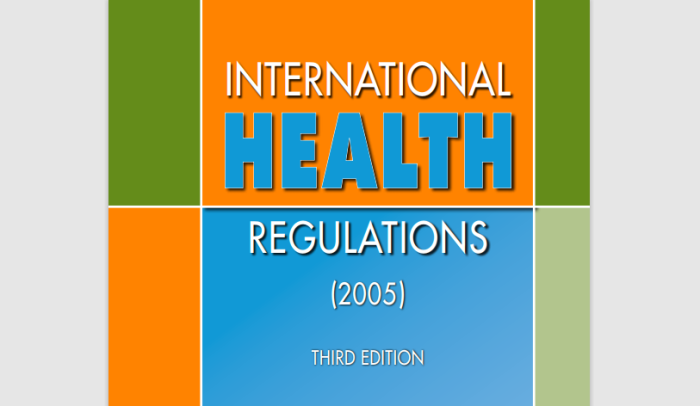 Article 3(2). The implementation of these Regulations shall be guided by the Charter of the United Nations and the Constitution of the World Health Organization.
Article 3(3). The implementation of these Regulations shall be guided by the goal of their universal application for the protection of all people of the world from the international spread of disease.
Article 3(4). States have, in accordance with the Charter of the United Nations and the principles of international law, the sovereign right to legislate and to implement legislation in pursuance of their health policies. In doing so they should uphold the purpose of these Regulations.
Article 4(1). Each State Party shall designate or establish a National IHR Focal Point and the authorities responsible within its respective jurisdiction for the implementation of health measures under these Regulations
Article 4(3). WHO shall designate IHR Contact Points, which shall be accessible at all times for communications with National IHR Focal Points. WHO IHR Contact Points shall send urgent communications concerning the implementation of these Regulations, in particular under Articles 6 to 12, to the National IHR Focal Point of the States Parties concerned. WHO IHR Contact Points may be designated by WHO at the headquarters or at the regional level of the Organization.
Article 4(4). States Parties shall provide WHO with contact details of their National IHR Focal Point and WHO shall provide States Parties with contact details of WHO IHR Contact Points. These contact details shall be continuously updated and annually confirmed. WHO shall make available to all States Parties the contact details of National IHR Focal Points it receives pursuant to this Article.
Article 12(1). The Director-General shall determine, on the basis of the information received, in particular from the State Party within whose territory an event is occurring, whether an event constitutes a public health emergency of international concern in accordance with the criteria and the procedure set out in these Regulations.
Article 18(1). Recommendations issued by WHO to States Parties with respect to persons may include the following advice:
– no specific health measures are advised;
– review travel history in affected areas;
– review proof of medical examination and any laboratory analysis;
– require medical examinations;
– review proof of vaccination or other prophylaxis;
– require vaccination or other prophylaxis;
– place suspect persons under public health observation;
– implement quarantine or other health measures for suspect persons;
– implement isolation and treatment where necessary of affected persons;
– implement tracing of contacts of suspect or affected persons;
– refuse entry of suspect and affected persons;
– refuse entry of unaffected persons to affected areas; and
– implement exit screening and/or restrictions on persons from affected areas.
Article 57(1). States Parties recognize that the IHR and other relevant international agreements should be interpreted so as to be compatible. The provisions of the IHR shall not affect the rights and obligations of any State Party deriving from other international agreements
Except as otherwise indicated, the International Health Regulations (2005) entered into force on 15 June 2007 for the following States:
Afghanistan, Albania, Algeria, Andorra, Angola, Antigua and Barbuda, Argentina, Armenia, Australia, Austria, Azerbaijan, Bahamas, Bahrain, Bangladesh, Barbados, Belarus, Belgium, Belize, Benin, Bhutan, Bolivia (Plurinational State of), Bosnia and Herzegovina, Botswana, Brazil, Brunei Darussalam, Bulgaria, Burkina Faso, Burundi, Cabo Verde, Cambodia, Cameroon, Canada, Central African Republic, Chad, Chile, China, Colombia, Comoros, Congo, Cook Islands, Costa Rica, Côte d'Ivoire, Croatia, Cuba, Cyprus, Czech Republic, Democratic People's Republic of Korea, Democratic Republic of the Congo, Denmark, Djibouti, Dominica, Dominican Republic, Ecuador, Egypt, El Salvador, Equatorial Guinea, Eritrea, Estonia, Ethiopia, Fiji, Finland, France, Gabon, Gambia, Georgia, Germany, Ghana, Greece, Grenada, Guatemala, Guinea, Guinea-Bissau, Guyana, Haiti, Holy See, Honduras, Hungary, Iceland, India (8 August 2007), Indonesia, Iran (Islamic Republic of), Iraq, Ireland, Israel, Italy, Jamaica, Japan, Jordan, Kazakhstan, Kenya, Kiribati, Kuwait, Kyrgyzstan, Lao People's Democratic Republic, Latvia, Lebanon, Lesotho, Liberia, Libya, Liechtenstein (28 March 2012), Lithuania, Luxembourg, Madagascar, Malawi, Malaysia, Maldives, Mali, Malta, Marshall Islands, Mauritania, Mauritius, Mexico, Micronesia (Federated States of), Monaco, Mongolia, Montenegro (5 February 2008), Morocco, Mozambique, Myanmar, Namibia, Nauru, Nepal, Netherlands, New Zealand, Nicaragua, Niger, Nigeria, Niue, Norway, Oman, Pakistan, Palau, Panama, Papua New Guinea, Paraguay, Peru, Philippines, Poland, Portugal, Qatar, Republic of Korea, Republic of Moldova, Romania, Russian Federation, Rwanda, Saint Kitts and Nevis, Saint Lucia, Saint Vincent and the Grenadines, Samoa, San Marino, Sao Tome and Principe, Saudi Arabia, Senegal, Serbia, Seychelles, Sierra Leone, Singapore, Slovakia, Slovenia, Solomon Islands, Somalia, South Africa, South Sudan (16 April 2013), Spain, Sri Lanka, Sudan, Suriname, Swaziland, Sweden, Switzerland, Syrian Arab Republic, Tajikistan, Thailand, The former Yugoslav Republic of Macedonia, Timor-Leste, Togo, Tonga, Trinidad and Tobago, Tunisia, Turkey, Turkmenistan, Tuvalu, Uganda, Ukraine, United Arab Emirates, United Kingdom of Great Britain and Northern Ireland, United Republic of Tanzania, United States of America (18 July 2007), Uruguay, Uzbekistan, Vanuatu, Venezuela (Bolivarian Republic of), Viet Nam, Yemen, Zambia, Zimbabwe
Canada is on the list of countries who joined. And the above articles are just a small sample of what has been agreed to.
7. Again, IHR Are Legally Binding On Us All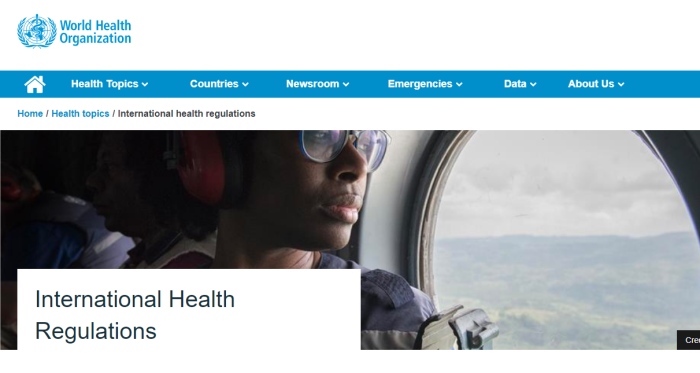 he IHR are an instrument of international law that is legally-binding on 196 countries, including the 194 WHO Member States. The IHR grew out of the response to deadly epidemics that once overran Europe. They create rights and obligations for countries, including the requirement to report public health events. The Regulations also outline the criteria to determine whether or not a particular event constitutes a "public health emergency of international concern".
Once more, the IHR are binding on all member states.
Sure, it was Ottawa that passed Bill C-12, the Quarantine Act in Canada. But the real authors were at the World Health Organization, who were drafting the latest version of the International Health Regulations.