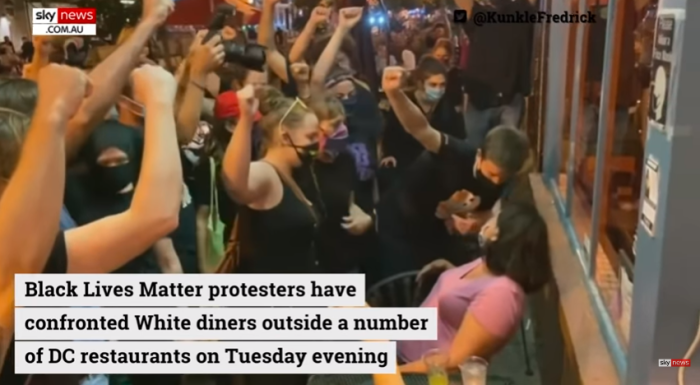 (One of the many, MANY examples of Black Lives Matter harassing innocent bystanders. This was aired by Sky New Australia — of a DC restaurant — and shown August 25)
1. Trafficking, Smuggling, Child Exploitation
Serious issues like smuggling or trafficking are routinely avoided in public discourse. Also important are the links: between open borders and human smuggling; between ideology and exploitation; between tolerance and exploitation; between abortion and organ trafficking; and between censorship and complicity. Mainstream media will also never get into the organizations who are pushing these agendas, nor the complicit politicians. These topics don't exist in isolation, and are interconnected.
Even when slavery is brought up, it is solely in the context of Whites oppressing and enslaving others. The rest of slavery's history is never discussed This would destroy the narrative that Whites owe everyone else reparations, and shatter the idea that Whites should forever feel guilt over distant ancestors.
2. Contribution By Blaise Vanne
Since whites are disproportionately incarcerated more than Asians, do Asians, many of who have been here since the 1800s, then owe whites reparations? Should Democrats, who have caused the black underclass in their leftist cities, be the ones who pay? Can we count the $15 to 22 trillion already spent in the War on Poverty towards this figure (and where we now have MORE poverty than when we started) towards reparations? Will the Learjet leftists in Hollyweird be forced to open up their zillion room mansions to house inner city blacks (think far left Tom Hanks' 14,500 sq. foot mega mansion in Pacific Hts, bought for $36mm in 2020), or will their self-serving pandering be more than enough? Will Nancy Pelosi's highly protected (by men with GUNS) mega- mansion in Pacific Hts, San Francisco take in squatters? Will you ask multimillionaire Bernie Sanders to open up one of his three houses, such as the $600k one with 500' of Lake Champlain lakefront? Reparations up to $14 trillion were suggested to Bret Baier by black zillionaire BET president Bob Johnson, but given that black Harvard prof Henry Louis Gates says 388,000 Africans landed on N. American shores, total, while in contrast Dr. Robert Davis of Ohio State says up to 1.25 million Europeans were taken as slaves by Muslims to their lands during roughly same period (3 times as many!), with their corsairs even reaching as far as Iceland, does that mean Muslims owe white Europeans $42 trillion (3x as much)? Can someone tell me where to sign up? Just asking. I could sure use the "free" dough.
Also, will white descendants of indentured servants get some reparations, or should descendants of blacks who owned other blacks as slaves owe reparations, such as Anthony Johnson (c. 1600 – 1670), a black Angolan who was one of the earlier slave owners legally recognized by the Colony of Virginia courts. Do we owe Russia money (the word "Slav" as in "Slavic language" derives from the same root as our word for slave (from late 13c., "a person who is the chattel or property of another," from Old French esclave (13c.), in turn derived from Medieval Latin Sclavus "slave" – so used in this secondary sense because of the many Slavs sold into slavery by conquering peoples.), or perhaps the Irish, for by the 1630's, Ireland was the primary source of slaves in the English slave trade. In fact, a 1637 a census showed that 69% of the total population of Montserrat were Irish slaves. Even Scientific American has questioned why the Irish surnames have such a strong presence in places such as Montserrat, Jamaica, St. Kitts, etc. Once Iceland gets paid for its citizens taken as slaves to Muslim North Africa and Turkey, does Iceland then owe Ireland money, in that perhaps half the population genetically speaking was Irish slaves, taken by Vikings? Oh yes, I forgot: Muslims also took many English as slaves, with perhaps 3 – 5,000 in Algiers alone. And of course, the Romans had almost everyone has slaves, many from Germanic tribes, so they must owe everyone?
Finally, if we are looking at systemic discrimination, any word from your founders in Black Lives Matter, Alicia Garza, Patrisse Cullors and Opal Tometi, re. their roots in the Freedom Road Socialist Organization, which is a descendant of the Maoist inspired New Communist Movement. The reason I ask is The Black Book of Communism, published by Harvard Univ. Press, says that various flavours of communism and leftism murdered around 100 million people last century. Since Antifa seems to be concerned about "oppression," they just may want to look at that.
Oh yes, I almost forgot! Could Antifa also advise why your allies in the US are now destroying statues of leading anti-slavery statues, including defacing Lincoln himself, as well as Matthias Baldwin, who fiercely fought against slavery 30 years before the Civil War (in which MILLIONS died to end slavery), John Greeleaf, a prominent Quaker pacifist/anti-abolitionist? Anyhow, I thought "Hate had no home here" – or do your friends in your Tripartite Pact have special exemptions?
Antifa… Looking forward to your answers. Or not.