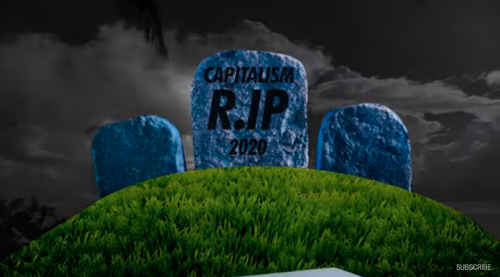 The "Great Reset" was initially dismissed as a conspiracy theory, and vehemently denied. Now, that it's out in the open, it's necessary to restructure society. Pretty opportunistic isn't it? Wasn't this all about a virus before? Or is it about implementing an agenda that couldn't be sold politically before?
Truth about politicians, CEOs, academics and activists colluding is still considered a conspiracy theory. Give it time, and the narrative will shift again. Now there will have been collusion, but it was necessary.
1. WEF Gaslighting Public On Issue Of Trust
The participants at the World Economic Forum keep talking about having to build trust between people. However, this is completely disingenuous, considering the deception and lies at the heart of the matter. Here are important topics, in no particular order.
CENTRAL BANKING
Central Banks Pushing For Digital Currency Implementation
Global Taxation Efforts And Programs Underway
1934 Bank Of Canada Act, Bank For International Settlements
Bank For International Settlements Pushing Green Bonds
Central Banks Network For Greening The Financial System
Usury Involved In Debt-For-Nature Swaps
CLIMATE CHANGE SCAM
Mark Carney, With U.N. Climate Action & Finance
Green New Deal Group Modelling After 2008 Bank Failure
Green Climate Fund, A GLOBAL Green New Deal
New Development Funds: Global Bait-And-Switch
NGOs Meddling In Carbon Tax Court Cases
Paris Accord, A Global Wealth Transfer Scheme
PHARMACEUTICAL LOBBYING
GAVI/Crestview Strategy Lobbying Ottawa
Motion M-132, Pharma Research For Canada And The World
Alberta Pharmaceutical Lobbying
Quebec Pharma Lobbying
Ontario Pharma Lobbying, Bill 160
LACK OF SCIENCE BEHIND PANDEMIC MEASURES
Pandemic Model Donors Have Conflict Of Interest
Virus Has Never Even Been Isolated
WHO Admits PCR Tests Are A Complete Fraud
WHO Admits Little Evidence Masks Work
Business Shut Downs Dependent On Corruption, Lobbying
Ottawa Lies About 2m "Social Distancing"
No Scientific Basis For Limiting Group Sizes
People Recover En Masse Without Vaccines
CENSORSHIP MEASURES
Social Media Collusion On "Pandemic" Narrative
Collusion To Promote Pro-Vaxx Narrative
Proposal To Introduce Laws Against "Misinformation"
Canadian Media Subsidized By Taxpayers, Biased
Fact-Checking Organizations Run By Political Operatives
Speakers at Davos complain that there is far too little trust between people and their leaders. Perhaps addressing some of these issues openly and honestly would help alleviate that. Or how about addressing the next one?
2. Aleksandr Lukashenko Alleges IMF Bribe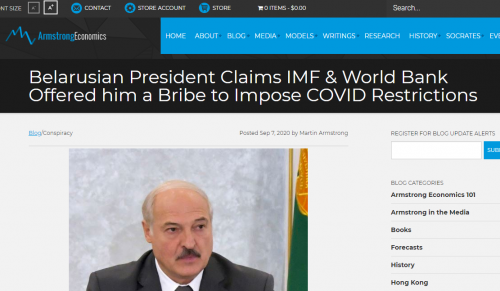 Belarus President Aleksandr Lukashenko publicly accused the World Bank and IMF (International Monetary Fund), of offering a bribe of almost $1 billion U.S. Dollars if he would crash the economy, and impose masks and lockdowns nationwide. Is any of this true?
Before any real trust can be established, honesty is necessary. Is Lukashenko lying, or did the IMF and World Bank manufacture this collapse?
3. Rise Of The Trust Brokers (3rd Parties)
Supposedly, it's now too difficult and complex for people to manage their own personal data. Hiring 3rd parties to do thinking and decision making may be a better option. Alternatively, an automated system, or artificial intelligence can be put in control instead.
Who's going to ensure that these 3rd parties are who they claim, and will honour personal information? How will that work with some sort of AI system? Too many questions need answering.
4. Stake Holder Capitalism New Way Of Life
The video is too large to upload here. "Stakeholder Capitalism" is what they want to replace "Shareholder Capitalism", which is property rights. In short, this agenda is to water down (if not abolish altogether), private property. It's Communism by any other name.
Don't worry. You'll own nothing, have no privacy, and your life will never be better. That predictive programming video came out a few years ago.
That being said, some valid points are made, such as corruption, debt and currency. However, it's never pointed out that central banking (aided by corrupt politicians), enables such debt slavery. A country's currency should never be held hostage to foreign private interests.
5. Advancing A New Social Contract
A "Social Contract" is often referred to as agreements within societies. This can refer to the expectation that Governments will provide certain protections and benefits, and citizens will behave in certain ways. Considering the underlying dishonesty of Officials in this "pandemic", how can they be trusted now?
Historical reference. A social contract is also a reference to then-Ontario Premier Bob Rae imposing certain cuts in the public sector, in order to avoid job losses.
6. Tackling The Inequality Virus
The Covid-19 "pandemic" has also provided to allow a wealth redistribution to take place. Under the guise of fighting racial and gender inequality, these people want to forcibly make things more equal. They quite openly talk about reshaping society.
Also, apparently the virus is racist, since it isn't killing off whites nearly to the same degree as blacks. Go figure. Perhaps it's not nearly as deadly when there is equality in society.
7. UN's Guterres: Pandemic A "Dress Rehearsal"
This "pandemic" is a dress rehearsal for other challenges coming. Antonio Guterres seems almost giddy that this has provided political cover to implement an agenda which could never have been achieved otherwise. If this wasn't planned out, then it is crass opportunism.
He also says that he plans to vaccinate everyone, saying it's the key to reopening society.
Interestingly, he also talks about virus mutations, which would render any existing vaccines completely worthless. Considering that WHO recommends AGAINST virus isolation, how would one know they were vaccinating against the correct strain?
Guterres also talks about debt relief, but deliberately omits that most countries participate in private central banking (aided by corrupt politicians). This, above all else, leads to the endless debt slavery that all pay for. Interesting that he talks about environmentally "borrowing" from children and grandchildren, but he leaves out how central banks do much the same thing.
8. Central Banking Is Predatory Lending
Governments and central banks have injected $11 trillion into the global economy, slashed interest rates and purchased large-scale assets to prevent financial collapse due to COVID-19. What monetary and fiscal stabilization policies that have emerged during the crisis should be sustained and scaled up, and how should competition policy be designed in an era of increasing concentration?
.
Speakers: Raghuram G. Rajan, Geoff Cutmore, Alex Cobham, Rain Newton-Smith
.
The World Economic Forum is the International Organization for Public-Private Cooperation. The Forum engages the foremost political, business, cultural and other leaders of society to shape global, regional and industry agendas. We believe that progress happens by bringing together people from all walks of life who have the drive and the influence to make positive change.
The description on the video is misleading. Most countries operate private central banks, which means they are forced to borrow — at interest — in order to fund their needs. $11 trillion was generated out of nothing, but now it's considered debt. As a consequence, "assets" can now be bought off with artificially created wealth.
They float a solution — allowing borrowing at low rates — but it doesn't address the corrupt system itself. This is not surprising at this point. Politicians and media talking heads frequently address a symptom (the debt), but never the disease (the monetary system). This is intentional.
9. Bonnie Henry: Not Based On Science
A rare moment of honesty from BC Provincial Health Officer Bonnie Henry. Despite a Province-wide ban on gatherings, she admits that none of this is based on science. There's just vague references to models, a tacit admission that models are not proof or science. Also see TCN TV Network, for more information.
10. Other Articles On CV "Planned-emic"
The rest of the series is here. Many lies, lobbying, conflicts of interest, and various globalist agendas operating behind the scenes, obscuring the vile agenda called the GREAT RESET. The Gates Foundation finances: the WHO, the US CDC, GAVI, ID2020, John Hopkins University, Imperial College London, the Pirbright Institute, the BBC, and individual pharmaceutical companies. The International Health Regulations are legally binding. The media is paid off. The virus was never isolated, PCR tests are a fraud, as are forced masks, social bubbles, and 2m distancing.