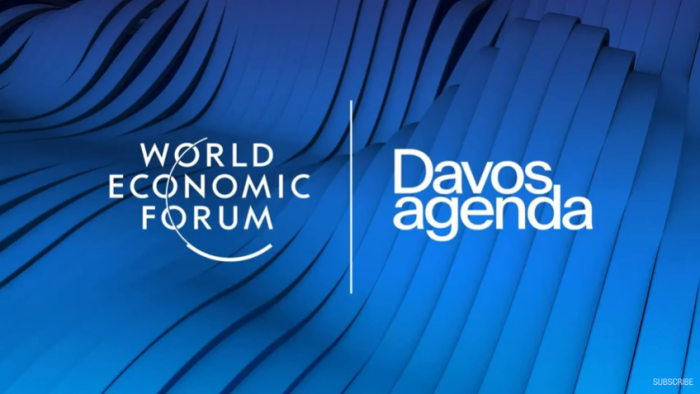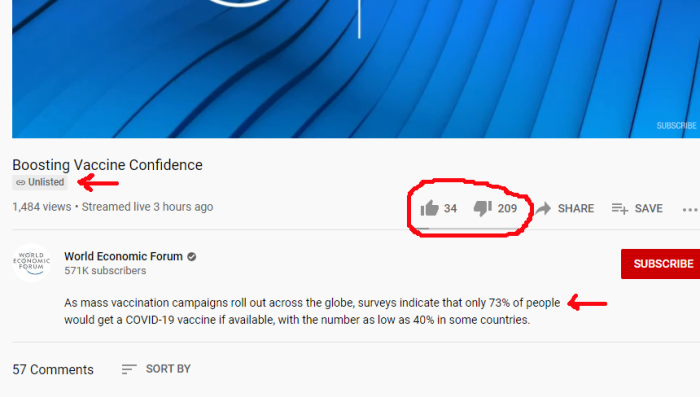 It's interesting the claim that 73% of people globally support getting the vaccine, while this video is ratioed pretty hard. Small sample size, but still. And if everyone is proud of the work they do, why exactly is the video unlisted?
1. Other Articles On CV "Planned-emic"
The rest of the series is here. Many lies, lobbying, conflicts of interest, and various globalist agendas operating behind the scenes, obscuring the vile agenda called the GREAT RESET. The Gates Foundation finances: the WHO, the US CDC, GAVI, ID2020, John Hopkins University, Imperial College London, the Pirbright Institute, the BBC, and individual pharmaceutical companies. The International Health Regulations are legally binding. The media is paid off. The virus was never isolated, PCR tests are a fraud, as are forced masks, social bubbles, and 2m distancing.
2. Important Links
YouTube Webinar On Increasing Vaccine Confidence
IRS Charity Tax Records Search
Bill & Melinda Gates Foundation
Heidi Larson's LinkedIn Page
Vaccine Confidence Project Leadership
Imperial College London And Their Gates Funding
Vaccine Impact Modelling Consortium, Gates FinancingVaccine Confidence Project Twitter Account
Ben Page's LinkedIn Page
Tan Chuan's Profile Page For Yale
Mustafa Alrawi's LinkedIn Page
3. WEF Talk On Increasing Vaccine Confidence
This 1/2 hour talk was filled with lots of important information. Let's pull some of the main points out.
To address the elephant in the room: at no point does this panel address vaccine safety, or ways to make them more safe. Instead, it's all about PERSUADING people that they already are safe. A huge difference.
Heidi Larson works for both the Vaccine Confidence Project, and the London School for Hygiene & Tropical Medicine. Those organizations have ties to big pharma, including the Bill & Melinda Gates Foundation.
Larson openly admits that she works with Facebook, monitoring what she calls "misinformation". She encourages social media companies to delete certain topics under the guise of "safety".
Providing information no longer enough. In order to convince people, "telling stories" may be seen as a more effective technique to pitch the vaccines.
The best time to "build trust" is supposedly in between pandemics. Does this imply that more are to come?
People who question the official narrative are conspiracy theorists, pushing deliberate and harmful misinformation.
What matters is having a consistent message.
Trust is important, insofar as it enables one to proceed with their agenda without hurdles. It must be maintained, not for altruistic reasons, but to make future acts easier to sell.
4. Gates Foundation Tax Returns
Link to search IRS charity tax records:
https://apps.irs.gov/app/eos/
Let's clarify here: there are actually 2 separate entities. The Foundation is the group that distributes money to various organizations and institutions. The Foundation Trust, however, is concerned primarily about asset management.
BILL & MELINDA GATES FOUNDATION
EIN: 56-2618866
gates.foundation.taxes.2016
gates.foundation.taxes.2017
gates.foundation.taxes.2018
BILL & MELINDA GATES FOUNDATION TRUST
EIN: 91-1663695
gates.foundation.trust.taxes.2018
Is it unfair to vilify the Bill & Melinda Gates Foundation for their role in advancing the big pharma agenda and mass vaccinations? Not really, once one looks at the actual money involved.
5. Heidi Larson: LSHTM & VCP Operative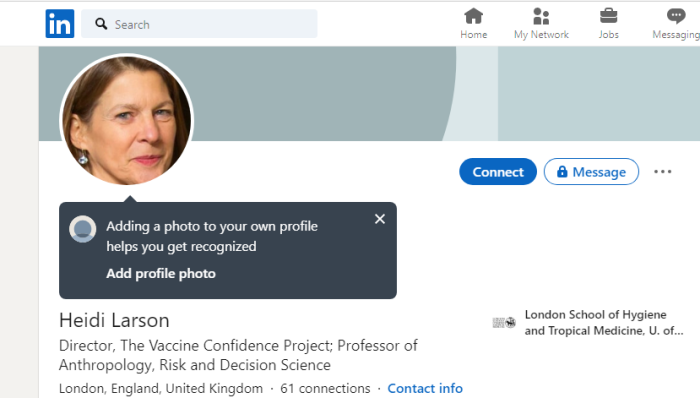 Heidi Larson, who appeared on this talk, is both a Professor at the London School of Hygiene & Tropical Medicine, and the Director of the Vaccine Confidence Project.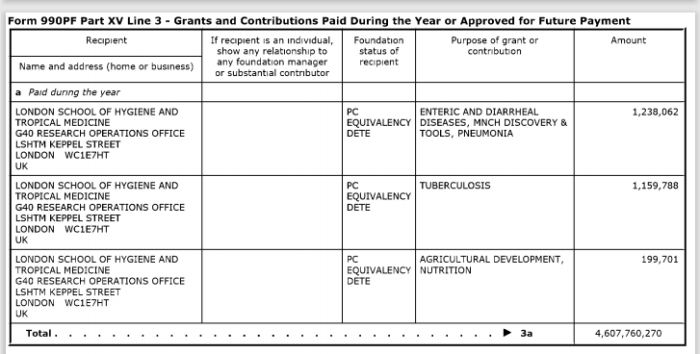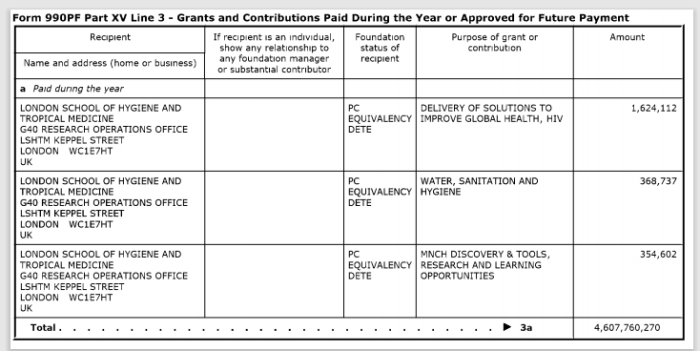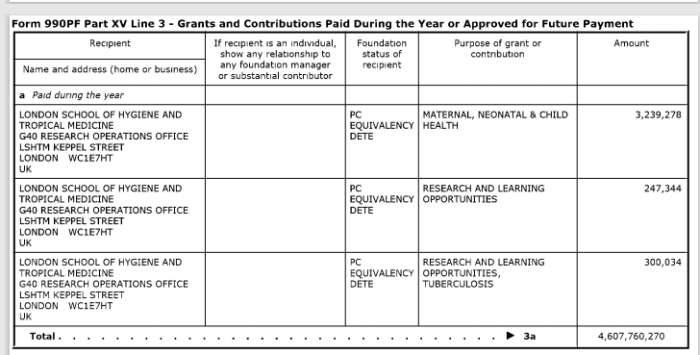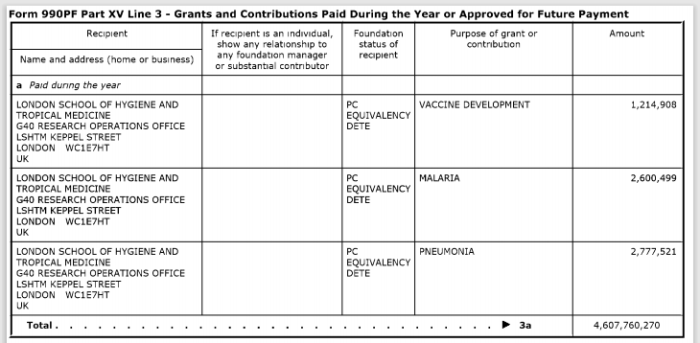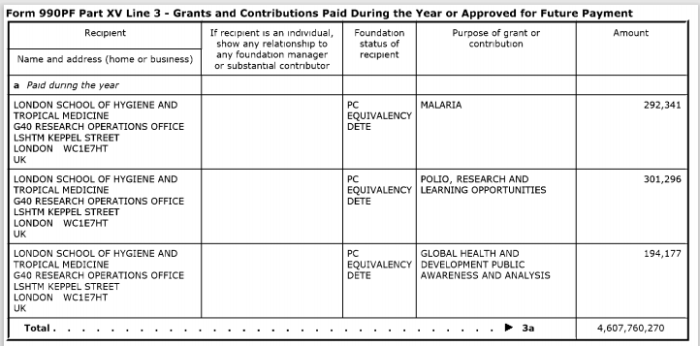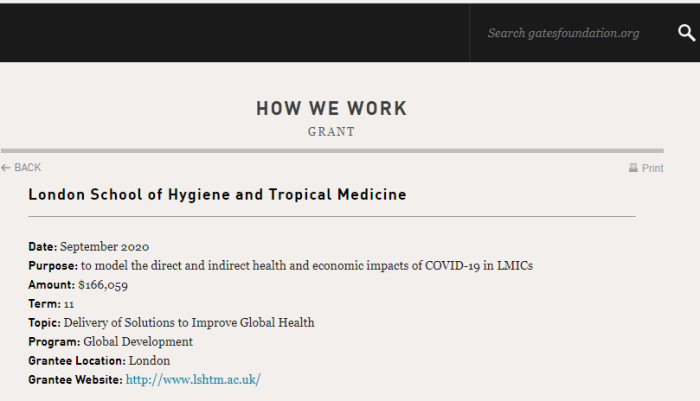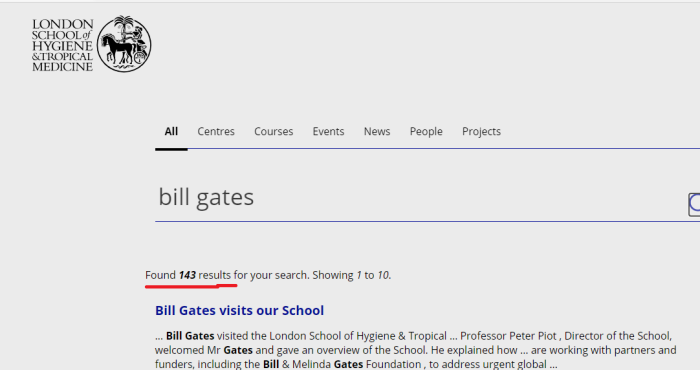 The London School of Hygiene & Tropical Medicine has long been a recipient of big money from Gates. Of course, this also applies to Imperial College London, and to VIMC, Vaccine Impact Modelling Consortium.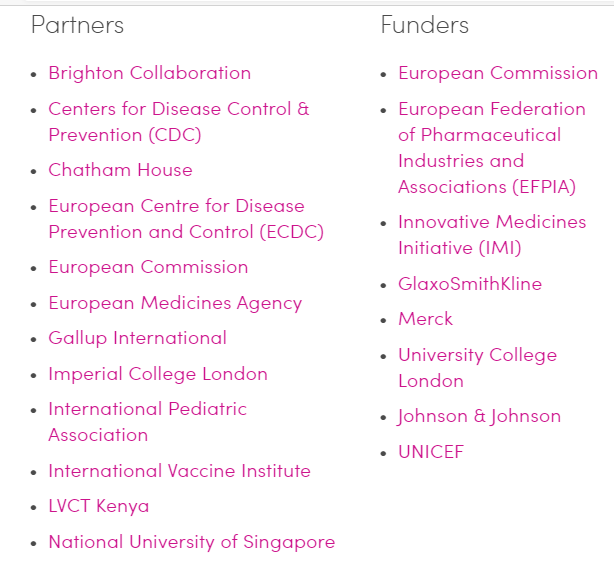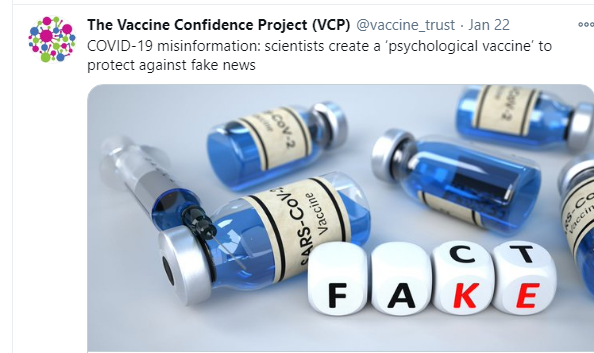 Funders of Vaccine Confidence Project
European Commission
European Federation of Pharmaceutical Industries and Associations (EFPIA)
Innovative Medicines Initiative (IMI)
GlaxoSmithKline
Johnson & Johnson
Merck
UNICEF
University College London
Partners of the Vaccine Confidence Project
Brighton Collaboration
Centers for Disease Control & Prevention (CDC)
Chatham House
European Centre for Disease Prevention and Control (ECDC)
European Commission
European Medicines Agency
Facebook
Gallup International
Imperial College London
International Pediatric Association
International Vaccine Institute
LVCT Kenya
National University of Singapore
ProMED
Public Health England (PHE)
Public Health Foundation of India
Sabin Vaccine Institute
World Health Organization (WHO)
Do any of the these partners and funders for the Vaccine Confidence Project looks familiar? Many of the names should set off alarms. While the Bill & Melinda Gates Foundation isn't specifically listed, many of the partners are funded by Gates.
Is there any separation between Vaccine Confidence Project and London School of Hygiene & Tropical Medicine? Aside from overlap in donors, they have many of the same people
Prof. Heidi Larson
Dr. Pauline Paterson
Valerie Heywood
Emilie Karafillakis
Fiona Sun
Kristen de Graaf
Simon Piatek
Dr. Leesa Lin
Gillian McKay
Penda Johm
Caroline Marshall
Two separate organizations, but many of the same personnel, donors and partners. And they serve to advance the same goals.
6. Ben Page, Chief Executive Ipsos MORI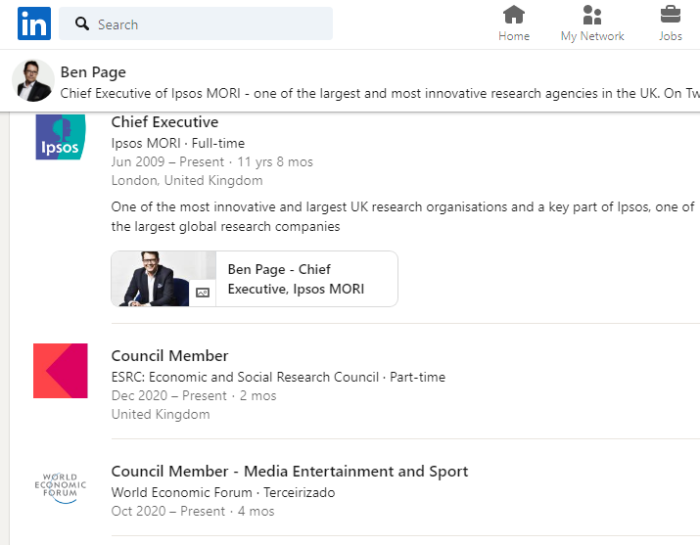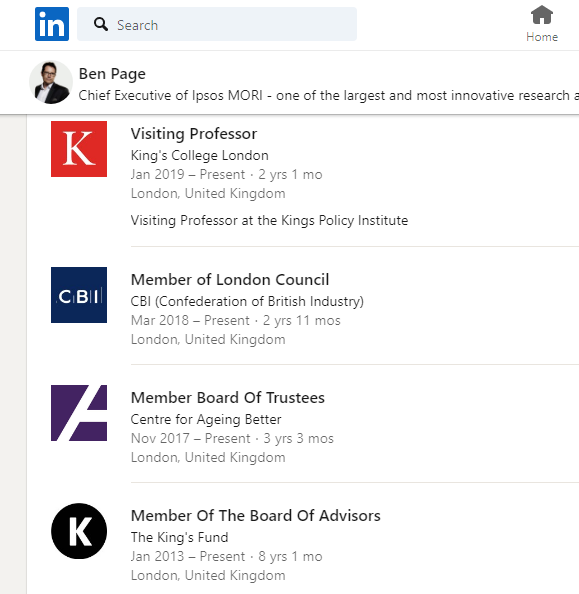 Interesting omission from Page. Not only is he in charge of Ipsos MORI, a global research firm, he's also a Council Member of the World Economic Forum. He has in interesting work history, to put it mildly.
7. Professor Tan Chorh Chuan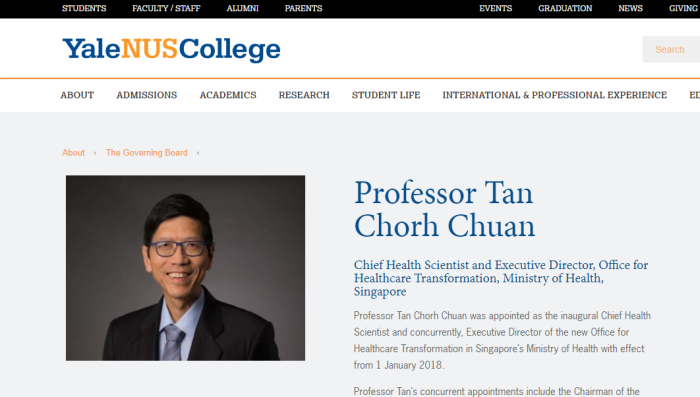 Chief Health Scientist and Executive Director, Office for Healthcare Transformation, Ministry of Health, Singapore
.
Professor Tan Chorh Chuan was appointed as the inaugural Chief Health Scientist and concurrently, Executive Director of the new Office for Healthcare Transformation in Singapore's Ministry of Health with effect from 1 January 2018.
Professor Tan's concurrent appointments include the Chairman of the Board of the National University Health System; member, Board of Directors of the Monetary Authority of Singapore; and member, Board of Directors of Mandai Park Development.
Professor Tan served as President of the National University of Singapore (NUS) from 2008 to 2017. He held the positions of NUS Provost, then Senior Deputy President from 2004 to 2008. He was former Dean of the NUS Faculty of Medicine and served as the Director of Medical Services, Ministry of Health, from 2000 to 2004, in which capacity he was responsible for leading the public health response to the 2003 SARS epidemic. As the inaugural Chief Executive of the National University Health System in 2008, he brought the NUS Medical and Dental Schools and the National University Hospital under single governance. As NUS president, he oversaw the formation of Yale-NUS College.
This is certainly an interesting mix of people: university professor and propagandist (Larson), a Government Official in Singapore (Chuan), a researcher and pollster (Page), and a journalist (Alrawi).
8. Mustafa Alrawi, Assistant Editor, The National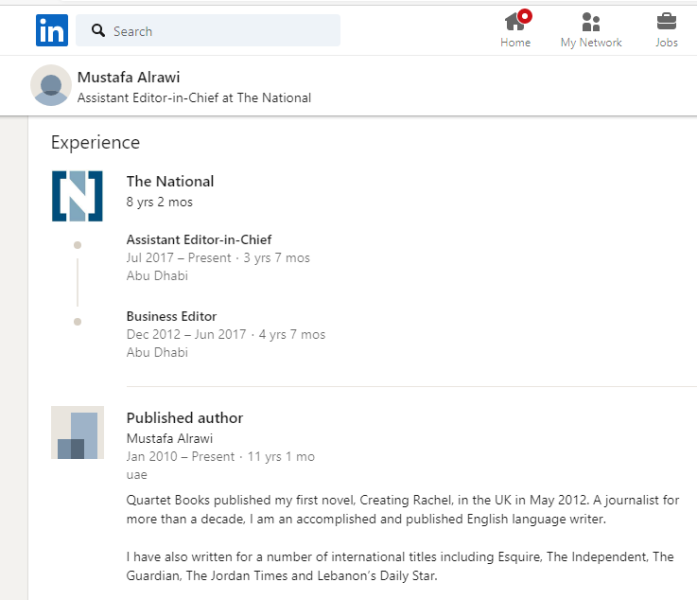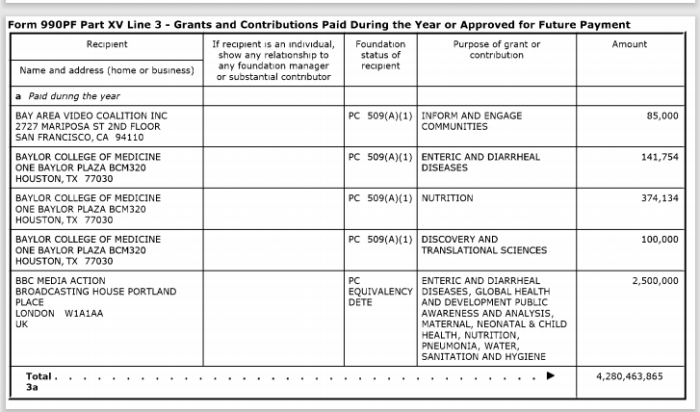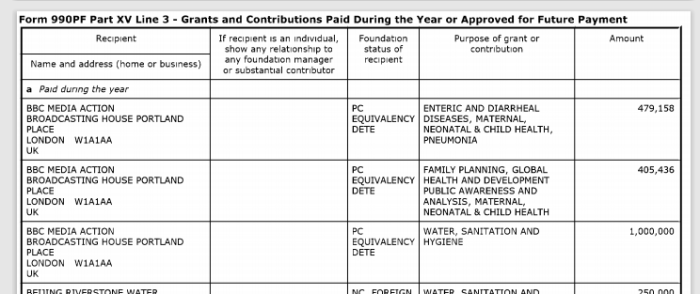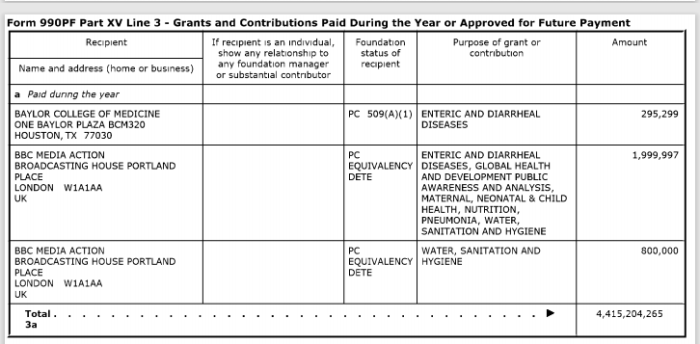 Alrawi has been in various media outlets across the globe over the last 2 decades. Side note: he is formerly a production assistant in 2000 for the BBC (British Broadcasting Corporation), which receives regular funding from the Bill & Melinda Gates Foundation.
9. This is Psychological Warfare
Nothing in this talk shows any concern that people might be seriously harmed by these experimental vaccines. Instead, the focus is on "pitching" it to the public. Sympathy is feigned, but only for the purposes of learning how other people's minds work.