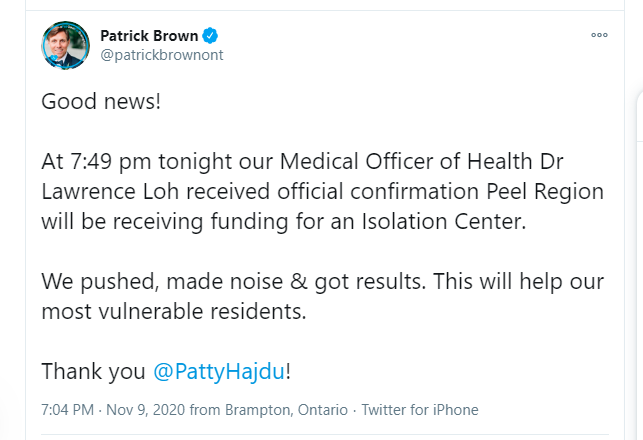 What a goldmine this short video clip is. Theresa "the Apple" Tam openly admits that there is collusion on social media, (see 3:55), such as: (a) automatically forwarding searches to specific sites; (b) demonetizing certain accounts; and (c) algorithm manipulation to prevent certain information from being seen.
Tam also parrots the UNESCO narrative regarding misinformation. At 6:00, Tam asks people to create videos and testimonials promote the Covid narrative. At 7:00, Tam uses "Vaccine Confidence", which is actually a global psychological effort to get people vaccinated.
And while Trudeau denies internment camps are being built, Brampton Mayor, a "conserative" Patrick Brown thanks people for receiving the funding to build an internment camp.
https://twitter.com/patrickbrownont/status/1325997706943352832
1. Free Speech Is Under Constant Threat
Check here for the series free speech. It's a crucial topic, and is typically intertwined with other categories. Topic include: Digital Cooperation; the IGF, or Internet Governance Forum; ex-Liberal Candidate Richard Lee; the Digital Charter; Dominic LeBlanc's proposal. There is also collusion, done by UNESCO, more UNESCO, Facebook, Google, and Twitter lobbying.
2. Other Articles On CV "Planned-emic"
The rest of the series is here. Many lies, lobbying, conflicts of interest, and various globalist agendas operating behind the scenes, obscuring the "Great Reset". The Gates Foundation finances: the WHO, the US CDC, GAVI, ID2020, John Hopkins University, Imperial College London, the Pirbright Institute, the BBC, and individual pharmaceutical companies. Also: there is little to no science behind what our officials are doing; they promote degenerate behaviour; the Australian Department of Health admits the PCR tests don't work; the US CDC admits testing is heavily flawed; and The International Health Regulations are legally binding. See here, here, and here. The media is paid off, and our democracy is thoroughly compromised, as shown: here, here, here, and here.
3. Important Links
CLICK HERE, for Trudeau/Tam casually admitting to censorship.
CLICK HERE, for Tam looking for ways to vaccinate more people.
CLICK HERE, for great censorship piece by INFORRM.ORG.
CLICK HERE, for social media firms "catching misinformation".
CLICK HERE, for Dominic LeBlanc considering "misinformation" law.
CLICK HERE, for Bill C-10 introduced in Parliament.
CLICK HERE, for openparliament.ca, Bill C-10 entry.
CLICK HERE, for Google censorship "keeping the public safe".
CLICK HERE, for Google meeting Canadian Gov't.
https://archive.is/2NNky
WayBack Machine Archive
CLICK HERE, for information on Twitter platform censorship.
CLICK HERE, for Twitter lobbying Canadian Government.
https://archive.is/L67ID
CLICK HERE, for Facebook promoting censorship.
CLICK HERE, for Facebook influence/lobbying Gov't.
https://archive.is/3Mwny
WayBack Machine Archive
4. Tam: Duties For Social Media Companies
Tam and Deputy Chief Public Health Officer Dr. Howard Njoo warned against misinformation about vaccine safety online and explained why social media giants have a role to play in sharing trusted material.
"This is the first pandemic in the age of the Internet and social media. This is an area of significant work because we have an overload of information through which many Canadians can't sort out what is credible and what is not," she said.
"I look towards different partners, government departments coming together to look at how we better address some of the myths and misinformation that is in that space. I think fundamentally it's a massive challenge."
The Statistics Canada report also shows that nearly 58 per cent of respondents said that they were very likely to get the COVID-19 vaccine, a majority being 65 and older.
Theresa Tam openly says that social media has a role to play in advancing the vaccination agenda, and in countering information that contradicts the official narrative. Also, take a look into the issue of "vaccine hesitancy", or vaccine confidence.
5. YouTube/Google Openly Censor Critics Online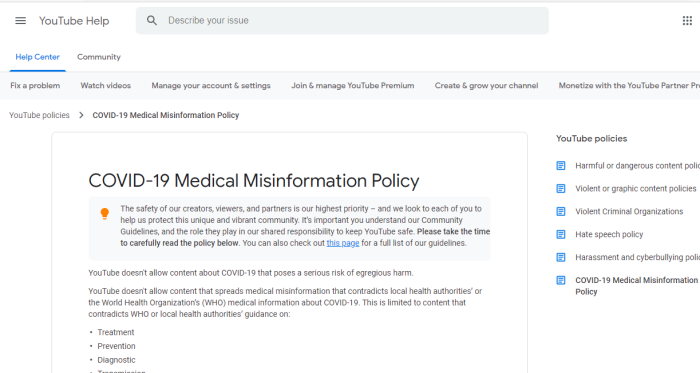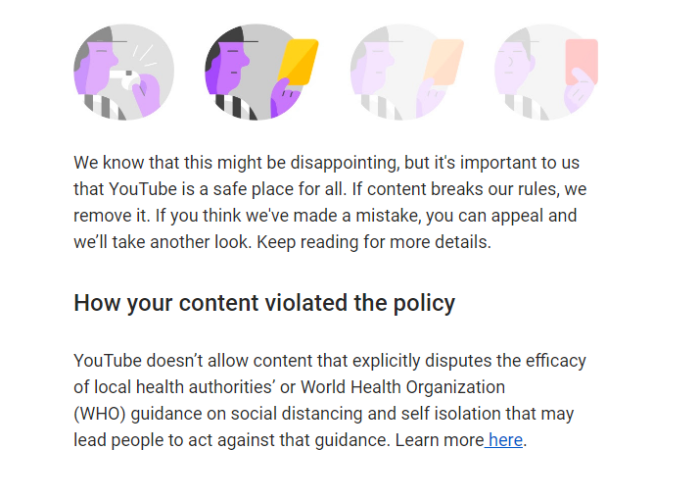 Canuck Law was given a strike and had a video removed for contradicting the official narrative on YouTube. The video was based on Part 29 in the series: lies of public health officials. As such, it has become clear that real discussion on the platform will never be permitted.
If you're posting content
Don't post content on YouTube if it includes any of the following:
.
Treatment Misinformation: Discourages someone from seeking medical treatment by encouraging the use of cures or remedies to treat COVID-19.
.
-Claims that COVID-19 doesn't exist or that people do not die from it
-Content that encourages the use of home remedies in place of medical treatment such as consulting a doctor or going to the hospital
-Content that encourages the use of prayer or rituals in place of medical treatment
-Content that claims that a vaccine for coronavirus is available or that there's a guaranteed cure
-Claims about COVID-19 vaccinations that contradict expert consensus from local health authorities or WHO
-Content that claims that any currently-available medicine prevents you from getting the coronavirus
-Other content that discourages people from consulting a medical professional or seeking medical advice
-Prevention Misinformation: Content that promotes prevention methods that contradict local health authorities or WHO.
.
Diagnostic Misinformation: Content that promotes diagnostic methods that contradict local health authorities or WHO.
.
Transmission Misinformation: Content that promotes transmission information that contradicts local health authorities or WHO.
.
-Content that claims that COVID-19 is not caused by a viral infection
-Content that claims COVID-19 is not contagious
-Content that claims that COVID-19 cannot spread in certain climates or geographies
-Content that claims that any group or individual has immunity to the virus or cannot transmit the virus
-Content that disputes the efficacy of local health authorities' or WHO's guidance on physical distancing or self-isolation measures to reduce transmission of COVID-19
Educational, documentary, scientific or artistic content
We may allow content that violates the misinformation policies noted on this page if that content includes context that gives equal or greater weight to countervailing views from local health authorities or to medical or scientific consensus. We may also make exceptions if the purpose of the content is to condemn or dispute misinformation that violates our policies. This context must appear in the images or audio of the video itself. Providing it in the title or description is insufficient.
Examples
Here are some examples of content that's not allowed on YouTube:
.
–Denial that COVID-19 exists
-Claims that people have not died from COVID-19
-Claims that there's a guaranteed vaccine for COVID-19
-Claims that a specific treatment or medicine is a guaranteed cure for COVID-19
-Claims that certain people have immunity to COVID-19 due to their race or nationality
-Encouraging taking home remedies instead of getting medical treatment when sick
-Discouraging people from consulting a medical professional if they're sick
-Content that claims that holding your breath can be used as a diagnostic test for COVID-19
-Videos alleging that if you avoid Asian food, you won't get the coronavirus
-Videos alleging that setting off fireworks can clean the air of the virus
-Claims that COVID-19 is caused by radiation from 5G networks
-Videos alleging that the COVID-19 test is the cause of the virus
-Claims that countries with hot climates will not experience the spread of the virus
-Videos alleging that social distancing and self-isolation are not effective in reducing the spread of the virus
-Claims that the COVID-19 vaccine will kill people who receive it
These are the rules that YouTube (which is actually owned by Google), now have in place. The actual truth or research of the videos are irrelevant. The deciding factor is whether or not it contradicts the official narrative.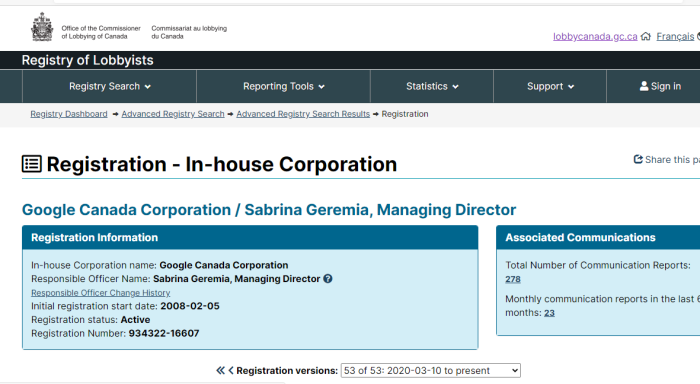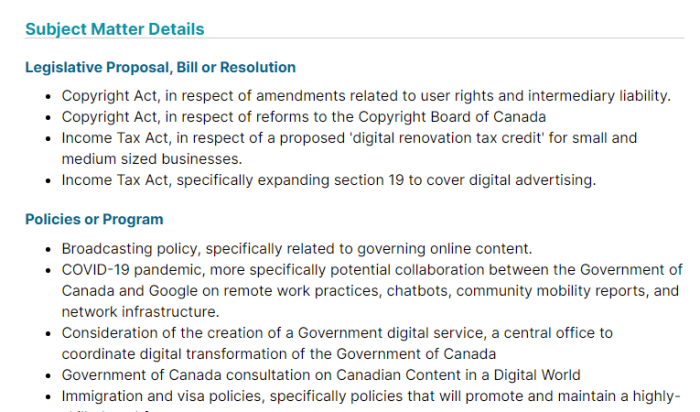 Google, the parent company of YouTube, has been meeting with Federal officials for a variety of issues, including media manipulation regarding the "pandemic".
6. Twitter Censorship, Meeting With Gov't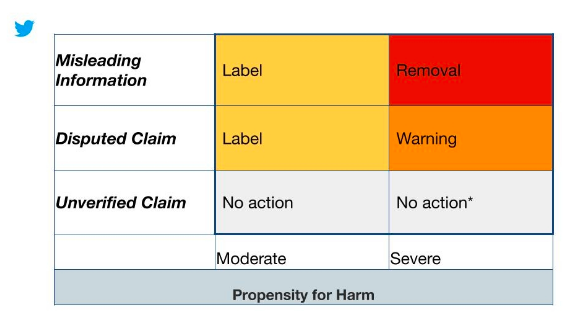 In serving the public conversation, our goal is to make it easy to find credible information on Twitter and to limit the spread of potentially harmful and misleading content. Starting today, we're introducing new labels and warning messages that will provide additional context and information on some Tweets containing disputed or misleading information related to COVID-19.
In March, we broadened our policy guidance to address content that goes directly against guidance on COVID-19 from authoritative sources of global and local public health information. Moving forward, we may use these labels and warning messages to provide additional explanations or clarifications in situations where the risks of harm associated with a Tweet are less severe but where people may still be confused or misled by the content. This will make it easier to find facts and make informed decisions about what people see on Twitter.
New labels and warnings
.
During active conversations about disputed issues, it can be helpful to see additional context from trusted sources. Earlier this year, we introduced a new label for Tweets containing synthetic and manipulated media. Similar labels will now appear on Tweets containing potentially harmful, misleading information related to COVID-19. This will also apply to Tweets sent before today.
Twitter has updated their policies a few times this year, but it falls along the same idea as YouTube: information that openly contradicts the official position and recommendation of the World Health Organization and its proxies is at risk of being censored.
People like Theresa Tam and Justin Trudeau aren't alarmed at the blatant censorship going on in the online sphere. On the contrary, they fully support it, as it undermines attempts to disprove their claims.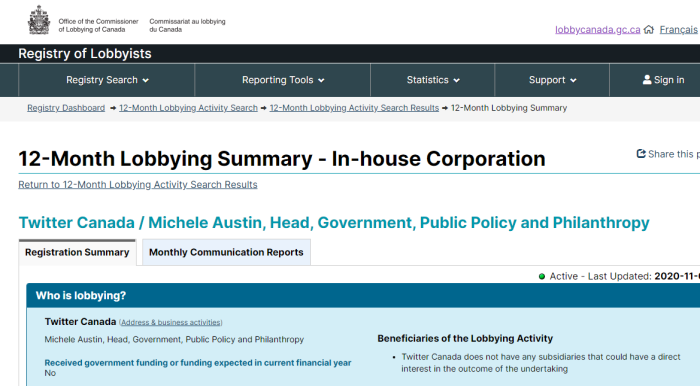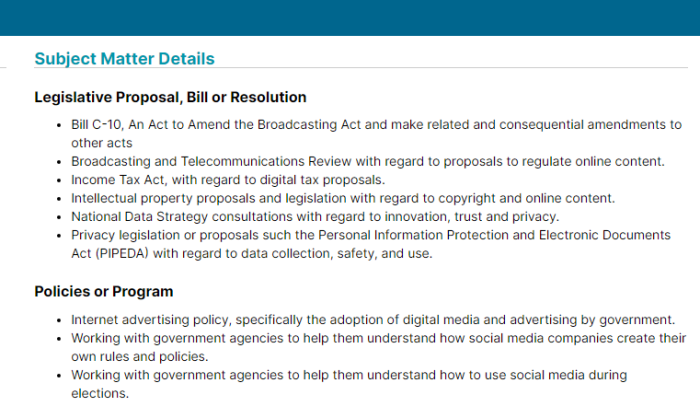 Subject Matter Details
Legislative Proposal, Bill or Resolution
–Bill C-10, An Act to Amend the Broadcasting Act and make related and consequential amendments to other acts
-Broadcasting and Telecommunications Review with regard to proposals to regulate online content.
-Income Tax Act, with regard to digital tax proposals.
-Intellectual property proposals and legislation with regard to copyright and online content.
-National Data Strategy consultations with regard to innovation, trust and privacy.
-Privacy legislation or proposals such the Personal Information Protection and Electronic Documents Act (PIPEDA) with regard to data collection, safety, and use.
Policies or Program
-Internet advertising policy, specifically the adoption of digital media and advertising by government.
-Working with government agencies to help them understand how social media companies create their own rules and policies.
-Working with government agencies to help them understand how to use social media during elections.
Twitter has also been meeting with the Federal Government on issues such as Bill C-10, and regulating online content. This screams of efforts to crack down on free speech and censor unpleasant truth.
7. Facebook Censorship/Collusion Over Covid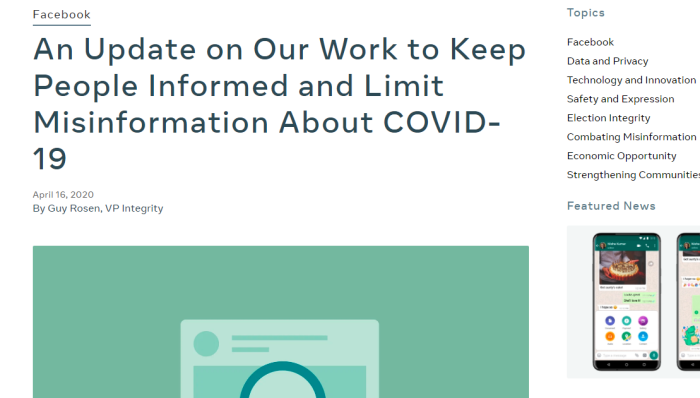 Ever since COVID-19 was declared a global public health emergency in January, we've been working to connect people to accurate information from health experts and keep harmful misinformation about COVID-19 from spreading on our apps.
We've now directed over 2 billion people to resources from the WHO and other health authorities through our COVID-19 Information Center and pop-ups on Facebook and Instagram with over 350 million people clicking through to learn more.
But connecting people to credible information is only half the challenge. Stopping the spread of misinformation and harmful content about COVID-19 on our apps is also critically important. That's why we work with over 60 fact-checking organizations that review and rate content in more than 50 languages around the world. In the past month, we've continued to grow our program to add more partners and languages. Since the beginning of March, we've added eight new partners and expanded our coverage to more than a dozen new countries. For example, we added MyGoPen in Taiwan, the AFP and dpa in the Netherlands, Reuters in the UK, and others.
Facebook is quite open about the fact that they are trying to alter the narrative and prop up official versions of events. They also have no qualms about censoring so-called "misinformation".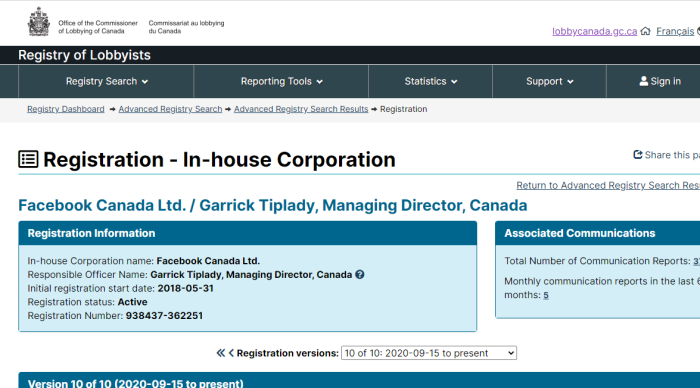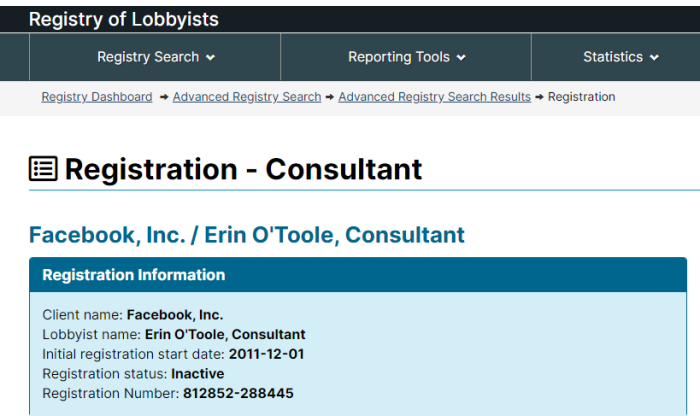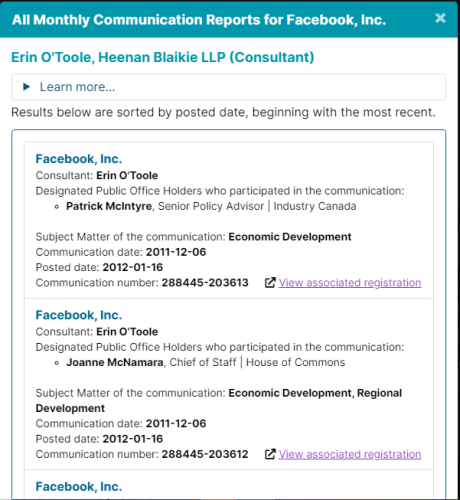 Facebook has also been meeting with the Federal Government, on a variety of issues. It would be nice to actually have the minutes of these meetings, not just a vague description.
8. CBC Promotes Limiting Free Speech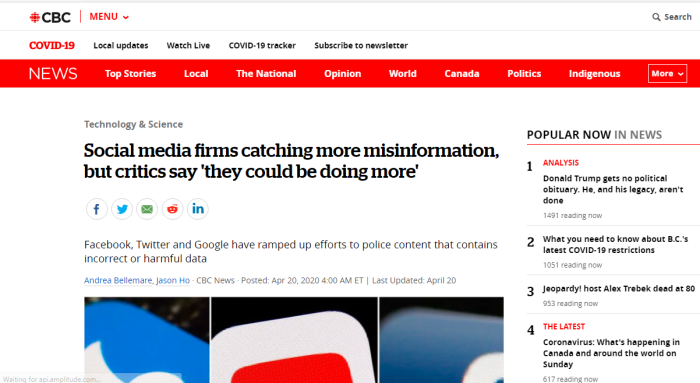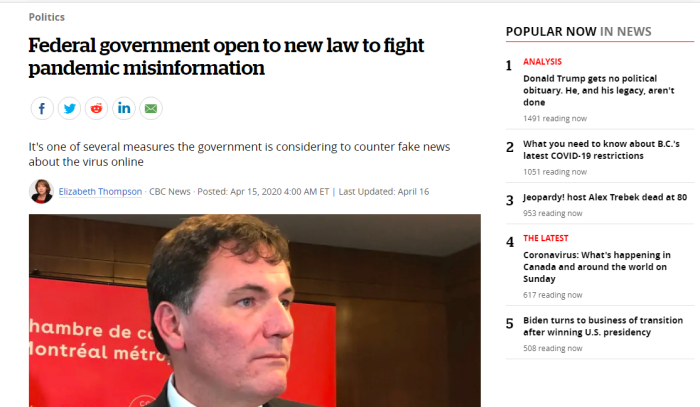 Social media platforms have taken unprecedented steps to fight misinformation online because of the COVID-19 pandemic, but some critics say they could still do more.
Facebook, Twitter and Google/YouTube have ramped up their efforts to police content that contains incorrect or harmful information, taking down the worst offenders, attaching warnings to content that has been fact-checked and linking to official sources, such as the Public Health Agency of Canada.
That includes posts such as a viral video by an American doctor on disciplinary probation in which he claims 5G technology causes coronavirus (it does not) or a false post implying the Canadian Armed Forces were in Toronto, but which turned out to be a photo of a tank taken during a festival in 2016.
On Thursday, Facebook said it has attached warnings to 40 million posts about COVID-19, and that 95 per cent of the time, users did not click through to see the content. Twitter says it has taken down over 2,000 tweets related to COVID-19 and "challenged" 2.8 million accounts, which can mean limiting who sees certain tweets, requiring a tweet to be removed or placing a warning on tweets that violate rules but are in the public interest to leave up.
This should alarm people. Twitter, Google and Facebook have all decided what shall constitute the truth, and are intentionally limiting access to information that doesn't fit the narrative. Let's not forget that the Liberals are considering laws to ban what they call "misinformation".
9. Trudeau/Erin O'Toole Both Compromised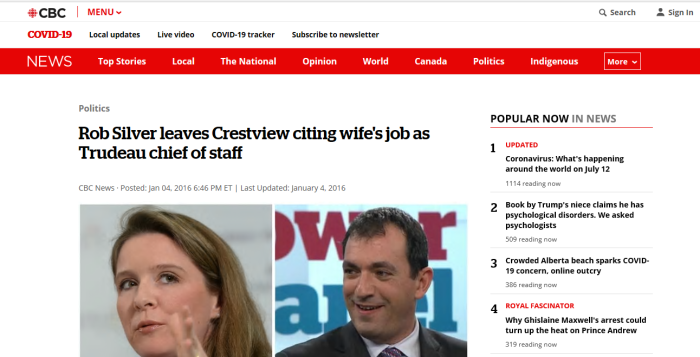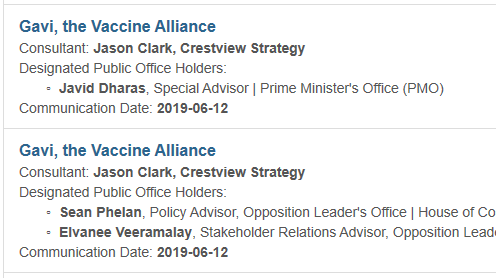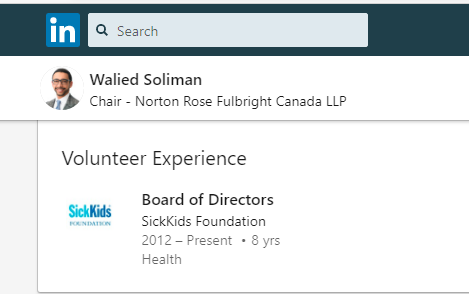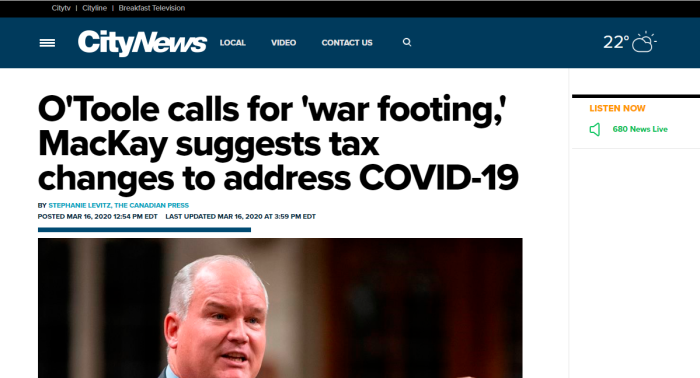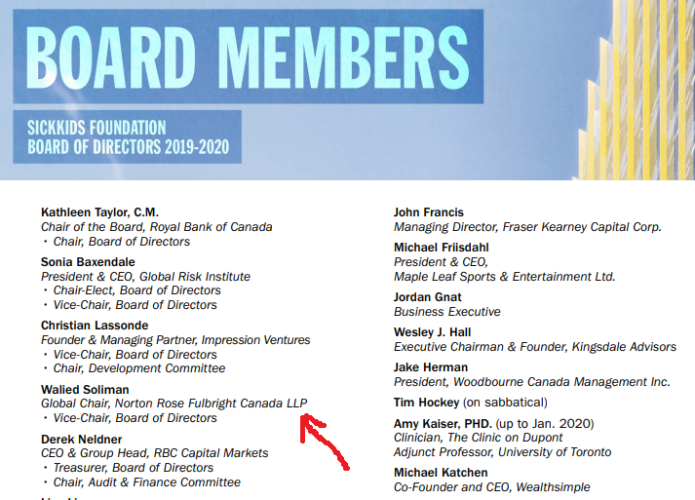 Trudeau: His Chief-Of-Staff, Katie Telford, is married to Rob Silver, co-founder of Crestview Strategy. Crestview has long lobbied for GAVI (which is Gates funded). Andrew Scheer was also lobbied by GAVI.
O'Toole: His Chief-Of-Staff, Walied, Soliman, is a director for Sick Kids Hospital in Toronto (which is also Gates funded).
Also: Erin O'Toole, who is currently the head of the Conservative Party of Canada, was previously a lobbyist for Facebook, when he worked for Heenan Blakie. Blakie is the now defunct law firm which Jean Chretien and Pierre Trudeau both worked at.
10. Bill C-10: Online Censorship, Licensing
In early February, Steven Guilbeault, the Heritage Minister announced that the Government wanted mandate that all media outlets to have a license. He (sort of) backtracked after a public backlash. While this may have just been viewed as a tax grab at the time, it takes on a whole new look in light of the censorship attitude in this "pandemic".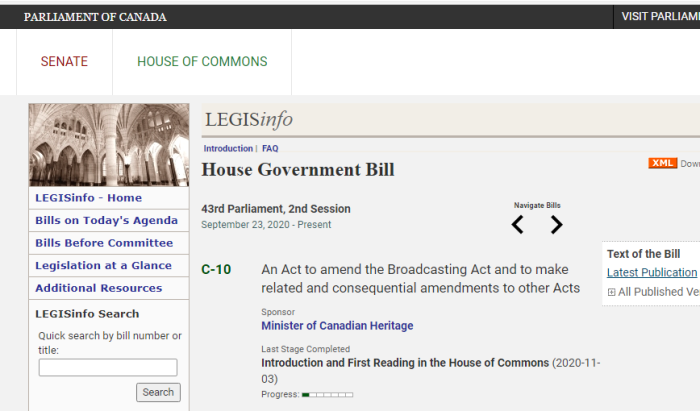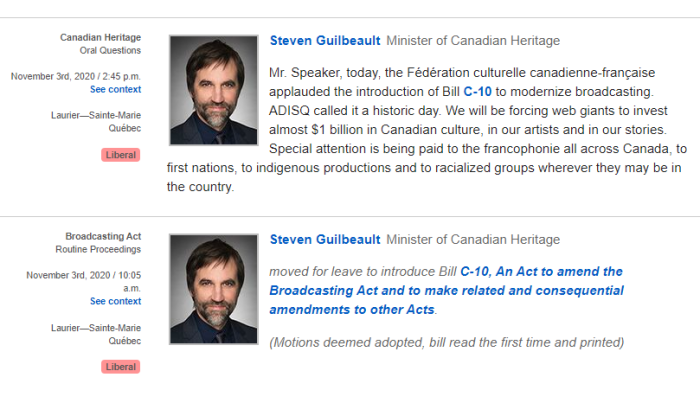 It's official: Bill C-10 has now been introduced in the House of Commons. It's been marketed as an effort to force media giants to spend money on Canadian content. Let's take a look.
SUMMARY
This enactment amends the Broadcasting Act to, among other things,
(a) add online undertakings — undertakings for the transmission or retransmission of programs over the Internet — as a distinct class of broadcasting undertakings;
(b) update the broadcasting policy for Canada set out in section 3 of that Act by, among other things, providing that the Canadian broadcasting system should serve the needs and interests of all Canadians — including Canadians from racialized communities and Canadians of diverse ethnocultural backgrounds — and should provide opportunities for Indigenous persons, programming that reflects Indigenous cultures and that is in Indigenous languages, and programming that is accessible without barriers to persons with disabilities;
(c) specify that the Canadian Radio-television and Telecommunications Commission (the "Commission") must regulate and supervise the Canadian broadcasting system in a manner that
(i) takes into account the different characteristics of Indigenous language broadcasting and the different conditions under which broadcasting undertakings that provide Indigenous language programming operate,
(ii) is fair and equitable as between broadcasting undertakings providing similar services,
(iii) facilitates the provision of programs that are accessible without barriers to persons with disabilities, and
(iv) takes into account the variety of broadcasting undertakings to which that Act applies and avoids imposing obligations on a class of broadcasting undertakings if doing so will not contribute in a material manner to the implementation of the broadcasting policy;
(d) amend the procedure relating to the issuance by the Governor in Council of policy directions to the Commission;
(e) replace the Commission's power to impose conditions on a licence with a power to make orders imposing conditions on the carrying on of broadcasting undertakings;
(f) provide the Commission with the power to require that persons carrying on broadcasting undertakings make expenditures to support the Canadian broadcasting system;
(g) authorize the Commission to provide information to the Minister responsible for that Act, the Chief Statistician of Canada and the Commissioner of Competition, and set out in that Act a process by which a person who submits certain types of information to the Commission may designate the information as confidential;
(h) amend the procedure by which the Governor in Council may, under section 28 of that Act, set aside a decision of the Commission to issue, amend or renew a licence or refer such a decision back to the Commission for reconsideration and hearing;
(i) specify that a person shall not carry on a broadcasting undertaking, other than an online undertaking, unless they do so in accordance with a licence or they are exempt from the requirement to hold a licence;
(j) harmonize the punishments for offences under Part II of that Act and clarify that a due diligence defence applies to the existing offences set out in that Act; and
(k) allow for the imposition of administrative monetary penalties for violations of certain provisions of that Act or of the Accessible Canada Act.
The enactment also makes related and consequential amendments to other Acts.
Part (b) would require providers to pander to all groups under the sun, although not aiming content at Europeans would probably be considered okay.
Does (i) specify that online content (such as videos and websites) would be excluded from any media licensing requirement?
Although the Government (now) says specifically that news outlets would be exempt from being required to get a license, one has to wonder if this will actually be the case. It's also unclear if access to social media will be limited to only the approved parties. After all, they seem pretty pro censorship. As with many things, the devil is in the details.
Bill C-10 deserves a stand-alone piece, which will be coming soon. This hardly does it justice.
11. "Misinformation-Fighting" Efforts Online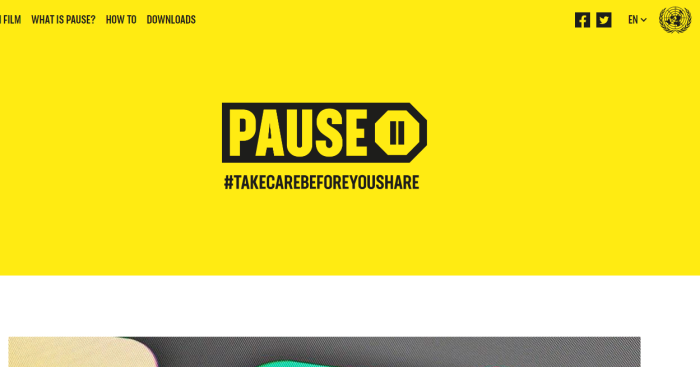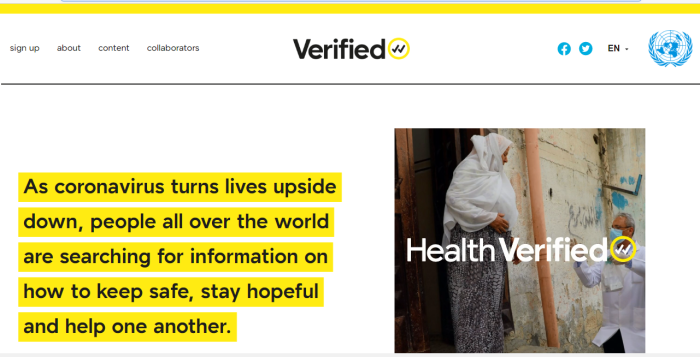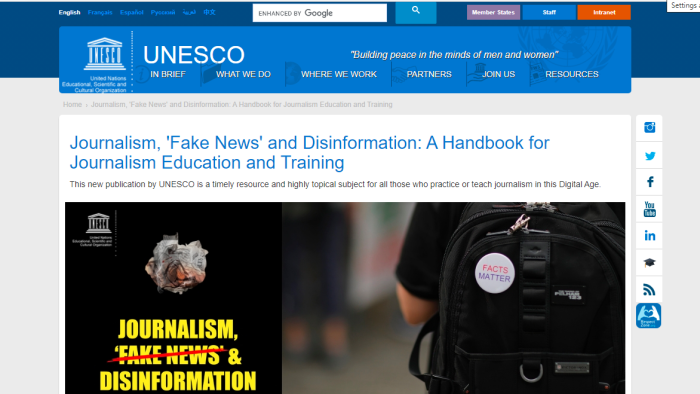 https://pledgetopause.org/
https://www.shareverified.com/en
https://en.unesco.org/fightfakenews
A few of the sites popping up to stop people from asking the questions that need to be asked.
12. Will IHR Make Censorship Mandatory?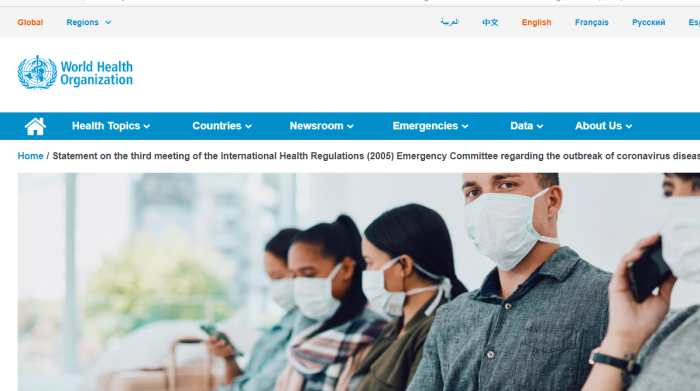 Risk communication and community engagement
-Continue risk communications and community engagement activities through the WHO Information Network for Epidemics (EPI-WIN) and other platforms to counter rumours and misinformation.
-Continue to regularly communicate clear messages, guidance, and advice about the evolution of the COVID-19 pandemic, how to reduce transmission, and save lives.
-Work with partners and countries to articulate potential long-term consequences of COVID-19 pandemic, emphasizing the need for strengthened cross-sectoral preparedness, transparency and global coordination.
The International Health Regulations that the WHO puts out are legally binding. Considering that WHO supports efforts to "combat misinformation", one has to wonder if laws to censor certain views will be imposed.