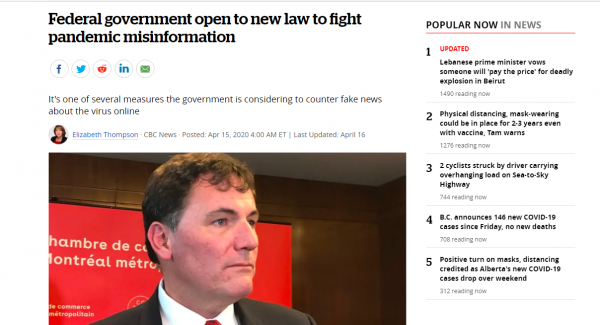 1. Other Articles On CV "Planned-emic"
For other articles in the coronavirus series, check here. There is an awful lot that you are not being told my the mainstream media, including the lies, lobbying, money changing hands, and one world agenda. Nothing is what it appears to be. Also, check out related topics, such as the media, and free speech.
2. Recent Proposal To Require Licensing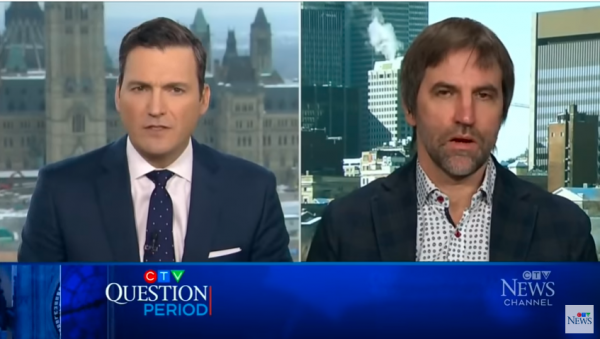 Keep in mind, if was only back in February that the Federal Government had proposed making it mandatory for media personalities to be licensed. Heritage Minister Steven Guilbeault admits that the panel proposing it was formed in 2018 by the Liberals.
So the Liberals are no stranger to attacking free speech. In fairness though, the groups pushing for media licensing may be different than those pushing to ban research into coronavirus.
3. Quotes From CBC Article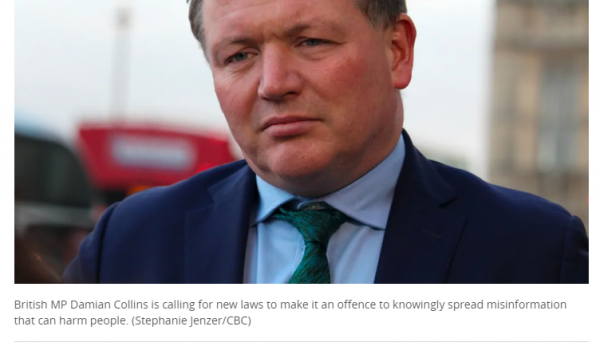 The federal government is considering introducing legislation to make it an offence to knowingly spread misinformation that could harm people, says Privy Council President Dominic LeBlanc.
LeBlanc told CBC News he is interested in British MP Damian Collins's call for laws to punish those responsible for spreading dangerous misinformation online about the COVID-19 pandemic.
LeBlanc said he has discussed the matter already with other cabinet ministers, including Justice Minister David Lametti. If the government decides to follow through, he said, it could take a while to draft legislation.
"Legislatures and Parliaments are meeting scarcely because of the current context of the pandemic, so it's not a quick solution, but it's certainly something that we would be open [to] as a government," said LeBlanc.
NDP MP Charlie Angus said he would support legislation to fight online misinformation.
Yes, this came out in April, but is worth revisiting. The Canadian Government is seriously open to the idea of cracking down on what it calls "misinformation" harmful to the public. Also disturbing is an NDP MP who is open to joining the Liberals in this. This is after calls in the UK for similar laws.
More recently, said Collins, the misinformation has shifted to conspiracy theories about what triggered the pandemic — claims that it was cooked up in a lab, for example. A conspiracy theory claiming the disease is caused by 5G wireless signals prompted attacks on wireless towers in the U.K.
The British government has set up a rapid response team to correct false information circulating online. Collins has launched a fact-checking site called Infotagion, along with Angus and Liberal MP Nate Erskine-Smith, among others.
No this is not just a Canadian problem. It's a problem for people (globally) who want to expose and write about what is really happening.
4. LeBlanc & Microsoft President Smith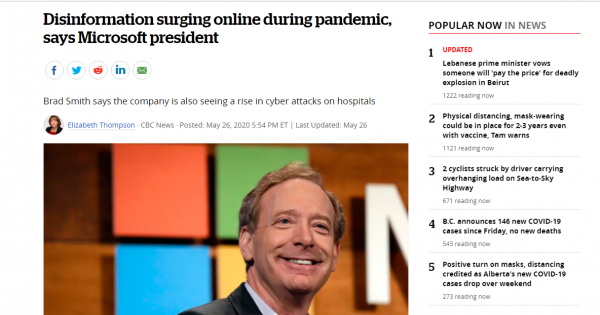 There's been an online surge in disinformation and misinformation linked to the COVID-19 pandemic in recent weeks, along with cyber attacks on hospitals, says the head of one of the world's tech giants.
Speaking at an event with Canadian Privy Council President Dominic LeBlanc this morning, Microsoft president Brad Smith said his company has seen a recent shift in the pattern of online attacks and efforts to spread false rumours and lies about the pandemic.
Microsoft President met with Dominic LeBlanc in May to talk about the wave of misinformation that was all over the internet. Never mind the obvious fact that Microsoft was headed by Bill gates until very recently, who is pushing the vaccine agenda.
5. Social Media Collusion Already Exists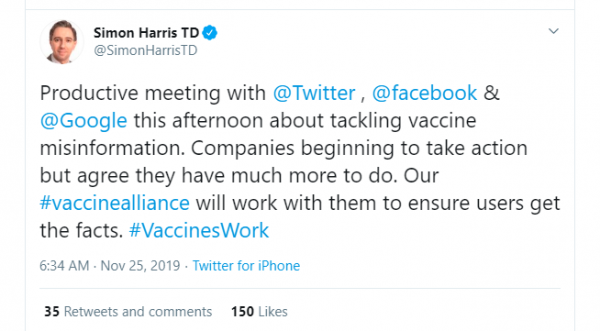 If we are going to have a law to ban "misinformation", why don't we start here? Social media companies like Twitter, Google and Facebook already work to promote the vaccine agenda. They already work together to dismiss critics. Wouldn't that be a textbook case of what should be included in this proposed ban?
6. So What Exactly Is "Misinformation"?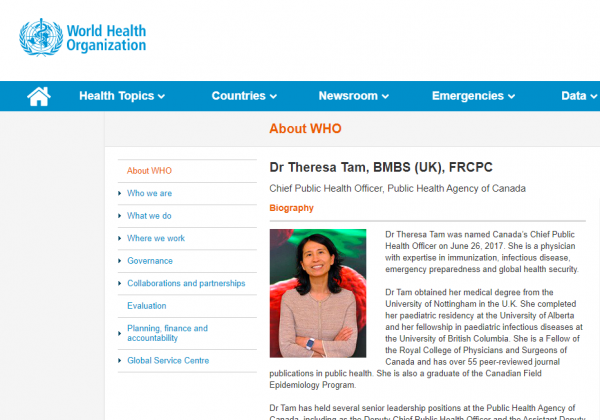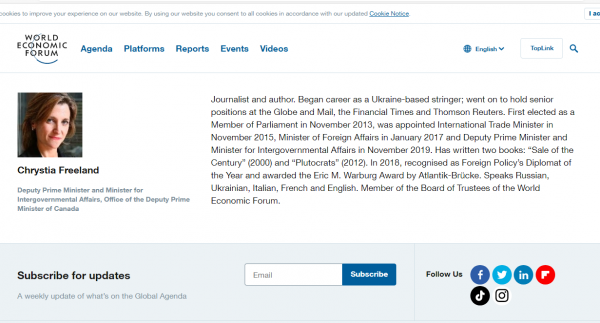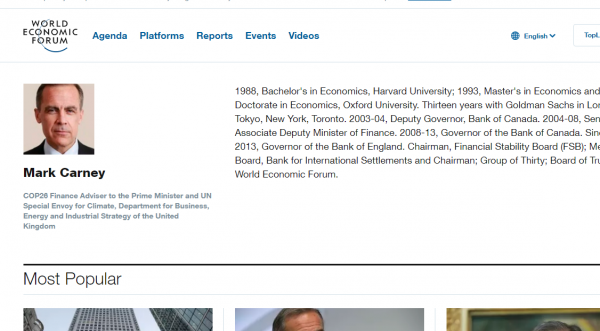 Is it "misinformation" to point out that Chief Public Health Officer Theresa Tam works for the World Health Organization?
Or how about that Deputy Prime Minister Chystia Freeland also is on the Board of Trustees for the World Economic Forum? And to mention Mark Carney, former head of the Bank of Canada, is as well? Is it "misinformation" to point out that the WEF was behind getting CV declared a pandemic, and now pushes the GREAT RESET?
Is it "misinformation" to point out that on August 4, Theresa Tam parroted the World Health Organization's line about a vaccine not being a silver bullet?
Is it "misinformation" to point out the rampant lobbying by the pharmaceutical industry here, here, here, and here?
Is it "misinformation" to point out the vast research done into vaccine hesitancy? This is research into psychological manipulation to convince people that vaccines are safe. Not research into MAKING safe vaccines, but research into CONVINCING you that they already are. See here and here.
Is it "misinformation" to point out M-132 was launched PRIOR to this pandemic, to finance drugs, and drug research for the entire world?
Is it "misinformation" to point out that the Bill & Melinda Gates Foundation is a major and regular contributor to Imperial College London, who does the CV modelling?
Is it "misinformation" to point out the vaccine bonds industry we send money to offers nothing of substance in return?
Is it "misinformation" to point out that the Provinces' own data show the overwhelming majority of people recover on their own, with no vaccine?
Is it "misinformation" to point out that the BC Provincial Health Officer repeatedly admits there is no science behind limiting group sizes, but does it anyway?
Is it "misinformation" to point out that Ontario Associate Chief Medical Officer Of Health, Barbara Yaffe, admitted that 50% of tests give false positives?
Is it "misinformation" to point out that the World Health Organization doesn't actually say to stay 2 metres apart?
Is it "misinformation" to point out the rampant lying and exaggerating by public officials of the virus death tolls?
Is it "misinformation" to point out that social media companies openly collude with governments in order to push the pro-vaccine agenda?
7. Still Just A Proposal (For Now)
While it seems to still just be an idea for consideration, it's a chilling one. Such a law would effectively give the government the right to silence anyone who criticizes its agenda, REGARDLESS of how accurate or factual it may be.
On a personal note: could this site be shut down under the guise of "promoting misinformation"? Could all of this work cease to exist?